You've heard about GensoKishi Online, but what exactly is it? The GensoKishi Online project is a Japanese GameFi project that evolved from the fan-favorite Elemental Knights series.
The GensoKishi Online Project is a GameFi and metaverse incarnation of the award-winning Nintendo Switch/PS4 game Elemental Knights.
By combining the detailed 3D MMORPG world of Elemental Knights with NFTs and MV token utility, Gensokishi Online rewards players like you for your playtime.
GensoKishi has gone above and beyond with its array of features to keep you in awe. From the 3D world and gameplay mechanics, Gensokishi Online has introduced metaverse and NFT elements.
These include unique NFT accessories and metaverse land rights that will exponentially improve your progression while you grind through the various quests and levels.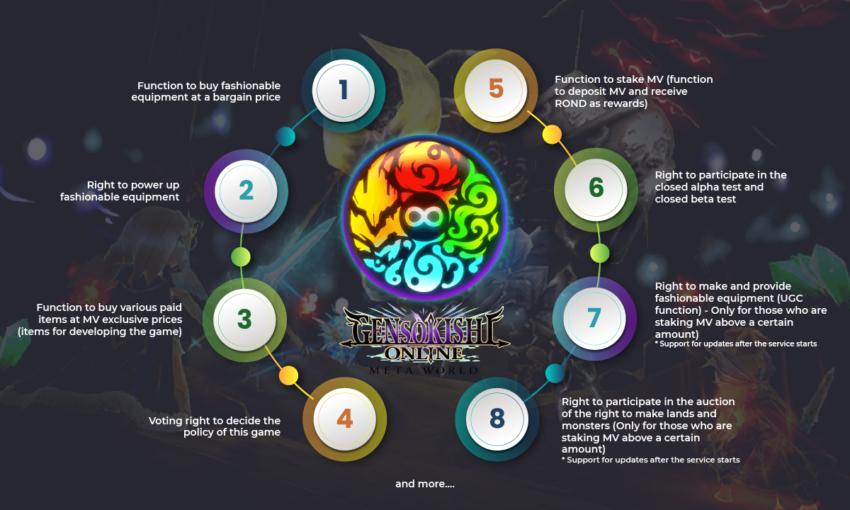 The rise of the $MV Token
The game's economy is centered around two Polygon ERC20-based currencies, namely ROND and MV tokens. The $MV token adopts the Polygon blockchain.
GensoKishi was listed on Bybit, one of the world's largest exchanges, on January 27, 2022. Ten days later, it rose to its highest price of $1.66, x83, its initial listing price.
The MV token will also be listed on other various exchanges, these include UniSwap, Quickswap, Sushiswap, and many other centralized exchanges.
The MV/USDT pair will be listed on Gate.io, a leading Cryptocurrency exchange, on March 23, 2022, at 11:00 AM (UTC). Gate.io is one of the leading Cryptocurrency exchanges established in China, founded in 2013.
Operating under the direction of Gate Technology Inc., the company provides centralized and decentralized systems for comprehensive protection of user funds, while offering trading and instant deposit and withdrawal services based on state-of-the-art technology.
Gensokish Online Project's token MV is also ranked second in most held tokens out of all 1,000+ tokens built on Polygon, with a community of over 230k members since its release.
Essentially, Metaverse (MV) tokens are the driving force behind Gensokishi Online's economy. Their use case includes but is not limited to:
The ability to buy and power up fashionable NFT equipment at a discounted price
Voting rights that allow players to decide future policies
Staking of MV tokens, where depositing MV tokens reward players with ROND tokens
The right to participate in the preliminary public closed alpha and beta test phases
Fees used for in-game trading
Access to exclusive MV-paid items, including experience boosts and in-game ability buffs
In celebration of the MV listing, an MV startup campaign will be held on Gate.io.
VIP 1 and higher tiers of Gate.io can participate in this campaign, and their USDT deposit amount will increase by their VIP level (VIPs 10 and above receive the same amount).
Based on the amount staked, each participant will receive 200,000 MV at the end of the campaign. After the campaign ends, USDT deposits will also be refunded.
What to expect from $ROND
In addition to its various achievements and rapid growth, GensoKishi is excited to announce that they have opened applications for entry into the whitelist lottery of their in-game token, ROND.
Winners of the whitelist lottery will be given a guaranteed right to purchase up to $100 worth of ROND tokens.
The ROND token is the name of the token used primarily in-game to make up the metaverse within the Gensokishi Online project.
ROND can also be earned by selling items obtained from adventures and defeating monsters in the game called "Play to Earn." The currency will also be listed on CEX, enabling token holders to earn a huge return.
"Thanks to all of you, our MV token launch has been a great success. GensoKishi is all about community and we want to thank everyone who has supported us throughout this journey. We recently updated our roadmap, and have announced that we aim to list our in-game currency $ROND on multiple CEXs by August 2022," said a GensoKishi spokesperson.
ROND Whitelist Lottery entry period
Starts: March 14, 2022, 12:00(GMT+8)
Ends: March 25, 2022, 23:59(GMT+8)
Emails will be sent to winners on March 26, 2022
Winners can purchase ROND from: March 26, 2022 – March 31, 2022
ROND tokens will be sent to purchasers on April 4, 2022
To become one of the lucky winners please see here.
GensoKishi meets Soulz
Gensokishi Online has announced a partnership with Soulz, one of the world's most-watched NFT projects, on February 25, 2022. Another notable partnership is with Aavegotchi, one of Gamefi's flagship projects.
Elemental Knights, the licensor of the Gensokishi Online project, has partnered with many world-class Japanese IPs and plans to leverage its original connections to bring many IPs, business, and NFT projects into the Gensokishi Online project's metaverse in the future.
GensoKishi Online has already disrupted the GameFi industry in one year, with records being set and broken on December 21, 2021.
Gensokishi Online holds plenty of potential thanks to its solid gameplay mechanics and ambitious plans for its MV tokens.
This is why it stands above the competition and is already achieving mainstream popularity among other NFT and metaverse games.
From partnerships with world-renowned exchanges to NFTs and campaigns. What's next for the project? Unlimited potential, that's what.
Twitter | Telegram | Discord | LINE | Whitepaper | News
Disclaimer
All the information contained on our website is published in good faith and for general information purposes only. Any action the reader takes upon the information found on our website is strictly at their own risk.