Following an extremely bearish start to the week, Tuesday, Feb 23 really brought the pain as further sell-offs across the board saw the entire market slump.
Tuesday might have been looking like a decent recovery following the intense sell-off the previous day. However, by mid-day UCT, the complete opposite occurred. A massive sell-off saw the entire market slump to new daily lows. 
XRP Suffers The Most 
XRP was notably one of the worst performers of the day. Battling to keep up with the top six cryptocurrencies, XRP fell even further behind in market cap as the project slumped by 30%. While there was a noticeable recovery throughout the market, XRP was still down over 20% towards the end of the US session.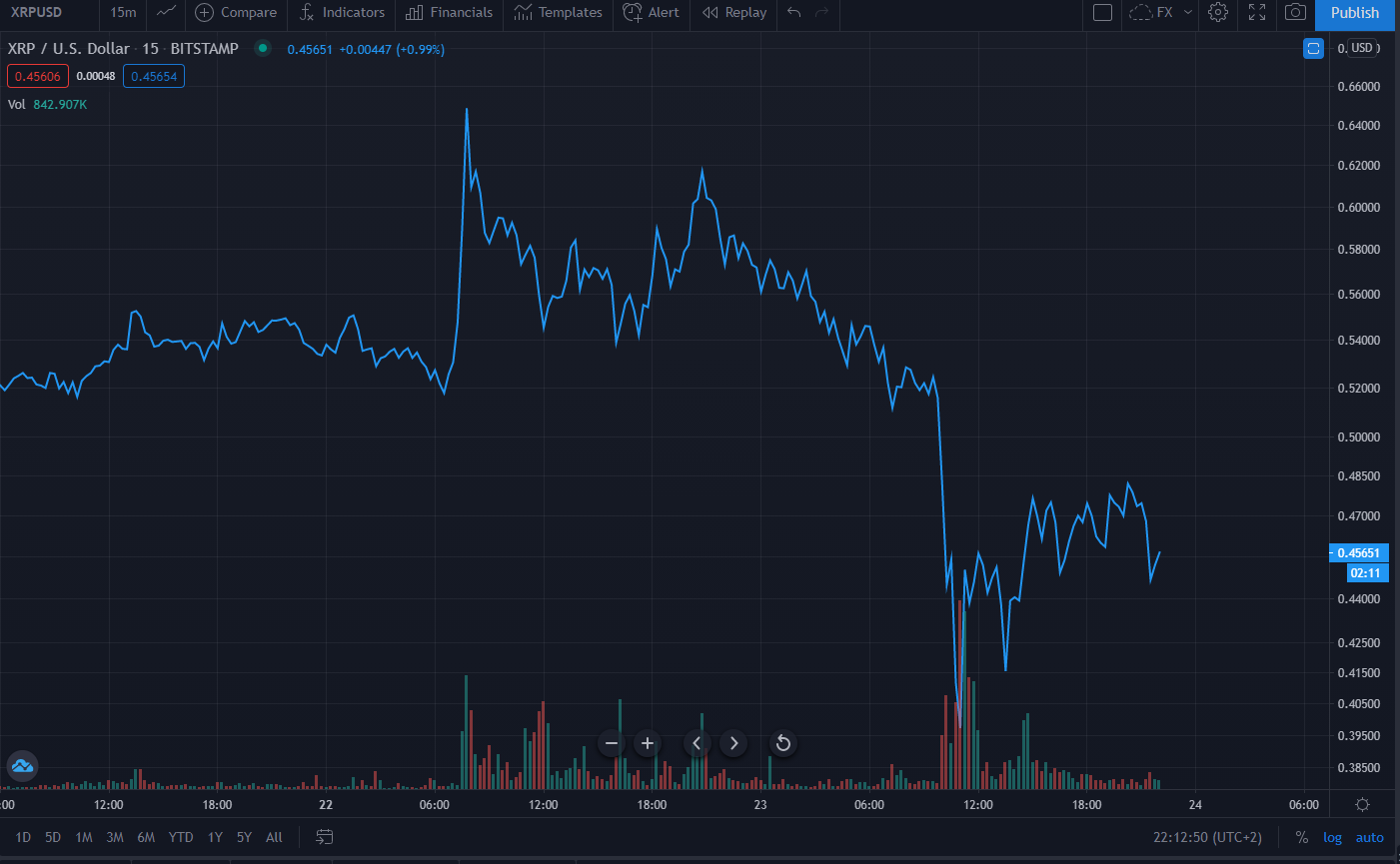 At its peak, XRP saw a 42% decline in price, dropping down to $0.36, from $0.63 the evening before. XRP saw little respite as the project was still down 26% on the day following the dump. 
Bitcoin Continues to Slide
While XRP may not have had a good day, there was little to celebrate as the entire market saw double-figure drops across the board. Bitcoin (BTC) saw its second straight losing day, dropping by over 14%.
The correction sees BTC decline from its recent all-time high of $58,352. The two-day decline now means that bitcoin has dropped 20% and is holding critical levels.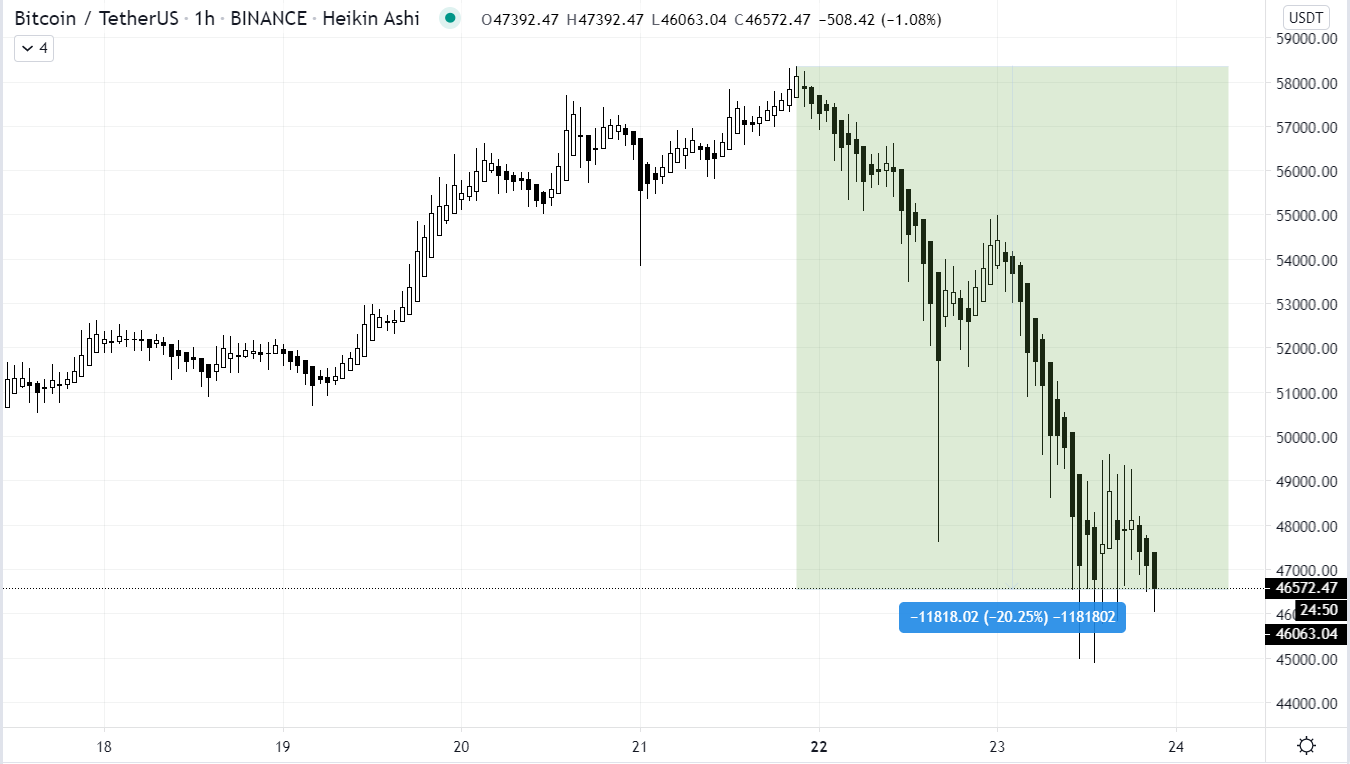 Entire Market Sell-Off Sees Record Liquidations
Following two of the most brutal trading days this year, the entire market saw declines across the board, with fewer than four projects in the top 100 trading in the green. 
The total market capitalization slumped a further 15% on Tuesday, following Monday's decent correction. The two-day decline also saw the total market cap drop 20%, or $1.36 trillion. 
Traders have not fared any better as Monday's sell-off triggered long orders at reasonable prices before seeing more extreme selling on Tuesday. The price action has led to over $5.6 billion in liquidations across multiple exchanges. 
Solana Offers Beacon of Hope During Red Tuesday
Top 100 project Solana (SOL) was the only project to make a real standout performance on bloody Tuesday. SOL had dumped on Monday only to surge 67% from the bottom.
However, Tuesday's double whammy sell-off saw the project dip 25% before putting in a strong performance to climb an additional 30%.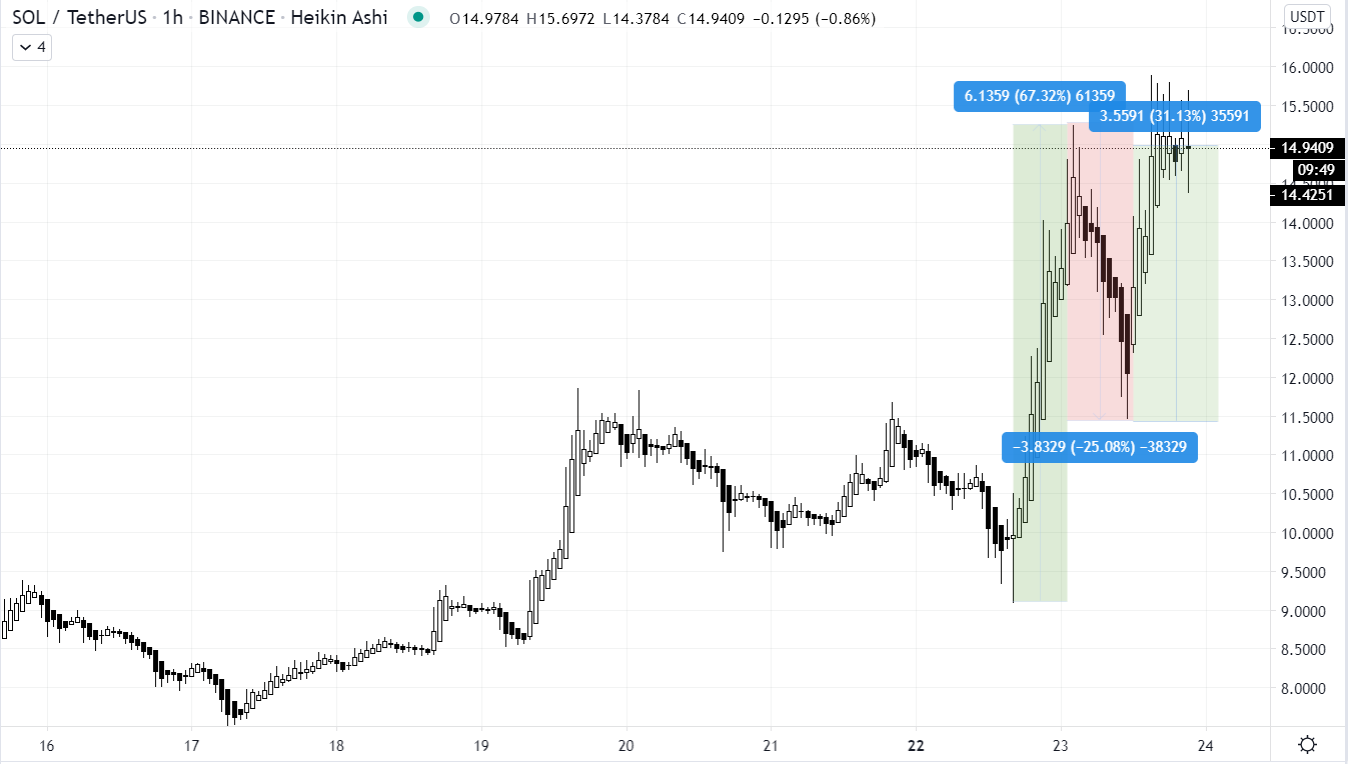 Tuesday offered little sympathy for traders who suffered Monday's pain. With Bitcoin looking a bit shaky, there is likely more blood to be seen across the board this week. A further drop could see plenty of altcoin gains evaporate as traders sell-out of the market for the relative safety of stablecoins. 
Disclaimer
All the information contained on our website is published in good faith and for general information purposes only. Any action the reader takes upon the information found on our website is strictly at their own risk.