Solutions across many projects have emerged in the race to scale layer-1 blockchains like Ethereum. This guide will look at one of several Ethereum scaling solutions, SKALE. Here's how this decentralized elastic blockchain network works, its features, and its benefits.
What is SKALE?
Origin
The SKALE Network consists of interconnected sidechains that use several technologies to scale Ethereum DApps. It is built on Ethereum, meaning SKALE chains can communicate with Ethereum-based alternatives.
Co-founders Jack O'Holleran and Stan Kladko launched the network in 2018. After launching in 2018, the project underwent two and a half years of development and testing before releasing its mainnet in 2020. The mainnet was launched in three phases: the first in June, the second in October, and the final one in December.
Team
As of today, O'Holleran and Kladko lead the SKALE core team of experts that is continuously working on the project in different capacities. O'Holleran is the CEO, while Kladko is its CTO. The core team works on behalf of SKALE Labs.
Besides the core team, the network has representatives facilitating grants, budgetary matters, and on-chain voting. The representatives are composed of DApp developers, investors, and validators. Initially, the Network of Decentralized Economics (N.O.D.E) Foundation was responsible for electing these representatives, but token holders will take over future elections. Note that N.O.D.E is a non-profit organization that supports the SKALE network.
Additionally, the SKALE network is governed by the SKALE DAO, which consists of over 50 members, including business organizations, other DAOs, and companies. On-chain voting was originally scheduled to commence in the first quarter of 2023.
Funding
In October 2018, Multicoin Capital led a funding round that raised $9.65 million for SKALE Labs. Other investors included Signia Venture Partners, Blockchange Ventures, Hack.VC, FLOODGATE Fund, Galaxy Digital, and Aspect Ventures.
About a year later, the SKALE Network raised $17.1 million for its mainnet launch, with SKALE Labs contributing $10 million from the 2018 round and other investors funding the deficit. Among these investors were HashKey, Winklevoss Capital, ConsenSys Labs, Arrington XRP Capital, Multicoin Capital, and Recruit Holdings.
In September 2020, SKALE held a token sale on ConsenSys' Activate platform. It raised $5 million from approximately 4,000 investors across 90 countries.
Roadmap
SKALE has not published a roadmap on its website. However, it has announced plans to integrate zero-knowledge (ZK) proofs in early 2023 and introduce on-chain voting. The network has already launched the initiative "to integrate ZK as a configurable option for developers," according to an announcement on Twitter.
Moreover, the network has announced that on-chain voting will begin in Q2 2023.
In Q1 2023, the project released SKALE 2.1, an upgrade that improved network speed and stability. The project also plans to bring two new games, Kryptoria and OxBattleground, to the network.
How does SKALE work?
What it does
The network is a scaling solution that uses a proof-of-stake (PoS) consensus model. That helps developers enjoy improved scalability, zero-fee transactions, and faster transaction throughput. SKALE chains offer decentralized database storage, Ethereum Virtual Machine (EVM) compute power, and other functionalities to power and scale DApps.
Staking
The SKALE Network operates through a pool of validator nodes that confirm transactions within the chains they operate. These nodes interact with SKALE Manager, which consists of over 35 smart contracts on the Ethereum blockchain. To participate in building on the network and becoming validator nodes, users have to stake SKL tokens, with staking being facilitated through the Ethereum base layer. This means that SKALE Manager is deployed on the Ethereum mainnet, and at present, more than 45 independent organizations are running 150+ nodes on the network as of mid-May 2023.
A subset of validators within the SKALE network operates a group of sub-nodes responsible for operating the chains. These nodes receive awards based on their performance at the end of each network epoch, lasting one month. The tokens that developers stake are moved into the bounty pool each month. Also, the protocol creates new tokens through an inflation event. These tokens go to the bounty pool too. Validators and delegators are rewarded using tokens from the bounty pool.
The minimum staking requirement to set up a node is 20 million SKL tokens, worth about $600,000 at the time of writing. It is worth noting that staking SKL tokens can be more expensive than ETH due to a higher price. For example, staking 32 ETH at the current price of about $1,901 would require an investment of $60,832.
If you don't want to create your own node, delegating your SKL tokens to a registered validator is an option. The rewards for delegators depend on several factors, such as the duration of staking, the number of tokens staked, and the commission percentage set by the validator.
SKALE Chains
A SKALE chain is an elastic blockchain (also known as a conglomerate of sidechains) that is compatible and interoperable with Ethereum. Moreover, 16 nodes power each sidechain, while every SKALE chain powers DApps. Developers can build their own SKALE chains by staking SKL tokens for a given period of time in return for the security and increased scalability it gets from the network. When the chain period is over, the life of the SKALE chain may end unless developers extend its life by staking additional tokens. The SKALE Network has 20 chains at the time of writing.
sFUEL
sFUEL is the native token for SKALE chains. It has no economic value and is a zero-gas token. Users need this token to conduct transactions on SKALE chains. Moreover, with sFUEL, developers can scale their DApps economically and in terms of speed. Users get sFUEL during the onboarding process of every DApp.
Interoperability
SKALE is interoperable with Ethereum. That means the two chains can easily communicate with each. The Interchain Messaging Agent (IMA) is responsible for bridging messages and tokens between the two networks.
SKALE's key features
Zero-gas fees
The network offers end users zero-gas fees, which is typically unheard of in the blockchain space. This is achieved through its innovative subscription model, where developers must stake SKL tokens to access network security and scalability resources for their chain. These staked tokens are then used to reward validators and delegators who actively participate in the network. Furthermore, users utilize sFUEL to conduct transactions on SKALE chains. The free gas token prevents them from incurring transaction costs.
Zero-cost transactions make SKALE a suitable alternative to Ethereum since it outcompetes the layer-1 blockchain's gas fees even when they are at their lowest.
SKALE on-chain file storage
SKALE nodes contain a server that gives each sidechain on-chain storage capacity for its DApps. That means developers can store static content like videos, files, and photos. File storage is available throughout SKALE chain's entire lifetime.
SKALE pooled security
SKALE chains benefit from pooled security, which allows them to share security across validator sets. As a result, a single validator node can run on multiple SKALE chains simultaneously. Validators play a critical role in the network, as they authenticate network transactions and maintain security.
To ensure the integrity of the network, the protocol randomly selects validator nodes for SKALE chains. Additionally, the network rotates nodes to prevent collusion among validators that could potentially compromise the network. By implementing these measures, SKALE ensures its network remains secure and resistant to malicious attacks.
Linear scaling
The network has an unlimited capacity, which increases as more nodes join the network. Users can utilize new nodes to build new chains, which again boosts transaction throughput and computational power.
Pros and cons of SKALE
Pros
End users don't pay gas fees to incentivize network validators due to the subscription fees that developers pay to create SKALE chains. The existence of sFUEL also prevents them from incurring costs when transacting.
The network can process 397.7 transactions per second. In a recent blockchain study done by Dartmouth, SKALE emerged as the fastest blockchain.
SKALE has high scalability giving it nearly unlimited capacity.
Third parties periodically audit SKALE Manager and IMA smart contracts.
Did you know?
According to some, the Skale Network lives up to its name by being the most effective scaling solution to date. Dartmouth's test placed SKALE ahead of Solana, Polygon, and Ethereum. The SKALE Network is 32X faster than Ethereum and 19X faster than Polygon.
Cons
The network security could be at risk if the number of validators isn't large.
The SKL token
Now, let's take a look at the SKALE network's token, SKL.
Tokenomics
SKL is an ERC-777 token with a maximum supply of 7 billion tokens. The project has allocated the largest share of the tokens, 33%, for validator rewards, incentivizing their participation in the network. Another 28.1% of the tokens are reserved for delegator allocation, while 16% goes to the broader founding team. Moreover, the project has allocated 10% to the SKALE Foundation, 7.7% to the Protocol Development Fund, 4% to the Core Team Pool, and 1.3% to the Ecosystem Fund.
SKALE's token unlock schedule is gradual and will take place over a 12-year period. This gradual release of tokens is intended to support the network's long-term sustainability while also providing adequate rewards to validators and delegators who play crucial roles in maintaining the network's security and scalability.
At the time of writing, the total token supply was 5,447,166,667, and the market cap was $172,330,011. The price of SKL was $0.03. This is a drop of about 96% since the all-time high (ATH) price of $1.2 recorded on March 12, 2021. The graph below shows SKL's all-time performance since launch.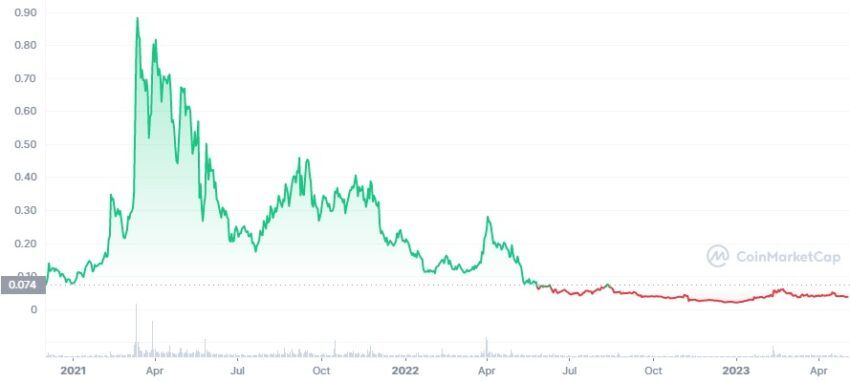 Airdrop
The SKALE network held an airdrop in 2021, enabling 786 people to participate. The project allocated a total of 50,000 SKL to the airdrop. It also required participants to complete several tasks to win free SKL tokens.
SKL uses
SKL is a utility token with four functions. They include:
Security and staking
Validators stake SKL tokens to run nodes. They validate transactions, secure the network, and execute smart contracts.
Governance
SKL token holders can participate in on-chain voting to decide on all network economic matters relevant to SKALE.
Rewarding validators and delegators
Validators and delegators acquire staking rewards each month. These rewards come from developer subscription fees and network inflation.
Subscription fee payment
Developers create SKALE chains by paying a subscription fee in the form of staking SKL tokens. The network allows them to build chains that will exist for a certain period of time. Once the chain lifetime expires, they must stake extra tokens to extend it.
SKALE wallet
As an Ethereum-compatible multichain network, SKALE can work with one of the most popular Ethereum wallets, MetaMask. Other SKALE wallets include WalletConnect, Bitski, Magic, and Torus. These wallets allow users to interact with the DApps deployed on SKALE chains. Moreover, the wallets enable users to move tokens from Ethereum to SKALE chains and vice versa via the IMA bridge.
Did you know that you can get $10 cashback for inviting friends to ZenGo wallet?
Go to Settings in your ZenGo wallet app and copy your personal promo code
Invite your friends using the promo code. Once your friend buys $500+ worth of crypto both of you will get $10 cashback.
What does the future hold for SKALE?
As an Ethereum scaling solution, the SKALE Network demonstrates the effectiveness of layer-2 solutions in addressing blockchain scaling challenges. The project's progress in improving transaction speeds will be an exciting development to watch in the future.
From an investment point of view, SKALE's token has declined 96% from its all-time high in the bear market, suggesting it could take some time for the token's price to recover and move back toward its previous highs.
Frequently asked questions
What type of blockchain is SKALE?
What Is SKALE crypto used for?
What is the SKALE Network?
What Are Elastic Sidechains?
How Does the SKALE Network Improve Blockchain Scalability?
Disclaimer
In line with the Trust Project guidelines, the educational content on this website is offered in good faith and for general information purposes only. BeInCrypto prioritizes providing high-quality information, taking the time to research and create informative content for readers. While partners may reward the company with commissions for placements in articles, these commissions do not influence the unbiased, honest, and helpful content creation process. Any action taken by the reader based on this information is strictly at their own risk.