OMI coin is one of the many blockchain assets following the NFT trading frenzy this March. As a new digital asset class, non-fungible tokens (NFTs) have the potential to replace auction houses, art galleries, and digital collectibles. Because each work of art is stored within a smart contract-enabled blockchain, NFTs become traceable and their ownership unfalsifiable.
ECOMI, with its OMI token, is one such blockchain platform. If you are considering either buying NFTs for your collection or minting them for sale, find out if ECOMI crypto is worth your time.
OMI origins
First, let's clarify a few terms before you learn more about OMI coin. ECOMI itself is the blockchain project developed in Singapore. It is also the name of the company in charge of its development, headed by its CEO David Yu, with his other two co-founders Daniel Crothers and Joseph Janik.
Here is a brief recap of their accomplishments prior to the ECOMI project:
David Yu started Games R Us Ltd firm when he was just 17. Since then, he started multiple companies over the next 24 years, earning him the title Finalist in the Ernst & Young Entrepreneur of the Year award two times.
Daniel Crothers had also founded multiple companies. Of note, his media company had gained millions of social media followers before he decided to enter the blockchain space in 2016.
Joseph Janik was previously the CEO of Canadian Movement Food and Earnest Solutions.
In collaboration with ORBIS Blockchain Technologies Ltd., ECOMI created the VeVe platform, as the all-in-one digital collectibles app covering gaming, digital streaming, in-app purchases, etc. Therefore, VeVe is the app lying on top of the ECOMI blockchain, which is also the name of the company. To further add to the confusion, ECOMI Collect was the previous name of the VeVe marketplace/app.
Having launched at the end of 2020, the VeVe app, available for both Android and iOS, has facilitated the trading of over half a million digital collectibles since its launch at the beginning of 2021. It has attracted some of the most established brands in popular culture — Universal Studios, Warner Brothers, Cartoon Network, DC, General Motors, and others.
ECOMI launched its Initial Coin Offering (ICO) on May 12, 2019, ending the following day. During that year, ECOMI secured 15 licenses, added its secure crypto wallet and NFT support, and OMI token support.
What is OMI coin's backbone and usage?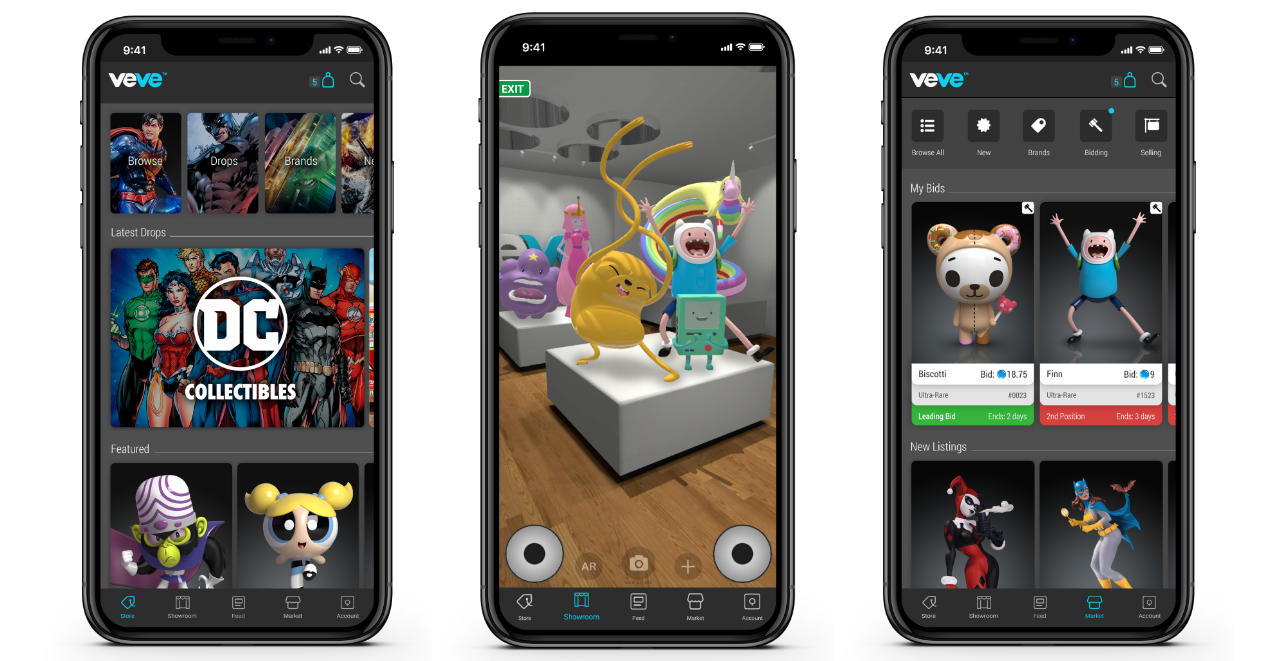 The economic driver behind the VeVe platform is the OMI token as its medium of exchange. Whether you want to mint a new digital collectible, or buy one, you will use the ECOMI crypto. Therefore, the OMI coin falls into the category of utility tokens, designed specifically to be traded within the VeVe ecosystem.
Correspondingly, it is not an ERC-20 compliant token, as most tokens for DeFi projects are. Instead, it is based on the GoChain blockchain, which makes it a GO20 token. However, having been founded in 2017, GoChain is backwards-compatible with Ethereum, its wallets, and has full support for smart contracts and scalability.
Unlike Ethereum's Proof-of-Stake (PoS) consensus, GoChain uses Proof-of-Reputation (PoR), an evolution from Proof-of-Authority (PoA). Each blockchain node provider builds its reputation based on the level of participation, transactions, and assets staked.
OMI tokenomics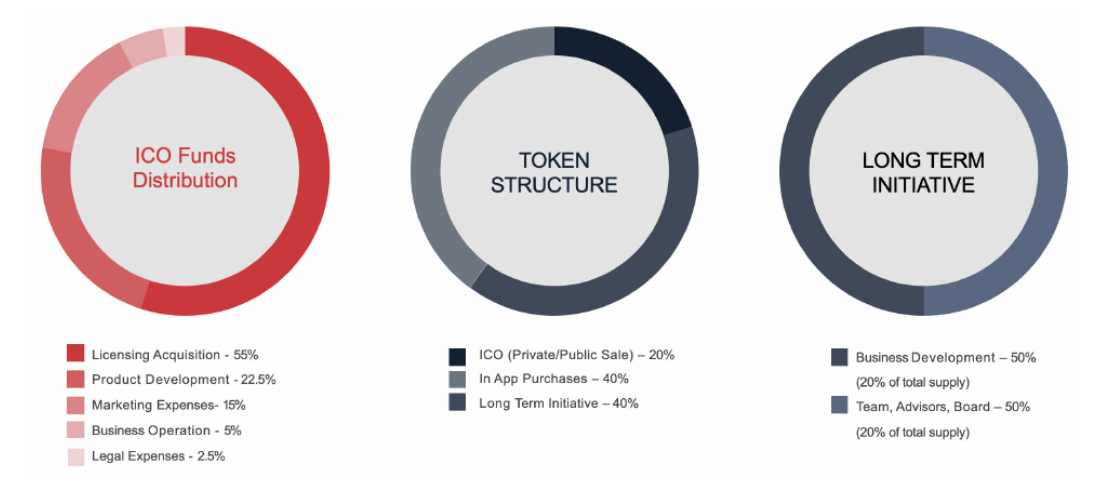 OMI's initial total coin supply was 750 billion, out of which 20% had been made available in the initial OMI sale, to fund the project. The first funding had a hard cap of 1500 BTC worth of OMI coins, exchanged on Bitforex exchange. This was at a time when BTC was within the $6,000–$7,000 range.
The self reported OMI coins supply currently holds at 264.3 billion OMI, while the max supply is 310.8 billion OMI. The VeVe platform holds about 58% or 180.7 billion OMI, as a reserve for in-app purchasing. Additionally, the VeVe vault wallet holds about 62 billion OMI for liquidity.
Outside of current circulation, 20% of the total supply of OMI coins goes to ECOMI business development, and 20% of the total supply to board members and advisors. Since the VeVe ecosystem launched, just over 439.2 billion OMI has been burned, i.e., removed from the supply. This reduced the initial 750 billion token supply to under 310.8 billion.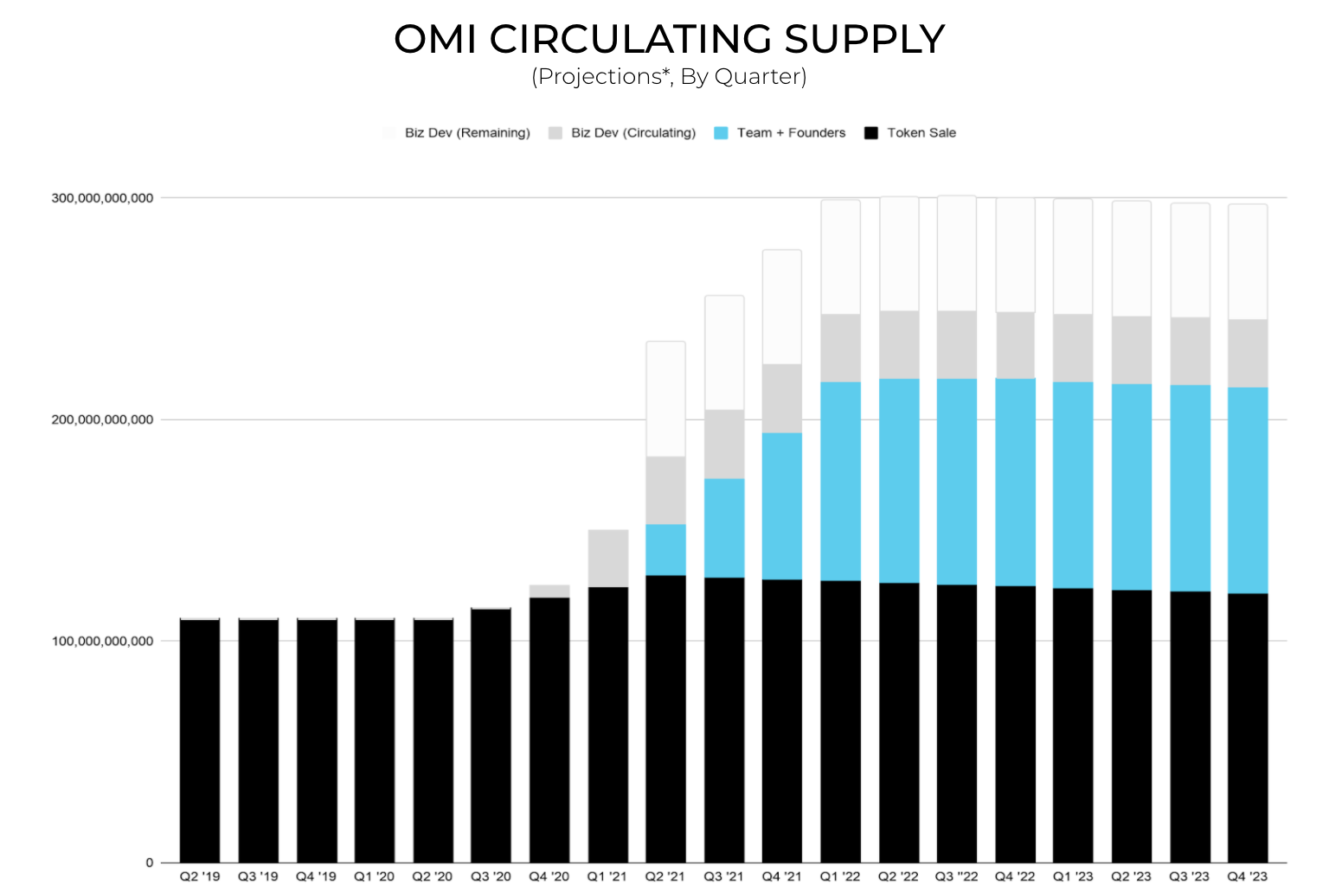 Regarding OMI's inflation-deflation mechanism, ECOMI founders and advisors are scheduled to voluntarily vest all available tokens into circulation by Q1 2022. During this period, OMI coin supply will peak, and likely to drop in price because of the economic law of supply and demand. However, after that coin inflation, it will have permanent deflation as no new coins will be introduced.
What is OMI coin's price?
On March 19, 2021, the OMI coin reached its all-time-high (ATH) price of $0.013. Predictably, this corresponds with the height of NFT sales activity, as discussed in the beginning.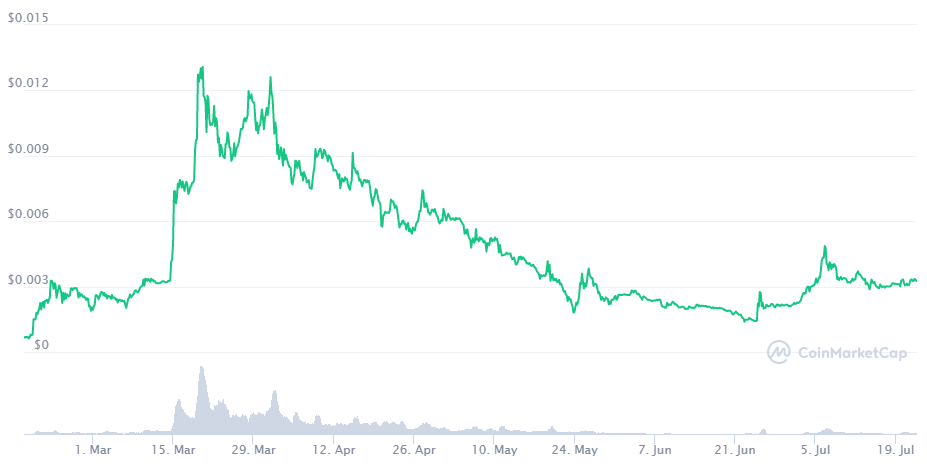 After many sharp ups and downs since then, OMI is at $0.0008, which is a 95.7% drop from it's ATH. Its market cap is $222.7 million, with a daily trading volume between $5 – 6 hundred thousand.
Is OMI coin a good investment?
As you can see from the charts, the OMI token exhibits a strong correlation between the overall NFT/digital collectibles market interest. As it increased in July, so did OMI's price. Moreover, not only does ECOMI's VeVe platform provide mainstream IPs (intellectual properties), but their NFTs are available using cutting-edge technology.
Aiming to become a true replacement for physical art vaults and galleries, VeVe offers virtual showrooms that are customizable, as if you were in a video game. Moreover, the Augmented Reality feature makes use of your mobile device to bring the visual manipulation of digital collectibles to the next level.
One can import NFTs with other assets, scale them, rotate them, and create unique imagery of your collection by taking a photo. Then, they can be traded with other collectors, with each party gaining granular access to what they are buying. In other words, if one were to envision a digital collectibles market that has what it takes to appeal to the widest audience possible, it would be VeVe.
These factors lead one to conclude that the OMI token will find itself in greater use as time goes by. After all, it caters to a young audience that is both tech-savvy and friendly to crypto assets and emerging technologies.
Where can I buy OMI crypto?
BitForex is the main crypto exchange offering ECOMI (OMI) utility tokens. Alternative exchanges are Gate.io and AscendEX, previously BitMax. One should expect to see OMI coins included on decentralized exchanges (DEXs) sometime during 2021 and after. In the meantime, it is possible to wrap OMI tokens on the Uniswap DEX by following this guide.
Should you buy OMI coin now or later?
If you are into NFT marketplaces, the VeVe platform is at the top of the game with its advanced features and the most popular comic/hero brands. Likewise, the OMI token should be aligned with the rise of VeVe's popularity.
With that said, don't forget that in Q1 2022, its supply will increase, thus its price will dip. Therefore, it's all about making the decision when to enter the market. It is always a good trading strategy to avoid buying an asset when its price is high. If, by the end of this year, there is a significant increase in NFT activity, OMI price will follow, as shown by previous price moves.
With that in mind, the current OMI price is on the low-end, starting to rise again. This indicates a buy-the-dip period, just like there will be in 2022 when OMI coin supply is poised to be increased.
< Previous In Series | Crypto | Next In Series >
Disclaimer
In line with the Trust Project guidelines, the educational content on this website is offered in good faith and for general information purposes only. BeInCrypto prioritizes providing high-quality information, taking the time to research and create informative content for readers. While partners may reward the company with commissions for placements in articles, these commissions do not influence the unbiased, honest, and helpful content creation process. Any action taken by the reader based on this information is strictly at their own risk.