AI-generated portraits are flooding social media all over the world. People proudly show off digital portraits and avatars made using Lensa — the photo editing app that went viral after integrating a new AI-based avatar generation tool. However, many people don't know that Lensa is not the only AI art generator in town. This guide discusses some of those photo editing tools that use cutting-edge AI technologies. Here are the best Lensa AI alternatives currently out there.
🛡Surf the Internet safely and keep your personal data private!
Use Atlas VPN with -82% discount by promo code ATLASWELCOME by THIS LINK!
What is Lensa AI?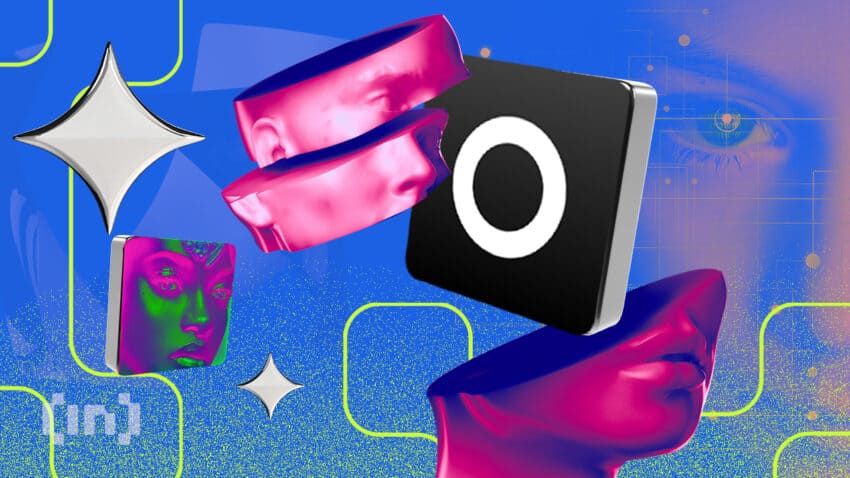 Lensa is an image editing application that lets users upload selfies and transform them into avatars using AI technology. The app also offers several other features. These include eliminating image glitches, blurring backgrounds, creating short videos, and deleting items from images. In short, Lensa is a fun AI art generator that lets social media users add a new touch to their content. You can download it from the Android and Apple app stores.
Lensa uses Stable Diffusion, a deep-learning, text-to-image AI model developed by Stability AI. The first stable release of the model came on Dec. 7, 2022. It can generate new images from scratch based on user input via a text prompt. Stable Diffusion is open source and available for free. However, to run it, you'll need a PC with a minimum configuration of a new-generation AMD/Intel processor. Plus, 16GB RAM, an NVIDIA RTX GPU (or equivalent) with 8GB memory, and 10GB of free storage space.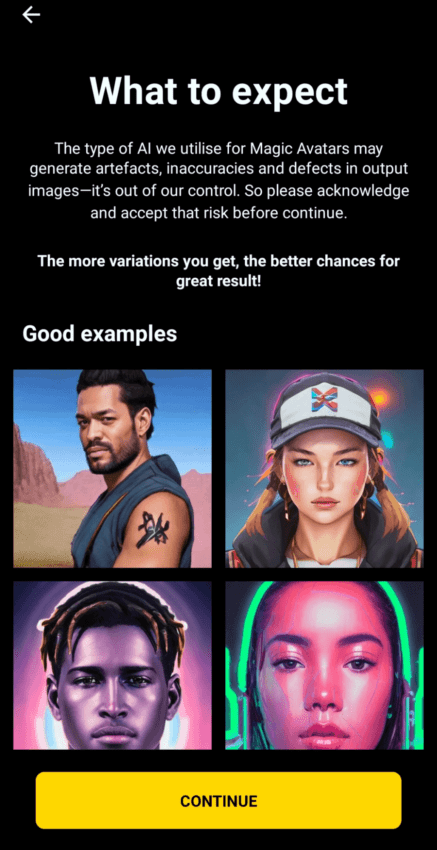 In comparison, Lensa is lightweight, and you can operate it on your Android or iOS device. Lensa uses Stable Diffusion's free, open-source AI art generator. It acts as an intermediary that provides the computing cycles required to run the prompts and deliver images.
With Lensa's subscription options, you're looking at paying anywhere from $3.49 to $139.99, depending on how much access you want and for how long. That gets you into their photo editing and video creation tools. If you want to use their Magic Avatar feature, that's going to cost extra. It's anywhere from $9.99 to $17.99, depending on the package of avatars you choose.
Why do we need Lensa AI alternatives?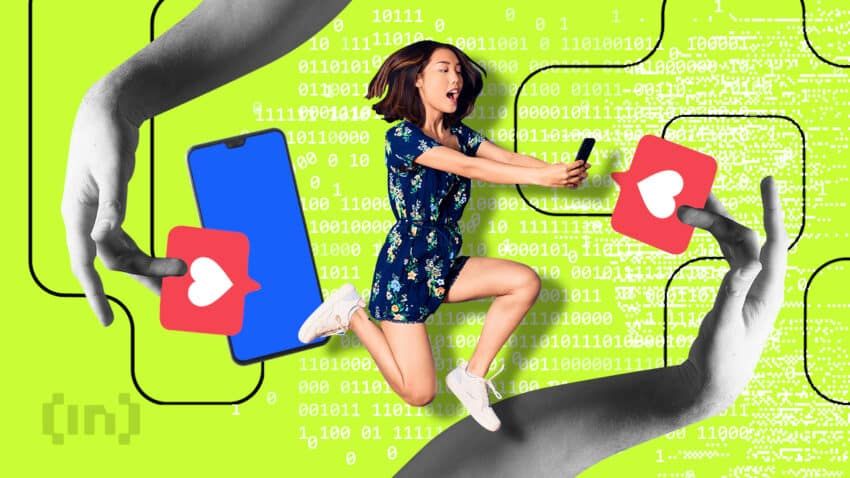 No doubt Lensa does a pretty impressive job as a photo and video editing tool. It also comes in quite handy for generating cool avatars that you can use on your social media accounts. That said, Lensa's Magic Avatars are not perfect.
Every now and then, the AI becomes a little too abstract and loses its realism. Usually, smaller details like the shape of the eyes and fingers are more likely to be inaccurate than more prominent features such as a mouth or nose. And even when it doesn't mess up to that extent, some of the avatars you receive may not look like you. Because of that, you might not find the more expensive avatar packages worth the money, as they produce many inaccurate results.
Moreover, Lensa's Magic Avatars may be subject to inherent biases with regard to gender, race, and other factors. For instance, we noticed that people with dark skin tones were given white avatars. There is also a lot of airbrushing at times. For example, many female avatars Lensa creates tend to have digitally accentuated breasts.
Besides these performance issues, the app is also drawing pushback from an increasing number of artists who allege that Lensa is copying their style without their permission.
Best Lensa AI alternatives in 2023
1. DALL-E 2
What is DALL-E 2
If Lensa is the Picasso of AI art generators, DALL-E 2 would be no less than Salvador Dalí. It can take a bunch of words and turn them into spectacular digital artwork, just like Dalí would turn a blank canvas into a surrealist masterpiece. It's like having a robot version of Wall-E, but instead of cleaning trash, it creates art on command. In fact, the name "DALL-E" is a combination of Salvador Dalí and Wall-E, the beloved robot character from Pixar.
What is it for?
DALL-E 2 can produce high-quality images and artwork if you give clear and specific instructions. It's fast, too: the AI can whip up quality artwork in just a few seconds. It uses its own understanding of the subject, style, colors, and concept to deliver an output.

You can also use DALL-E 2 to edit images. This comes in really handy if you are not very proficient with editing tasks. That's because, unlike conventional image editing apps such as Photoshop, DALL-E 2 requires no domain knowledge whatsoever. For instance, if you want to remove an object from an image, you just have to ask DALL-E 2 to do so. The app will then do it for you.
How to use DALL-E 2
To start using DALL-E 2, go to the DALL-E 2 website and sign up for an account. If you already have an OpenAI account, just log in with those details. The process is quick and simple; you'll need to provide your email and phone number for verification. Once you're all set up, you'll be prompted to enter a descriptive text of up to 400 characters.
2. Dawn
What is Dawn AI?
Dawn AI art generator is another popular Lensa AI alternative that lets you turn your creative ideas into artwork with the help of AI. Available on both Android and Apple iOS app stores, Dawn enables you to create stunning artwork using text prompts — just like Lensa.
What is it for?
Dawn is not just another text-to-image AI art generator; it goes the extra mile to bring you additional features.
For starters, you can generate wholly unique and often-impressive images with just a simple text prompt and the push of a button. And if you want to add even more personalization, give it a specific style or theme to draw inspiration from.
Dawn AI allows you to turn any photo into a work of art. Whether it's a portrait of a friend, family member, or even your pet, you can put them in all sorts of suits and costumes like superheroes, doctors, astronauts, historical figures, and more. You can even swap their genders and see how they would look as a member of the opposite sex.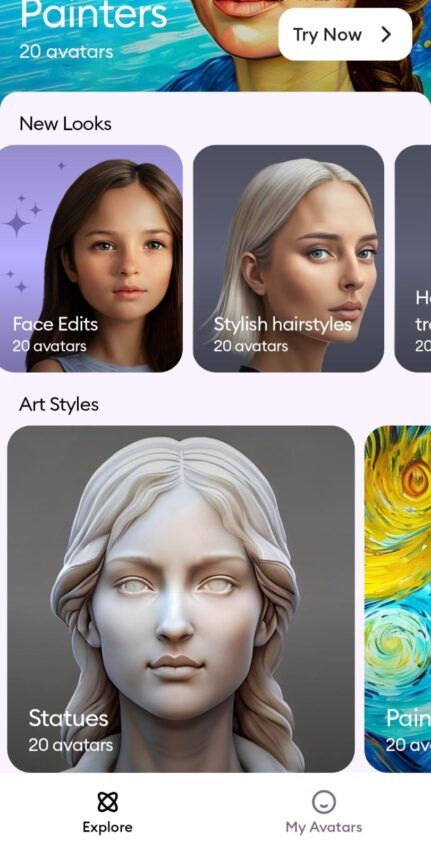 You can also transform your photos into realistic versions of different art styles, such as oil painting, fine art, anime, cinematic lighting, photorealism, fantasy, etc.
The app also brings a new sketch-to-image feature. With this feature, you can design a rough artwork draft and feed it to the app. Dawn will take it from there and build/improve upon your work.
How to use Dawn AI
Using Dawn is simple and relatively straightforward. Here's what you need to do:
First, choose between Text or Sketch as your input method.
For Text, enter your prompt and add your preferred style.
For Sketch, use your finger or a stylus to draw your rough draft and add your preferred style and a description.
In both cases, select your desired aspect ratio for the image.
Finally, hit "Generate Images."
Want to create your own avatar? No problem!
Use the @me tag feature and upload four selfies.
Wait for the process to complete.
Give it a prompt, choose the aspect ratio, and hit "Generate Images."
Voila! You now have your own personal avatar.
You can download and use Dawn for free, although the free version has some limitations, like watermarks on your images, limited saves, and slower generation speeds.
3. Dream by Wombo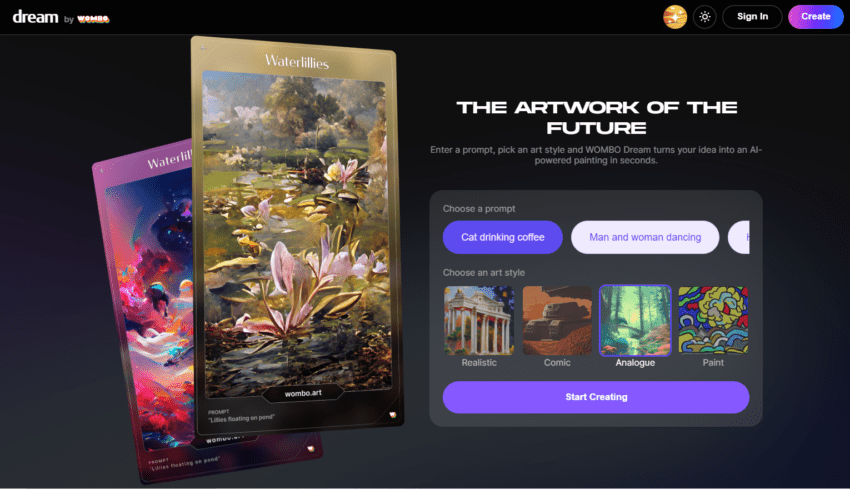 Following the success of its eponymous AI-powered lipsyncing video app, Canadian startup Wombo unveiled the Dream app in 2021. Available on PC (browser), Android, and iOS, the app operates the same way as other Lensa AI alternatives in our list. You simply describe what you want it to draw, and the app will do it for you.
What is it for?
Dream by Wombo comes in handy for designing visual elements in books, websites, walls, or custom playlist art without a professional graphics designer. The user interface is simple to operate.
With the browser-based version, you can easily create artwork in the style of your choice with just a simple text prompt. You can also turn your artwork into NFTs or buy a print via the Dream web app. The creative process is almost the same in mobile app versions, except they come loaded with additional features.
Like with Lensa and other apps on the list, some of the artwork created using Dream is pretty impressive. Some also miss the mark. You have to keep in mind that no two prompts will generate identical outputs. The clearer and more contextually descriptive your prompts are, the higher the probability of getting the desired quality.
How to use Dream AI
You can try out the app without having to sign up first. You get a text input field where you enter your prompt to describe what you want it to draw. For example, "a terrifying tiger hiding in the bushes" or "an astronaut playing basketball on the Moon." Select a style from the available options (e.g., fantasy art, mystical, baroque, etc.) or opt for "No style" before hitting the "Create" button — simple as that!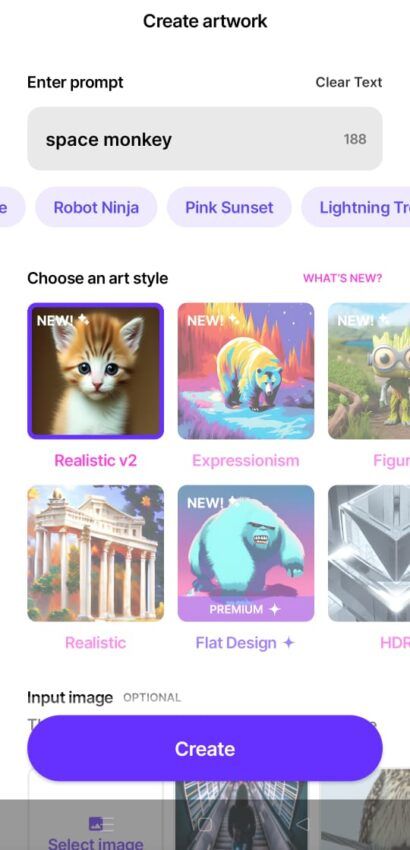 4. Starry AI
What is Starry AI?
Starry AI is also a text-to-image art generator, just like the other Lensa AI alternatives. Head to the Starry AI website, sign up, and create images using text prompts. You can also download the Starry AI mobile apps (Android and iOS) to create and share your AI-generated images on the go.
StarryAI may not be as speedy as Dream, but it's got all the bells and whistles to make your art look on point. While it has many customization features, AI sometimes performs badly if you use too many parameters. For example, we tried adding several parameters to the prompt "two dogs playing a videogame," and the results we got were way off the prompt.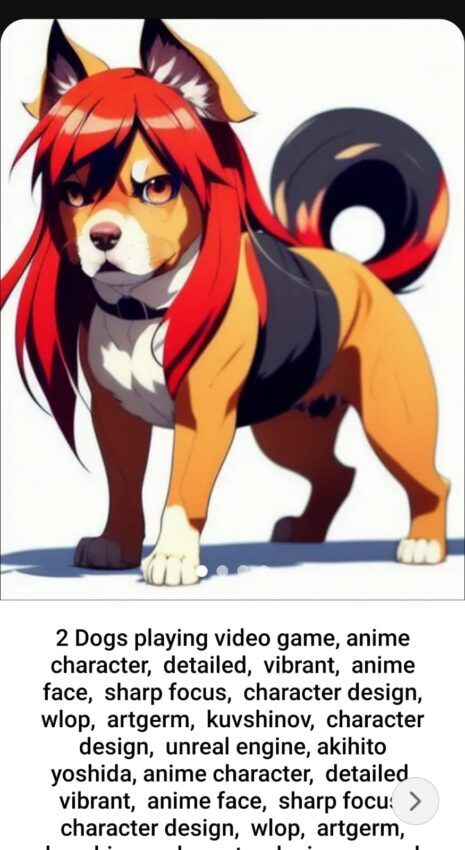 The great thing about StarryAI is that your pictures can be super high-resolution. However, it all depends on your credit balance. You get five free credits daily and can buy more if necessary. Each prompt costs you one credit, and you get four images per prompt. You can earn credits by watching ads or sharing your AI-generated art on social media.
How to use Starry AI
Simply type in your text inspiration, select Altair (surreal and otherworldly) or Orion (cohesive and put-together), then add your own personal touches. Choose a style inspired by famous artists, pick a specific art movement, and experiment with different textures (such as glass, plastic, or liquid metal). Then, finish it with the perfect medium (acrylic, watercolor, graffiti, and more).
Impact of AI art generators on art and artists
AI art generators like these Lensa AI alternatives have the potential to revolutionize the art world. By introducing fresh avenues for imagination and self-expression, these alternatives make creative processes accessible to virtually anyone with an imaginative mind. However, it's important to consider the authenticity of AI-generated art and its impact on the art world.
Using tech to shake things up in the art world can be exciting, but it's important to proceed cautiously. For starters, there might be careers on the line regarding these tools. And besides these practical dilemmas, there's the more philosophically inclined question — can art created without a "soul" even be considered art? The future will surely tell.
Frequently asked questions
What apps are similar to Lensa?
There are many AI art generators with features and capabilities comparable with that of Lensa AI. We have discussed some of most popular and promising Lensa AI alternatives in our comprehensive guide. A few other examples include Midjourney, Pixray, and Big Sleep.
Which app is best for AI photo enhancement?
There is no one-size-fits-all approach. Different AI image editors come with their own merits and demerits. Ultimately it all comes down to what features and functionality you want. For example, you might be looking for hyperrealistic images, or AI-driven image editing tools.
Is Lensa AI free?
Lensa is free to download on your phone and try. Lensa's subscription plans range from $3.49 to $139.99, depending on the level of access you want and for how long. This will give you access to their photo editing and video creation tools. Keep in mind, if you want to use their Magic Avatar feature, it will come at an additional cost. This is from $9.99 to $17.99, based on the avatar package you opt for.
What is Stable Diffusion?
Stable Diffusion is a deep-learning, text-to-image AI model developed by Stability AI. The first stable release of the model came on Dec. 7, 2022. It can generate new images from scratch based on user input via a text prompt. Stable Diffusion is open source and available for free. Lensa and several other AI art generators are powered by Stable Diffusion.
Disclaimer
All the information contained on our website is published in good faith and for general information purposes only. Any action the reader takes upon the information found on our website is strictly at their own risk.
At Learn, our priority is to provide high quality information. We take our time to identify, research and create educative content that is useful to our readers.
To maintain this standard and to continue creating awesome content, our partners might reward us with a commission for placements in our articles. However, these commissions don't affect our processes for creating unbiased, honest and helpful content.