The massive explosion of online businesses can be linked to the availability of freelance opportunities in the market, putting the freelancing industry in huge demand. Even though the pandemic slowed down the growth, with about 28% of freelancers losing their jobs, a report from FIA suggested that skilled freelancers will dominate the U.S. workforce within a decade, with almost 50% of millennials already freelancing.
As a result, freelancing is exploding, and its mounting skills are evident in software development, graphic design, marketing, and many others. With the surge prospects of skills for freelancing, the golden opportunities are here to stay. As of today, the freelancing space accounts for over $1.4 trillion in the U.S. economy. In case you are considering entering this space, the minimum requirement is not too much to ask for in this new age. This guide will fill you in on how to start freelancing and get lost in its maze of opportunities.
What is freelancing?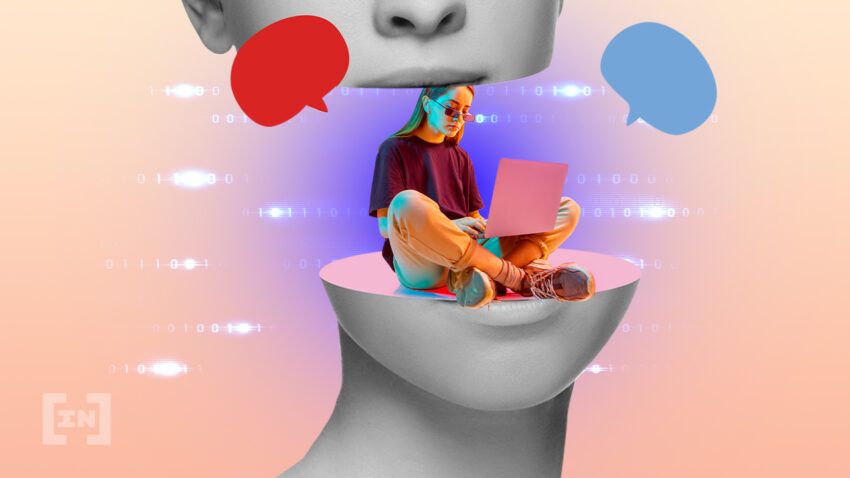 Freelancing involves getting work done for clients without any actual formal full-term commitment to any employer or company. If you're into freelancing, you work in your own space and get paid by the job, and the number and quality of jobs depend largely on skills and credibility.
Freelancing can be a contract work on a part-time or full-time basis. Likewise, payment can be one-time, per hour, or per gig; it all depends on the agreement signed before starting projects.
The word freelance was originally used to identify a mercenary or a knight who offers his services to a lord or anyone willing to pay for them. It was usually written "free lance." Typically, both the Lord and the knight benefit from this arrangement.
Notably, freelancing essentially means working from your space. It doesn't necessarily mean working from home. You might have your office or probably visit your client's office. It all depends on the project type and the client's requirements.
What is a freelancer?
Like a regular employee, a freelancer works on different projects, but does not work under any employer on a permanent basis. Flexibility is top of the list of reasons people go for a career of freelancing. As a freelancer, you can manage and decide the timing and location of your work. 
In addition, your earning potential as a freelancer is equivalent to your work experience and the kind of skill you're selling. There are times when freelancers earn more than regular employees. Some common in-demand skills to explore with freelancing this year include marketing, copywriting, blockchain programming, graphic design, and being a virtual assistant.
Overall, a freelancer is organized and dedicated, knows how to manage time, and has the skills needed for the task at hand.
Let's explore the relevant skills you can harness to become a freelancer.
5 most in-demand skills for freelancers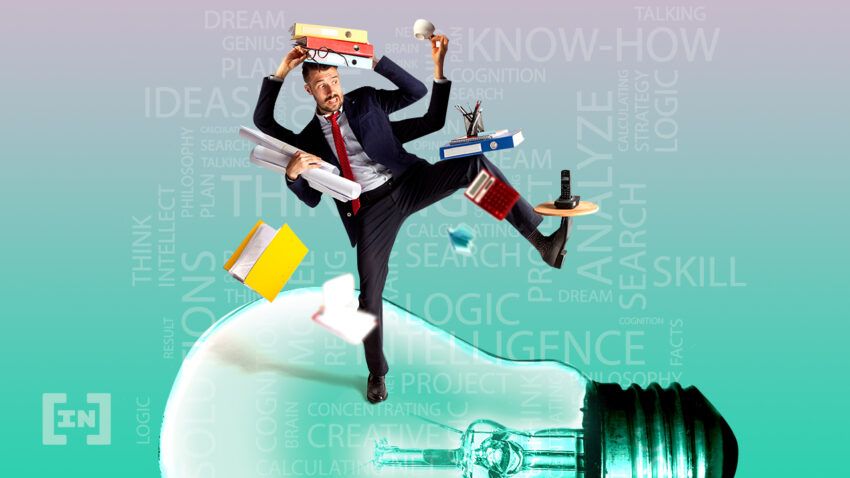 Are you looking to start a freelance career in 2022? What skills should you develop? Below is a list of verified skills you can learn, explore, and gain a stand in this space.
1. Graphic design 
Graphic design is a core skill when it comes to branding, and it experiences consistent growth each year. A report from ibis world shows that the total market value for graphic design is about $45.8 billion, with a 4.1% growth in 2021. Interestingly, the market is dominated by freelance graphic designers, accounting for about 90% of the total design industry. 
No company can survive without quality designs. Whether it's a logo or a regular advertising flier, every company, including startups, NGOs, and other firms, needs good design to interact with its audience. All these have placed this niche among the top business activities.
Tools needed
Space: This could be a room in your home, a dedicated place, or an office space. Wherever you choose to work, you should ensure it's uncluttered and somewhere that offers inspiration to boost productivity.
PC: Most freelancers go for Apple Mac products over PCs due to their reliability and sleekness. Most of the top design applications are, however, available for both Mac and Windows.
Overall, becoming a freelance graphic designer requires total discipline and professionalism. Get it right, and you are open to limitless opportunities. 
2. Data analysis
This involves inspecting, transforming, and modeling data with the ultimate aim of useful sourcing information and facilitating decision-making.
Data analysis is a huge skill, and it ranks among one of the most sought-after skills in 2021, with over $240.56 billion in market size value. Big companies like LinkedIn, Facebook, Groupon, and Amazon are constantly sourcing data analysts due to the large amounts of raw data they generate. In addition, other big four auditing companies, and several other organizations, including government agencies, big retailers, and even social-networking sites, are massively hiring these analysts.
Tools needed
To become a freelance data analyst, first, you need a solid understanding of DBMS software tools Oracle, SQL, Python, and more. Then you want to build a profile where you can meet potential clients. Again, LinkedIn is the best platform to do this. 
3. Blockchain and cryptocurrency programming
Blockchain has gained massive popularity and opened new doors in the tech space. Regardless of the current crypto market, several cryptocurrency platforms and even mainstream companies are hiring blockchain developers. It topped the list of high-demand skills on LinkedIn.
Blockchain and crypto programming revolves around building decentralized applications (DApps) and smart contracts running on blockchain technology. To start a career in this line, you'll need a solid understanding of the structures and protocols of the technology. Here are a few works of a blockchain developer.
Design the blockchain protocols
Develop backend to suit the blockchain protocols
Build front-end designs following the client's requirements
Developing and monitoring smart contracts
Utilize different tools and apply knowledge of one or more platforms and programming languages.
Therefore, to become a blockchain developer, you must gain expertise in one or a few programming languages, such as Java, Rust, Solidity, etc. You can land blockchain development jobs by joining different crypto project communities or pitching your portfolio on LinkedIn.
4. Social media management and marketing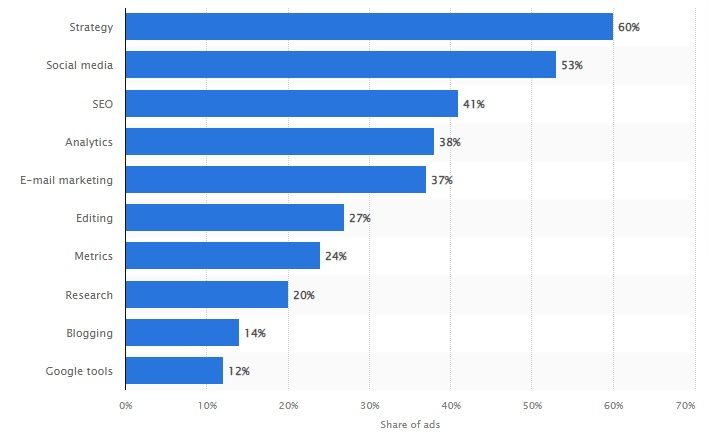 As the scope of social media keeps escalating with new platforms, tools, and trends, the search for skilled social managers is constantly increasing. A report from Statista shows that of all the content marketing jobs posted in the U.S. in 2020, 53% of them revolve around social media.
Being a social media manager means staying updated, following trends, and employing data-driven strategies that drive conversion-based results. As social media manager, you have to quickly grasp your audience and engage with them accordingly.
Social media marketers have the following personal skills:
A strong understanding of customer service
Good communication skills 
Smooth strategies to sell ideas in several ways 
Strong written and verbal communication skills
Solid knowledge of online marketing concepts such as video marketing, social media, email marketing, and content creation
Good writing and editing skills with a soothing tone
Tools needed
With so many social media platforms, it can be really stressful to keep juggling from one account to another. Some tools include Buffer, Hootsuite, Later, Falcon.io, Tailwind, IFTTT, and Facebook Creator Studio. These allow you to create, manage, and measure platforms such as LinkedIn, Twitter, and Facebook. 
5. Virtual assistance
A report from Global Workplace Analytics in 2021 shows that U.S. employers are likely to experience over $12,000 in cost savings by prioritizing remote work over in-house employees. Hence, there has been a massive increase in the demand for virtual assistants. A virtual assistant (VA) handles daily tasks, projects, or any technical services for business owners via digital technology. 
Becoming a virtual assistant might be interesting because of the flexibility that comes with the work process. The rewards come with the ability to enjoy the work you do and interact with the clients you do business with. Following the statistics released by Indeed in 2021, the average virtual personal assistant in the U.S. earns around $19/hour, which adds to about $58,000 annually in 2021.
Tools needed
To become a VA, you need to get familiar with some tools to help in your day-to-day activities. Some software including Canva, Trello, Calendly, Google Drive, Google Analytics, etc. will boost your productivity, as well as save you a lot of time in getting tasks done.
How to become a freelancer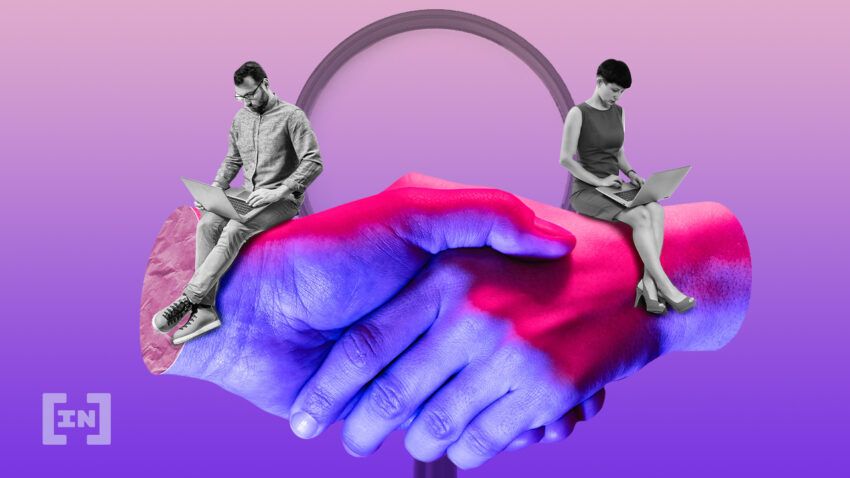 Now that you have read all the available in-demand skills, you will need to choose and draw out a strategy to follow. Here are a few steps you can follow.
1. Choose your area of expertise 
Freelancing is all about using your talent to make money online. First, you have to pick the services you can easily render and start placing your bids on them. Because freelancing is more like starting a new business, you don't want to delve into a niche because of the average salary being paid. Meanwhile, you don't enjoy doing it. Go for a skill you enjoy doing, analyze how you go about it, and understand your target audience/client. 
2. Build your portfolio 
Once you have selected a skill to work on, you need to start creating and assembling your portfolio. Finally, you need to start uploading a couple of samples of your best work for a portfolio and create a profile to start pitching for jobs. 
For example, as a web developer, you can create an account on GitHub. Likewise, platforms like Behance allow you to showcase your work samples if you're a graphic designer. No matter what skill you're offering, a simple Google search with something like "build your graphic design profile" will show you different options. This process boosts your likelihood of landing a good job.
3. Finding the gigs
Upon creating a solid portfolio, the next agenda is to start pitching with a good proposal or cover letter that matches your work capabilities.
Now, where do you source for jobs and start writing job proposals? Some of these platforms include LinkedIn, Indeed, and lots more. 
One great strategy to go about this is doing some index searches, something like looking for a social media manager doing this on LinkedIn, for example, brings out recruiters with similar interests.
You can also join freelancer communities like Kitchen Table Community or freelancer marketplaces like Upwork or Fiverr to get started.
4. Stay committed
If you really want to create a long-term career in freelancing, you have to be very committed to the course. Once you win any job, you must aim at completing it successfully. Do in-depth research on the gig and stick to deadlines. 
On most marketplaces for freelancers, including Upwork and Fiverr, you have the opportunity to develop your career image via reviews from your clients. You can only get excellent reviews when you deliver great jobs. You have to be very intentional to make worthwhile bucks in freelancing.
Good feedback will increase your visibility, and you tend to get more clients. Once you have a number of clients, pat yourself on the back — you are a freelancer.
Is freelancing worth it?
One of the major benefits of becoming a freelancer is that you get to be your own boss. No stress of going to work very early in the morning. You get to decide where to work at your convenience. 
Notably, the success of your work totally depends on you and how large you envision the growth of your skill. If you work hard enough to build your image, you could have many clients who pay you a steady wage monthly. The key is all about strategic management.
There are pros and cons to becoming a freelancer, but that decision is up to you. Do you want freedom and flexibility? Then the freelancing life may be for you.
However, a few drawbacks include a lack of steady salary, since freelancing does not include permanent contracts. Likewise, unlike a regular employee, there's no job security. As a result, you tend to constantly job hunt.
If you want more information on how to get started as a freelancer, check out the BeInCrypto Telegram Group. You'll also be able to learn about other things, including how to get started with the crypto market.
Frequently asked questions
How can a beginner start freelancing?
Start by choosing a skill and then define what you can offer as services. Next, explore different ways to get jobs done and analyze yourself based on what you can do and how you do it.
Can I freelance with no experience?
Yes. The crucial elements of becoming a freelancer are commitment, building your portfolio, and going for clients that match your capabilities.
Which skill is best for freelancing?
A few in-demand skills you can explore include graphic design, social media management, virtual assistance, blockchain, and crypto programming.
Which field is best in freelancing?
Having a solid understanding of marketing, basic designs, web development, and blockchain development can prove lucrative for beginners looking to kick-start their freelance journey.
How do freelancers get paid?
It all depends on your preference. Freelancers can get paid via PayPal, Payoneer, or other online payment portals. You can also get paid via cryptocurrencies.
How do I start freelancing with no skills?
Starting freelancing can be as simple as learning a skill, building a portfolio for your services, searching for freelance marketplaces, pitching your samples, and landing your potential clients.
Disclaimer
In line with the Trust Project guidelines, the educational content on this website is offered in good faith and for general information purposes only. BeInCrypto prioritizes providing high-quality information, taking the time to research and create informative content for readers. While partners may reward the company with commissions for placements in articles, these commissions do not influence the unbiased, honest, and helpful content creation process. Any action taken by the reader based on this information is strictly at their own risk.