Staking remains popular as ever in the crypto market. More projects are allowing staking to earn a modest passive income. Theta, a cryptocurrency created to improve video streaming, has also done the same. But it can be difficult to stake if you're new to the market. Here, we take you through the Theta project, the use cases, and a step-by-step guide on how to stake theta.
What is theta token?
Theta solves the problems faced by increased demand for video streaming and virtual reality. While, to users of YouTube or Netflix, the process may seem easy, the demand on computing resources that this requires from the other end is significant.
Content delivery networks aid in this process, but are under pressure. In exchange for the use of network power, theta token holders receive additional theta tokens. This eases the demand on these networks and provides an income for holders.
Can you stake theta?
While it isn't possible to stake every cryptocurrency, theta is one that can be staked. Staking a cryptocurrency means offering it up to the blockchain for various uses, such as for computing or network power, as described above. So yes, theta token can be staked.
How to stake theta?
In order to stake theta, you need a minimum of 1000 theta tokens. At the current price, this would cost almost $7k, so this may take a while to build up.
If you have the required 1000 tokens, you can use the Theta web wallet to stake your tokens. You can do this with up to 10,000 tokens.
There are, however, minimum requirements that need to be met for you to be able to stake your theta tokens. These relate to the specs of your computer. Despite this, the reward for staking your theta is TFuel tokens. These can, in themselves, be staked to earn more.
Currently, you need a computer with the following requirements to stake theta or TFuel:
5 Mbps internet connection
8GB RAM
A CPU with at least 4 Cores
Having said this, the majority of computers would meet these standards these days, making it accessible to most people.
Step 1: Set up your wallet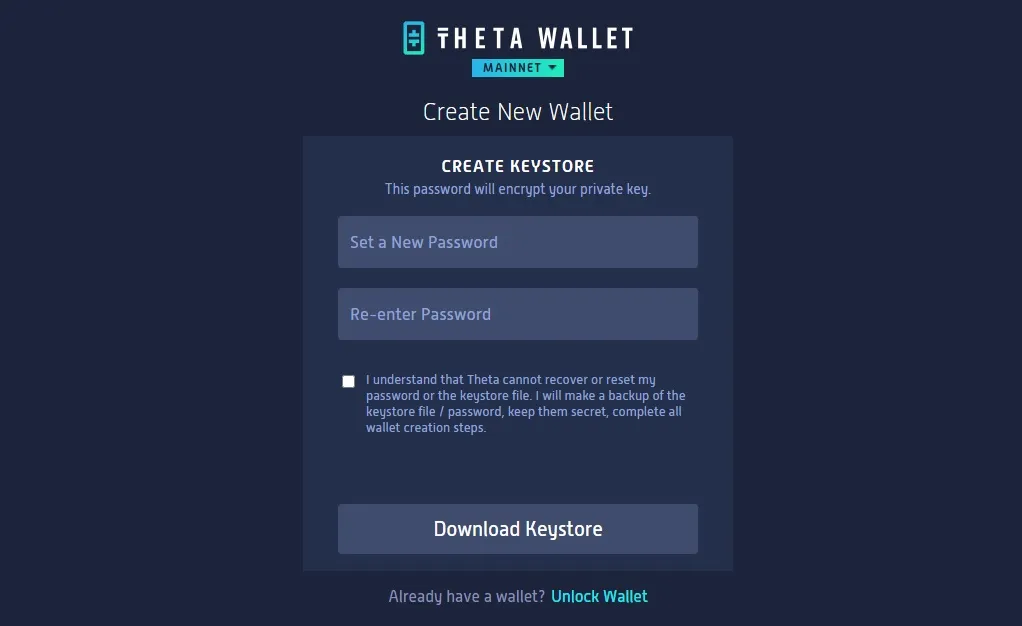 To stake theta, you will need a theta wallet, which you can sign up for by visiting thetatoken.org. You can do this by clicking "Wallet" at the top of the page and "Create Wallet" on the next page. This will then take you through an account sign up process, asking you to create a password.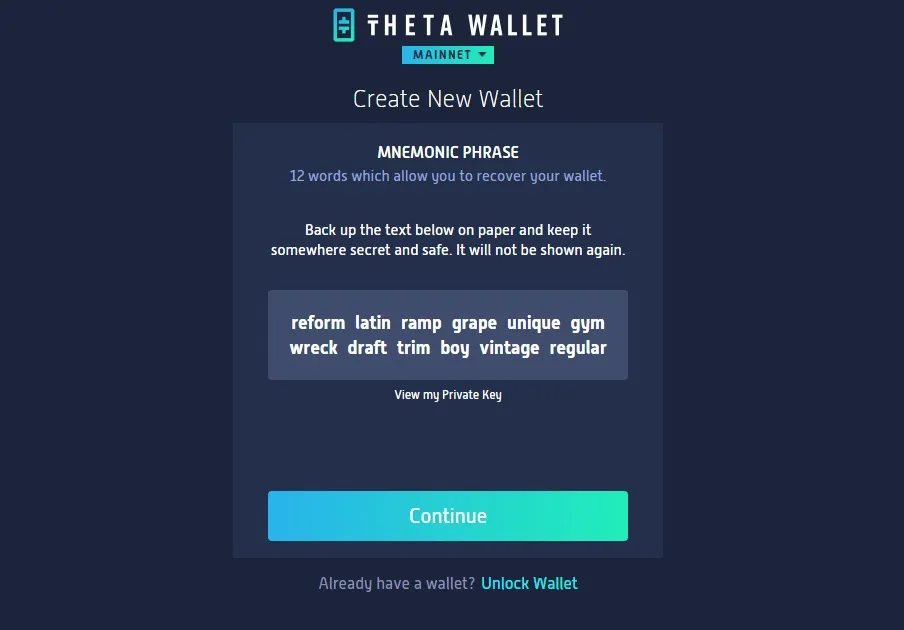 Once you have created a password, the next page will ask you to download a Keystore file, needed to login to your account. In addition, it will also give you a twelve-word phrase that allows recovery of your wallet, should you forget your password.
Step 2: Buy some theta
Before you can stake theta, unless you already hold the crypto, you will need to buy some on whichever exchange you use. For this demonstration, we will use Binance; however, it is available on other exchanges.
First go to the "Buy Crypto" section of the Binance website and select theta in the "Receive" box from the dropdown. Enter the amount of the token that you want to buy. For our example, we have just entered 15 (Binance's minimum), but the minimum to stake is 1000.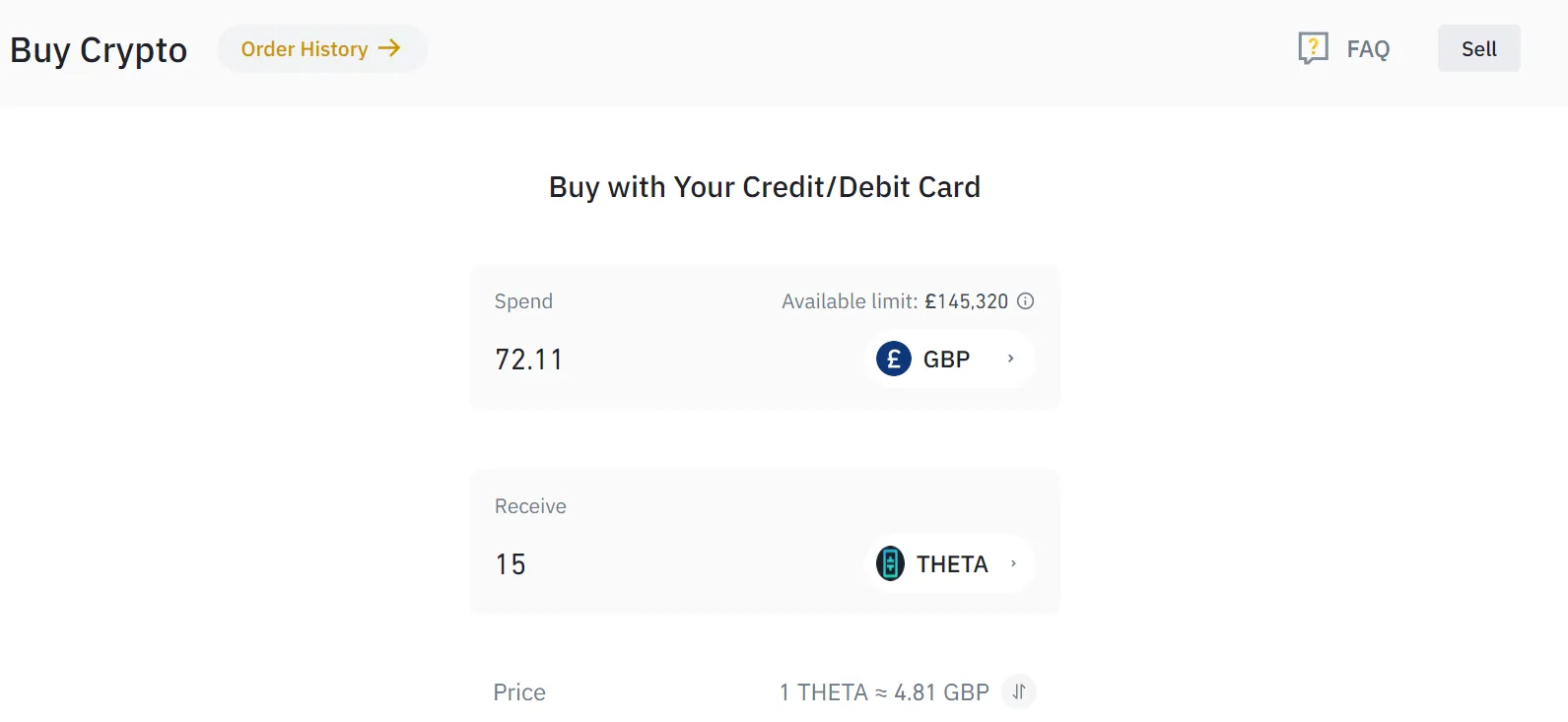 Click "Continue" to head to a screen that asks you to complete the transaction. Confirm your details, including the card CVV on the back.
Beyond this screen, you should be able to go ahead and buy your crypto. This will then appear in your Binance Wallet.
Step 3: Withdraw your crypto
The next step is to go to your Binance wallet and click "Withdraw" at the top of the page. This will take you to the page shown below.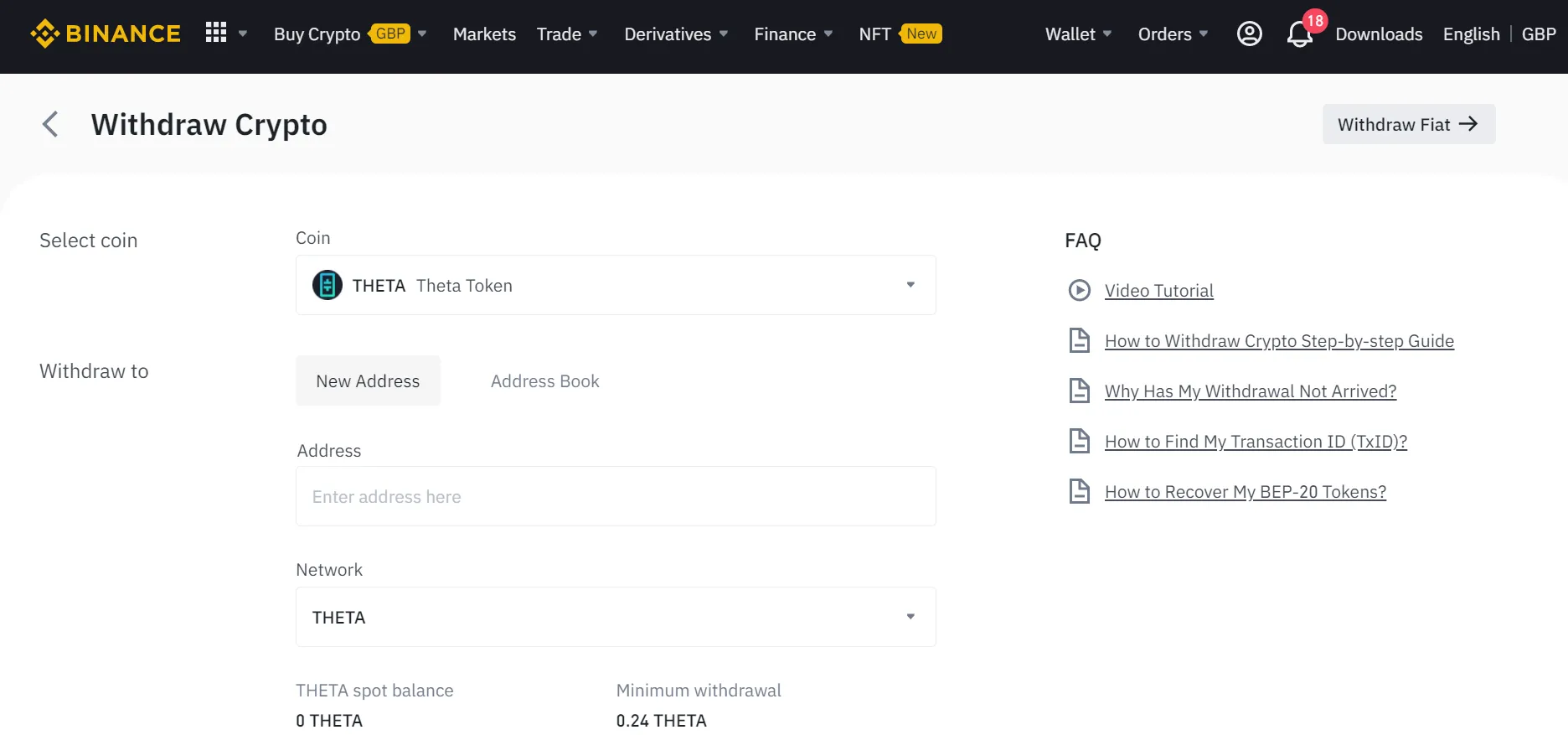 Next, find your theta wallet address by going to wallet.thetatoken.org and sign in by uploading your Keystore file that you created and downloaded earlier on and entering your wallet password. Then click "Unlock Wallet." On the next page, click "Receive" and copy the wallet address.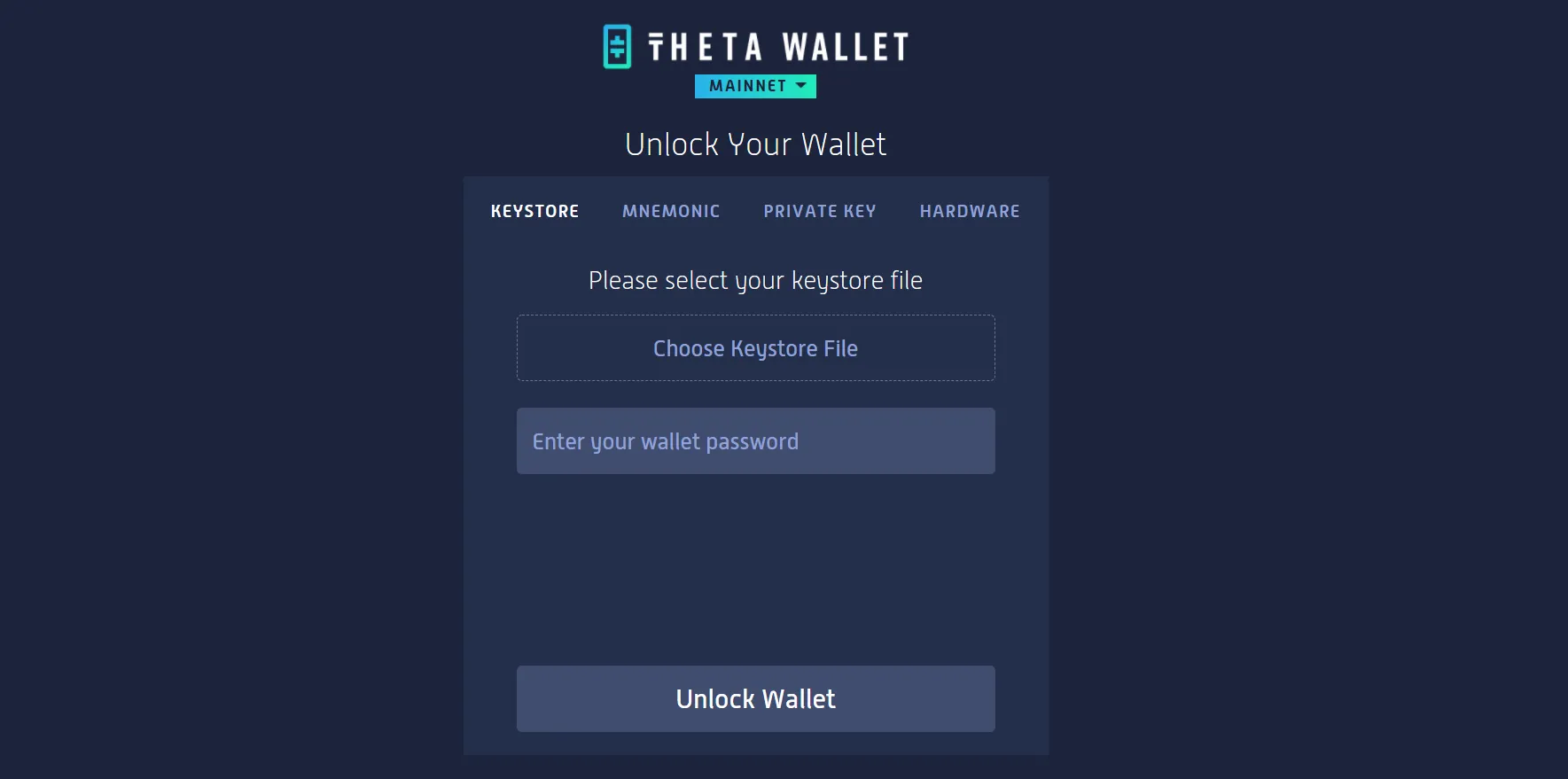 Enter your wallet address on Binance and the amount you want to withdraw. Here, we don't have any, so this option doesn't show. Finally, at the bottom of the page, click "Withdraw." Binance claims that the crypto should arrive within 2 minutes; however, some instances see it take hours to arrive.
Step 4: Stake your theta
Once your wallet contains at least 1000 theta tokens, click on "Stakes." This amount of theta, given it is currently worth $6,600, may take a while to build up.
From here, you need to click "Deposit Stake" and then "Delegated Guardian Node." This allows you to use nodes that others in the community have offered for staking. Select one from the list and on the next screen, enter the staking amount.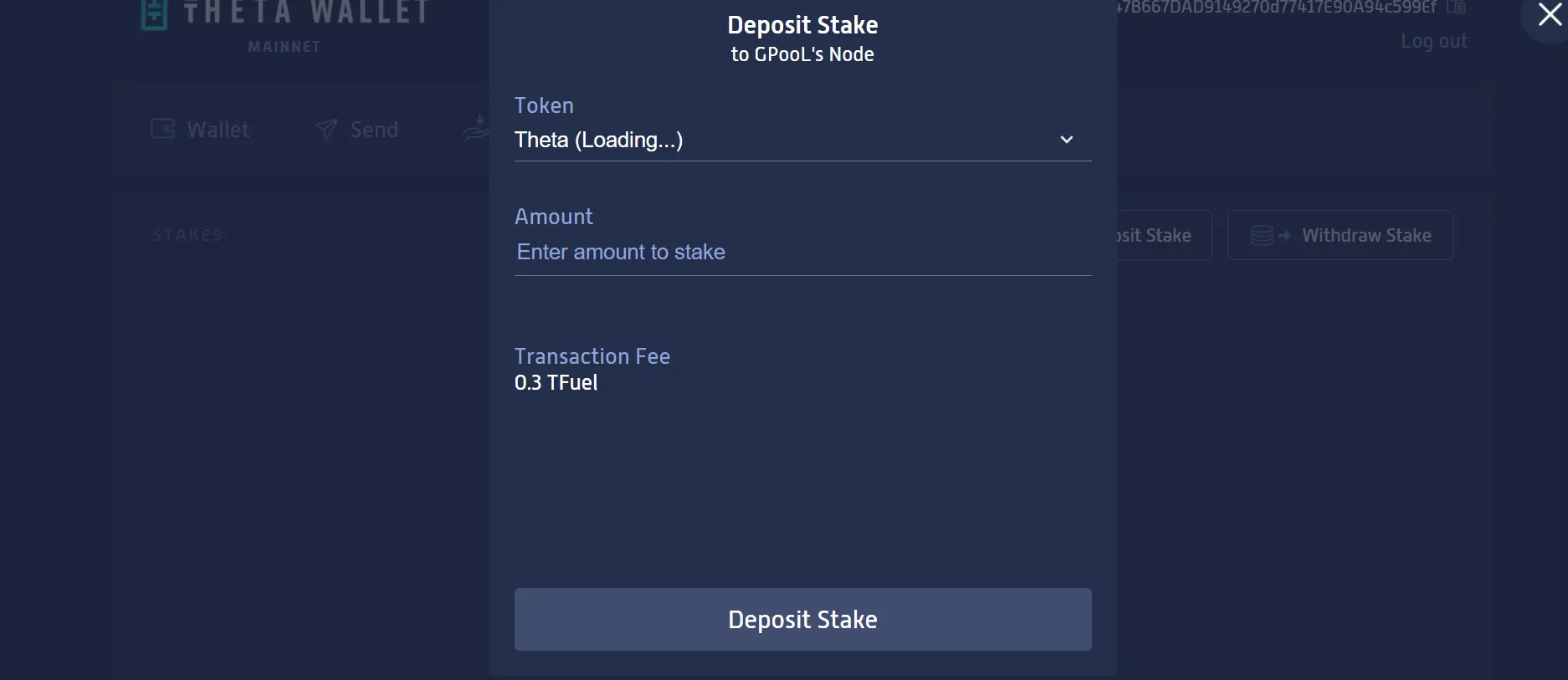 Which node you choose does matter, as it may dictate how much of a fee you pay to the node host. Unless you have a lot of theta tokens, this is your only option. However, for TFuel tokens, the type of token your reward for staking comes in, you can stake these from 10,000 TFuel tokens.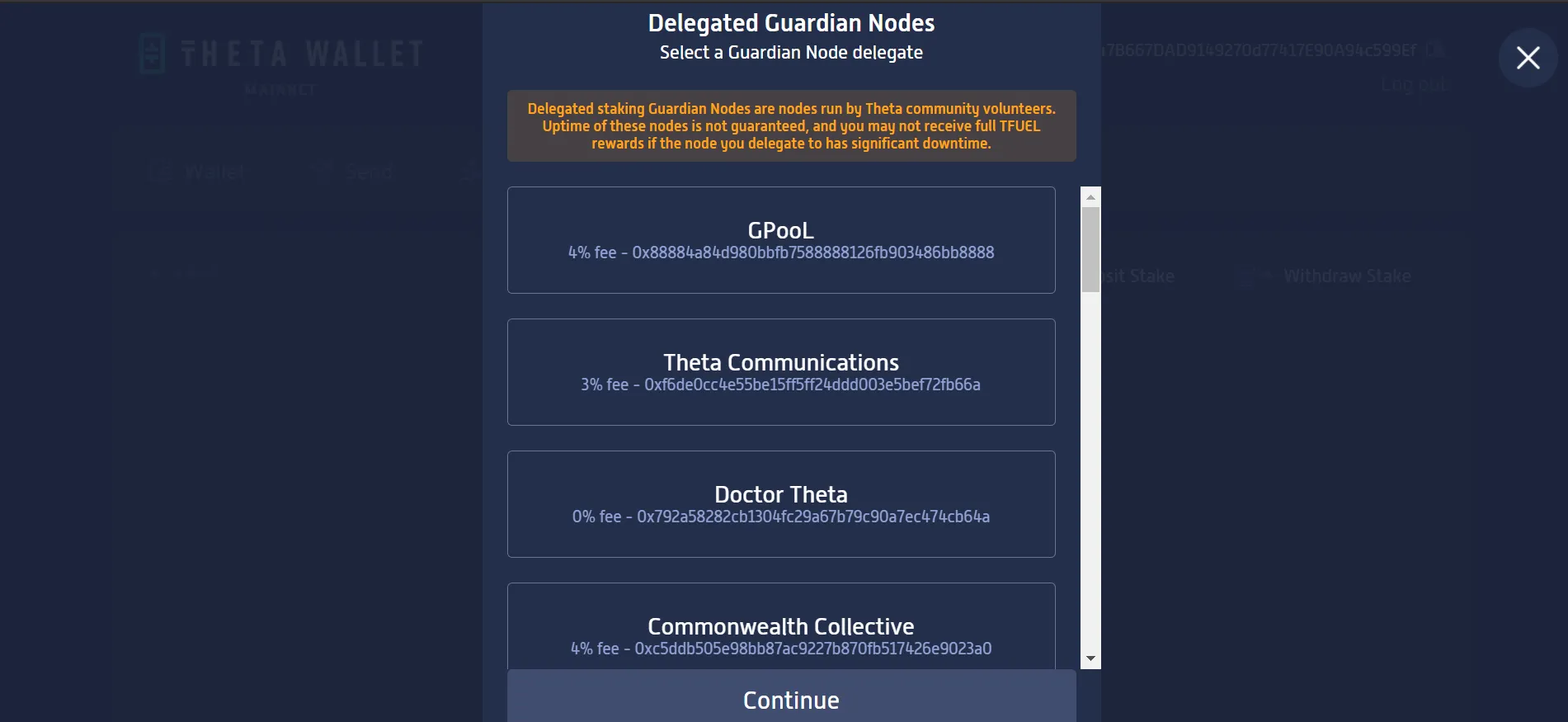 The consensus in the community seems to be that unless you have a lot of theta tokens, the best option is to stake on a Delegated Guardian Node. When you have picked a node to delegate staking to and confirmed the staking amount, you may need to approve the transaction.
Whether you pick a node that charges a fee or not, there is a platform fee of 0.3 TFuel. This is minimal, however, once complete, the Theta will be staked until you tell the platform to do otherwise. The longer you leave it staked, the more you earn.
You can convert your TFuel to more Theta tokens on the Theta.tv website.
However, it is important to note that TFuel tokens are currently considerably lower in value than theta. As it stands, TFuel is worth around $0.33 compared to theta at $6.82. This means you would need just over 20 TFuel to get one theta token.
Is staking theta worth it?
While it may be an obscure one, the theta cryptocurrency still holds some potential, especially given its use case. As far as staking theta goes, it is possible to earn between one and two TFuel tokens a day, however. This is based on the experiences recounted by theta community members.
TFuel does provide a useful calculator which will calculate your return. Don't expect to become a crypto millionaire anytime unless you have large starting capital.
One downside is that it can take considerable time to unstake tokens and retrieve your reward. The waiting time for this is currently 60 hours. Staking this asset requires patience.
With enough invested, it's possible to make several thousand dollars a year. If that makes it worth it for you, go right ahead. If you're looking for a small supplementary income from staking, this may be sufficient. It is not enough to rely on for the average staker though.
Frequently Asked Questions
Disclaimer
In line with the Trust Project guidelines, the educational content on this website is offered in good faith and for general information purposes only. BeInCrypto prioritizes providing high-quality information, taking the time to research and create informative content for readers. While partners may reward the company with commissions for placements in articles, these commissions do not influence the unbiased, honest, and helpful content creation process. Any action taken by the reader based on this information is strictly at their own risk.
Robert is a writer from Yorkshire where he received a BA in Journalism from Leeds Trinity University. Having previously contributed to Shout Out UK, Metro and The Yorkshire...
Robert is a writer from Yorkshire where he received a BA in Journalism from Leeds Trinity University. Having previously contributed to Shout Out UK, Metro and The Yorkshire...
READ FULL BIO
Sponsored Sponsored