The FIO Protocol aspires to solve usability issues with blockchain transactions. One of the biggest obstacles to mainstream crypto adoption is the lack of a human-readable address. FIO solves that by providing decentralized blockchain addresses that humans can easily understand.
How does the FIO Protocol work, and what is the role of the FIO Protocol token (FIO)? Continue reading to discover more about a protocol that has high ambitions.
What is FIO Protocol (FIO) token?
The FIO Protocol (FIO) token is necessary to utilise the FIO Protocol and pay the FIO Chain fees. Its native token, the FIO crypto, acts as the economic driver of the blockchain. 
The FIO chain is a Delegated Proof-of-Stake consensus mechanism on which the Foundation for Interwallet Operability (FIO) Protocol runs.
You can indirectly obtain the FIO token, as one feature of the FIO chain is the acceptance of indirect payments. It accepts intermediary crypto, i.e., more popular cryptocurrencies, as payment for fees.
What is FIO?
FIO is an open-source project that a community of over 20 blockchain developers launched on Apr. 2, 2020. The FIO Protocol project itself started 1.5 years earlier.
FIO stands for the Foundation for Interwallet Operability. It is a nonprofit entity guided by the industry on its mission to adapt and improve the FIO Protocol.
The FIO blockchain enables safe and easy transactions for the entire blockchain ecosystem. Its objective is to become a usability layer for blockchains to connect payment processors, exchanges, wallets, and any other application that processes digital assets.
There are three key features of the FIO Protocol:
Wallet names: The Protocol offers easily readable blockchain wallet names that replace the long string of characters. This feature is also known as a FIO address.
Request payment: The option to also request a blockchain payment, not just to receive a payment. 
Transfer data: The ability to attach data to a transaction, such as an invoice or note, alongside the crypto transaction. 
The FIO Protocol also supports the integration of blockchain wallet apps and crypto exchanges. Many have already integrated the service, including the Edge and Trustee Wallets, and the WhiteBIT and Changelly exchanges. All major cryptocurrency exchanges, such as Binance, have listed the FIO token for trading. You can find the entire FIO ecosystem here.
The ultimate scope of the project is to offer a superior user experience when interacting with the blockchain ecosystem by reducing risky operations such as sending funds to the wrong blockchain address.
The FIO community benefits
Decentralized blockchain: The FIO Chain is a public blockchain that doesn't require a centralized third party to operate it. 
Easy to interact with and convenient UI: Crypto owners can use intelligible blockchain addresses such as "[email protected]" to receive funds. 
Privacy: All sensitive information is encrypted on the blockchain. 
Secure: All FIO Chain transactions need an FIO private key, which is known only by the user. 
Inter-operability: The FIO Protocol can function with any blockchain and crypto after wallet integration. 
Retail and eCommerce ready: The FIO Protocol offers the request for payment and private metadata features.
How does the FIO Protocol work?
The FIO Protocol achieves network consensus through the Delegated Proof-of-Stake (DPoS) mechanism.
Users who hold FIO tokens can vote to choose their block producers (BPs), and anyone can register as a candidate to become a BP. Voting for BP happens after every epoch (every 126 blocks), with a total of 42 BP selected (21 BPs active and 21 on standby).
The 21 active block producers receive rewards of 40% of the fees collected for each block they help verify transactions for, which is split equally among them. The protocol distributes the remainder to all 42 BPs, according to the number of votes they've received.
A block is produced every 0.5 seconds. The active BPs produce six blocks each during an epoch. A BP can modify smart contracts and system settings when it achieves a majority of at least 15 BPs.
FIO Chain interactions can be tagged with an additional TPID (Technology Provider ID), which is a type of FIO Address. When this happens, that TPID address receives a part of the transaction fees. This feature is meant to boost FIO Protocol adoption in the blockchain ecosystem.
FIO Protocol use cases and applications
The FIO Protocol strives to become a better alternative to sending and receiving crypto. The FIO token is used for on-chain governance and transaction gas fees. 
The community which created the protocol describes it as being similar to the internet protocol we all use on a daily basis: "FIO is to crypto, what HTTP is to the internet."
FIO Addresses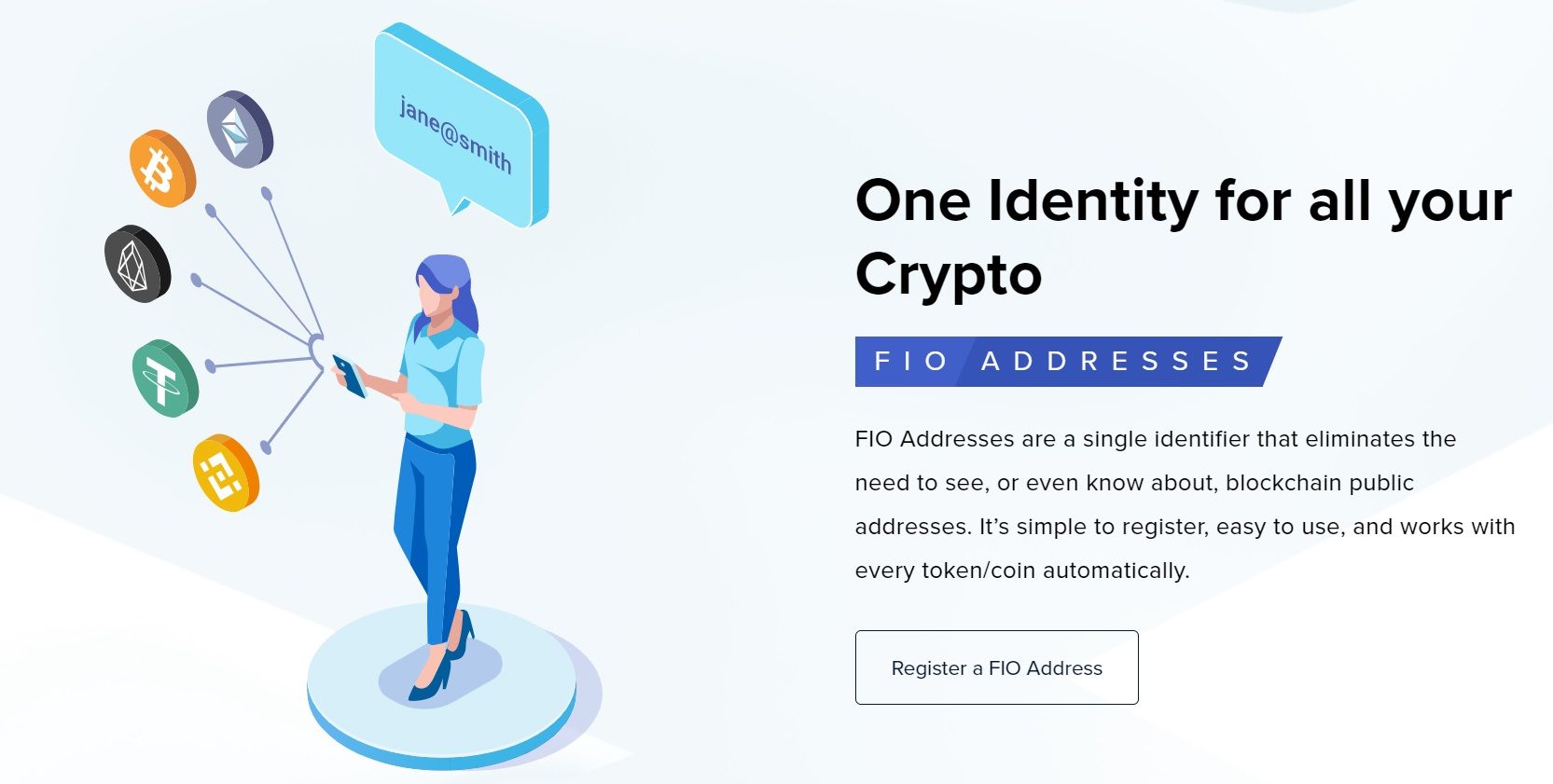 The blockchain address is like a bank account for digital assets. Without a blockchain address, one cannot send or receive cryptocurrency, tokens or other assets. The issue with the blockchain addresses is that it isn't easy to memorize and often look intimidating to new blockchain users.
One downfall of blockchain addresses is using the wrong address to send funds resulting in a loss. Sending crypto to the wrong blockchain, such as sending bitcoin to an cardano address, will result in lost funds, as blockchain transactions are irreversible.
But the FIO community invented a utility layer focused on crypto endpoints, such as wallets and crypto exchanges. This eliminates the risk of human error when sending funds. FIO Addresses are an identifier for blockchain public addresses.
It's easy to register for a handle such as "[email protected]" (this is only an example of a user name and a network), and it automatically works with any token or coin.
Users can register a FIO Address on a FIO-enabled wallet or exchange. The Foundation for Interwallet Operability is pre-paying FIO Addresses for new users to let them use the FIO Protocol for free for their first year, but this is a limited offer. All interactions with the FIO Protocol are controlled by FIO private keys.
FIO Addresses have a yearly fee, with a limit of 100 free transactions. You can pay the yearly fee with the FIO Protocol (FIO) token. After exceeding the free transactions' quota, the user has two choices. They can either renew the yearly subscription with another FIO Protocol token payment or pay an individual fee for every subsequent transaction.
A FIO Address will be disabled if the renewal fee is not paid by its expiration date. After 90 days, any user can re-register that FIO address.
FIO Requests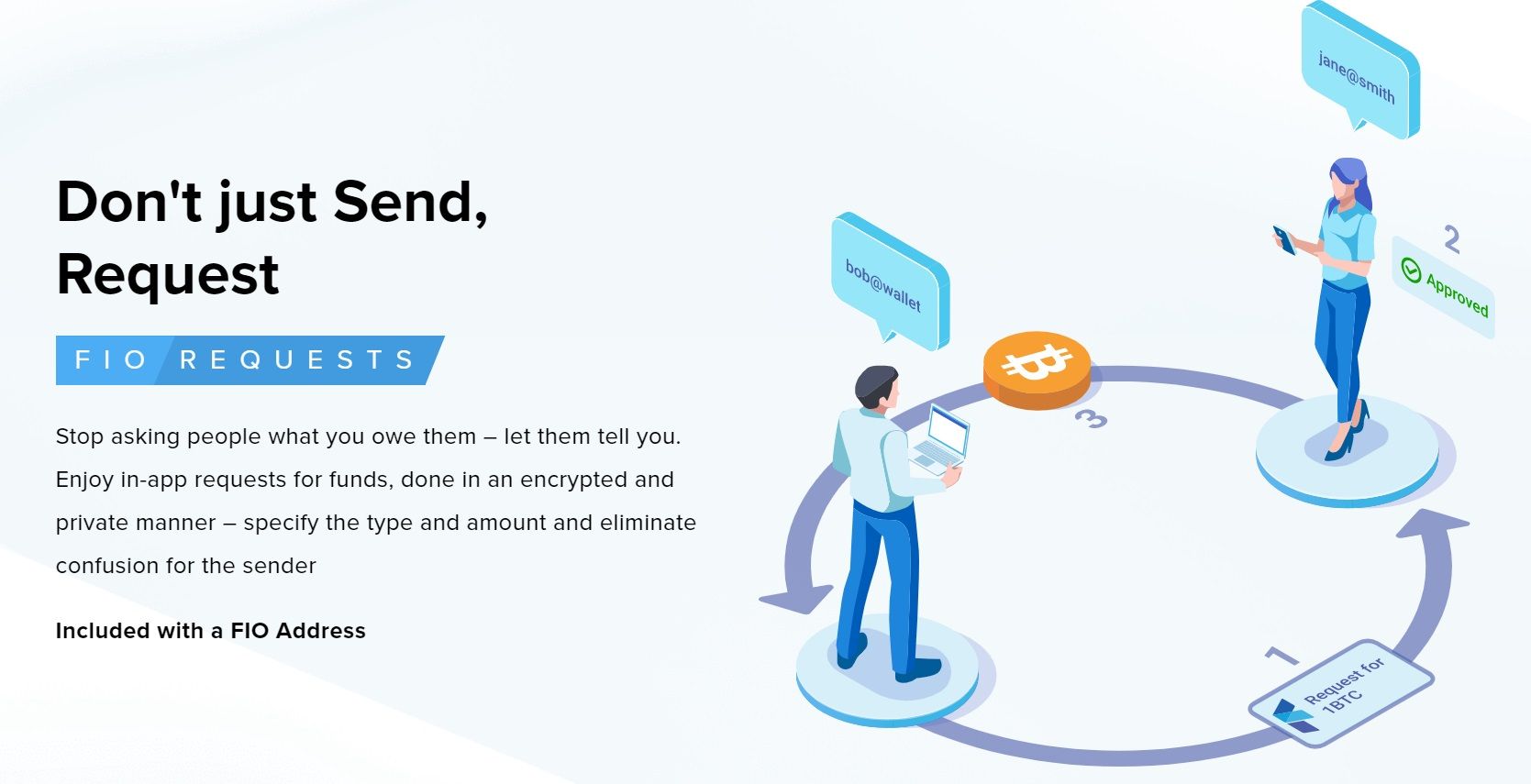 Traditionally, blockchain technology only allows users to send funds. But the FIO Protocol has a built-in function that allows users to create encrypted in-app funds requests, in which the type and amount of crypto could be specified.
This functionality eliminates friction between blockchain users and allows a payee to initiate a transaction using a FIO Address. All sensitive metadata is stored on-chain and is encrypted using the Diffie-Hellman key exchange.
The wallet communicates with the FIO Chain and decrypts the request inside the payer's wallet if a relevant FIO request exists. The payer has the option to approve or reject requests.
FIO Data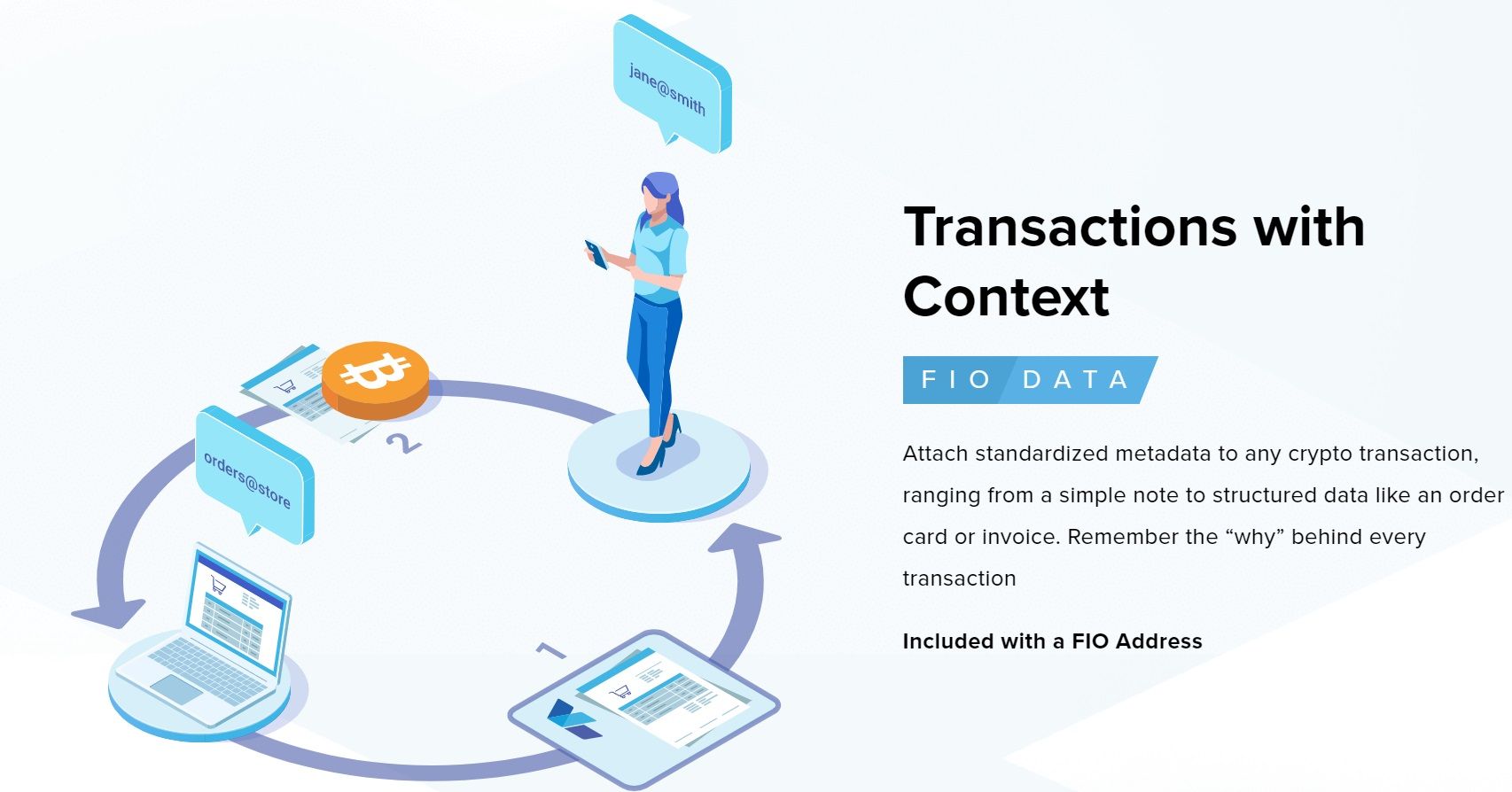 FIO Data makes it easier for users to remember the details for each transaction. This feature allows users to attach metadata to a crypto transaction, such as an invoice or a simple note. 
The FIO Data feature can become a useful component for eCommerce blockchain transactions. It allows the on-chain storage of invoices, contact information, and dates for future reference. FIO Data can also include metadata such as transactions IDs, off-chain hash data, or refund addresses. 
FIO roadmap and development history
The FIO Protocol project started in Q4 of 2018 during the launch of the Foundation for Interwallet Operability. By the end of 2019, the FIO Addresses launched on pre-sale alongside the launch of the FIO Chain testnet.
By the Q1 of 2020, the FIO Protocol had released the core functionalities. The token burn functionality was also completed in 2020. In 2021, it released the contract code updates for FIO Improvement Proposals (FIPs), as well as the ability to transfer FIO Addresses to a new owner.
FIO Domain and FIO Addresses are non-fungible tokens (NFTs) and can be traded. Currently, the community is working on enabling the staking of FIO tokens. 
The entire list of completed, in progress, and future FIPs and other developments can be found on the FIO Community Roadmap page. All updates are announced on the official FIO Protocol blog. The community is very active on Twitter, Telegram, and Discord. 
FIO tokenomics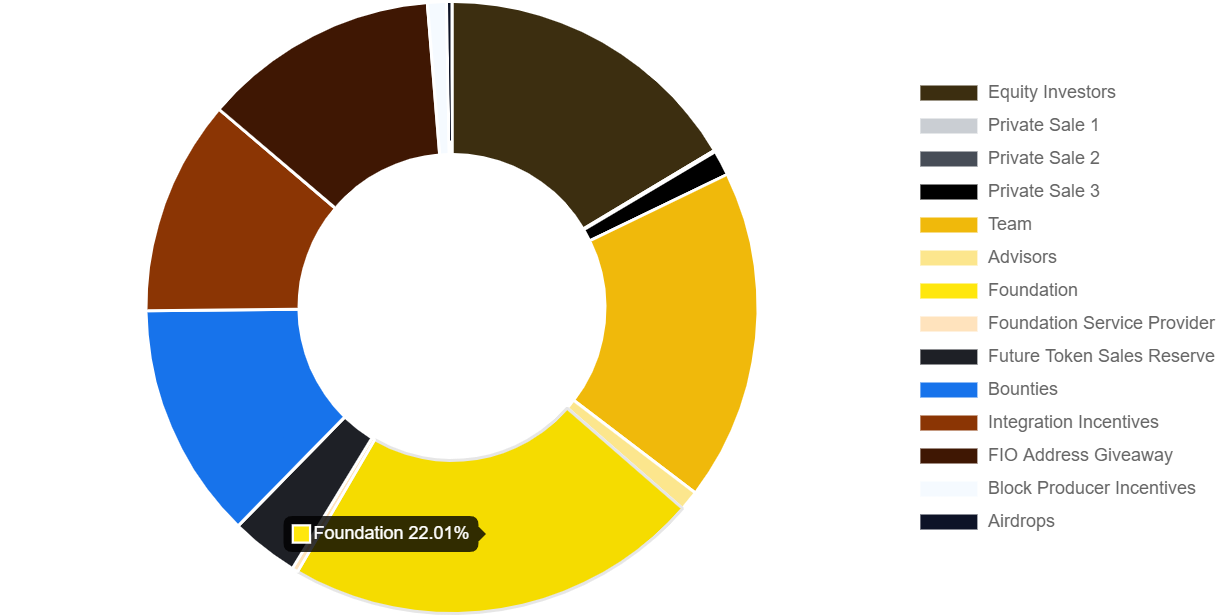 The FIO token has a maximum supply of 1 billion units (of which 38,506,000 are permanently locked). Each FIO Token is divisible into 1 billion Smallest Units of FIO (SUF). There will be no inflation beyond the maximum supply. More than 350 million FIO tokens are estimated to be in circulation as of the end of 2021.
The FIO token distribution is as follows:
| | |
| --- | --- |
| Share | FIO Token % of the total token supply |
| Equity Investors | 16.42% |
| Private Sale 1 | 0.04% |
| Private Sale 2 | 0.04% |
| Private Sale 3 | 1.33% |
| Team | 17.53% |
| Advisors | 1.05% |
| Foundation | 22.01% |
| Foundation Service Provider | 0.32% |
| Future Token Sales Reserve | 3.59% |
| Bounties | 12.50% |
| Integration Incentives | 11.39% |
| FIO Address Giveaway | 12.50% |
| Block Producer Incentives | 1.00% |
| Airdrop | 0.28% |
FIO Protocol had three rounds of funding, which raised a total of $6.27M from equity and private token sales. 
FIO Protocol price and price predictions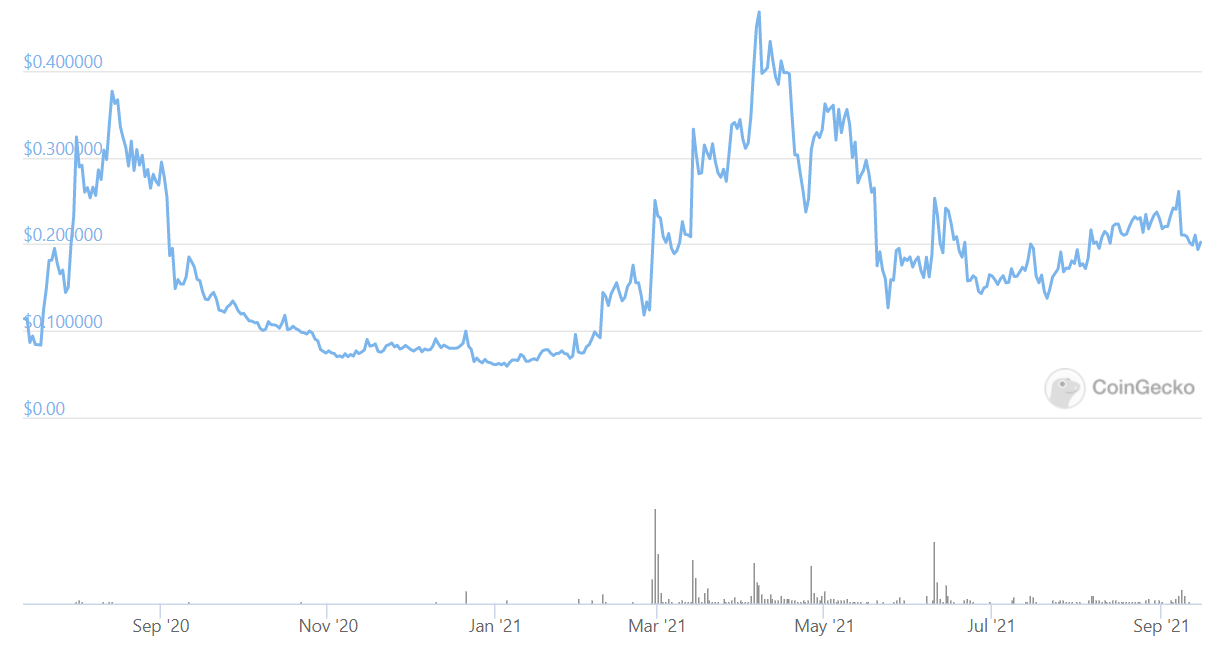 The token's price is dictated by the ecosystem that adopted the utility of FIO Protocol. The all-time high for FIO Protocol was $0.560433 on April 6, 2021. The current price is $0.197105 per FIO.
Demand for the FIO Protocol token could rise because:
Users need the FIO Token to register FIO Addresses and Domains and for transaction fees. 
Users want to contribute to the development of the FIO Protocol. The FIO crypto is needed for voting for Block Producers (BPs).
Rewards will be granted from wallets and exchanges for holding the FIO Token. 
Future FIO Protocol developments will have new utility fees.
According to FIO Protocol historical data, FIO Token is a good long-term investment. The token can reach 0.63 USD in five years, which would be a +216% return. 
Should you buy FIO?
FIO Token could be a good investment, as the community is actively developing new functionalities and updating the core features on a regular basis.
The transparent blockchain mechanism might eventually lead to the users' desire to vote and become part of the validating process. This requires FIO Tokens.
FIO Protocol has been on a positive trend for the past 12 months. Some estimate that the price of the FIO Token could increase up to +41% per year. This would result in an accumulation of over +200% in the next five years.
FIO Protocol (FIO) token is listed on popular crypto exchanges such as Binance, Gate.io, BitMart, Hoo.com, and Bithumb Global.
What is the max supply of FIO Protocol?
The maximum supply of FIO Protocol (FIO) is 1 billion tokens (38,506,000 are permanently locked). At the end of Q3 2021, more than 350 million FIO tokens are in circulation.
Is FIO Protocol a good investment?
As with any crypto investment analysis, it is hard to have a 100% accurate prediction. However, considering the upward trend of the last months, the FIO Protocol is considered a good investment for those who want to participate in the FIO community and as a means of investment. 
The FIO Chain has a transparent and easy-to-understand mechanism and a real utility in the crypto space. The network also encourages and incentivizes crypto enthusiasts to participate in further developing the protocol. As always, we do encourage you to do your own research to observe the most recent announcement and actions before investing in any crypto and blockchain project.
Disclaimer
In line with the Trust Project guidelines, the educational content on this website is offered in good faith and for general information purposes only. BeInCrypto prioritizes providing high-quality information, taking the time to research and create informative content for readers. While partners may reward the company with commissions for placements in articles, these commissions do not influence the unbiased, honest, and helpful content creation process. Any action taken by the reader based on this information is strictly at their own risk.