Decentralized storage protocols are becoming increasingly popular because they offer secure, affordable, and efficient storage solutions. These protocols are built using blockchain technology, providing a decentralized and distributed network resistant to tampering and downtime. More and more protocols are entering the market, each with its own unique business models.
This article explores the business models of several decentralized storage protocols and how they generate revenue. By understanding these business models, we can gain insight into the economics behind decentralized storage and its potential to disrupt the traditional data storage industry.
A look at the typical business model of decentralized storage protocols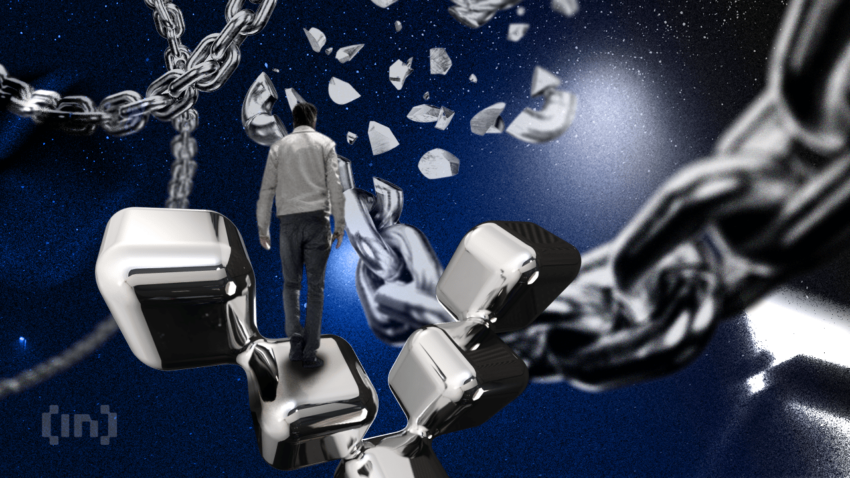 Decentralized storage protocols (DSPs) represent a marketplace where storage providers can sell unused storage space to users who need it. The protocol acts as a mediator, facilitating transactions between users and storage providers and taking a fee for its services.
Decentralized storage protocols use two types of fees. Demand and supply-side fees both aim to incentivize users to participate in the network.
Demand-side fees
These are fees paid by users who want to store their data on the network. These fees are used to compensate storage providers for the space they allocate to store the data. In some protocols, demand-side fees are also used to prioritize storing certain types of data or incentivize storage providers to store data for longer periods.
Supply-side fees
On the other hand, supply-side fees are paid by storage providers who want to offer their unused storage space to the network. These fees are used to compensate the network for the resources it uses to facilitate the storage and retrieval of data. In some protocols, supply-side fees may also be used to prioritize certain storage providers or to incentivize them to provide storage space for longer periods.
In general, demand- and supply-side fees are used to create a sustainable and decentralized storage ecosystem. Here, both users and storage providers are incentivized to participate in the network. By aligning the incentives of both parties, decentralized storage protocols can offer a more efficient, affordable, and secure storage solution compared to traditional centralized storage solutions.
Overall, we can define three typical sources of revenue:
Transaction fees: Decentralized storage protocols typically charge a small fee for each transaction or file upload/download. These fees are used to cover the costs of maintaining the network and incentivize users. Some decentralized storage networks charge fixed prices to upload or download. Meanwhile, others rely on the market prices quoted by their storage miners. This causes the fees to fluctuate based on the network's storage supply and demand.
Filecoin is one of the protocols that use flexible fees. As per Messari's revenue analysis, Filecoin's revenues are comprised of four components:
Base fees – required by any storage deal or proof; base fees are determined by message congestion;
Batch fees – used for adding storage capacity;
Overestimation fees – required to optimize gas usage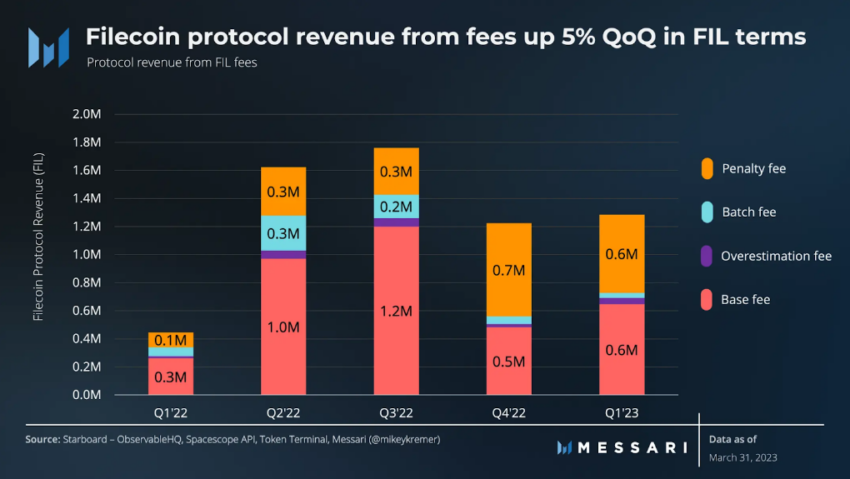 Storage fees
Storage fees refer to the regular payments made by clients for data storage after having reached a "deal" with the provider. These fees are automatically deposited into the provider's withdrawal wallet as they continue to perform their duties. The protocol may take a fraction of these fees as compensation for the network's resource usage.
Since low costs are one of the selling points of decentralized storage compared to centralized solutions like Amazon's Web Services, storage fees typically contribute less to the protocol's revenue than transaction fees. For example, Filecoin charges ~$0.2 per month for a terabyte of storage space.
The production of FIL, the network's utility token used for rewards and tips, subsidizes the cost. This creates an incentive for suppliers always to provide storage regardless of whether there is anyone actually using it. Thus, additional costs for storage users in the form of subscriptions or fixed fees aren't required to incentivize suppliers.
Fees for uploading/downloading data. Some storage protocols may charge extra fees for uploading and downloading data from the network. This is also known as ingress (uploading) and egress (downloading) fees. Similarly to storage fees, they are typically not the main drivers of the protocol's revenue.
It's worth noting that not all decentralized storage solutions are profit-driven. Some are developed by non-profit organizations or run on a community-driven model. However, those that do seek to make a profit generally use one or more of the above methods.
Overview of popular decentralized storage protocols
Filecoin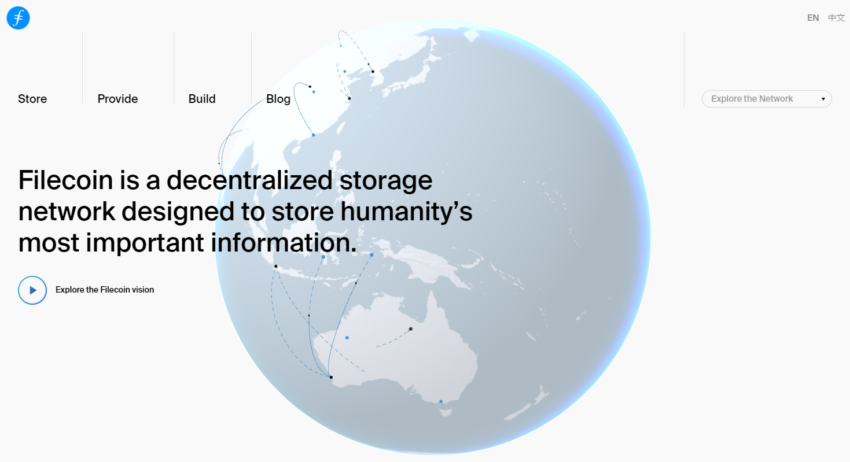 Filecoin was created by Juan Benet, the founder of Protocol Labs, in 2014. The project was funded through an initial coin offering (ICO) in 2017, raising over $257 million. After several years of development, the Filecoin network launched in 2020, offering users a decentralized storage solution that incentivizes the sharing of unused storage space.

Filecoin uses a token-incentivized model to incentivize users to provide storage space on their computers. Users can earn Filecoin tokens by providing storage space to other users, and then they can use these tokens to store their own data on the network.
The protocol employs deals that price storage is based on supply and demand dynamics rather than a fixed pricing structure. A deal involves paying storage providers to store data for a specified duration. Storage providers are rewarded with FIL, the native token of the network, to incentivize their participation. Retrieval providers are paid to fetch data, and payments are settled off-chain to allow for faster retrieval.
Arweave
Arweave was founded in 2017 by Sam Williams and William Jones. Its main goal was to create a decentralized and permanent storage network that could be used for archival purposes. Arweave mainnet launched in June 2018 with 1800 selected participants acting as early adopters. Before the launch, the team held an initial token sale for whitelisted investors. In November 2019, the company received a $5 million funding round from venture capital firms. Six months later, the team raised $8.3 million in funding for community adoption and growth incentives.
Arweave's blockweave model was introduced in 2018, and it has since gained popularity among developers and users who require long-term storage solutions. At the time of its launch, Blockweave was a novel proof-of-access consensus mechanism, allowing users to store data "at a fraction of the cost of Filecoin, Siacoin, and Storj." Similarly to Filecoin, the protocol includes fees for storing and retrieving data and for interacting with DApps within the network. Fees and rewards are conducted in AR.


Created in 2013 by David Vorick and Luke Champine, the Sia project started with two entities. This first was the non-profit Sia Foundation, centered around the Sia blockchain and ecosystem. The second is the for-profit Skynet Labs, a decentralized cloud platform. Although the founders' team shifted its focus from data storage to web applications, Sia remains one of the key underlying value-generating components of the Skynet ecosystem.

Siacoin uses a peer-to-peer network to store data across multiple nodes. Users can rent storage space from other users and pay for it using Siacoin tokens. Similarly, Siacoin's revenue model is based on the transaction fees it collects when users rent storage space and the development fund created through initial coin offerings. This is accomplished through the use of Siafunds. When a contract is created, 3.9% of the contract fund is removed and distributed among Siafund holders.
Storj
Storj was founded in 2014 by Shawn Wilkinson and John Quinn. The project began as a way to create a decentralized cloud storage network that was more affordable and secure than traditional cloud storage solutions. Storj held its ICO in 2017, selling approximately $30 million worth of STORJ. On Feb. 23, 2017, a seed funding round raised $3 million.
Storj Labs operates Tardigrade, a developer tool that claims to be better or on par with all other major cloud providers in terms of durability, performance, and security (S3, Google, Microsoft). It aims to have the potential to save businesses millions of dollars on cloud storage at a tenth of the cost. Any open-source applications enabling users to store data on Tardigrade via connectors receive a percentage of the money those users produce through the Tardigrade Open Source Partner Program.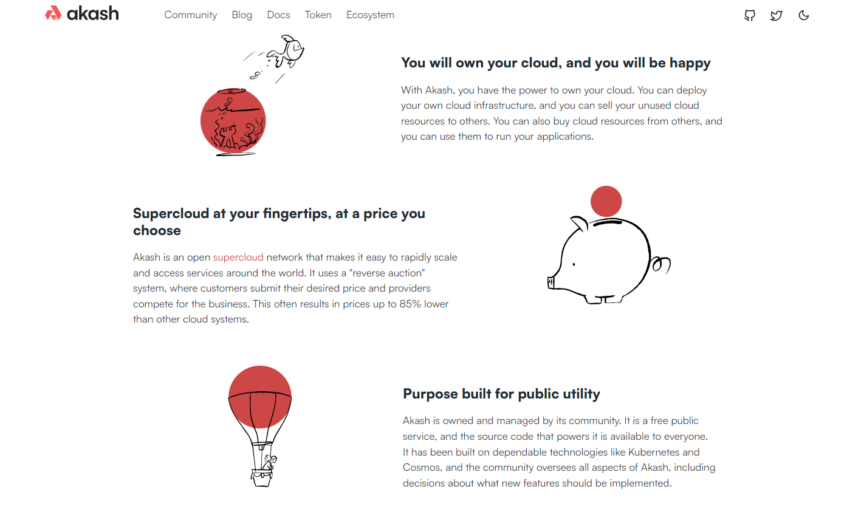 Akash was founded in 2017 by Greg Osuri. The project aims to create a decentralized cloud computing network that is more affordable and accessible than traditional cloud computing solutions. Akash Network launched its mainnet in 2021 on the Cosmos SDK.
Akash charges a fee for its services, which is paid in its native AKT token. Users can choose from a variety of computing options and providers, and Akash acts as a mediator between users and providers, taking a fee for its services.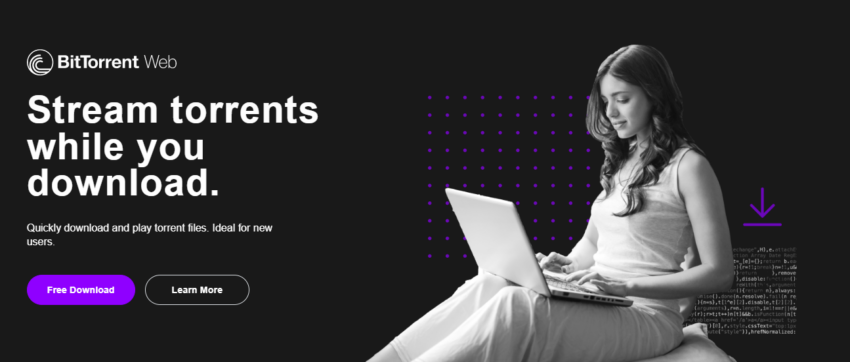 BitTorrent was launched in 2001 by Bram Cohen and David Harrison. The project began as a peer-to-peer file-sharing protocol that allowed users to share large files over the internet.
BitTorrent was acquired by Tron in 2018 and launched its own cryptocurrency, BitTorrent Token (BTT), in 2019, which can now be used to incentivize users to share their unused storage space. The BitTorrent token was initially used to speed up downloads by paying seeders for priority bandwidth through BitTorrent Speed. This acted as a solution to the longstanding problem of a lack of incentives for users to continue seeding or sharing files.
The project expanded its services and shifted focus to creating a token-based economy that prioritizes networking, bandwidth, and storage resources within the existing BitTorrent network. Users are rewarded with BTT tokens for sharing their storage space, which can then be used to pay for additional storage space or to trade with other users.
There are plans to include livestream tipping in BTT, the purchase of downloadable media from creators, and the ability for creators to crowdfund their works.
IPFS
Juan Benet proposed IPFS as a way to create a "Permanent Web" in 2014, the very same year that Filecoin was founded. IPFS accomplishes this by using content hashes for decentralized storage and distribution. Protocol Labs was founded in 2014 to focus on IPFS development. IPFS was released as an open-source project later that year. IPFS has been widely adopted and integrated into blockchain networks, including Ethereum, for storing and accessing DApps and smart contracts.

Although Filecoin and IPFS are complementary protocols, they are independent and were implemented separately. IPFS facilitates peer-to-peer data file transfers, while Filecoin provides a system of persistent data storage. IPFS does not generate direct revenue; however, Protocol Labs has several related projects and products that do.
This open-source blockchain platform provides decentralized storage services for web3 and DApps. Datamall Coin (DMC) is a decentralized cryptocurrency issued by the DMC Foundation based on the Datamall Chain, building a decentralized marketplace for data storage services. Users who own DMC can enjoy the leading decentralized storage service and receive incentives for owning storage space. This builds a sustainable storage ecosystem.

The DMC token represents the actual data storage service capability and acts as an invisible hand to match supply and demand for storage needs. With DMC, users can purchase and sell storage services. The project's decentralized storage market provides users with safe and efficient storage services that are not controlled and cannot be exploited by any single entity.
Nonstorage
Nonstorage is a storage service based on the TON Blockchain, created by the founders of Searching TON. The provider uses TON Storage, a peer-to-peer file-sharing system on TON Blockchain.
This service enables users to effortlessly upload, download, and distribute files, among others, through TON Proxy. Currently, users can upload files up to 100 MB by signing in via the wallet app.
Although the developers acknowledge that all user files are currently stored in a centralized way, they have assured users that they will soon adopt TON Storage and create the first-ever decentralized cloud storage service on TON.
Revenue performance
The table below shows an overview of fees for each mentioned protocol that generates revenue and reports its fees and figures.
Filecoin is leading by the amount of generated fees and ranked 9th across all DApps and blockchains in all web3 segments by daily cumulative revenue in the last 180 days, according to Token Terminal. Filecoin is an outlier with $5.4M in 30D fees, followed by Storj ($22.0K) and Arweave ($16.2K).
Fees and revenue for the last available time period as of 20.04.23:

Filecoin's annualized revenue is not comparable to that of centralized solutions such as Amazon Web Services, Google Cloud Platform, and Dropbox. In 2022, these providers generated $80.1 billion, $26.3 billion, and $2.3 billion, respectively.
The adoption of decentralized options is still lagging, so even outliers like Filecoin have a long way to go to catch up with common centralized storage providers.
What's next?
Decentralized storage protocols can offer a variety of new business models beyond the traditional model of creating a marketplace for storage providers and users. Some options include:
Decentralized content delivery networks (CDNs), where users can pay for faster and more reliable content delivery;
Micropayments and monetization for content creators, allowing them to earn cryptocurrency for sharing their content on the network;
Tokenization, enabling content creators to create tokens that represent access to their content, which can be later bought and sold on decentralized exchanges;
Digital asset storage, allowing users to securely store and share assets like NFTs and providing an alternative to traditional custodial solutions;
Perpetual storage option, a feature that ensures that data remains available on the network indefinitely without a predefined expiration date or the need for periodic renewal or re-upload.
Overall, various options are available for providing and monetizing a more sophisticated user experience and offering tailored security and privacy features for content creators. As technology in this space continues to evolve, we can expect to see continued innovation.
Current outlook on the decentralized storage industry
The sustainability of business models for decentralized storage protocols is still the subject of debate. Despite being the most revenue-generating protocol, Filecoin only generates a fraction of the revenue that centralized storage solutions such as Amazon Web Services, Google Cloud Platform, and Dropbox do. One major advantage of centralized solutions is their distribution through big tech and integration with their ecosystems. However, big tech companies have not yet acquired decentralized storage providers.
Decentralized storage stands out for its user data ownership, something that centralized solutions do not offer. But to remain competitive with centralized solutions, decentralized storage providers may need to offer new value points beyond privacy. Nevertheless, if adoption grows, decentralized storage can potentially revolutionize how we store and share data in the future.
Frequently asked questions
How do decentralized storage protocols make money?
What are demand- and supply-side fees?
How much revenue do decentralized storage protocols generate?
What innovations can we expect in future?
Disclaimer
In line with the Trust Project guidelines, the educational content on this website is offered in good faith and for general information purposes only. BeInCrypto prioritizes providing high-quality information, taking the time to research and create informative content for readers. While partners may reward the company with commissions for placements in articles, these commissions do not influence the unbiased, honest, and helpful content creation process. Any action taken by the reader based on this information is strictly at their own risk.