If you have been in the crypto market for any amount of time, you have undoubtedly amassed a need for a crypto portfolio tracker. As such, you may have heard of CoinStats, a popular choice for portfolio management. Want to know the ins and outs of the platform? Stick around and see what this portfolio tracker is all about in this comprehensive CoinStats review.
Coinstats review at a glance: Our overall rating
In short, Coinstats is indeed a powerful tool. It streamlines many of the processes that would require on-chain sleuths to collect. Therefore, the services offered have a strong product market fit. Overall, users can benefit immensely from Coinstats' products and services.
Criteria
Price
Features
Assets
Compared to
competitors
Exchange/ wallet
integrations
BeInCrypto
score
Score
5/5
4/5
5/5
4/5
5/5
4.6
Who is this CoinStats review for?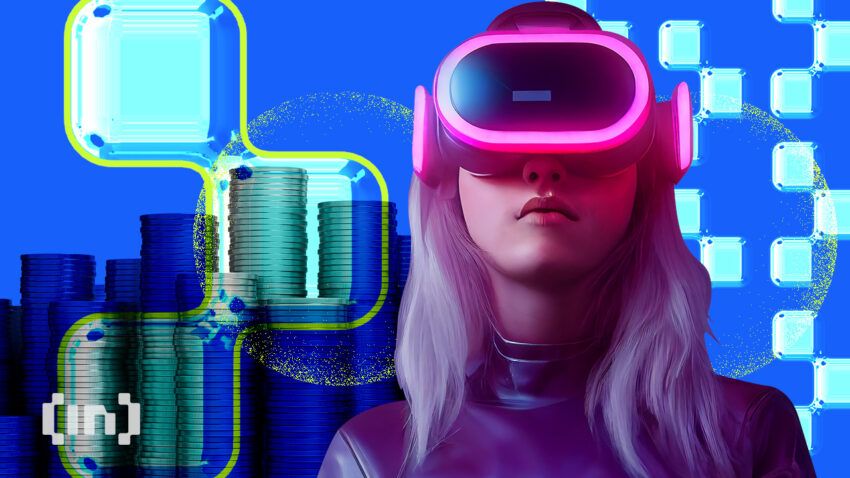 If you have ever asked yourself, "how do I keep track of all my wallets and exchange account balances?" then you are a perfect candidate for this review. Or, perhaps you are already taking advantage of a crypto portfolio tracker and would like to know what else is out there.
In short, keep reading if you:
Are looking for a crypto portfolio tracker
Are an experienced crypto trader with multiple wallets and assets on various chains
Already use a crypto portfolio tracker
Are a current CoinStats user
Want to start accumulating crypto and are looking to be organized from the get-go.
How will we evaluate CoinStats?
The primary objective of this review is to help potential consumers make informed decisions by offering perspectives on quality, features, benefits, drawbacks, and overall satisfaction.
There are many portfolio trackers on the market today. As a result, a crypto portfolio tracker must be comprehensive to set itself apart from the rest. Therefore, when evaluating a crypto portfolio tracker, several key factors come into play.
First and foremost is the breadth of supported assets and exchanges. A robust tracker should accommodate a wide range of cryptocurrencies and assets while seamlessly integrating with major exchanges, wallets, and DApps for comprehensive portfolio tracking.
Equally important is the platform's user-friendliness, as an intuitive and visually appealing interface enhances the overall experience. Clear portfolio displays should empower users to add, manage, and analyze their crypto holdings easily.
Robust portfolio analytics are vital for users seeking in-depth insights into their investments. This includes features like profit and loss analysis, historical performance tracking, and cost basis calculations. Lastly, cost is a critical consideration, with the pricing model needing to be reasonable and aligned with the value offered. A good tracker should cater to both free and premium users.
What is CoinStats?
Established in 2017, CoinStats is a free-to-use cryptocurrency portfolio management solution available today. The platform is a comprehensive hub for overseeing DeFi, NFT, and cryptocurrency assets, bringing together various wallets and exchanges under one roof.
How to sign up
1. Go to the Coinstats website and select "Get Started."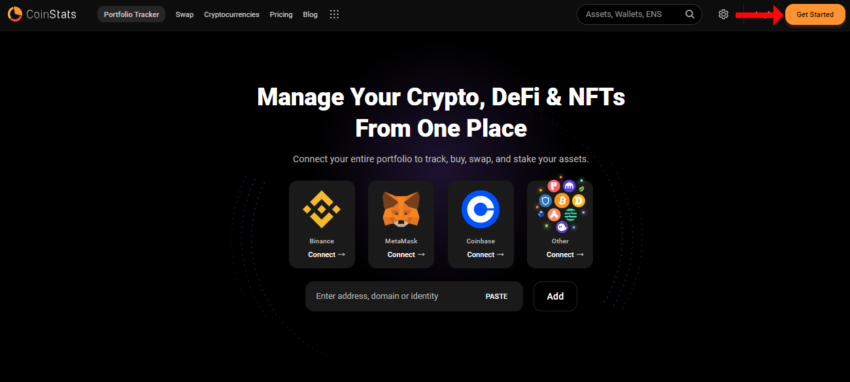 3. There are multiple ways to sign up for an account, such as email or through third-party accounts (e.g. Coinbase, Apple ID, etc.).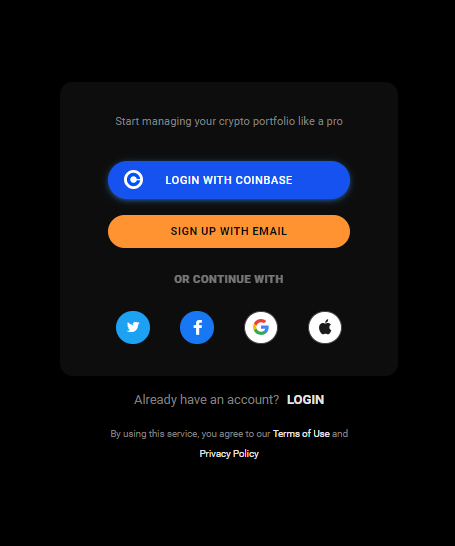 3. After you complete the previous step you will receive an email confirmation. Use the confirmation to complete your registration.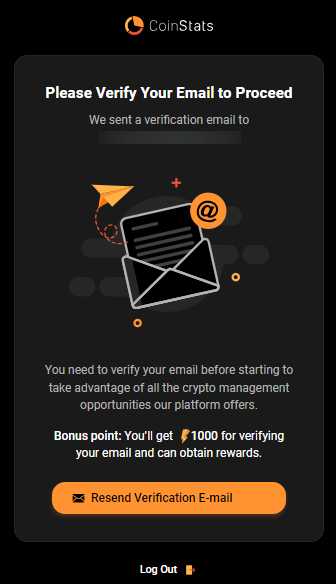 Welcome offer / bonus
You can earn Sparks through the CoinStats incentives program and then trade them for a variety of incentives. By completing a series of tasks you can earn rewards on the Coinstats platform. Some of these tasks are as simple as following Coinstats on social media or verifying your email.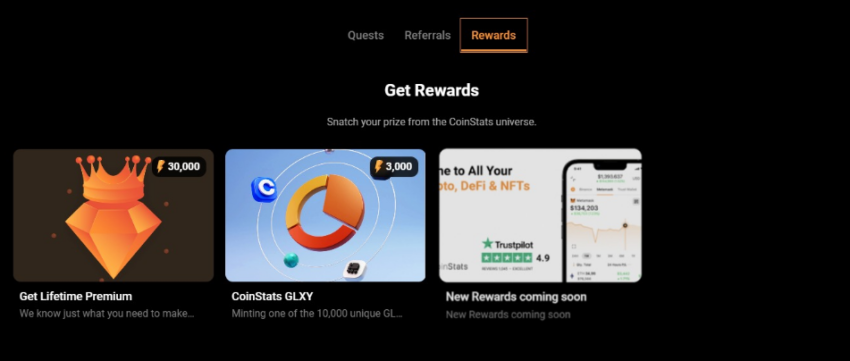 To access the CoinStats Rewards page, follow these steps:
Log in to your account.
Click on the ⚡️Spark icon located in the upper right corner.
To view available quests for completion, select the "Quests" tab on the left.
What is CoinStats used for?
It allows users to analyze portfolio performance metrics such as profit and loss (PNL) or net worth while also delivering valuable insights into the dynamic cryptocurrency industry. Additionally, CoinStats provides the convenience of generating tax reports for users' cryptocurrency activities.
Who is CoinStats for?
CoinStats is for investors who are actively involved in managing and investing their crypto assets. This tool benefits cryptocurrency enthusiasts, traders, and investors looking to monitor and manage their holdings effectively.
It's especially valuable for those who hold diverse portfolios across multiple cryptocurrencies, exchanges, and wallets.
Additionally, individuals who prioritize staying informed about their portfolio's performance, tracking trends, and optimizing their investment strategies can greatly benefit from using a crypto portfolio tracker.
Furthermore, as DeFi activities (e.g., staking, yield farming, liquidity mining, etc.) can be increasingly complex, with broad tax implications, CoinStats is also useful for individuals who require preliminary tax preparation solutions.
What are the benefits of using CoinStats?
Without the support of a comprehensive portfolio tracking tool like CoinStats, cryptocurrency enthusiasts and investors would likely face several stumbling blocks.
Cryptocurrency portfolio management refers to the process of organizing, tracking, and analyzing your cryptocurrency holdings or doing that for an entity or crypto firm. The main goal of portfolio management is to maximize returns while minimizing risks.

Julius Elum: Twitter
Firstly, the lack of a centralized platform would require manually tracking assets across various wallets and exchanges, leading to inefficiencies and potential errors. A comprehensive tool will allow you to maximize profits, minimize the potential for mistakes in tax preparation, and manage risks.
Monitoring real-time market prices and gaining insights into asset movements is challenging. Being unequipped in this sense is likely to impede informed decision-making. Tax reporting without a portfolio management tool can also become cumbersome, requiring manual calculations and record-keeping.
Simply put, the benefits of a crypto portfolio tracker like CoinStats are:
Efficient portfolio management
Consolidation of cryptocurrency and DeFi holdings
Performance analytics (PNL, net worth, etc.)
Industry insights
Real-time price updates
Streamlined tax preparation
User-friendly interface
Customizable portfolios and watchlists
CoinStats review: Features rundown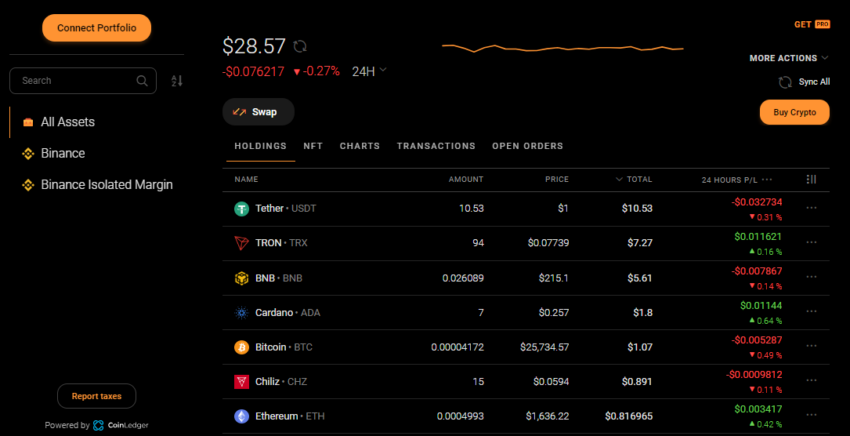 The CoinStats platform encompasses a variety of features that facilitate the management of your cryptocurrency portfolio. First and foremost, you can use the application on the web, Android, or IOS. Secondly, the platform's dashboard offers centralized tracking, allowing for a consolidated overview of your assets.
Portfolio tracking is made accessible with support for over 300 wallets and exchanges, simplifying the management of diverse holdings.
Furthermore, portfolio analytics provides insights into performance, including profit and loss data for specific timeframes, as well as average buy and sell prices.
Moreover, the CoinStats Wallet offers versatility, enabling crypto purchases using bank cards, token swapping across multiple chains, and staking options for potential earnings.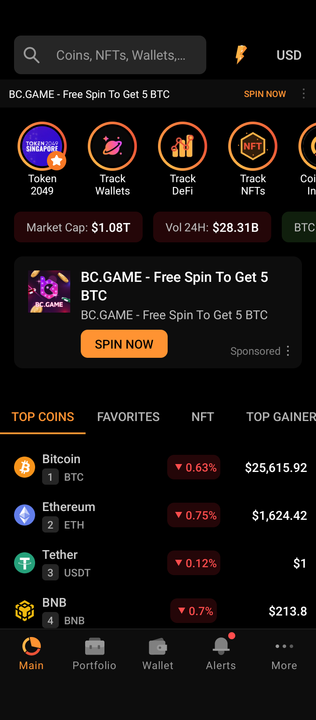 Users can exchange cryptocurrencies easily with the DeFi Swap feature and explore earning opportunities by lending their crypto holdings. You can also stay informed through automatic and customized alerts, covering price changes, volume fluctuations, limit breaches, and coin market cap movements for numerous cryptocurrencies.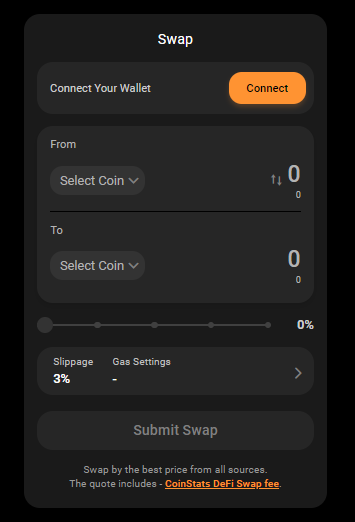 The platform streamlines tax reporting, simplifying an intricate aspect of crypto management.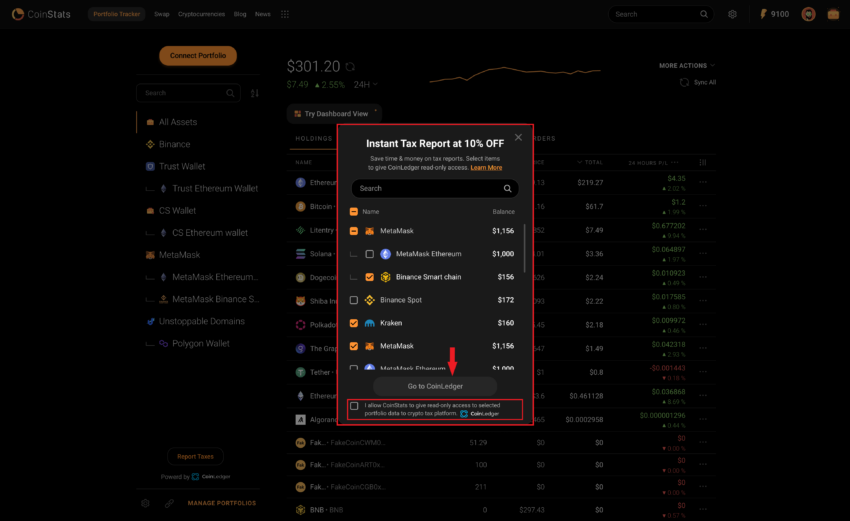 Lastly, CoinStats aggregates news from over 40 sources, delivering a consolidated feed to keep you informed about industry developments.
Premium features
It is also important to note in this Coinstats review that the platform is free but also has a premium plan with more features. This premium tier caters to users seeking elevated portfolio management capabilities. Below, we delve into the notable premium features:
Unlimited exchanges and wallets: Connect an unlimited number of exchanges and wallets to CoinStats Premium.
Up to 1,000,000 tracked transactions: Benefit from the ability to track a substantial volume of transactions.
Auto alerts: Receive instant notifications on coins that experience significant price fluctuations, as well as updates on new exchange listings to seize opportunities promptly.
Order fill notifications: Receive notifications when your open exchange orders are fulfilled.
Enhanced portfolio analytics: Gain a broader perspective on your investment activities with insights into total deposits, withdrawals, and overall fees paid.
Coin insights: Access aggregated statistics on portfolios and tracked coins.
Portfolio export: Easily export all transaction data to a CSV file for organized record-keeping and external analysis.
CoinStats score: Discover a special score assigned to coins based on their popularity within the CoinStats app.
Prioritized support: Receive detailed assistance for inquiries related to your portfolio, transaction history, profit/loss, and more.
Early access to future features: Gain exclusive access to upcoming platform enhancements, empowering you with advanced capabilities for research, tracking, and trading.
Ad-free experience: Enjoy a clutter-free interface without no advertisements.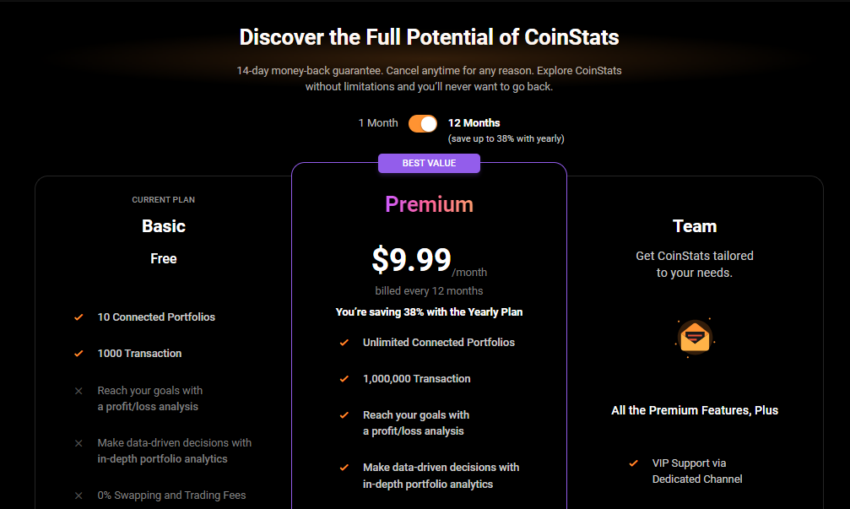 Pros and cons
As we all know, everything that glimmers may not be gold. Now that we've laid out CoinStat's features and the benefits of using the platform, you may be curious about its strengths and weaknesses.
Pros
Secured by Hexen cyber security firm, providing enhanced security measures for CoinStats' users.
Utilizes Military-Grade Encryption to safeguard user data and sensitive information.
Offers a free-to-use version, allowing users to access basic portfolio tracking features at no cost.
Provides a reasonably priced premium plan with advanced features for users seeking more capabilities.
Allows for in-app crypto swaps, enabling users to trade from the comfort of their CoinStats account.
Provides an Earn feature, enabling users to generate earnings through lending crypto assets in-app.
Simplifies tax reporting for cryptocurrency activities.
Cons
The range of features might not be suitable for advanced traders or users with very complex portfolios.
The platform's effectiveness could vary depending on the region and the availability of supported exchanges.
Users relying heavily on lesser-known or relatively new wallets and specific exchanges might find CoinStats restrictive.
CoinStats review: What does the pricing structure look like?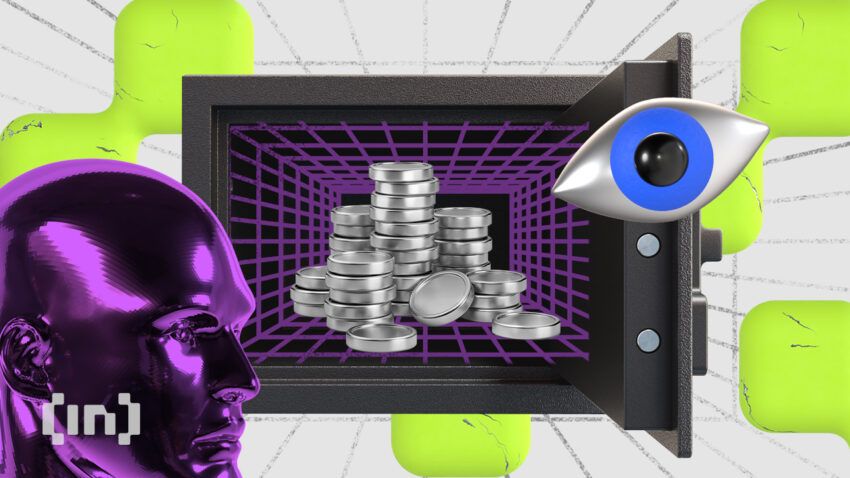 Free plan
As stated previously, CoinStats has both a free and premium plan. With the free plan, users can connect to a limited number of exchanges and wallets and track a set number of transactions. Basic portfolio tracking and analytics features are included, allowing users to monitor their investments.
The CoinStats Wallet is accessible for convenient crypto purchases and other basic functionalities. The plan offers basic DeFi swapping capabilities and access to the Earn feature.
Tax reporting capabilities are limited, and users can set up basic alerts to stay informed about price changes and other updates. Additionally, the plan provides access to basic news aggregation. Users can enjoy the free plan with an ad-supported experience.
Premium plan
CoinStats offers a premium plan priced at $9.99 monthly, providing users with advanced features and an enhanced portfolio management experience.
This plan offers unlimited connected exchanges and wallets, along with tracking up to 1,000,000 transactions for comprehensive record-keeping. Users can access advanced portfolio tracking, analytics, and expanded CoinStats Wallet features.
The premium plan includes comprehensive DeFi swapping capabilities, the Earn feature for potential earnings, and robust tax reporting functionalities. Advanced alerts, including auto alerts, offer timely market insights.
Users also benefit from an ad-free experience, prioritized support, and early access to future features. Additionally, there's another premium plan tailored for teams, catering to collaborative portfolio management needs.
Alternatives: How does CoinStats rank against competitors?
When comparing CoinStats with its competitors, namely CoinTracker, Zerion, and Delta app, several factors come into play. CoinTracker primarily focuses on tax preparation but also offers asset-tracking capabilities. While CoinTracker provides various pricing tiers, including a free plan, CoinStats' free plan offers more features, including portfolio tracking, alerts, and news aggregation.
Zerion is free to use but lacks the additional features found in CoinStats, such as alerts and news aggregation. CoinStats stands out by offering tax preparation tools and alerts, enhancing the user experience, and providing more functionality.
Delta app takes a broader approach, allowing users to track a wide range of assets, including currencies, cryptocurrencies and stocks from both wallets and brokerages. Which platform you select will depend on your priorities. If you are looking for crypto-focused tracking and tax support, CoinStats comes out on top. But for a more comprehensive asset tracking experience, with stocks and commodities included, the Delta app takes the edge.
Invest responsibly
Investing is a personal choice and carries inherent risks. Investors should take into consideration their personal goals and financial situations before investing. This Coinstats review should not be considered investment advice.
It is solely for informational and entertainment purposes only. Readers should do their own research regarding whether to use the Coinstats platform or not.
CoinStats has a solid place in the market
In summary, this CoinStats review finds the platform is good for its value. Considering that the platform goes beyond simple wallet aggregation, unlike most of its competitors, and integrates exchange accounts, CoinStats is truly a powerful tool. However, the premium features do not offer an exorbitant amount of value beyond the free plan. Other than the ability to add an unlimited number of exchanges and wallets, a feature admittedly lacking in most of its competitors, and some advanced metrics like cost basis or impermanent loss, which you can track on-chain, the paid plan simply adds more analytics and alerts.
Also note that while CoinStats is a great start for tax reporting, it is not to be supplemented in place of an actual tax preparer. Tax guidelines differ from region to region, and it is best to do your taxes under the guidance of a professional.
Frequently asked questions
Can you withdraw from CoinStats?
What country is CoinStats from?
What is CoinStats used for?
Can you use CoinStats for free?
Is CoinStats wallet safe?
Disclaimer
In line with the Trust Project guidelines, the educational content on this website is offered in good faith and for general information purposes only. BeInCrypto prioritizes providing high-quality information, taking the time to research and create informative content for readers. While partners may reward the company with commissions for placements in articles, these commissions do not influence the unbiased, honest, and helpful content creation process. Any action taken by the reader based on this information is strictly at their own risk.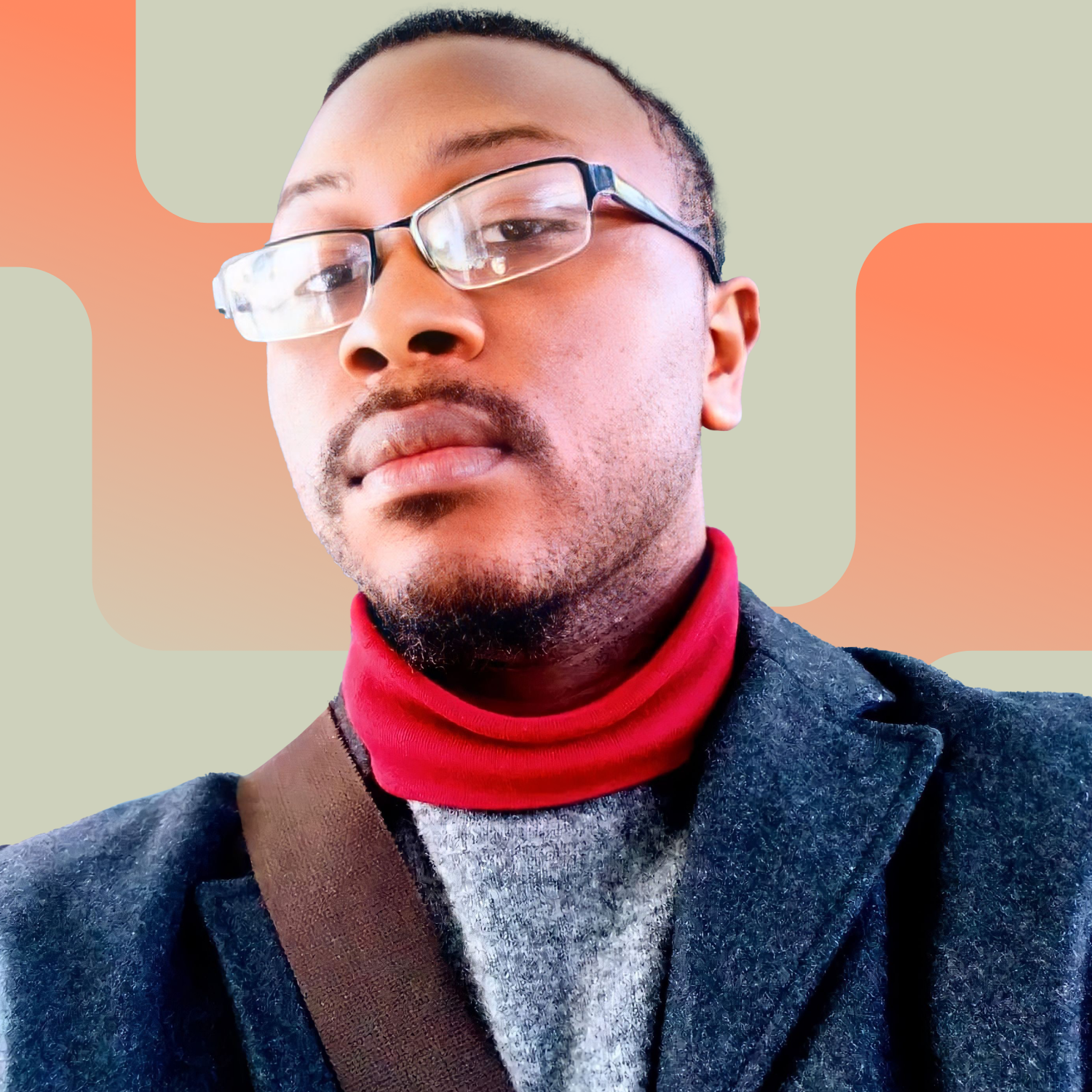 Ryan Glenn is a journalist, writer, and author. Ryan is motivated to educate as many people as possible on the benefits of web3 and cryptocurrency. He has authored "The Best Book...
Ryan Glenn is a journalist, writer, and author. Ryan is motivated to educate as many people as possible on the benefits of web3 and cryptocurrency. He has authored "The Best Book...
READ FULL BIO
Sponsored Sponsored