With a hassle-free payment experience and exciting reward systems, crypto credit cards are becoming a trend. They are doing their share of work in bringing crypto to the mainstream by seamlessly integrating it into everyday life. And it's possible for you to claim a share of the rewards if you pick the right card.
Here is a detailed look at some of the best crypto credit cards for 2022, both in terms of utility and incentivization. But first, let's get the basics down.
What are crypto credit cards?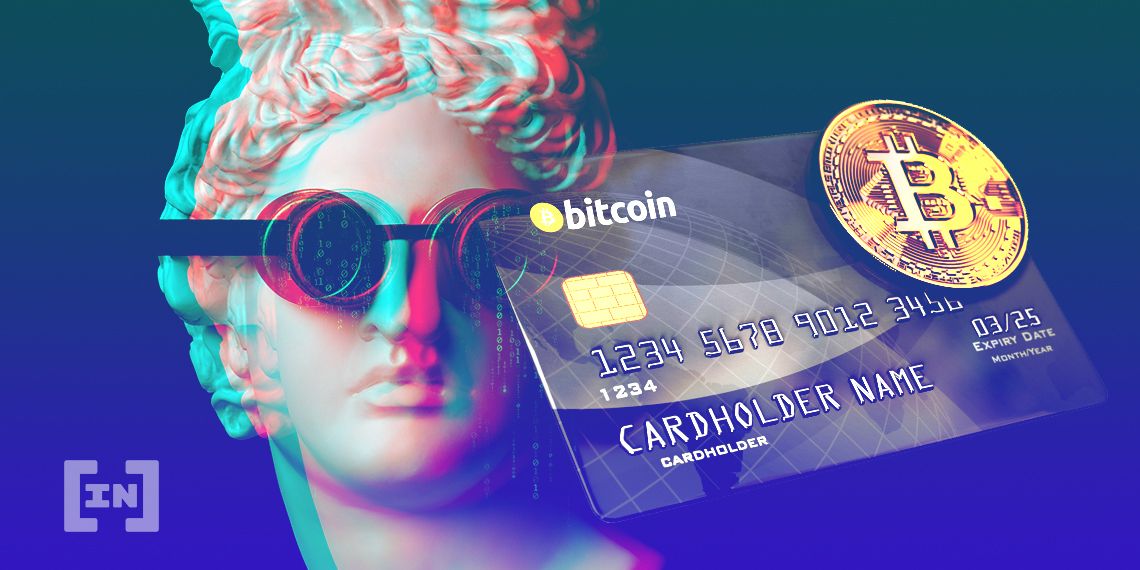 Crypto credit cards are payment cards that credit rewards in crypto.
It could be a debit or credit card. It may facilitate crypto or fiat transactions, or both. The only rule of thumb is that it incentivizes your payment behavior with cryptocurrencies.
When Satoshi Nakamoto launched the Bitcoin network, he was going for an electronic payment system that doesn't rely on middlemen. However, this made little sense for long due to the volatile nature of the market. Businesses and laymen deemed it newfangled nonsense.
On the other hand, crypto enthusiasts began to stash the assets. They drove up the market to unprecedented heights; soon, everyone wanted to onboard the crypto wagon.
To cash in the crypto boom, crypto debit cards like Shift Card came into being. However, they bit the dust before they could take off. A flexible payment system was not enough to penetrate the market; the exorbitant fees were just not worth the value offered.
If a product is to captivate everyday users, the easy way forward is through incentivization. That was what SoFi and BlockFi did. They drew more people to their platforms by introducing crypto credit card services.
Soon more ventures from diverse sectors in the fintech space followed suit.
Why use crypto credit cards?
The list below details some of the reasons that draw people to crypto credit cards. The features are not universally common. It can vary from card to card.
Cryptocurrencies are here to stay. They have seen exponential growth in the past two years alone. Crypto rewards have the potential to grow into a substantial source of money over time.
No biting the nail trying to convert your crypto to fiat. Your crypto debit card does it all.
Some of the best crypto credit cards charge little to no fees on services.
If your expenditure crosses a specific amount, a part of the fees may be waived as a reward.
The drawbacks of crypto credit cards
The opportunity cost involved in crypto payments can be very high. Let's say you earned 100pts from your transactions redeemable in three months. In the first month, the market was bullish. Expecting it to climb higher, you waited for some time. However, contrary to your calculations, the market crashed, turning your rewards worthless.
Many crypto credit cards offer rewards in a limited number of coins or tokens, depending on the crypto ventures they collaborate with. This is a major turn-off, especially if the coin is on a downtrend.
Which are the best crypto credit cards?
BlockFi is one of the first platforms to offer crypto credit card services. It functions just like any other credit card, but offers exciting rewards in bitcoin.
Key highlights
No annual fee or foreign transaction fee
3.5% bitcoin back (capped at $100) on every purchase in the first 90 days of sign-up
Rate is 1.5% after 90 days
For total annual payments over $50,000, the reward rate is 2%
Users can redeem the rewards monthly
Rewards are transferred to the BlockFi Interest Account, acting as an additional source of passive income
Who can apply?
Anybody with a decent credit score can apply. Pre-approved credit cards are offered to some.
Perks
0.25% back in bitcoin on eligible trades.
Bitcoin worth $30 as a referral reward.
Being a Visa Signature card, it gives added benefits like access to Visa's Luxury Hotel Collection, rental car savings, travel and purchase protection, and more.
BlockFi may be the first platform to introduce crypto rewards to credit cards, but it is definitely not the best. The reward rates are lower when compared to counterparts. The lack of real-time rewards is a turn-off. More importantly, reward coins are limited to bitcoin.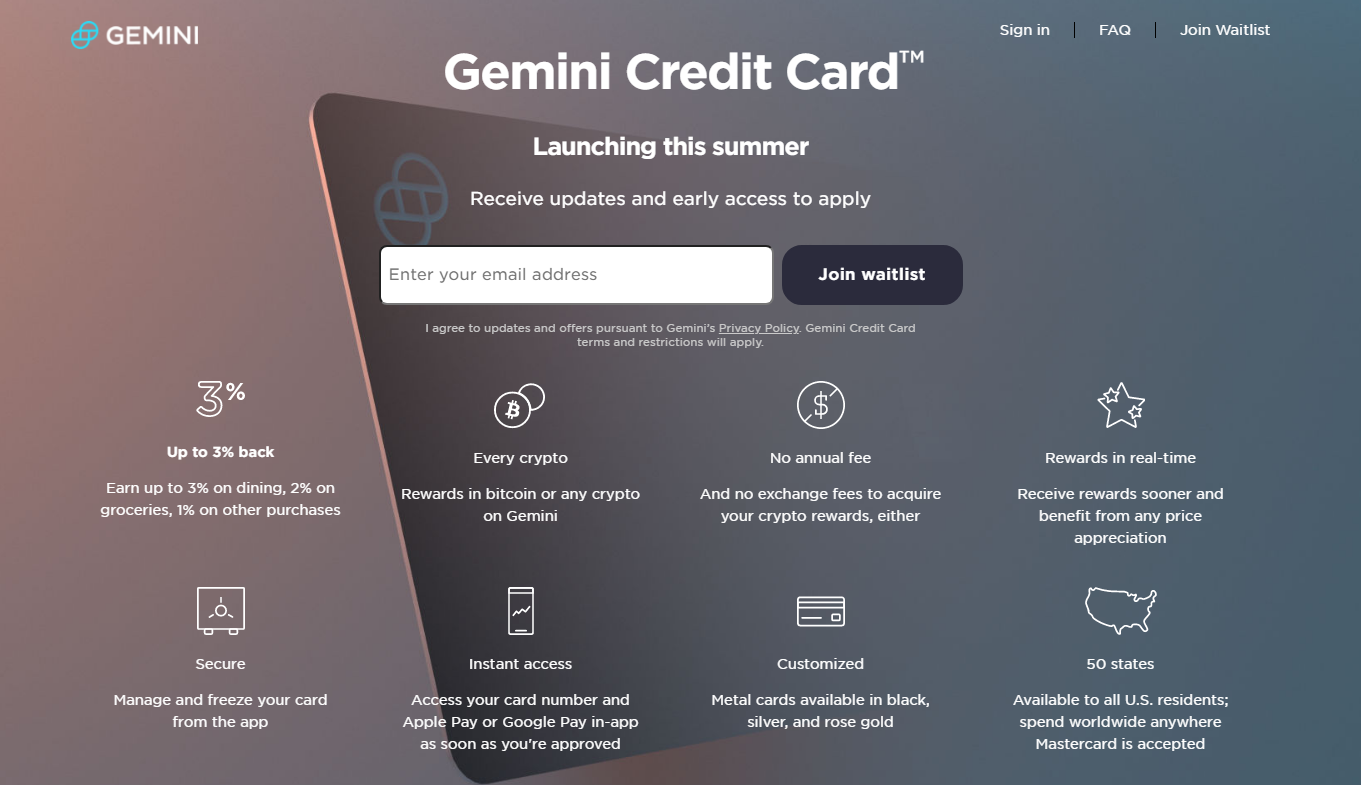 Gemini Credit Card is not live yet. That hasn't stopped it from creating a rage in the market, though. If BlockFi offers flat rewards, Gemini offers tiered savings. 'Invest as you spend' is the unique value proposition of the card.
Key highlights
Up to 3% back (3% on dining, 2% on groceries, and 1% back on other purchases)
Users can redeem the rewards in a range of coins
No annual fee or exchange fee
Rewards are deposited in real-time
It can be used anywhere Mastercard is accepted
Who can apply?
Only U.S. residents with excellent credit scores can apply for the card. Currently, there is a waitlist for early access.
Perks
Being a Mastercard credit card, it offers additional benefits like savings with partners including DoorDash and Lyft, price protections, etc.
It is too early to say how Gemini stacks up against other crypto credit cards. However, with a diverse range of crypto rewards on offer, Gemini is easily one of the best crypto credit cards in the pipeline.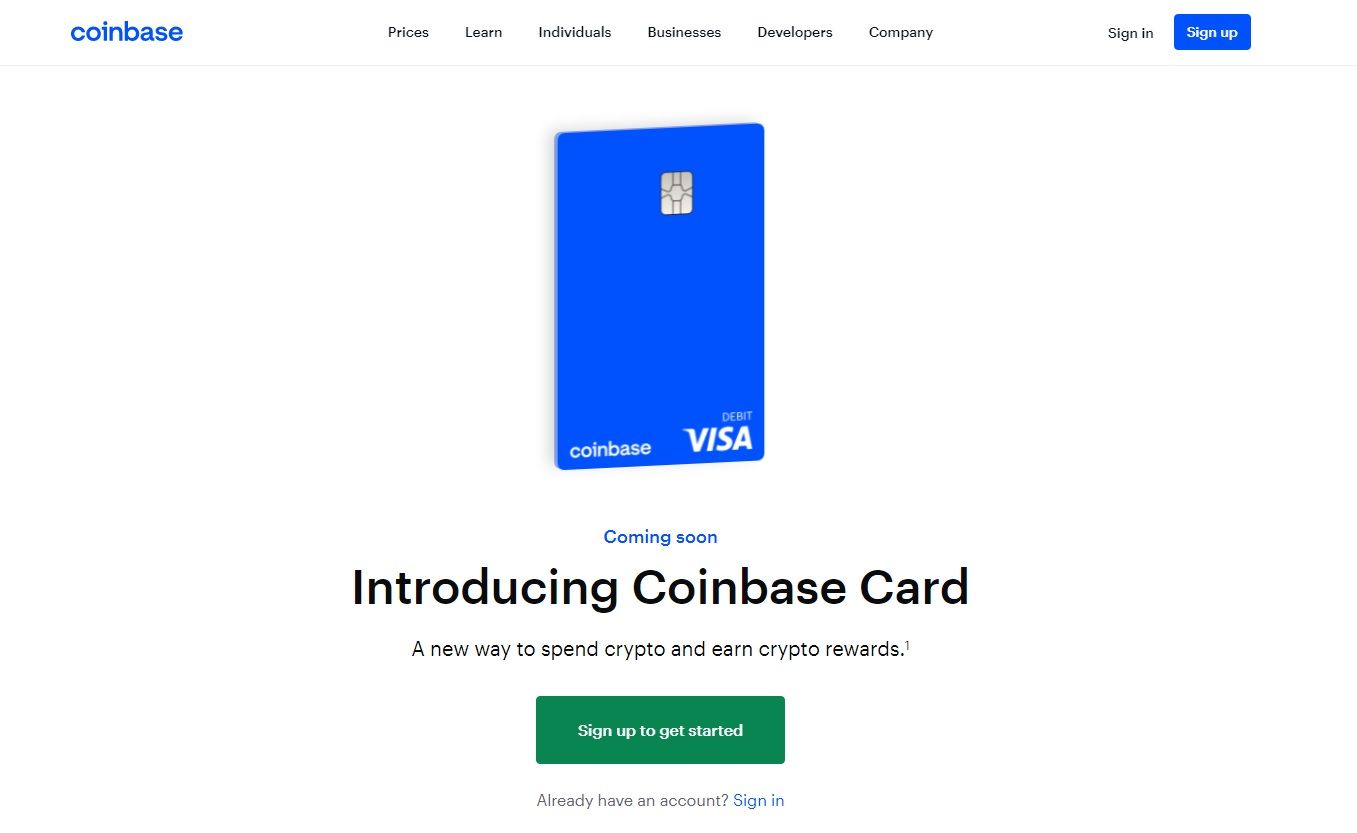 As the name implies, Coinbase Card is a crypto payment card launched by Coinbase. The Visa debit card lets users make payments with the crypto assets in their Coinbase portfolio and earn rewards in the process.
Key highlights
No annual fee or sign-up fee
Up to 4% back on purchases
1% penalty for withdrawals above the maximum limit
Option to freeze the card using the mobile app
Additional bookkeeping features
Who can apply?
Coinbase Card is not live yet. The waitlist is available in all U.S. states except Hawaii.
Perks
If you factor in the 2.49% transaction fees on Coinbase Card, the rewards will seem quite unattractive. This is in addition to a 2% international transaction fee. However, in terms of security and convenience, Coinbase is second to none.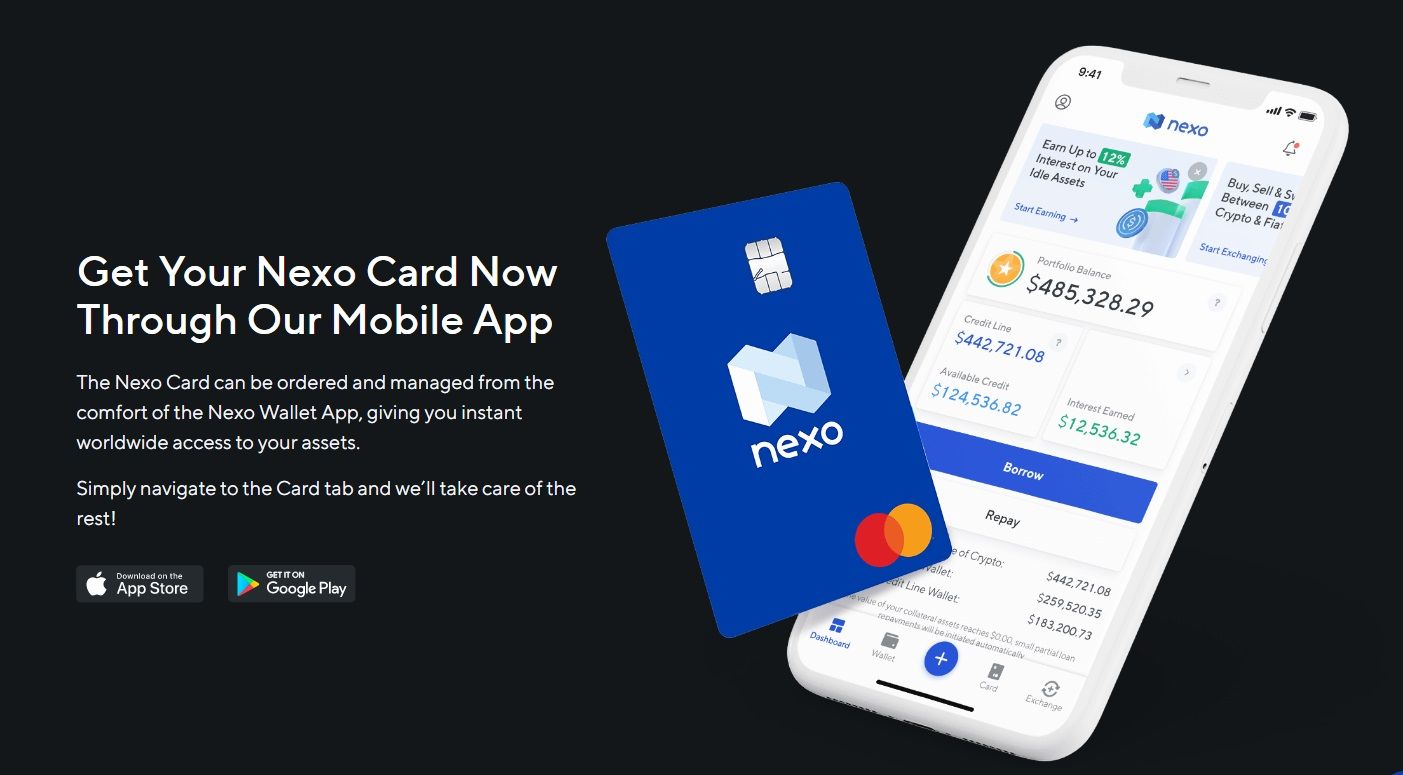 Nexo Card is one of the few cards that offer credit backed by cryptocurrencies. It lets users unlock the value of digital assets while keeping their upside potential.
The rewards can be redeemed either in NEXO tokens or bitcoins.
Key highlights
Lets you spend while holding your cryptocurrency
Payments in local currencies
No monthly/annual fees, no FX fees
2% back on purchases
Option to freeze and unfreeze the card in a few clicks
Instant notifications about transactions
Can borrow up to $2 million in loans
From 6.9% APR
Who can apply?
Nexo is available in all but 22 countries around the world.
Perks
Accepted worldwide by over 40 million merchants
Free additional virtual cards for safe online purchases
Nexo Card offers security and convenience similar to any big banking enterprise. This includes features like instant freezing and real-time monitoring. However, borrowing fiat currencies against crypto holdings is not always the best idea due to the volatile nature of the market.
Crypto.com Visa Card offers flexible top-ups using crypto or fiat currency along with a crypto reward system. If you are looking for a convenient way to spend your crypto assets for everyday use, it will come in handy.
Key highlights
No annual fees
Up to 8% back on spending
Supports 55 different cryptocurrencies
5 tiers with different staking and non-staking benefits
Who can apply?
Anybody who has staked the required number of CRO tokens for a minimum period of 180 days can apply for a Crypto.com Visa Card.
Perks
Supported by the Visa processing network, it is accepted worldwide
As a prepaid debit card, Crypto.com requires users to load crypto assets first. Then, it is used like any other payment card. The reward system is based on the number of tokens staked, the service is not as attractive as it seems to be. Your reward rate can go as low as 1%, depending on the chosen tier.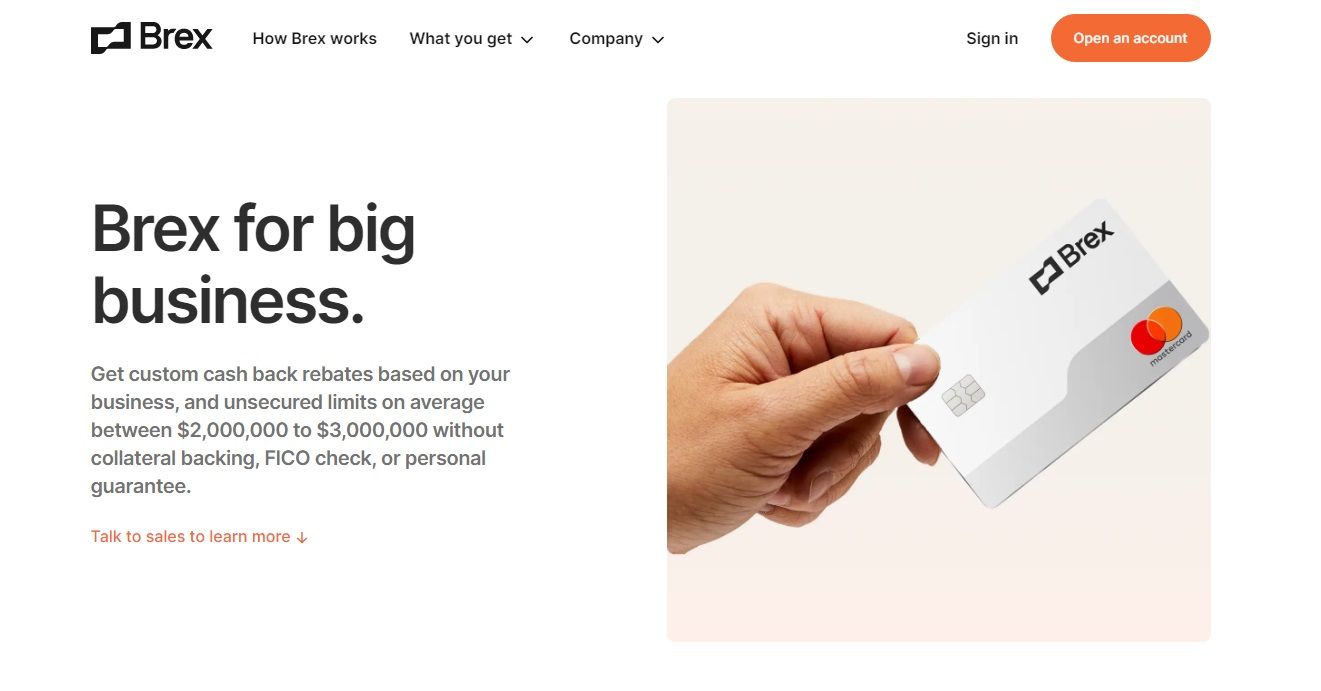 Brex Card is similar to a credit card in its real sense. But it is a corporate card and thus not for retail use. Here, rewards points can be exchanged for cryptocurrency.
Key highlights
No annual fee or foreign transaction fee
Rewards redeemable in BTC and ETH
Credit limits are 10 to 20 times higher than traditional credit cards (paid monthly)
Who can apply?
Companies of any size can apply for Brex credit cards paid daily. There is no minimum balance requirement, and it comes with every Brex Cash account. The card limit will be up to 100% of the available balance in the Brex Cash account. On the other hand, only eligible companies that meet certain size and revenue criteria can apply for credit cards paid monthly.
Perks
Built-in expense management and automatic receipt matching systems.
Although Brex Card claims to be dedicated to start-ups, it is not an ideal means of funding for early-stage start-ups. The uptight payment schedule and conditions are not worth the service or rewards.
Multicurrency Wirex travelcard makes international payments seamless with no fees or hidden charges. It lets users convert local currency at point-of-sale using the best possible interbank and OTC rates.
Key highlights
International payments with low exchange fees
No annual fee
Rewards up to 2%
Funded by crypto wallet
Free ATM withdrawals up to SG$400 per month
Unlimited spending and no monthly maintenance fee
No minimum balance requirement
Compatible with more than 150 currencies
Who can apply?
There is no credit score requirement to apply.
Perks
Accepted at more than 54 million online and in-store outlets across the globe
Enables payments to contacts with a few clicks
Super-swift sharing with Wirex Address Book
Live notifications for all incoming and outgoing payments
$10 worth bitcoin rewards for referrals
Although the rewards are comparatively less attractive on Wirex, it provides an affordable way to switch currencies when traveling.
Unifimoney is a digital money management app that aims to integrate all financial activities in one place. The credit card offered by Unifimoney maximizes returns on payments with cash backs that are invested back into the portfolio.
Key highlights
Linked to a bank account
Back in bitcoin, gold, and other equity investments
Made of recovered ocean-bound plastic
$100 minimum opening deposit
Who can apply?
Unifimoney Visa Credit Card is not out yet. More details will be published in the coming phases of development.
Perks
Bitcoin rewards worth up to $1000 for signing up
Bitcoin rewards worth $25 for referrals
Standard credit card features like Auto Rental Insurance and Identity Theft Protection extend to Unifimoney Visa Credit Card
Unifimoney best suits young professionals who earn high incomes but can't afford to spend time on banking, investing, and other financial activities.
SoFi or Social Finance, Inc is a personal finance management platform that focuses on helping users from different cross-sections of society attain financial independence. It launched SoFi Credit Card as a tool to encourage users, especially youngsters, to diversify their portfolio into crypto. Spending habits and experiences will determine the number of points or rewards credited.
Key highlights
No annual fee
No foreign transaction fee
2% cashback on all eligible purchases
No expiry date for rewards
No redemption threshold
Who can apply?
Individuals with good to excellent credit scores who reside in the U.S. are eligible for SoFi credit cards.
Perks
Get rewarded for spending on popular brands like Lyft, Shoprunner, and DoorDash
If you make 12 on-time monthly payments, your APR is brought down by 1%
Mastercard ID theft protection
One of the major drawbacks of SoFi Credit Card is that eligible purchases are limited. Payment of fees, interest charges, balance transfers, cash advances, and loading of prepaid cards are ineligible for rewards. Despite that, SoFi is one of the most promising fintech platforms in the personal finance management space. If you are already a SoFi user, the crypto rewards will help you leverage more value from the platform.
Which crypto credit card is the best?

We leave that decision to you. But you now have all the information you ended on the best crypto credit cards of 2021 to help you make an informed verdict.
Should you get a crypto credit card?
Crypto credit cards encourage more people to onboard crypto through a variety of attractive rewards and features.
If you believe crypto is here to stay, they are for you.
As you can see from the above list, there are a number of crypto credit cards to choose from. While some maintain an edge in terms of utility, some offer exciting rewards. Some offer credit, while others require you to top up your account. The credit score requirements and fees vary from provider to provider too. In the coming phases, we can expect a host of new features and upgrades in the territory.
Being in the nascent stage of development, it is hard to mark off one as the best crypto credit card of 2021.
At the end of the day, your preferences and requirements determine which one to go for. So, make a logical decision, factoring that in.
Frequently Asked Questions
What is debit and credit?
What is the difference between a prepaid, debit, and credit card?
Can you use crypto credit cards?
Disclaimer
In line with the Trust Project guidelines, the educational content on this website is offered in good faith and for general information purposes only. BeInCrypto prioritizes providing high-quality information, taking the time to research and create informative content for readers. While partners may reward the company with commissions for placements in articles, these commissions do not influence the unbiased, honest, and helpful content creation process. Any action taken by the reader based on this information is strictly at their own risk.