ADAX is a decentralized crypto exchange within the Cardano ecosystem. It has been making headlines for its unique features. With the increasing popularity and development of Cardano, it is worth knowing more about ADAX.
In this guide, we'll talk about all there is to know about this new and innovative Cardano DEX, including a step-by-step guide on how to buy ADAX tokens.
The Cardano ecosystem
Cardano was created by Charles Hoskinson — the co-founder of Ethereum — and Jeremy Wood, in 2017. Input Output Hong Kong (IOHK) develops the network. The blockchain's native token, ADA, fuels network transactions, and it is similar to ether on the Ethereum network. It is known for its methodical and steady approach to development.
With more recent development upgrades, however, Cardano has flourished, permitting decentralized applications (DApps) and the growth of DeFi on its network. The benefits of the network — high throughput and low costs — mean that it could serve as an ideal playground for DeFi.
And to compete with established names like Ethereum, Cardano requires a robust ecosystem of DApps and DeFi services. To that end, Cardano has been supporting many initiatives.
Cardano's initiatives and protocol
The Cardano project has focused on expanding its ecosystem and encouraging development. There are several noble initiatives in Africa, such as EMPOWA, which makes housing more affordable, and Grow Your Stake, which gives all ADA rewards for staking water supplies for communities in need.
But it is also doing on an infrastructure level. The ADAX team has noted that it has received support from Cardano and its community. 
With that endorsement and funding from VC firms, ADAX has redoubled its efforts in building a strong DEX for the Cardano ecosystem. The benefits for Cardano as a whole are clear, as a reliable and feature-filled DEX can act as an entry point for investors.
What is ADAX?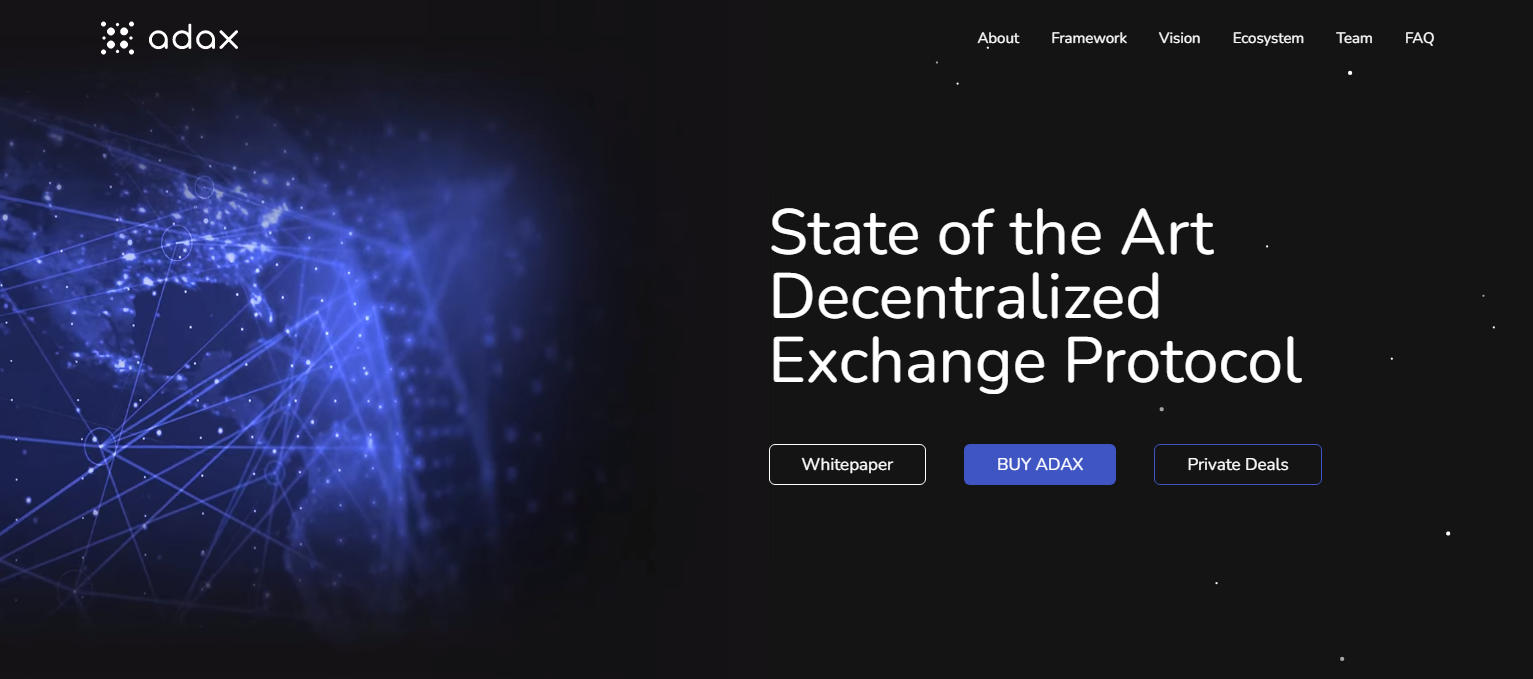 ADAX is a decentralized and non-custodial exchange, a permissionless liquidity protocol on the Cardano blockchain. It offers an automated market maker model (AMM). This is one of the leading decentralized finance (DeFi) protocols on the Cardano network. 
The ADAX liquidity protocol was received with great enthusiasm by the Cardano community. The ADAX DEX had a highly successful initial exchange offering (IEO) on ExMarkets and an oversubscribed private sale round. During the IEO, 14 million ADAX tokens were sold for 0.30 USDT each.
The ADAX team also established partnerships with Charli3 and BlackDragon. It also received the support of some of the top crypto stakeholders, including Roger Ver and Mate Tokey (a co-founder of Bitcoin.com).
ADAX operates on the AMM model, so it does not make use of order books. The team also states that its liquidity pool model reduces impermanent loss.
Another important aspect of the ADAX exchange is that all ADAX exchange fees go directly to liquidity pools. There is no network fee.
Core features of ADAX
Built on Cardano, ADAX has a few features that distinguish it from its counterparts on other networks. These features, detailed below, including an ERC-20 token converter, a different kind of liquidity pool model, and social sentiment analysis. Here's a summary of those features:
ADAX is a completely decentralized service that offers users a Cardano ERC-20 converter with the native ADAX token. This offers a frictionless cross-chain experience. 
The ERC20 Converter is a tool for token issuers who wish to migrate tokens to Cardano. It also allows token holders to do the same. Users can convert their Ethereum tokens into native Cardano tokens in just a few clicks. ADA also offers two-way conversion by allowing users to convert tokens by burning them on Cardano.
ADAX signed a partnership with stockgeist.AI to allow traders to reconsider their investments using the changing signs of social sentiment. Traders will be able to see which tokens are hot by using data from social media analytics. 
The liquidity pools on ADAX are unique and don't suffer from the all-too-common problem of low liquidity like many competitors do. On many DEXs, liquidity pools rely on changing ratios. This can lead to impermanent losses in low-volume assets that often undermine the rewards received by liquidity providers. 
ADAX aims to become the ultimate unified swap on the Cardano network, and it is working on multiple crypto wallets integration. The DEX will offer full support for Yoroi and GeroWallet, and there will be many API-based integrations in the future.
ADAX liquidity and fee model
The dynamically changing ratios of current liquidity pools are a problem. Because they get a share proportional to their volume, liquidity providers are motivated to provide liquidity to low-volume assets in exchange for higher rewards. This is often not enough, as impermanent loss on low-volume assets is too high, so liquidity providers sometimes find it difficult to justify the risk/reward. ADAX is working on a new model to solve these problems.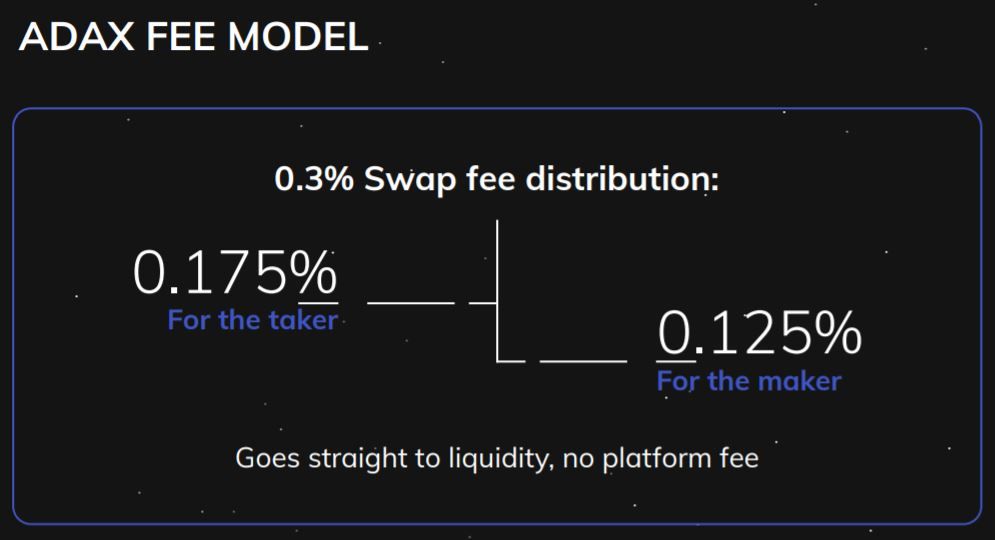 There is no exchange fee on ADAX. The 0.3% service fee goes to the liquidity pools. 
How does ADAX work?
The ADAX uses an AMM model similar to that used by Uniswap. Instead of using order books to match buyers and sellers, traders execute trades with smart contracts. Stable liquidity pools provide the liquidity for these smart contracts. These pools employ decentralized pricing mechanisms to even the order book depth.
In most regards, ADAX is similar to other AMMs, but its richness comes from the secondary features it offers. This includes the aforementioned ERC-20 token converter and social sentiment analysis. That's not to mention the fact that it runs on Cardano, which is a higher-performing blockchain network.
ADAX ecosystem and roadmap
At the time of publishing, the ADAX team is getting ready to release the first version of the DEX, with the ADAX liquidity and ADAX swapping features.
The ADAX ecosystem expects cross-chain support by Q1, 2022. This will take place after the implementation of the IOHK ERC-20 bridge. ADAX will also offer a white-label option to allow enterprises to create customized DApps to meet their needs.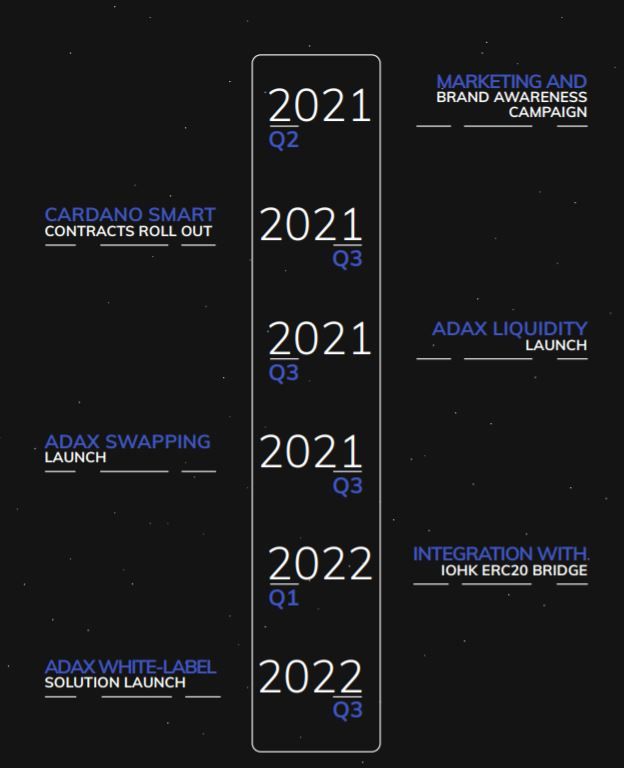 The ADAX token
The ADAX token is the native utility token of the ADAX exchange, and it is used within the ADAX ecosystem. 
ADAX's native token is used for:
Access to IDOs on the upcoming ADAX Cardano launchpad
Access to ADAX's community governance features
Several direct benefits for ADAX traders and liquidity providers (to be announced)
ADAx has a fixed maximum supply of 100 million ADAX, allocated as follows:
Liquidity (10%)
Team Tokens (10%)
Staking (15%)
Treasury (25%)
Public Distribution (40%)
The team's tokens will only be unlocked if they significantly appreciate in value.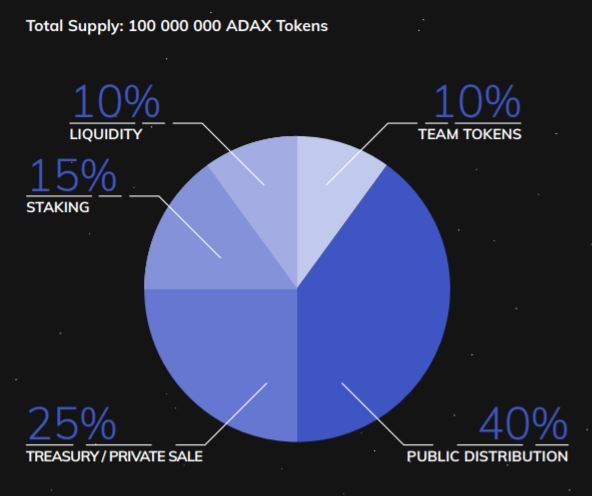 As of the beginning of December 2021, ADAX token trades at around $0.46, and there are 52.4 million ADAX in circulation. 
How to buy ADAX token?
As of December 2021, you can buy ADAX from ExMarkets, and the available trading pairs are:
ADAX/USDT
ADAX/BTC
ADAX/ADA
ADAX/ETH
Step 1. Register on ExMarkets
As ExMarkets is the only exchange that offers ADAX trading pairs, you will need to register on this exchange to buy ADAX token. First, you need to click register and verify your email to start trading.
ExMarkets is an exchange based in Lithuania.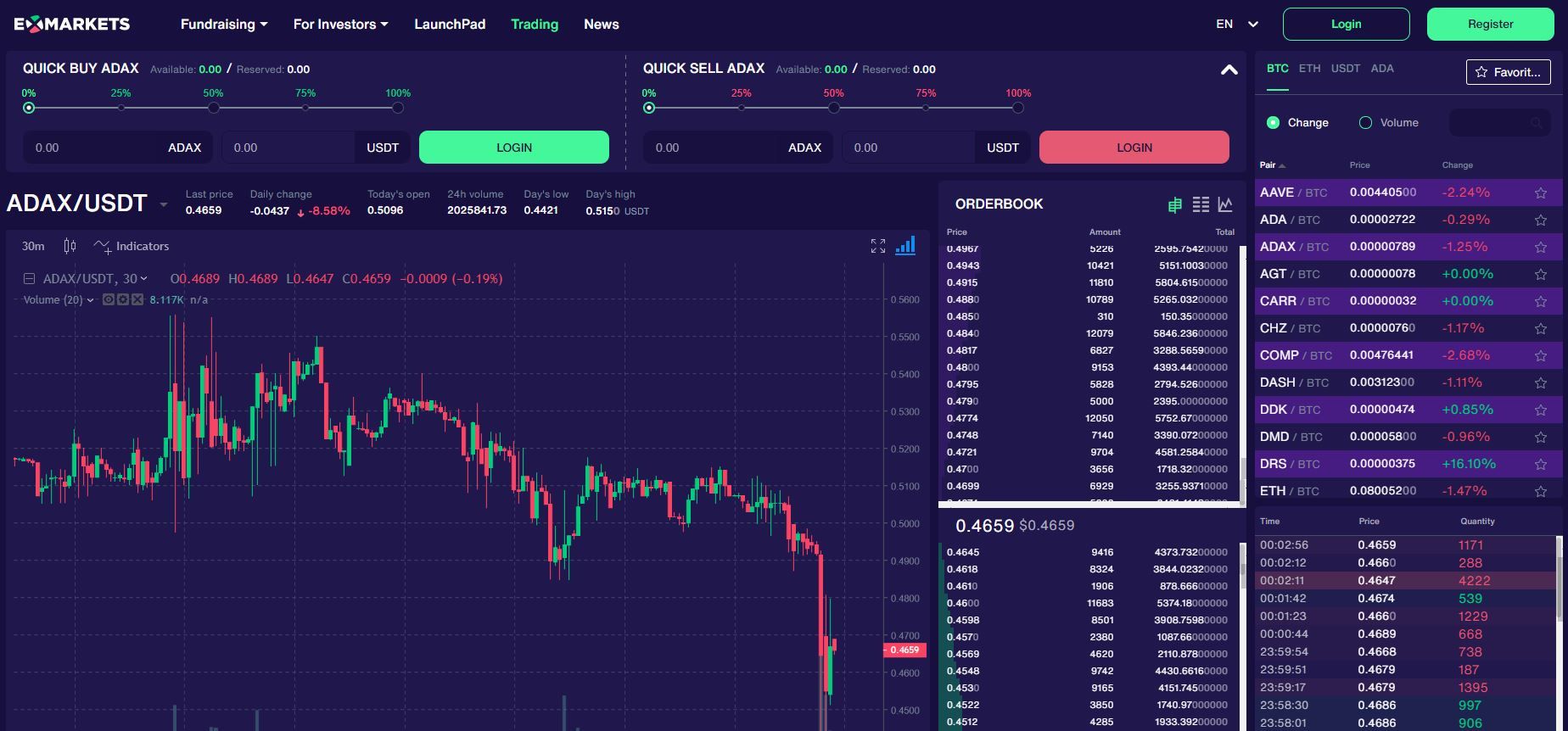 Step 2. Deposit funds in your account
ExMarkets doesn't support credit card purchases but allows wire transfers for EUR deposits. However, the easier and faster way to buy ADAX on ExMarkets exchange is to deposit crypto funds to your account.
Click on your account (your email address, top right) > Deposit and click deposit for the chosen crypto. We recommend you choose to deposit USDT, BTC, ADA, or ETH, since these are the trading pairs for ADAX. 
Considering the network fees for each of these cryptocurrencies, we recommend funding your wallet with ADA, as the Cardano network has the smallest fees.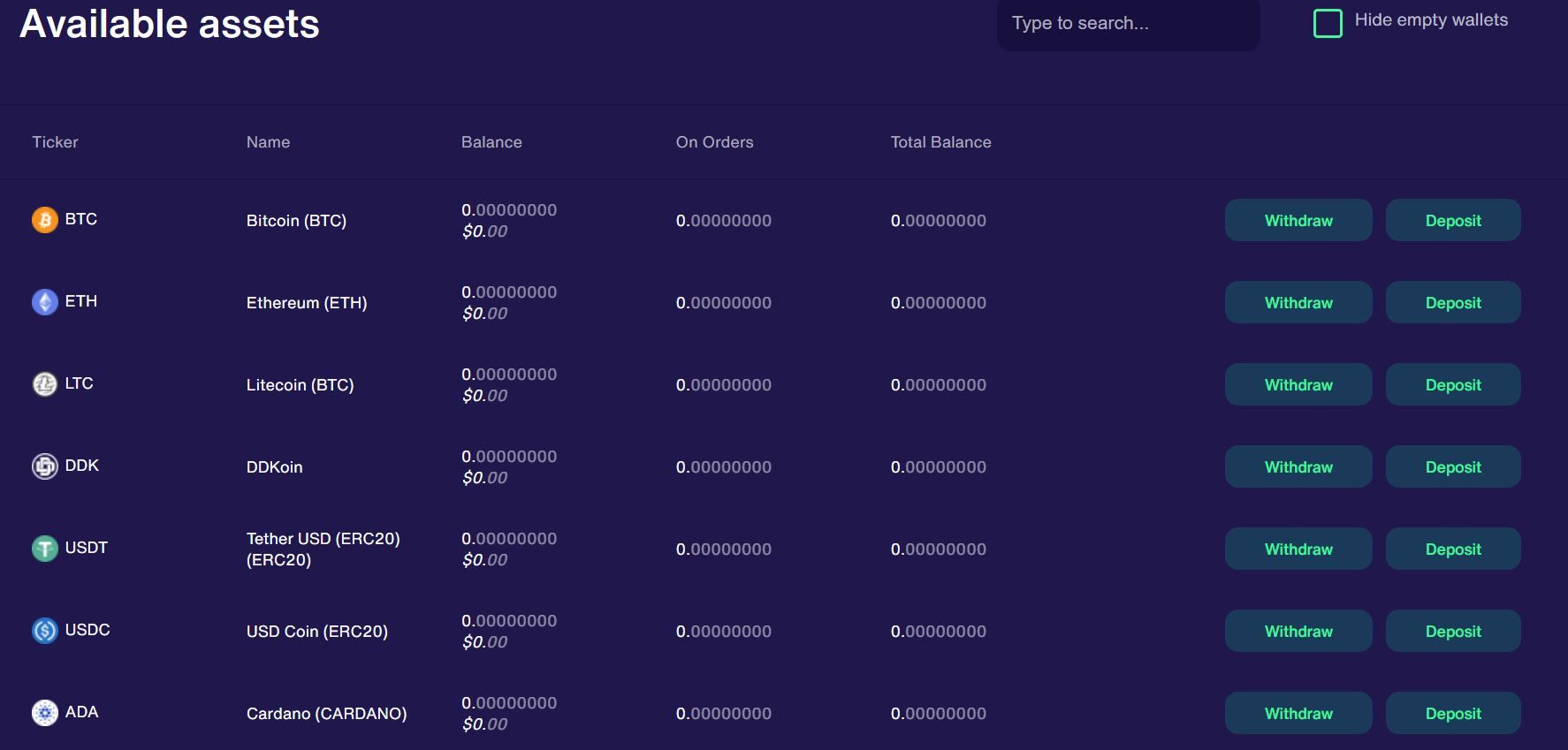 Step 3. Buy ADAX
After you receive the funds in your ExMarkets account, you can trade them for ADAX, and thus complete the steps to buy ADAX, the utility token for the top Cardano DEX.
Go to the trading page of your chosen pair.
On the ADAX/ADA trading page, you'll see the ADAX price and the two options to buy ADAX. On the top, there is the Quick Buy ADAX option. This is the market price, and you will instantly buy ADAX.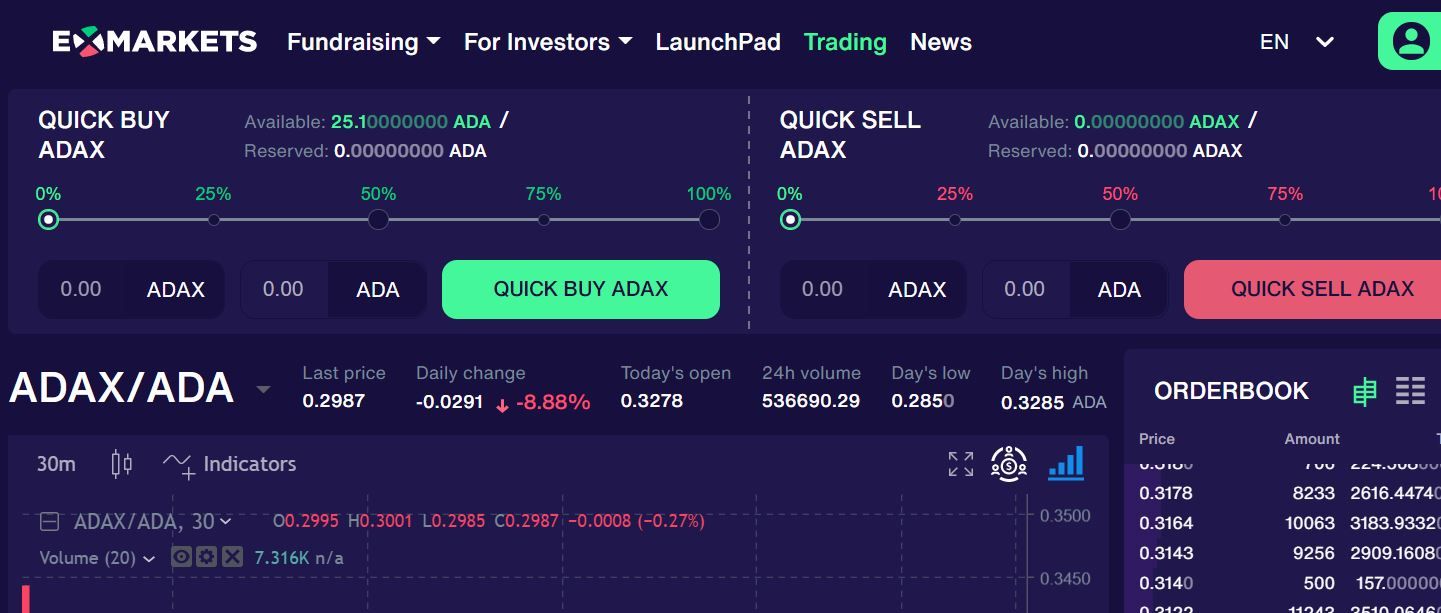 Scroll down to see the option to set an order for buying and selling ADAX.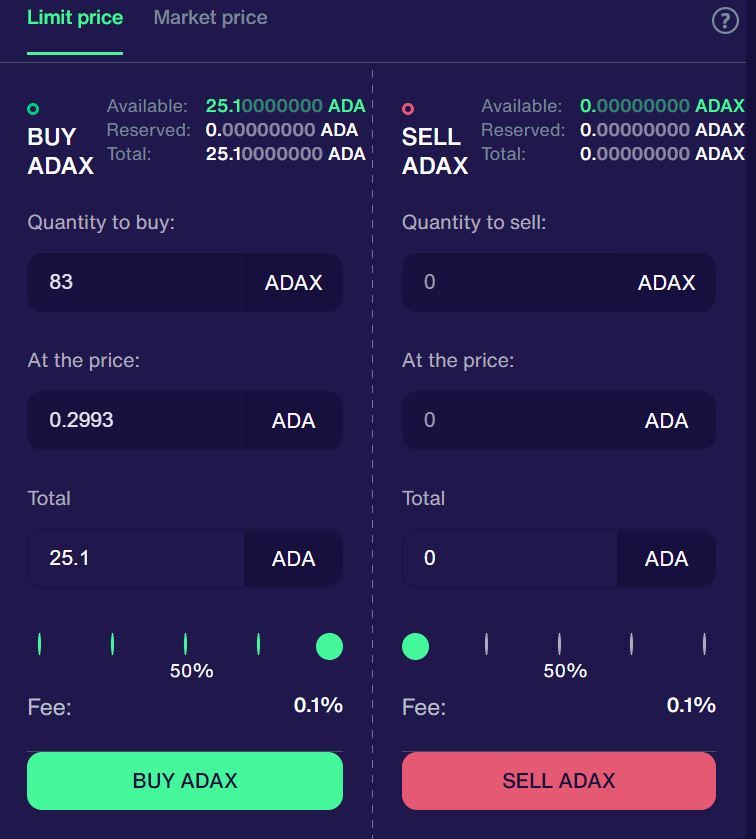 If you're in a hurry or you're simply a new cryptocurrency trader, the first option to buy ADAX is the fastest way.
If you're a more experienced trader, you might want to study the market and try to set a Buy ADAX order for a lower price, if you think the price will take a dip in the near future. After you place the order, you will see it under the chart, on the Open Orders tab.
ADAX token price and predictions
As of December 2, 2021, the ADAX price is around $0.46. ADAX is currently ranked #3101 on CoinMarketCap. The circulation supply of ADAX is 52.41 million, with a market cap of $24,441,728.
ADAX forecasts for the next three years are positive. While ADAX has to gain more awareness in the crypto space, the overall predictions are optimistic.
Is ADAX the next big DEX?
ADAX has been called "the Uniswap of Cardano." Clearly, the DEX is set to bring DeFi into the Cardano network. ADAX facilitates token swaps, staking, and deep liquidity. It is poised to become the go-to DEX for the Cardano network.
Still in its early days, investors will have to wait and see the efficacy of the main features of the protocol as used by Cardano traders and investors.
Frequently asked questions
What is ADAX?
ADAX is an upcoming decentralized exchange (DEX) on the Cardano blockchain. ADAX aims to offer a bridge between ERC20 tokens and the Cardano network. 
Is ADAX on Coinbase?
ADAX is not on Coinbase. As of 2021, the ADAX token can be traded only on ExMarkets crypto exchange.
Where can I buy ADAX?
ADAX can be purchased on the ExMarkets cryptocurrency exchange. 
Is ADAX crypto a good investment?
Analyst predictions see ADAX as a good long-term investment. ADAX token could reach $6 in the next five years. 
Disclaimer
In line with the Trust Project guidelines, the educational content on this website is offered in good faith and for general information purposes only. BeInCrypto prioritizes providing high-quality information, taking the time to research and create informative content for readers. While partners may reward the company with commissions for placements in articles, these commissions do not influence the unbiased, honest, and helpful content creation process. Any action taken by the reader based on this information is strictly at their own risk.