Kanye West announced via his Instagram account, that he wanted people to stop asking him to release works on NFTs.
Also known as Ye, Kanye West is one of the most influential figures in the United States. He became known worldwide not only for his rap music, but also for his fashion collections, as well as controversial comments and opinions. And let's not forget that marriage to Kim Kardashian.
On Monday night, the rapper, who was a candidate for the US presidency in the last elections, posted a photo of a letter written by him to his more than 10 million followers on Instagram.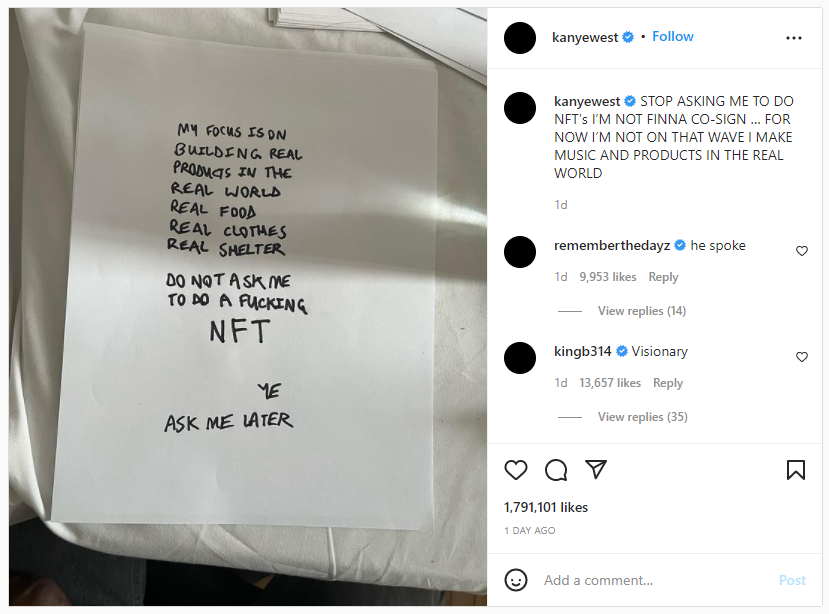 Kanye West Says No To NFTs, At Least For Now
In the letter posted by Kanye West, he wrote that he wants to focus on "building products in the real world", such as food, clothing and shelter. The artist even asked his followers to stop requesting that he make NFTs.
In the text of the post, the rapper emphasizes again that he is not following the wave of euphoria regarding NFTs, being someone who creates music and products in the real world.
However, the last sentence written was "ask me later." Does this imply that the gateway to this market is not completely closed?
Rapper gets support from his followers
Kanye West has not commented on NFTs, which is unusual in the world of celebrities. In addition to launching their own collections, influential people in pop culture are becoming major buyers of these assets, spending considerable amounts of money to own exclusive works in this format.
In the last few days alone, Neymar and singer Justin Bieber spent around $1.14m each on Bored Ape Yacht Club NFTs, a collection of non-fungible tokens that has attracted many celebrities.
Despite the market being overheated, millionaire purchases in NFTs are frowned upon by a large part of the general public.
Several followers of Kanye West expressed support for the rapper's decision, saying that entering this market is meaningless and that it brings more harm than good. One of them was @Rhsin who is photographer and Times bestselling author.
"Someone literally took the money they were saving to buy a house and bought a digital home in a digital neighborhood. What happens when your internet is not working properly, you are homeless???? Ye is actually an ingenious human who wants to help real people and not avatars."
Got something to say about Kanye or anything else? Write to us or join the discussion in our Telegram channel.
Disclaimer
All the information contained on our website is published in good faith and for general information purposes only. Any action the reader takes upon the information found on our website is strictly at their own risk.