The beginning to what could be a long, drawn-out battle over Mason Rothschild's 'MetaBirkins' NFT collection has attracted legal trouble by Hermès, the sole authorized distributor of BIRKIN, presenting potential clarification on the effect NFTs have as between trademark rights and the First Amendment.
In early January, French luxury fashion brand Hermès sued Mason Rothschild, a Los Angeles-based digital artist who created the 'MetaBirkins' series of NFTs, which has spread like wildfire across social media. While this is just getting started, this lawsuit will certainly set forth a new legal precedent as it relates to NFT art and fashion when balanced with First Amendment and intellectual property discussions.
For context, it's worth noting that Rothschild has not made any actual tangible BIRKIN-type bags, but simply created digital art inspired by the Hermès brand, choosing to title his NFT collection as the "MetaBirkins," featuring a collection of colorful, fashionable tote bags.
In December 2021, Rothschild announced the "MetaBirkins" project at Art Basel Miami, of course immediately catching the attention of the fashion world, and now, inevitably, Hermès, which is the sole, authorized distributor and trademark owner of the BIRKIN brand. 
According to the complaint, obtained by BeInCrypto, Hermès claims that in the willful infringement, Rothschild has done nothing other than rip off the famous Birkin brand and added a generic "meta" to it, creating a very high likelihood of confusion and dilution to the use of Hermès well-known and accepted trademarks.
What is BIRKIN?
Hermès, whose origins date back to as early as 1837, is a world-famous designer and producer of high-quality handbags, apparel, scarves, jewelry, fashion accessories, and home furnishings – but arguably, is known best for its famous BIRKIN handbag, an exclusive design that was first created in 1984 and first sold in the U.S. in 1986.
The average price of a physical BIRKIN handbag averages for around $20,000, but has sold for as high as $300,000, making the value of the BIRKIN trademark and trade dress extremely valuable. 
What's the Legal?
To prevail on a trademark infringement claim under the Lanham Act, the federal statute governing trademarks, a plaintiff, in this case, Hermès, must show that it has (1) a valid mark entitled to protection and (2) that the defendant, in this case, Rothschild, used the same or a similar mark in commerce in connection with the sale or advertising of goods or services without Hermès consent.
The heart of any trademark infringement case lies with "the likelihood of confusion" when consumers first come across it and whether or not they would assume that the product or service it represents is associated with the source of a different product or service identified with a similar mark.
The 2nd circuit has often used the Rogers test for determining whether the use of a third-party trademark in an expressive work – in this case, an NFT, violates the Lanham Act. This test first stemmed from the 1989 case of Rogers v. Grimaldi, adopted later by the 9th Circuit in Mattel, Inc. v. MCA Records (the "Barbie Girl" case). 
What's Hermès Arguing?
In essence – by means of trademark infringement, Hermès is arguing that based off the immense strength of its BIRKIN mark, Rothschild's venture has given consumers a false designation of origin as well as diluted the trademark brand throughout the fashion, luxury, and digital art spaces.
We have provided a quick recap of what Hermès is arguing in its complaint:
First, the digital artist did not have the authorization from Hermès to use its trademark and/or trade dress when he first announced the MetaBirkin project back in December at Art Basel Miami. 
Second, Rothschild clearly profited from the unauthorized use of Hermès trademark, launching over 100 digital collectibles under the MetaBirkins mark and earning significant amounts of money from the sale and resale of the NFTs. 
The luxury manufacturer pointed to many instances where Rothschild has commercially advertised and sold the MetaBirkins NFTs, including the MetaBirkins website, NFT marketplaces like OpenSea, Rarible, LooksRare, and Zora, as well as Discord, Twitter, and Instagram – all using the aspects of the BIRKIN trademark.
Third, the legal document also recognizes that Rothschild's Twitter account has almost 7,000 users, whereas his Instagram has over 19,000 followers (over 16,000 at the time of filing) and the MetaBirkins Discord channel playing home to over 16,000 users – who all believe there is a correlation between BIRKIN and Rothschild's project.
Lastly, the MetaBirkins website expressly states that "MetaBirkins are a tribute to Hermes' most famous handbag, the Birkin, one of the most exclusive, well-made luxury accessories" – evidencing Rothschild's apparent knowledge of what he was doing, ultimately (mis) leading consumers into believing that there was/is some type of official relationship.
What's Rothschild Arguing?
Rothschild has made it clear through the @MetaBirkins Instagram account that he would be putting up a fight, using what he believes to be his First Amendment rights to make and sell art that depict Birkin bags, refusing to apologize for the project and inviting Hermès to be part of this movement.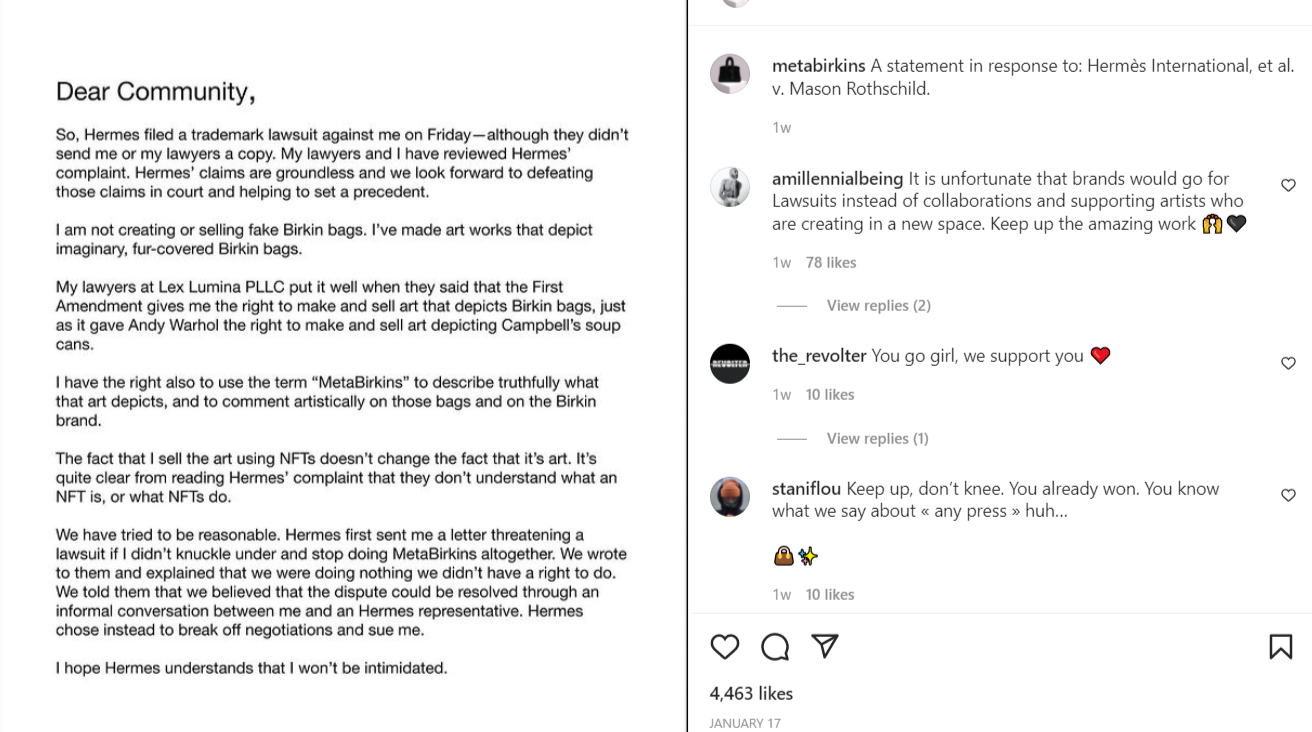 What do you think about this subject? Write to us and tell us!
Disclaimer
In adherence to the Trust Project guidelines, BeInCrypto is committed to unbiased, transparent reporting. This news article aims to provide accurate, timely information. However, readers are advised to verify facts independently and consult with a professional before making any decisions based on this content.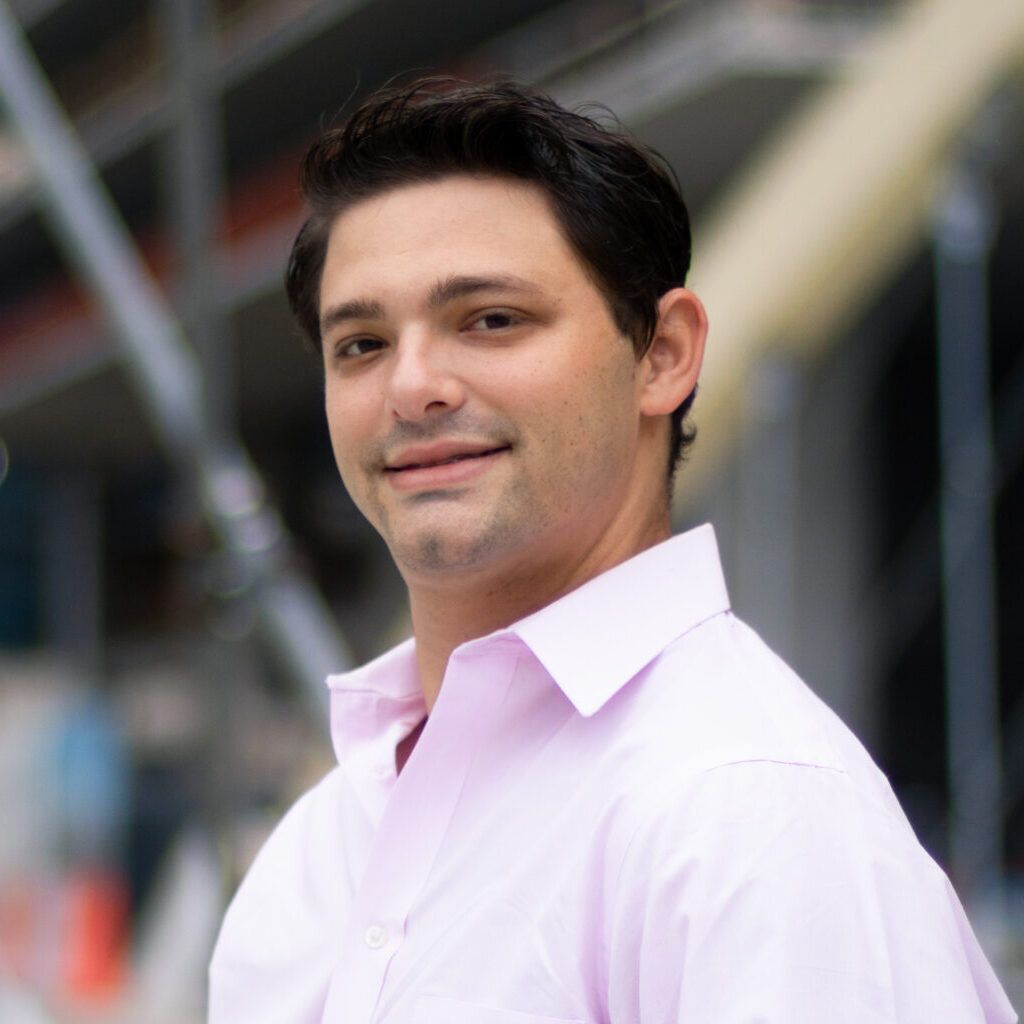 Andrew Rossow is a News Editor at BeInCrypto. He is a licensed attorney and journalist with over 7 years of experience from the online media and television industries, focusing on...
Andrew Rossow is a News Editor at BeInCrypto. He is a licensed attorney and journalist with over 7 years of experience from the online media and television industries, focusing on...
READ FULL BIO
Sponsored Sponsored