Last week was
the worst week for the stock market
since 2008. [Grow/Acorns] The S&P 500 saw 10% declines and is widely considered the benchmark of what is happening in the overall stock market. Investors even fled safe-haven assets,
Bitcoin
included.
This decline, coupled with a rough month, left investors reeling with the losses to portfolios.
President Donald Trump
blamed the
coronavirus
and called on Federal Reserve Chairman Jerome Powell to take decisive action to stave off losses.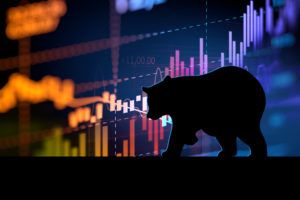 Markets ahead: February blues into March
The validity of the market losses connected to
coronavirus
is clear. The market responded negatively as demand for crude oil dropped to the lowest levels in a decade with the dangers of international travel.
[jnews_block_28 second_title="Featured Stories" header_type="heading_5″ number_post="4″ boxed="true" show_border="true"]
Further, the 10-year Treasury bond yield
declined
to what could be the lowest level in 100 years. Spurred on by investors seeking safe havens, bonds were gobbled up, driving down the returns that investors can expect. The past week of pain topped off a very painful month.
Bitcoin
also fell victim to the woes of loss, as the first-ever cryptocurrency dropped almost 20% from highs. The potential for a wider impact from the coronavirus put investors at serious risk in the month. Further, the market could face additional struggles this week, as Super Tuesday, when many states hold their presidential Democratic primaries, draws near. Stocks have fallen 83% of the time after Super Tuesday.
Bitcoin's future
Assuming the market continues falling, the Bitcoin faithful may face troubling times ahead. While Bitcoin has made a name for itself as a safe-haven asset, other such assets saw corrections as well. Gold, silver, and others
all saw substantial declines
in February too. However, while the market may continue falling, Bitcoin should be protected in some measure from the losses. The coming halving has increased interest in the coin, and the fact that Bitcoin is not connected to the political intrigues of the dollar could provide needed stability. Finally, should the market continue to decline, a drop in Bitcoin might be short-lived. Often, oversold assets are suddenly seen as cheap, creating a rapid increase in prices from short-term lows.
Disclaimer
All the information contained on our website is published in good faith and for general information purposes only. Any action the reader takes upon the information found on our website is strictly at their own risk.