Hedging against inflation should be on everyone's minds. But a new survey has revealed that 79% of people have done nothing with their money.
While the vast majority of people aren't taking action against inflation, there is hope. 14.6% have moved funds into precious metals and 4.9% of people have gone into crypto.
These results seem to indicate a widespread unpreparedness for inflation. An interesting result is that precious metals and bitcoin have replaced more traditional forms of inflation protection.
The survey was conducted by GoldIRAGuide.com. It discovered not only what people are doing, but what they aren't. While hedges such as TIPS are no longer of interest, the uptrends favor Bitcoin, silver, and gold.
Hedging against inflation: Preparation
Authors of the study say previous polls found that 94% of Americans are concerned about inflation. "However, the true extent of Americans' inflation preparedness in today's economy had not been unearthed until now. Polling results indicate that the majority of respondents (>79%) have taken no action to their portfolio to mitigate inflation concerns, whereas more than 14% have moved into real assets such as precious metals or real estate. Bitcoin and Ethereum have overtaken TIPS in popularity for inflation hedging."
While most people have yet to take action to hedge against 40-year-high inflation levels, 9.4% have diversified. They have done this with precious metals like gold or silver. Says the authors of the study, "The next most popular diversification assets were cryptocurrencies, of which 4.9% of respondents claimed to have recently added to their portfolio due to inflation concerns. Additionally, 5.3% of respondents claimed to have diversified with real estate."
Boomers were much more likely to be "riding out" inflation. They were less likely to take action than younger generations.
Women investors preferred real estate (4.5%). Men preferred gold (7.9%).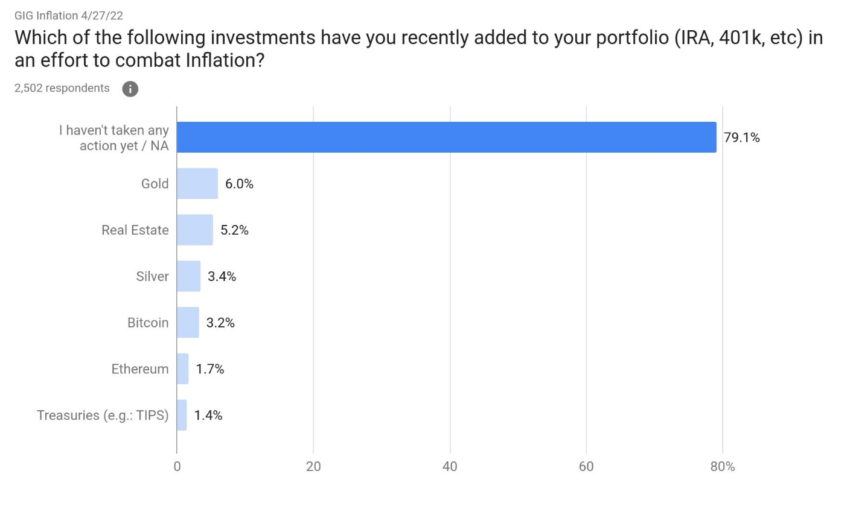 Boomers staying the course
One of the study authors, Liam Hunt, said, "These new data paint a grim picture, one that depicts most Americans as unprepared for retirement. It also indicates a large discrepancy between what US investors think and what they're prepared to do in order to curb inflationary effects.
Although most investors are concerned about inflation, many are willing to stay the course and wait it out rather than react. Furthermore, it appears that traditional tools for inflation hedging, such as TIPS, are being phased out in favor of newer asset classes such as Bitcoin and Ethereum, or hard assets such as real estate or precious metals. Of those polled, 14.7% have diversified primarily with hard, physical assets."
Got something to say about hedging against inflation or anything else? Write to us or join the discussion in our Telegram channel. You can also catch us on Tik Tok, Facebook, or Twitter.
Disclaimer
Following the Trust Project guidelines, this feature article presents opinions and perspectives from industry experts or individuals. BeInCrypto is dedicated to transparent reporting, but the views expressed in this article do not necessarily reflect those of BeInCrypto or its staff. Readers should verify information independently and consult with a professional before making decisions based on this content.