With the bitcoin price stuck in a narrow range lately, some investors are calling it quits. Hedgeye Risk Management Founder Keith McCullough has bailed on bitcoin, announcing in a tweet that he has sold all of his BTC.
McCullough, a Wall Street veteran who has traded for several high-profile hedge funds, said he "joined the bitcoin debate" at year-end 2017, when the bitcoin price had reached its peak of nearly $20,000. At the time, he said he was neither bullish nor bearish but instead was
"your risk manager"
on bitcoin. McCullough eventually went long on bitcoin. As recently as Sept. 23,
he said
that "bitcoin looks like a long here," adding,
"Bitcoin looks attractive on the long side following a ~30% drawdown."
Now the tide has turned again in his book.
But Why?
What a difference a couple of weeks can make. With the stimulus talks on hold until at least after the U.S. presidential election, he's made an announcement of another kind, declaring that he is out of the BTC market. His decision baffled some, including billionaire venture capitalist Chamath Palihapitiya, who simply asked him, "Why?"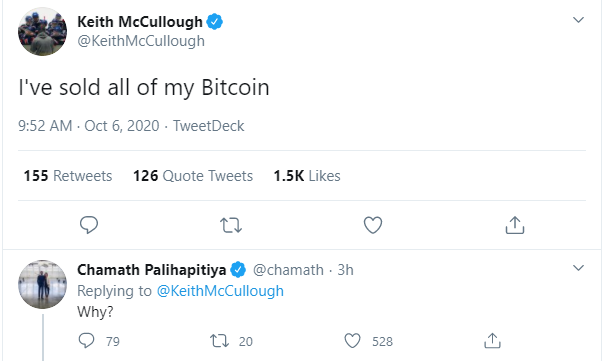 Perhaps there were warning signs.
Bitcoin does not likes its current inverse USD correlation

— Keith McCullough (@KeithMcCullough) October 2, 2020
Blame It on the Stimulus
It's not the first time that McCullough has changed course. In March, he tweeted that he was long on bitcoin until February, at which time he sold because his "risk management process" made him do it. This time, however, he's not blaming his global macro strategy, at least not directly. US lawmakers have reached a stalemate on the latest stimulus talks and negotiations aren't expected to resume until after the presidential election. With that, the stock market flipped red alongside the broader crypto markets. McCullough made his call early in the day and appears to have seen this one coming.
Evidently Bitcoin needed stimulus

— Keith McCullough (@KeithMcCullough) October 6, 2020
Safe-Haven Assets
McCullough is co-head of macro strategy at Hedgeye and for him, the economic and political landscape is telling him to sell. It
wasn't just bitcoin
— he also sold his Barrick Gold holdings. As fate would have it, Warren Buffett in August ventured into Barrick Gold, buying roughly 21 million shares via his company Berkshire Hathaway, which was a 180-degree turn for the
former gold-basher
. McCullough, however, is out.
Selling my Barrick Gold $GOLD and Bitcoin this morning triggered so many feelings

— Keith McCullough (@KeithMcCullough) October 6, 2020
The economic landscape can change in a New York minute, and McCullough didn't say that he'd never be back. It appears he's just staying true to the strategy that has served him well in his career.
Disclaimer
BeInCrypto has reached out to company or individual involved in the story to get an official statement about the recent developments, but it has yet to hear back.