Bitcoin has appeared on television yet again, this time in the third episode of HBO's Euphoria that aired June 30, 2019.
Kat, a major character on the show, notably does not make use of the world's largest cryptocurrency as an investment vehicle or store of value. Instead, she uses it as a way to securely, privately and discreetly transfer money between a client and herself. Kat later approaches an individual that helps anonymously convert her Bitcoin to US dollars for a rather appalling 20 percent commission.

Mixed Sentiments on Social Media
Notably, the Bitcoin community on Reddit found itself divided over the ramifications of the HBO cameo. While some members of the community were far from pleased over the show associating digital currencies with the sex industry, others vigorously pointed out that the show had simply highlighted a legitimate use case. One Reddit user commented, "Bitcoin being used for the oldest profession in the world is a good thing," while another wrote in agreement,
"Sex workers should have the ability to accrue sovereign wealth… It's just the platform of HBO is so big they could just do better. (sic)"
Reddit's user base expressing apprehension over the show's depiction of cryptocurrency is hardly surprising, given that the asset class has been exclusively associated with questionable or taboo use cases in the minds of the public. Bitcoin, in particular, has been used to fund illicit activities on the dark web, including trade of drugs, armaments and even stolen identities. The sex industry, however, does not fall under the same categorization and could benefit from a digital method of payment that protects both parties.

Bitcoin References in Media on the Rise?
Notably, Euphoria is not the first mainstream work of visual media to feature the digital currency ecosystem in a questionable light. Silicon Valley, another popular HBO show, introduced initial coin offerings (ICOs) and tokens as major plot points in its fifth season last year. Released months after the market's historic bull run, the season's final episodes spoke about the technology's various benefits and disadvantages, mainly decentralization and volatility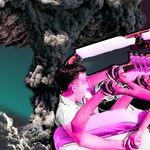 We can describe volatility as how much the value of an asset changes over a given time. A volatility index... More. Furthermore, while ICOs were pitched as an attractive alternative to traditional fundraising and venture capitalism, the show's protagonists found themselves battling a potential 51 percent attack later on.
USA Network's Mr. Robot is another TV Show that extensively featured cryptocurrency in its last season. Besides a few isolated mentions of Bitcoin, the central plotline of the show's third season revolves around 'E-Coin', a private cryptocurrency introduced by a fictional financial conglomerate. The show has notably been praised for its technical accuracy and realism in the past.
Finally, in March 2018, HBO's talk show Last Week Tonight ran a segment on the cryptocurrency industry, highlighting controversies such as Bitconnect, EOS.IO and unhealthy speculative investment attitude.
Do you think the public's perception of Bitcoin and other cryptocurrencies has improved in light of these depictions? Let us know your thoughts in the comments below.
---
---
▶️ Do you want to BeInCrypto? Join our Telegram Trading Community for exclusive Trading Signals, educational content, discussions and Project Reviews! Images courtesy of Shutterstock, Trading View and Twitter.