Today, a new potential 'King Whale' (a single massive volume investor/holder) has apparently appeared on the
Litecoin
network, according to a recent tweet from the Litecoin foundation.
The whale appears to have taken over 12 million coins off the market in a single creation of more than forty new wallets, each containing 300,000 LTC. While the Litecoin foundation is not aware of who owns this massive number of coins, the whale is now holding more than 15 percent of the total possible supply of LTC.
Litecoin's New King Whale — $1.1Bn Transacted on the Litecoin Network in a single day.#ltc #litecoin #btc #bitcoin #cryptocurrency #Crypto #blockchain

🗞️ https://t.co/thAEPr7CuN pic.twitter.com/w3UTNbNPPE

— Litecoin.com (@LitecoinDotCom) December 3, 2018
Speculation on who the whale is, and why it has entered the market at this time, remains high. Potential investors may include a single large-buying individual or an institutional investor who is seeking to consolidate a large position in the coin. Some speculation exists that the addresses may be owned by Bakkt or Fidelity.
Future investment potential?
Litecoin has been positively compared to Bitcoin (BTC) since its beginnings in the fall of 2011. Both function according to a proof of work protocol for mining new blocks. The altcoin's claim to fame is that it generates transactional blocks four times as quickly as Bitcoin, making transaction processing more rapid.
The coin followed the bull market through 2017, and saw its first $1B day in spring of 2018, as the crypto selloff began.
[bctt tweet="Such massive buying may indicate a potential shift in the marketplace and a possible bottom for LTC, though this is purely speculation. " username="beincrypto"] Such whales exist on the Bitcoin network and have moved the market at various times. The Litecoin foundation has speculated that this purchase could be in the same vein. Litecoin remains down for the day nearly 10 percent at the time of this writing.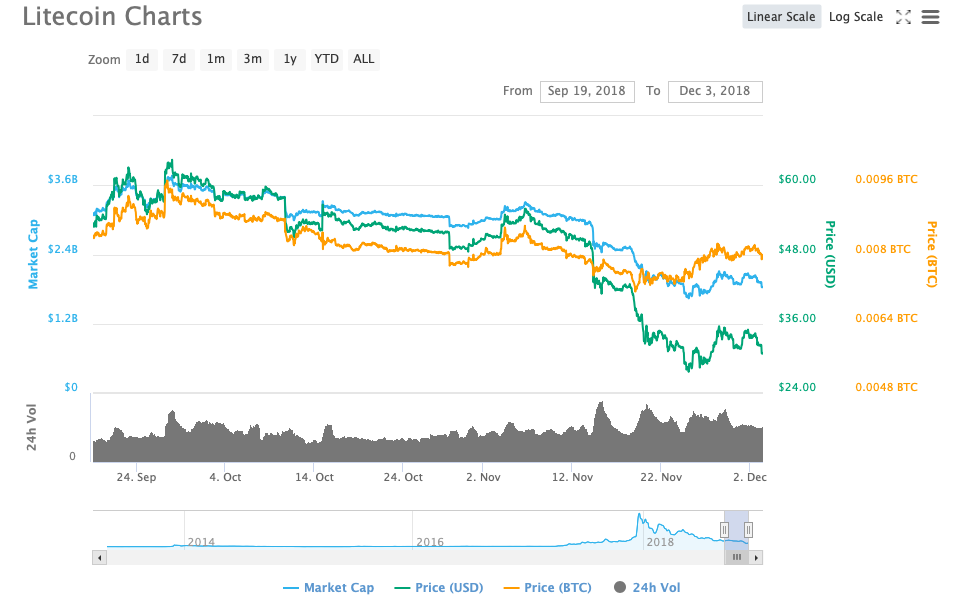 Think the Litecoin (LTC) whale is an investor or an institution? Let us know your thoughts in the comments below! 
Disclaimer
All the information contained on our website is published in good faith and for general information purposes only. Any action the reader takes upon the information found on our website is strictly at their own risk.