The Grin project announced in July that its third programmed hard fork would take place at block 786240, which is just around the corner.
Grin recently released Grin 4.0 and Grin wallet 4.0, which included the implementation of their new Slatepack standard. The feature will modify the way that parties send transactions.
What's Going on With Grin?
The project runs on the lightweight privacy protocol Mimblewimble. Its value proposition is to be a stable and less storage-intensive privacy coin similar to Monero or ZCash. Mimblewimble is based on removing the address-based system and transaction references used in other cryptocurrencies.
The idea is that Grin transactions are just wallets exchanging information. As BeinCrypto reported back in November 2019, a researcher called Ivan Bogatyy published an article titled Breaking Mimblewimble's Privacy Model. There he argues that Grin's privacy is fundamentally flawed.
"I was able to uncover the exact addresses of senders and recipients for 96% of Grin transactions in real-time."
The author adds:
"The problem is inherent to Mimblewimble, and I don't believe there's a way to fix it. This means Mimblewimble should no longer be considered a viable alternative to Zcash or Monero when it comes to privacy."
Not an ideal conclusion for a privacy-based project should it turn out to be true. Let's, however, extend an olive branch to the project: bugs like these are relatively common in the space as the tech is still in its infancy.
However, since its launch in January 2019, Grin's price has declined almost non-stop, from an all-time high of around $10 to around $0.46 at the time of writing.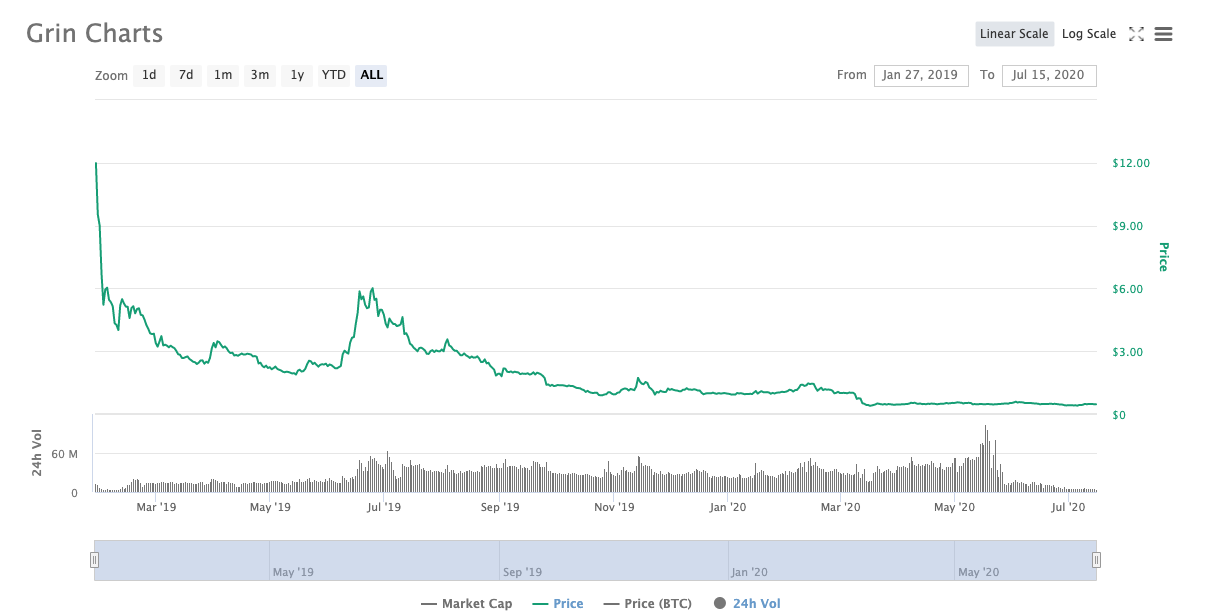 What Is the Slatepack Standard?
Slatepack claims to be a universal transaction standard for the project. The Grin user experience is not easy to grasp. Users, developers, and services in the ecosystem confusingly have to choose between different transaction methods. Slatepack will change all of that, becoming the only method.
As noted on the /mimblewimble GitHub:
"Without a comprehensive transaction building flow, users and services are left to make their own complicated decisions about firewalls, file handling, and compatibility, risking their security, privacy, and sanity. The objective of this RFC is to converge on a simple, universal, adoptable, secure, and privacy-preserving workflow standard for Grin transactions: Slatepack."
The last scheduled hard fork will occur around January 2021. The project expects all wallets and services to upgrade to the Slatepack standard following the hard fork.
Hard Fork Incoming
As mentioned, the current hard fork will happen at block 786240. Along with the new standard, the network will update some node features and, of course, a new wallet compatible with Slatepack.

Miners will need to upgrade their software to support the new fork if they wish to continue mining. The initial blockchain programmers encoded these hard forks to occur roughly every six months. They scheduled them during the first two years following the Grin launch. This upgrade is the third iteration in the series.
A Time of Reckoning?
There was lots of hype surrounding the potential of Mimblewimble and Grin back in 2018. Hardcore privacy advocates and crypto-fanatics approached its value proposition with big expectations. Unfortunately, the community-driven project hasn't achieved much, accumulating a 95% loss from its all-time high.
After a series of issues, including Ivan Bogatyy's article, critics pointed to its expansive supply. At this point, it may be time for Grin to do or die. Projects in the same vein, like MimbleWimbleCoin (MWC), are fighting to become the leading currency using Mimblewimble tech.
The last Grin hard fork saw an increase in the price of 23%, although it was short-lived. If the market's reaction to the current hard fork does not at least live up to that rally, the future of Grin may be in jeopardy.
Disclaimer
All the information contained on our website is published in good faith and for general information purposes only. Any action the reader takes upon the information found on our website is strictly at their own risk.