Global NFTs took a further backset in sales volume during the month of March after buyer interest in digital collectibles waned.
While March experienced around $2.3 billion in NFT sales volume, it still proved to be a difficult month for the entire space, according to Be[In]Crypto research.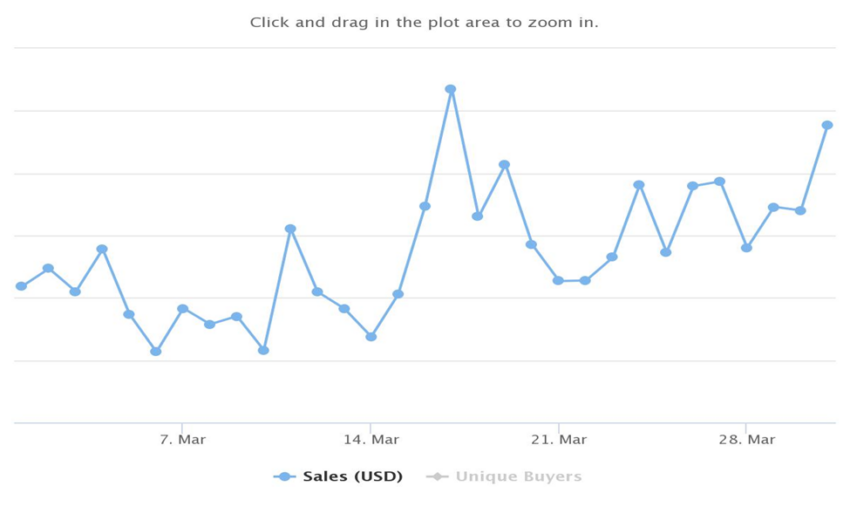 For NFT critics, this figure is significant due to their belief that digital collectibles will replace mainstream art, which are still considered a novelty by millions of DeFi enthusiasts and blockchain technology experts.
According to Be[In]Crypto, global NFT sales fell by 21% from February 2022, which generated approximately $2.92 billion in sales.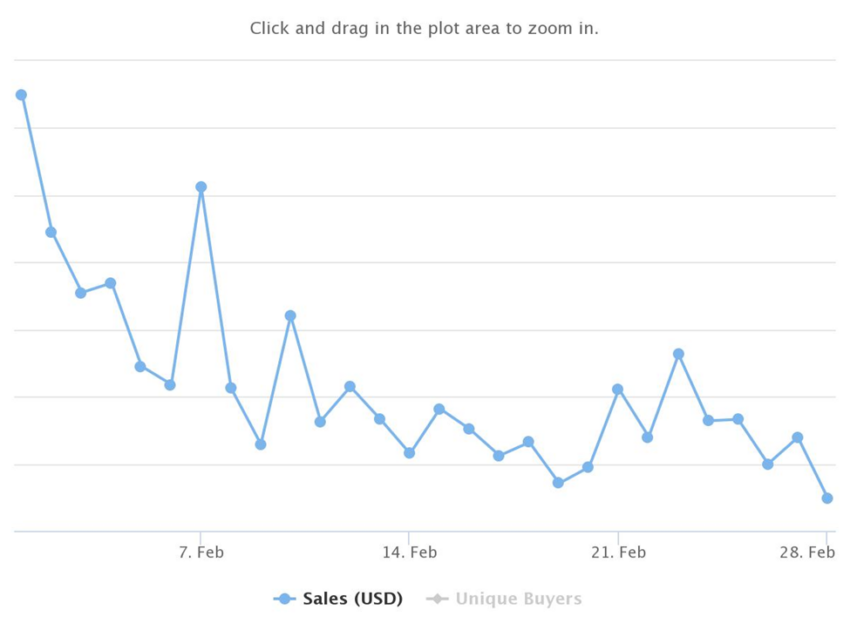 Could the drop hurt the future of digital collectibles?
The fall in sales over the last month could hurt digital collectibles, as new buyers will look to previous months' data to decide whether or not they should invest in NFTs. Despite global NFT sales increasing 493% since March 2021, which generated around $387 million, the periodical accumulation of investor demand for NFTs has failed to attain the new high highs of the previous year.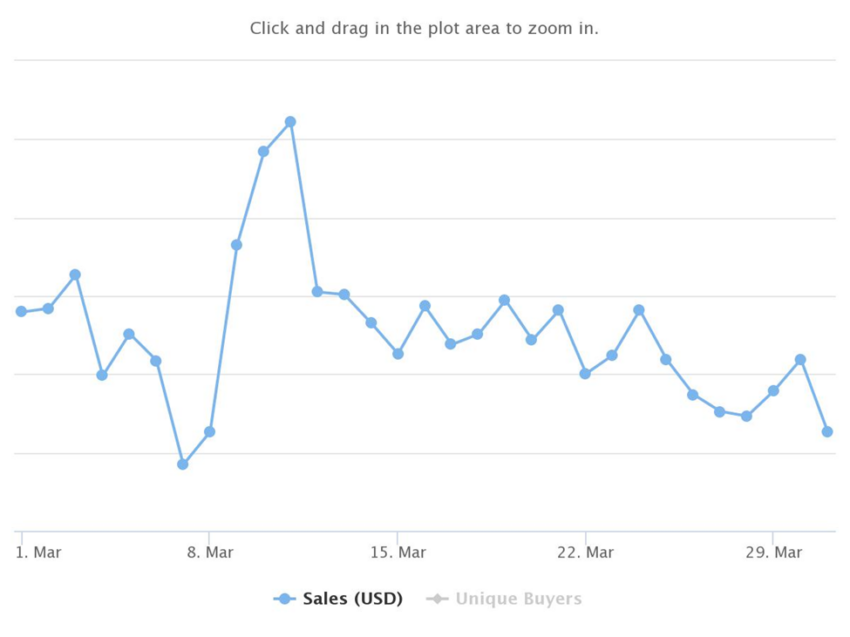 Global NFT sales volume reached an all-time high in August 2021. This was a time when Bored Ape Yacht Club (BAYC) reached a yearly high of around $297 million and NBA TopShot also generated an impressive $37 million in sales volume. Total sales volume for the entire NFT market was in the region of $4.91 billion.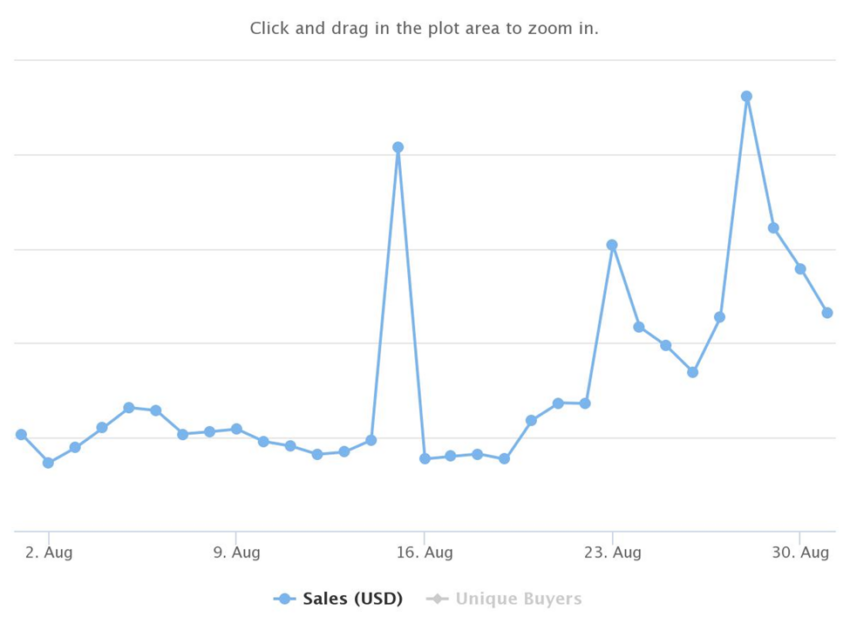 Since the entire market follows the price patterns of Bitcoin (BTC) and altcoins, the bearish engulfing towards the rest of 2021 did not bode well for the fortunes of Global NFT sales. August 2021's milestone dipped by 33% to approximately $3.27 billion in September 2021, and a further 46% decline to around $2.61 billion in the last month of 2021.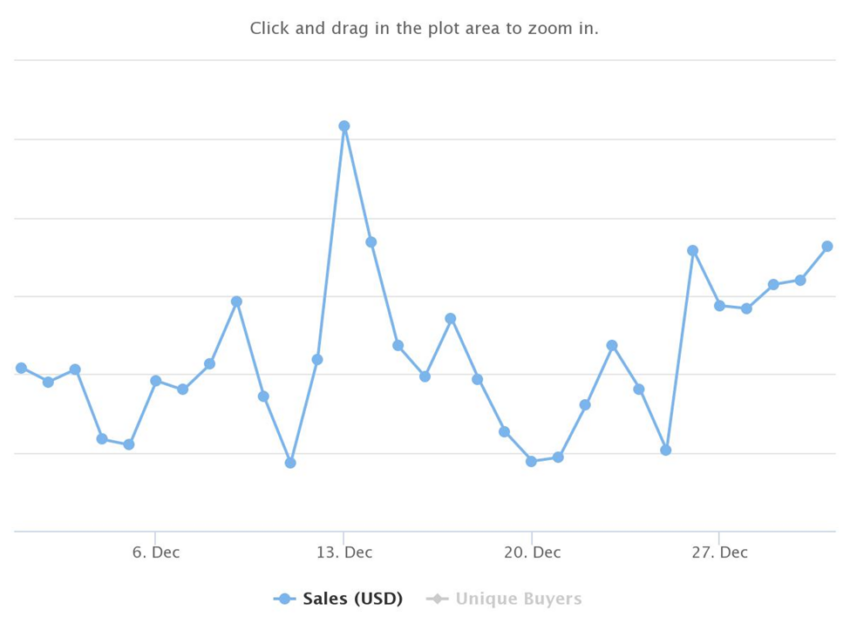 Overall, the difference between the all-time high Global NFT sales in August 2021 and March 2022 was $2.61 billion. A 53% decline in sales in 7 months.
What caused the sales decline in Global NFTs?
The declining number of unique buyers, transaction counts, and average sales value can be attributed as factors that have contributed to the drop in sales volume.
Unique Buyers
The total number of unique buyers during the recovery of the market in November 2021 was 901,078. There was a slight decrease to 886,550 in December 2021. Despite a plunge in sales in February and March 2022, the total number of unique buyers in the first two months of 2022 was impressive. January and February 2022 saw 944,234 and 879,261 unique buyers respectively.
The total number of unique buyers for March 2022 was 630,461. This was a 30% decrease in November 2021's value, a 28% decline in December 2021's figure, a 33% dwindle in January 2022's statistic and a 28% drop in February 2022's number.
Transactions
Total transactions reached an all-time high of around 6.16 million in November 2021. This milestone was surpassed in 2022 when transactions crossed 6.8 million in January and February. Unfortunately, March could not repeat the milestones of the previous months and ended with approximately 5.45 million transactions.
March's transactions were an 11% drop in November 2021's number, 20% lower than January 2022's figure, and 19% below the statistic of February 2022.
Average Sales Value
March's average sales value was $422.17 and this is a fraction of the average sales value of $1,120.42 recorded in August 2021. The average sales value for January and February 2022 was $655.63 and $429.50 respectively.
Due to the creation of more digital collectibles, the basic laws of demand and supply have set in. The more supply of NFTs, the lesser the price of collections that are indestructible, indivisible, non-interoperable, and verifiable.
Global NFT sales have crossed $150 million. With several football clubs, athletes, and entertainers launching their digital collectibles, Global sales could retest the all-time highs of August 2021 or even surpass them.
What do you think about this subject? Write to us and tell us!
Disclaimer
In line with the Trust Project guidelines, this price analysis article is for informational purposes only and should not be considered financial or investment advice. BeInCrypto is committed to accurate, unbiased reporting, but market conditions are subject to change without notice. Always conduct your own research and consult with a professional before making any financial decisions.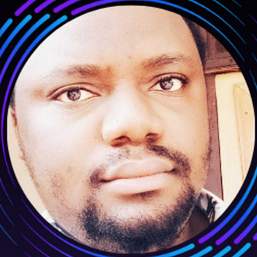 As a writer, researcher, and analyst of centralized and decentralized financial instruments (stocks, commodities, metals, and cryptocurrencies), he started experimenting with...
As a writer, researcher, and analyst of centralized and decentralized financial instruments (stocks, commodities, metals, and cryptocurrencies), he started experimenting with...
READ FULL BIO
Sponsored Sponsored