Cryptocurrency exchange Gemini has been listing altcoins left and right lately, and apparently it's triggered the
XRP
army.
That's because Gemini has yet to send the welcoming committee for the third-biggest cryptocurrency based on market cap, and by the looks of things, it may never do so.
Basic Attention Token
(BAT).
Chainlink
(LINK).
Dai
(
DAI
). Orchid (OXT). These are the names of the recently
listed altcoins on Gemini exchange.
For some investors, however, a certain coin's absence from that list loomed larger than the new listings. As a result, a member of the XRP army decided to take matters into their own hands, tweeting to the U.S. Securities and Exchange Commission (SEC) to complain that their favorite coin had yet to be listed on Gemini exchange. Ripple, meanwhile, which owns roughly half of the
XRP supply
, has been in the hot seat about whether or not the cryptocurrency fits the bill as a
security
and therefore should be regulated by the securities watchdog. So the fact that this user would flag the coin to the SEC appears self-defeating. On May 1, Ripple along with
CEO Brad Garlinghouse
were named as defendants in a
"Complaint for Unregistered Offer and Sale of Securities." 
Gemini Co-Founder
Tyler Winklevoss
couldn't ignore the irony of the situation, calling out the XRP army for having "really dumb trolls."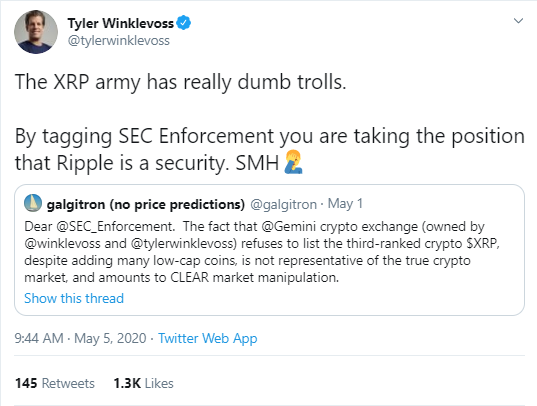 The Twitter handle in question, "@galgitron," boasts more than 22,000 followers on the social media platform and defended their decision to involve the regulators in their complaint, surmising —
Of course, SEC will have jurisdiction over crypto eventually, but until then, just consider this a symbolic complaint.
Meanwhile, last year, the
SEC issued guidance
on whether a cryptocurrency fits the bill as a security. Winklevoss fired back, saying —
Newsflash: The SEC already has jurisdiction over cryptos that are SECURITIES. Maybe you should take a free consultation with My Cousin Vinny to bone up on your crypto regulatory knowledge.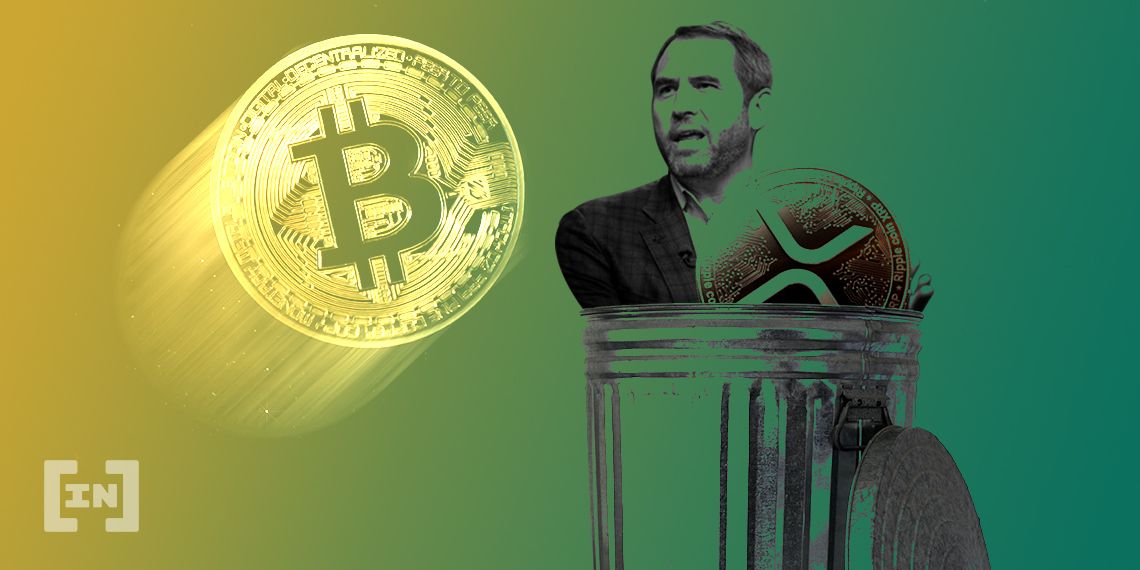 You might wonder why
Gemini
would want to alienate an entire section of the cryptocurrency community. It seems they've won over enough investors that it won't really matter.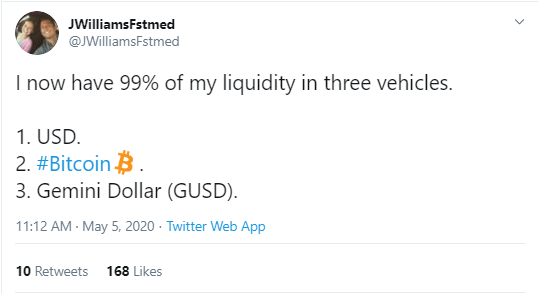 Bitcoin Gets Roped Into It
Nothing was sacred in this Twitter thread, even the cryptocurrency that started it all, Bitcoin. Galgitron went on to accuse Bitcoin of being a
Ponzi scheme,
concluding that "
China
could wipe it out today." It was another Twitter user who came to the defense of Bitcoin this time.

Will Gemini ever give the XRP army what they want and list the third-biggest cryptocurrency? Stranger things have happened, but given the quick escalation of the matter, XRP investors might not want to hold their breath.
Disclaimer
All the information contained on our website is published in good faith and for general information purposes only. Any action the reader takes upon the information found on our website is strictly at their own risk.