CNBC reported on Wednesday that cryptocurrency exchange FTX is in talks with investors for up to $1B in new capital at a valuation of about $32B, according to sources with direct knowledge of the matter.
The negotiations are ongoing, and the terms could change, claim the people cited in the paper. The exchange is yet to confirm the reports.
FTX hailed this crypto winter after leading bailouts
In the meantime, FTX has been on a purchasing spree despite the market's deterioration, with the exchange reportedly acquiring a 30% stake in Anthony Scaramucci's SkyBridge Capital.
The Sam Bankman-Fried-led company just this year granted bailouts to several troubled crypto companies.
For this, he has been hailed the "JPMorgan" of cryptocurrency, saving crypto firms during this protracted crypto winter. BlockFi, a cryptocurrency lender, received a $250 million credit from the crypto exchange. Canadian cryptocurrency asset trading platform Bitvo was also bought by FTX in June, per reports cited by Be[In]Crypto.
This month, GameStop Corp. and FTX US also announced a partnership through which more GameStop customers can access FTX's community and marketplaces for digital assets.
With that, Bloomberg claimed in June that FTX was also attempting to acquire Robinhood, although Bankman-Fried denied the reports. In addition, the exchange also put to rest rumors that it's looking to buy Huobi.
However, FTX is also gaining an edge over its many competitors amid the crypto winter. CNBC reported last month that the platform's revenue grew from $90 million in 2020 to $1 billion in 2021.
Binance a tough competitor
The top crypto exchange by volume in the world, Binance, claimed 55.1% of the spot volume market share in August, according to CryptoCompare research, as top-tier exchanges continued to dominate the market.
The report noted volumes for individual exchanges for the last three months, highlighting that Binance (Grade AA) was the largest top-tier spot exchange by volume in August, trading $438 billion. This was followed by Coinbase (Grade AA) trading $58.3B and AAX (Grade BB) trading $54.9B, OKX (Grade BB) trading $53.6B and FTX (Grade A) trading $49.1B.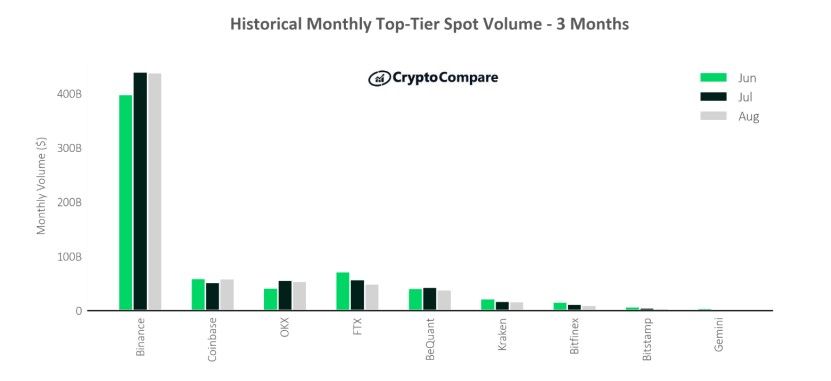 According to sources cited in the Wall Street Journal, the primary bids for the assets of insolvent cryptocurrency lender Voyager Digital Ltd. have come from the exchanges FTX and Binance, with the latest bid for Binance being roughly $50 million, somewhat higher than the rival bid from FTX.
Disclaimer
BeInCrypto has reached out to company or individual involved in the story to get an official statement about the recent developments, but it has yet to hear back.