Less than a week after its launch, the controversial Fei Protocol has already found a vulnerability in its code. The team was quick with a fix but it did not prevent the stablecoin from losing 20% off its peg.
On April 6, Fei Labs stated that it patched a vulnerability found in the incentive calculation of the Ethereum-backed stablecoin.
It stated that it was shutting down all minting rewards on FEI but trading could continue as normal. The team has implemented safeguards to suspend mint rewards on FEI buys. This should secure the protocol as well as its Protocol Controlled Value (PCV) mechanism.
Over-collateralized unstable stablecoin
Fei Protocol concluded its genesis event and governance token airdrop on April 4. In total, it minted 1.3 billion dollar-pegged FEI tokens. It also followed deposits of an equivalent amount in ETH from the 'Genesis Group' of select insiders and investors.
Fei designed the stablecoin with a bonding curve to manage supply and demand based upon its collateralization levels. It uses a system of 'direct incentives' to penalize the withdrawal of liquidity during periods of selling pressure. This is to keep the token as close to its peg as possible.
This caught many investors off-guard as they would have to take a hit when withdrawing their ETH collateral or the supposed dollar-pegged tokens it generated. In an April 7 tweet, Fei Labs acknowledged the collateralization issue that caused the stablecoin to drop well below a dollar.
"The protocol is overcollateralized
PCV continues to grow
Reweights will still occur without mint rewards
Secondary markets and integrations are on track"
PCV, or Protocol Controlled Value, is its equivalent to total value locked (TVL). However, the protocol owns the collateral, which makes it non-profitable to withdraw during certain market conditions.
This model essentially makes the protocol more flexible to engage in non-profit-oriented activities. These can align with more fundamental goals, such as maintaining peg stability it stated in an earlier blog post.
FEI, TRIBE price updates
At the time of press, FEI had dropped 20% from its target and is trading at $0.80 according to CoinGecko.
Its experimental monetary structure appears to have run into some major problems in its first week. Because of this, there may be forthcoming governance proposals to address these issues.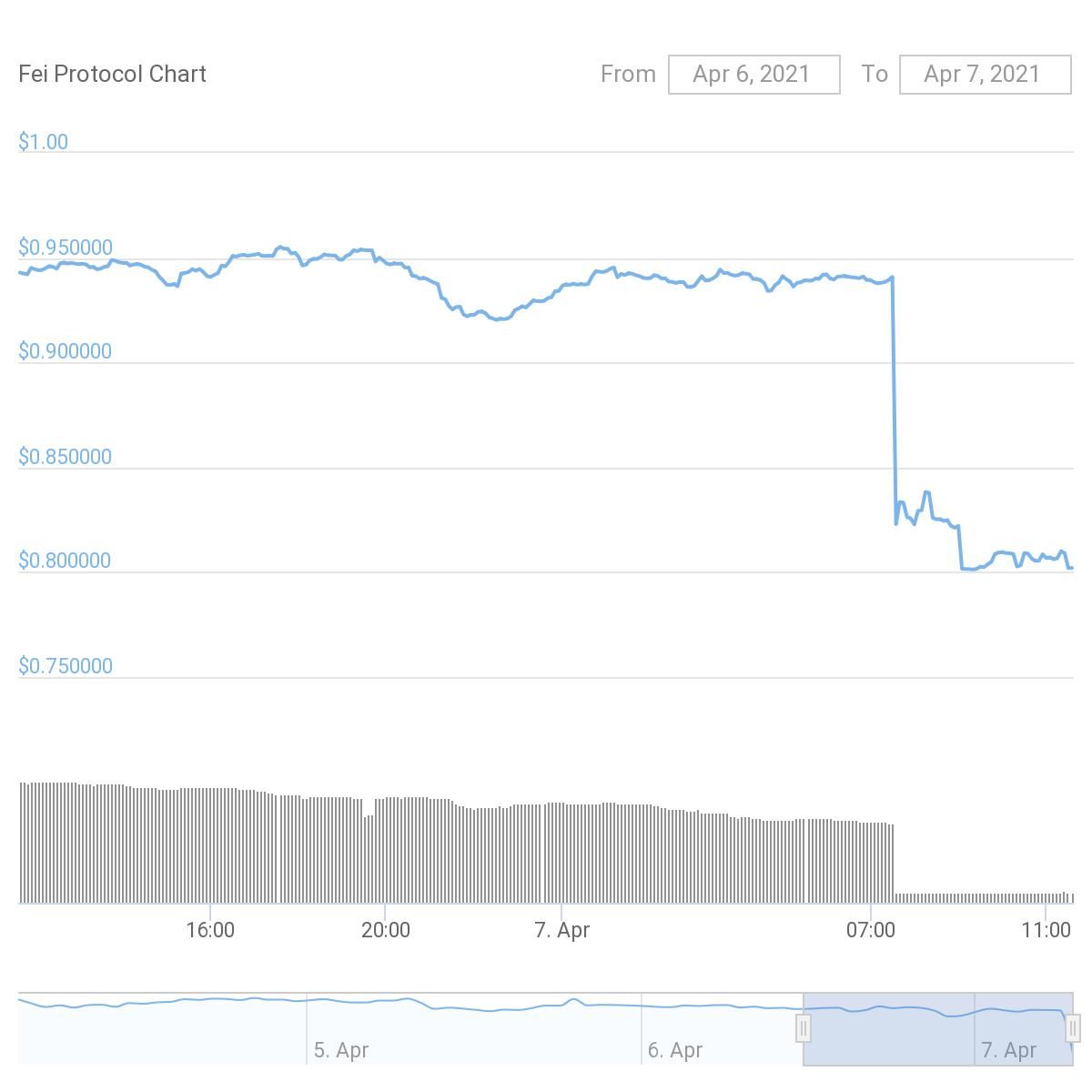 The protocol's governance token TRIBE has also retreated, dropping 5.5% on the day to trade at $1.63.
Disclaimer
BeInCrypto has reached out to company or individual involved in the story to get an official statement about the recent developments, but it has yet to hear back.