The U.S. Federal Reserve announced a 75 basis point hike in interest rates on Nov. 2, 2022, causing crypto and stock markets to tank.
 After the hawkish speech by the Federal Reserve chairman Jerome H. Powell, major stock market indexes dropped. The Nasdaq fell 3%, while the Dow Jones Industrial Average fell 505 points. Crypto also tanked, with Bitcoin dropping 1.33% to $20,230.36, while ETH dropped 4.18% to $1,513.97. Solana is down 5.86% after the news to $30.49.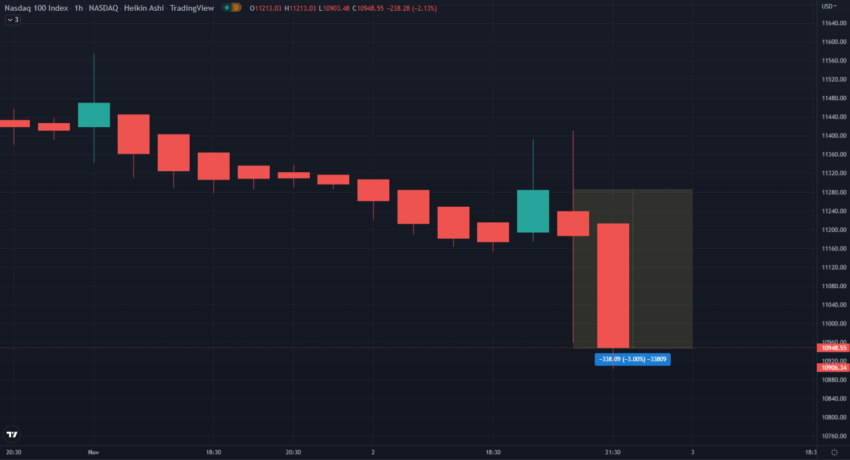 Rate increase follows predictions
The 0.75% hike that takes interest rates to 3.75-4% fell in line with most analysts' predictions, as the Fed acknowledged that it would take some time before its rate hikes would affect the economy. In the lead-up to the meeting, the odds were divided between a 50 and 75 basis point increase.
"We have both the tools we need and the resolve it will take to restore price stability on behalf of American families and businesses. Without price stability, the economy doesn't work for anyone," said Fed chair Powell at the meeting.
Fed fulfills rate increase promise made in March 2022
With its latest announcement, the Federal Reserve has raised interest rates for the sixth consecutive time. Additionally, it is the fourth consecutive time that it has increased rates by 75 basis points, as it looks to tame inflation levels not seen since the 1980s.
The Fed raised interest rates by 0.25% in March 2022, the first hike since 2018. In its March policy meeting, it predicted six further hikes, which have since proved true. In May, the central bank continued its policy of economic tightening, by announcing the first 0.5% increase since 2000. The remaining four hikes June, July, Sep., and now Nov. were all 0.75%.  
There is evidence that the Fed's actions have tamed record inflation levels. Since June 2022, inflation had been steadily decreasing, and as of Sep. 2022, it had cooled down to 8.2%, down from 8.23% in Aug. 2022 and 9.06% in June 2022.
While these are signs of an economic slowdown, inflation is still far from the Fed's 2% target, Powell's disposition seemed to suggest that investors were pre-empting a pause in hikes too quickly.
"We anticipate that ongoing increases in the target range will be appropriate in order to attain a stance of monetary policy that is sufficiently restrictive to return inflation to 2 percent," he said in his speech.
He also said that, while still possible, the path to a soft landing was becoming narrower, and that the FOMC could begin reducing the level of its hikes as early as the Dec. 2022 or the following meeting.
Powell's speech draws social media backlash
Powell's speech drew backlash on crypto Twitter, with macroeconomic analyst Sven Henrich responding with an expletive at Powell's indifference to the likelihood of a recession.
Henrich also said that Powell is mostly doing away with plans for a "soft landing."
However, he conceded that the Fed is getting more cautious.
Neil Dutta, an economist at Renaissance Macro, slammed the Fed's decision, saying, "You can't go 75 basis points every time the data doesn't go your way."
On a crypto note, technical analyst Murfski predicted a sharp downturn for bitcoin following the Fed announcement.
The next Fed meeting is on Dec. 13-14, 2022.
Got something to say about this article or anything else? Write to us or join the discussion on our Telegram channel. You can also catch us on Tik Tok, Facebook, or Twitter.
For BeInCrypto's latest Bitcoin (BTC) analysis, click here
Disclaimer
In adherence to the Trust Project guidelines, BeInCrypto is committed to unbiased, transparent reporting. This news article aims to provide accurate, timely information. However, readers are advised to verify facts independently and consult with a professional before making any decisions based on this content.