The altcoin HEX has billed itself as a wise investment. "Hex is designed to increase in value faster than anything else in history," says the company website. The brand also ran an ad campaign, claiming: "HEX's price has gone up 11,500 per cent in 129 days," in no less than the economic tastemaker magazine "The Economist." In this BeInCrypto Investigation, we have taken a deeper look into the controversial crypto token scheme, HEX.
Hex has complicated tokenomics, and just as complicated history, making it one of the most hotly contested crypto projects out there.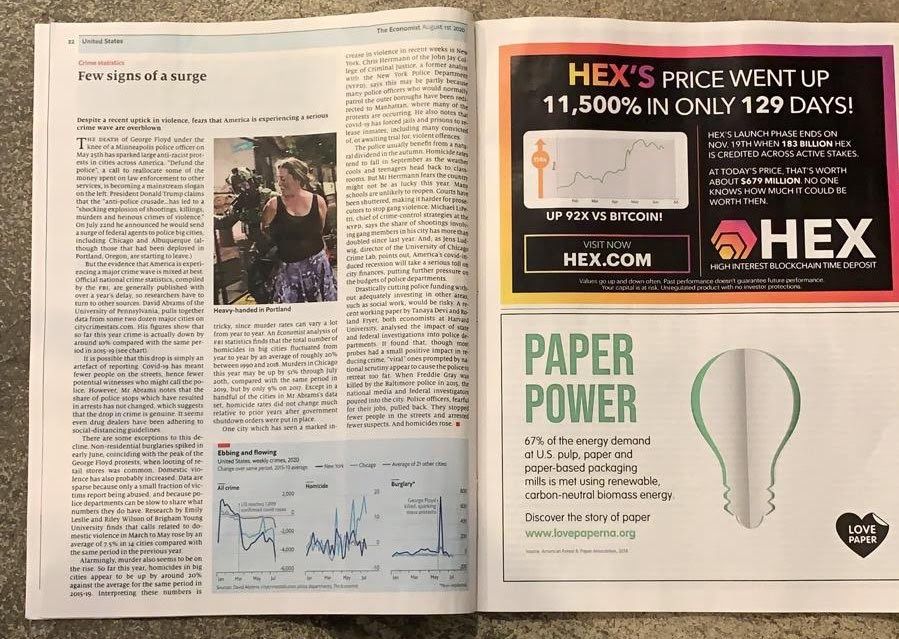 While claims that HEX is on a rocketship are not entirely untrue, many think they are misleading. A slew of articles and forum posts have decried HEX as a useless altcoin that brazenly declares too-good-to-be-true returns.
Notably, the project has no white paper, no AML or KYC, and token issuance is misleading at best.
As part of a BeInCrypto Investigation, analyst Valdrin Tahiri looked at the HEX chart. On Nov. 13, just a week before the first day staking rewards were unlocked for sale, he found that Fibonacci levels, changes in volume, support, and resistance all looked like part of a market free from manipulation. This is unlike Ponzi schemes like Bitconnect or OneCoin, the charts of which looked random.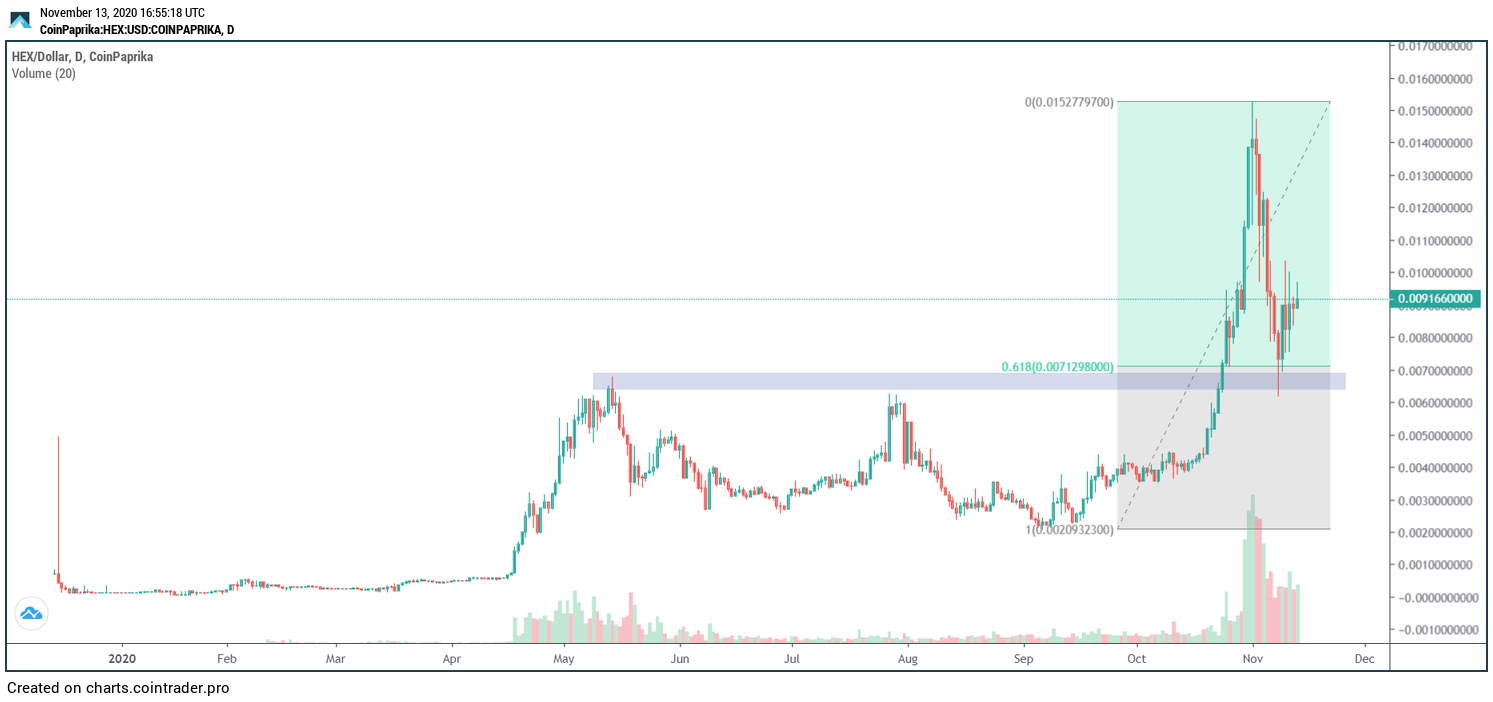 So What Is HEX?
So what is HEX, and what should you be on the lookout for? Well, the website pitches the token as a high interest "certificate of deposit" for crypto. In other words, you lock up your money, and gain interest on it. 
Originally, bitcoin (BTC) holders were rewarded with HEX and users could swap ether (ETH) for HEX. Those HEX tokens must then be sold or re-staked for more HEX. Ending the vesting period or not immediately re-staking coins results in some of those coins being lost.
This penalty is said to be an incentive to stop short sellers, a sentiment that has not played out. On Nov. 20, the first day staking rewards were unlocked for sale, the price of HEX dropped 20 per cent (more on that later).
On Nov. 17, HEX began to decrease with significant volume and after three days, it lost 73 per cent of its value. Currently, the price is trading near the August – September support levels near $0.003, below which it has not traded since the beginning of the year.
The loss of the current support area could trigger another similar decrease, since the next support area is 93 per cent below the current price.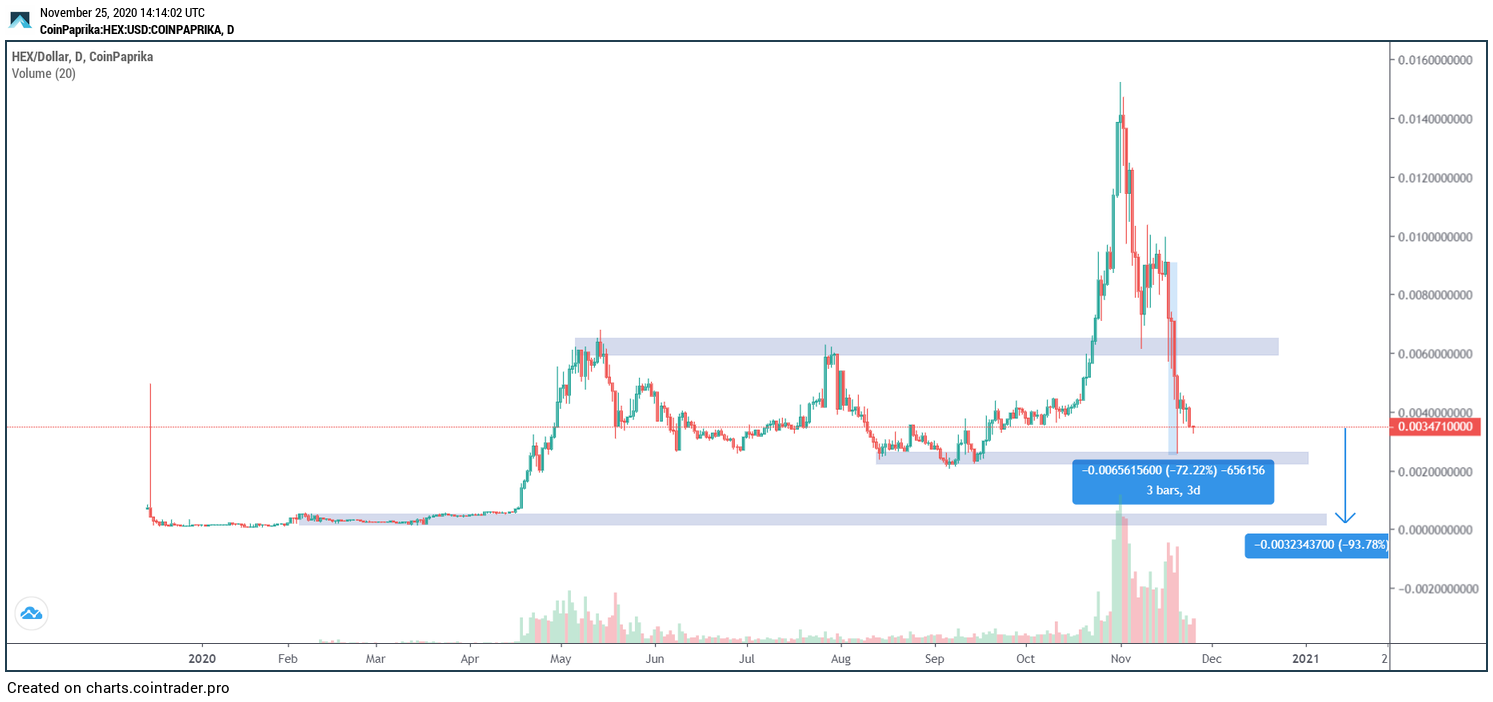 Also suspect is that those penalty coins do not exactly disappear. Instead, they seem to be sent to an address run by the HEX's originators, and partly redistributed amongst stakers. From there, the penalty tokens are either re-staked or sold by others.
While staking can be a bit confusing, those who claimed HEX early on paid little or nothing for those coins. The coin exists, apparently, just to increase in value via hype. Nonetheless, some suspicious youtubers, such as Trevon James of Bitconnect fame, are touting HEX as a miracle token.
The value of HEX has indeed increased over the last year, partly due to the fact that tokens were locked in staking. The complex staking system is designed to keep the price afloat. HEX ads proudly proclaim that it is designed to be a high-interest coin, with mechanisms like the holding penalty to keep the circulating supply low.
And that system is the brainchild of youtuber and bitcoin advocate Richard Heart. To understand HEX, one must understand Heart.
The Heart of the Matter
Perhaps the most controversial part of all this is Richard Heart. Heart, whose real name is Richard James Schueler, has a checkered past. He has been accused of several crimes, including a stint as the King of Spam.
At one time, Heart allegedly tweeted a news article on panama-guide.com explaining his spamming scheme, which some interpreted as copping to the accusation of being a spam master. Heart's critics see this behavior as a "red flag" of narcissism, that while he is reluctant to share his identity, he also needs to brag about how good at spamming he was.
Furthermore, the article says, Heart is often aggressive with critics, praiseworthy of "sycophants," and refuses to use his real name in most of his dealings.
But Heart is not without his fans. In videos on his popular youtube channel, Heart sang the praises of bitcoin for months, denouncing all altcoins. He switched his tune after gigantic gains were seen through altcoins. Heart said in an interview he regretted not creating his own altcoin to eventually reap free money out of nothing — and hinted that he had plans to do it in the future.
Heart said:
"What am I going to make more money doing: promoting my token that I own a whole ton of, or promoting bitcoin where I own one zillionth of the available supply?"
Heart admitted he told people not to buy ether and criticized the tech. Further in the interview, he said:
"What am I? A fat old scammer sc*mbag, f*cking go on a diet, right? Get a real job. Cut your hair. All I am is a big f*cking shill. I am the biggest piece of sh*t in the universe."
Furthermore, many of the criticisms Heart laid on other altcoins were methods he utilized himself. Ironically, he was a critic of ether, HEX is an ERC-20 token on Ethereum. In a tweet, Heart complained that zcash gave the founders a 20 per cent reward. He called it a tax. He sarcastically added: "No thanks."

Interestingly, Heart's HEX has a "hidden" founders tax in which one address, gets about 45 per cent of the entire HEX supply, along half of all penalty rewards.
The Origin
This special address is known as the Origin Address (OA), and it is where much of the HEX in the world goes. In December 2019, the OA was getting a copy of all 521 million HEX minted a day, which in today's relatively low prices would be worth around $1.5 million, at press time. Nonetheless, Richard Heart claims he does not control the OA, and does not know who does.
On Telegram, Heart initially denied that nearly all the HEX was getting copied to the origin address, but under pressure of some etherscan-style research by activists, admitted it was so. When faced with criticism, according to redditors, Heart regularly denies wrongdoing, or gives trollish responses, telling naysayers to stake it till they make it, keep their heads up and hodl.
Heart is not without his vocal detractors, including a reddit user who called for his arrest:
"I finally had a look at how HEX works today and its a blatant Ponzi, the likes of which are illegal in the US. Hex's creator Richard Heart also appears to be from the US – although perhaps does not reside there any longer?"

"Furthermore the marketing materials such as this video a blatantly deceitful to trick users into trading ETH for HEX, when the instructions never mention a trade, or loss of ETH."
He also has hexicans, the often anonymous HEX lovers who support the project and defend Heart's character.
In response to one article critical of Hex, Heart claimed:
"Would be cool if the article didn't lie about the project. Origin address gets bonuses only, phrased in order of operation speed, refer, satoshi, viral, crit, 1/2 early/late endstake. Nothing on base claim. Nothing on interest. There's not even a contract called that. Such dogsh*t, Perhaps he means utxo. Garbage article dude."
Blogger Goldman Sats scathingly attacked Heart over his treatment of HEX:
"He has created a game, given himself most of the chips and made it so that the rules will always be in his favor. It is a game you cannot win. Even though it might seem like you can, and Richard will tell you to 'stake it til you make it.' You can't. If you purchase HEX, you lose financially. If you free claim HEX with bitcoin, you lose integrity because you are sanctioning a charlatan."
But perhaps most telling was when crypto guru Andreas Antonopoulos was asked to do a positive review of HEX for 10 BTC on Aug. 13, 2020. He wrote on Twitter that he was asked not to disclose the price of his endorsement, and that he'd let the audience make their own conclusions.
Rather than admitting he made the offer – and who else could have made this offer? – Heart claimed that he wasn't even offered that much.
Nonetheless, a doctored video emerged of Antonopoulos supporting HEX:
Keeping Things Afloat
Who owns the origin address, if not Richard Heart? Why does the OA get so much of its money from copied rewards of others? One theory goes that by not having an initial coin offering (ICO), Hex can not be considered a security, and therefore Heart is attempting to dodge taxes. But hey, why go to the lengths of making your assets tax-free on a technicality when you say you technically don't own them?
Then, there is the original distribution. Instead of an ICO, the Hex "Adoption Amplifier" (AA) was like EOS style ICO, where X tokens are sold proportionally to whoever deposited ETH that day. This continued for a year and investors not to pay attention to what happened with those funds. Many whales seemed to scoop up HEX as it came out.
But, it's quite easy to see that all of these whale buys are from the same entity. In particular they are reportedly always funded by one of the two addresses, 0x15a or 0xecfe (https://etherscan.io/address/0x15a68861dfb6877ea04769a778826aeee49a6903, https://etherscan.io/address/0xecfe954287effd8dbaffd8881b82633dd9a61f97), which are funded by the address that collects the ether deposited into buying HEX.
That person spread 850 ether among nine accounts, which buy HEX in the AA. This propped up the price of HEX, causing scarcity, and was for a time the largest portion of HEX's transaction volume.
Analysis of the origin address shows it holding around $7 million in ETH, not to mention the 36 times someone withdrew 1,337 in January 2020. This would be worth about $30 million, at press time.
And all those transactions mostly came from the 33,000 ETH Heart received for funding his project. When this happened, a Cryptoslate article said the HEX project was in its "final throes." But there was a lot more gas left.
Transparency to the Rescue
But again, this is blockchain. HEX is an ERC-20 token. Shouldn't this be totally transparent?
Well, it is sort of. According to a few lines of code in the HEX smart contract, the origin contract gets everything users do, only more. It gets half of all penalties, speed and reclaim bonuses, and Critical Mass/Virility bonuses. In other words, when any reward that is claimed, the origin address gets a copy. Any reward that is lost, and the origin address gets 75 per cent, or so it seems.
Meanwhile, HEX penalizes dumpers and rewards holders. To get the max interest, a user would have to tie up their HEX in a vested scheme. Since more HEX is appearing and little of it is being sold, the price increases.
Therefore, the origin address, which gets HEX tokens from users who were penalized for not staking or selling, gets tokens unencumbered by the vesting scheme.
And yet, the price went up until Nov. 1, 2020, when it hit an all time high of about 1.5 cents. From there, the price fell until Nov. 19, 2020, when the "Day One" stakers found their coins unlocked. They dumped the price 20 per cent during a livestream. Some have speculated the purpose of the livestream was to encourage dip-buying.
Even after the drop, fully diluted market cap of almost $2 billion.
Different Truths
All in all, there are a lot of holes in the story of HEX, holes through which money falls. The claims made my Richard Heart, his past, and the code of the smart contract are fully available and out there for auditing by anyone who wishes. Even if much of the advertising and hype about HEX is misleading, the project does not appear to be stealing the money of hard-working people.
But how apt is it that, with all the controversy of truth, communication, the internet, and fake news, that the public can support such a subversive and brazen altcoin project?
These are some shady transactions with frustrating contradictions, but HEX never promised to be honest. It only promised to increase in price, which it did. It is a kind of honesty by now we are all used to.
Disclaimer
In line with the Trust Project guidelines, this price analysis article is for informational purposes only and should not be considered financial or investment advice. BeInCrypto is committed to accurate, unbiased reporting, but market conditions are subject to change without notice. Always conduct your own research and consult with a professional before making any financial decisions.
Harry Leeds is a writer, editor, and journalist who spent much time in the former USSR covering food, cryptocurrencies, and healthcare. He also translates poetry and edits the...
Harry Leeds is a writer, editor, and journalist who spent much time in the former USSR covering food, cryptocurrencies, and healthcare. He also translates poetry and edits the...
READ FULL BIO
Sponsored Sponsored