With Ethereum transitioning from proof of work to proof of stake between Sept. 13 and 15, more than 70% of ETH that was staked is found to be controlled by six pools, according to data presented by Nansen.
Notably, 31% of the entire amount of ETH staked is through the decentralized liquid staking pool, Lido while Unlabelled controls 23%. About 30% of the ETH is staked by Coinbase, Kraken, and Binance. Staked.us holds another 3%.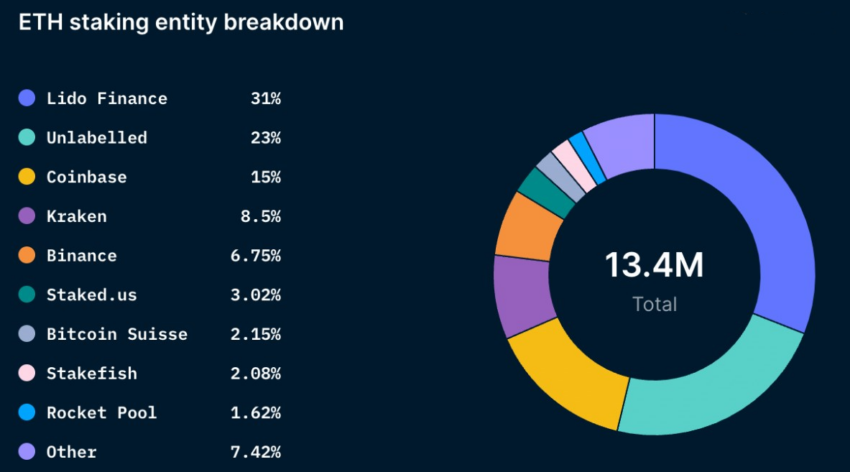 70% of stakers out of profit
Looking at the stake purchases, the report also found that more than 70% of ETH that was staked was acquired for a price higher than its current market value. Therefore, it isn't likely that stakers will rush to sell their ETH after the Shanghai rollout.
The Shanghai upgrade, which is scheduled for six to 12 months after The Merge, is a crucial next step after the PoS switchover as it unlocks the staked ETH. Staked ETH (current accruing rewards) and newly created ETH right after The Merge will all remain locked on the Beacon Chain and not be withdrawable until the Shanghai upgrade goes live.
This essentially means that when Shanghai allows investors to withdraw their position, most stakers won't be compelled to sell unless the price of the cryptocurrency surges.
Only 18% of all ETH staked, according to Nansen, is held by stakers who may profit from a sale. According to the analytics company, illiquid stakers like Lido, Coinbase, or Rocket Pool are more likely to sell.
"Looking at the overall picture, however, most of the staked ETH (71%) is not in profit at current prices," Nansen remarked. In addition, 'stake withdrawals and exiting as a validator would currently take around 300 days with over 13m ETH staked."
That said, "The approximately 1m locked ETH at this price level could be dripped into the market if they are withdrawn via the unlock queue," Nansen finds. "However, it should be noted that among these early stakers are strong Ethereum believers and may not necessarily wish to sell their stake."
Ethereum price stalling
At the time of press, Ethereum was maintaining a 24-hour range between $1,682 and $1,758 while clocking a daily loss of around 2.5% as per CoinGecko. In the last month, Ethereum has lost around 14% of its value while it remains approximately 65% down from its all-time high of $4,878.26, reached last November. The latest data by Intotheblock also finds that 39% of Ethereum holders are out of money at current price levels while 3% are breaking even. That leaves 58% making money at ongoing prices.
Many Ethereum traders have reportedly hedged their position against an expected downfall. Bloomberg reported that In the derivatives market, more cryptocurrency traders are shorting Ether.
Andrew Tu, head of growth for crypto algorithmic-trading firm Efficient Frontier told the paper, "With the Merge happening this week, it could be that folks are hedging as the price of ETH has mostly increased while funding rates have gone negative."
Disclaimer
All the information contained on our website is published in good faith and for general information purposes only. Any action the reader takes upon the information found on our website is strictly at their own risk.