More than a million ETH has left centralized exchanges over the past week. The Ethereum exodus comes in the wake of the FTX collapse as holders grow wary of centralized exchanges.
According to Glassnode, 1.1 million ETH has been withdrawn from centralized exchanges over the past week. It is the largest 30-day Ethereum balance decline for more than two years, it reported.
The last time this much Ethereum was pulled from exchanges was in September 2020. This was the height of the 'DeFi Summer' when ETH was in high demand for smart contract collateral.
Furthermore, centralized exchanges, including Coinbase, Binance, and Kraken, have been scrambling to reassure customers. In efforts to stem the crypto exodus, they have been publishing proof-of-reserves to show what assets they are holding.
Lido Staking Yields Soar
Most major exchanges offer Ethereum staking services, however, Lido is the industry leader. As reported on Nov. 14, Lido yields have surged to an all-time high of 11.33%.
Furthermore, the staking rewards are broken down into two categories. There are execution layer rewards at 7.3% and consensus layer rewards at 4%. Regular Ethereum stakers will only get the latter (or a share of it, depending on the cut the platform takes).
Ethereum staked with Lido increased by 95,648 ETH over the last two weeks, it added. Lido currently represents 32% of all staked ETH and has a market cap of $5.9 billion.
The Lido staking token stETH has dropped its peg slightly during last week's tumultuous events. It reported a stETH/ETH rate of 0.9859, meaning ETH was priced higher than its staking equivalent.
Furthermore, staking deposits increased on Ethereum, Polkadot, and Kusama over the past two weeks but shrunk on Solana and Polygon.  
Beaconcha.in currently reports that there is a total of 14.95 million Ethereum staked. This is valued at around $18.6 billion and represents 12.4% of the total circulating supply.
Ethereum Regulatory Crackdown Looming?
Industry analysts and observers have become concerned over a potential regulatory crackdown following the FTX collapse. Ethereum could become a target for the U.S. Securities and Exchange Commission.
A yield-bearing asset that promises a return on investment could be classified as a security. This would mean that any exchange or company offering ETH in the U.S. would be regulated the same as stock exchanges and banks.
Ethereum was trading up 5.5% on the day at the time of writing. As a result, ETH was changing hands for $1,261.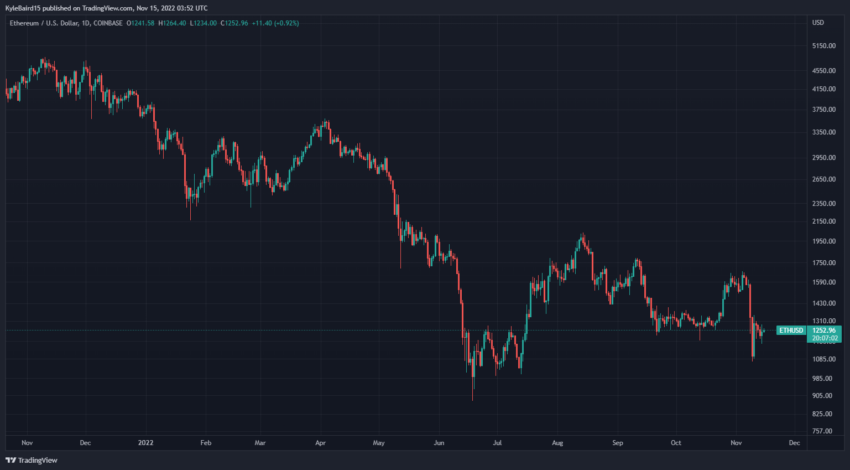 Disclaimer
All the information contained on our website is published in good faith and for general information purposes only. Any action the reader takes upon the information found on our website is strictly at their own risk.