Ethereum (ETH) dipped back to double-digits yesterday for the first time since spring 2017. Is it time to take up a position or are the losses just getting started?
Ethereum (ETH) has fallen a long way since hitting an all-time high of $1,400 at the beginning of 2018. The ETH token is trading today at a price of $109, a loss of more than 92 percent in just eleven months. The
bear market
has had it out worse for Ethereum more than its market cap superiors Bitcoin (BTC) and Ripple (XRP), which lost 80 percent and 87 percent, respectively. [bctt tweet="Yesterday, the price of Ethereum briefly dipped back below the $100 psychological support before bouncing back slightly to hold on for dear life." username="beincrypto"] There is not much in the way of support until the $50 level, as both another psychological support and historic level of support and resistance in April during its 2017 bull run. Under the $50 mark would be disastrous as the next step down would most likely be in the neighborhood of $10 — invalidating Ethereum's entire 2017 progress.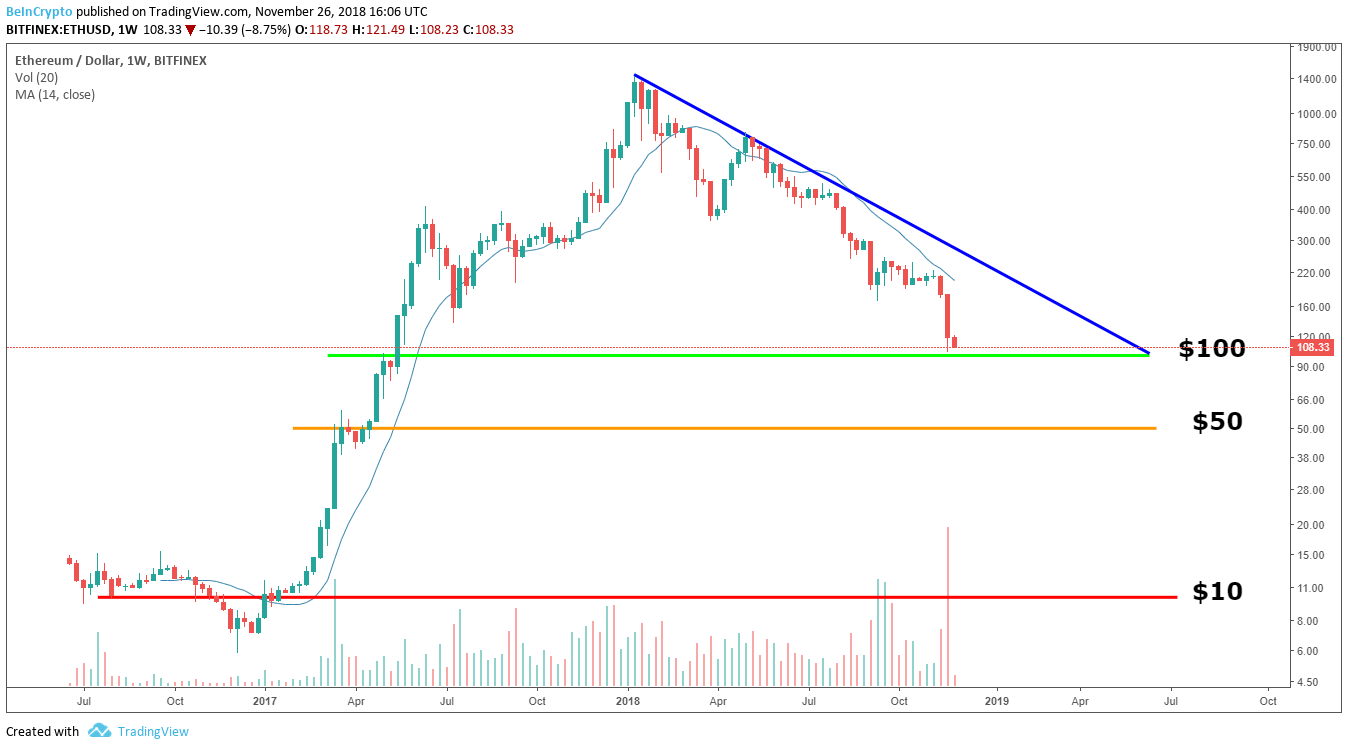 Stochastic RSI
Taking a look at the Stochastic Relative Strength Index, we can see that Ethereum is heading into oversold territory. The 3-day StochRSI has already reached 6.5 and appears to be plummeting back the 0 – 1.0 levels it experienced four times previously since the end of 2016. This is a good signal that a solid bounce to the upside could be in Ethereum's near future, although there is still a chance that a continuing
decline in Bitcoin (BTC)
price could drag Ethereum down with it.
The Short Term
Ethereum is in a vulnerable position currently, straight off the rebound from hitting its lowest point in over a year and a half. Strong buy orders were triggered once Ethereum finally broke through the $100 support, enough to help the coin claw back to a price of $112 at the time of writing. In an optimistic scenario, ETH has already begun a bounce off of the $100 support and is heading up to meet the 14-day or 50-day moving average lines, in the range of $140 to $180. ETH might not be out of the woods yet, however. If Bitcoin decides to continue its massive sell-off, we could see Ethereum dip back past the point of no return and head towards the $50 support. If you choose to risk accumulating on the way down, it would probably be most safe to wait for validation between the $75 and $50 levels. Be warned, however, that a reversal in the cryptocurrency market is not guaranteed to happen in 2019 or the year after. It would not be surprising to see Ethereum fall back to even single digit prices in the event of an unprecedentedly-harsh bear market.

Do you think Ethereum could fall back to pre-2017 levels? Will 2019 bring a new all-time high? Let us know your thoughts in the comments below! 
Disclaimer: The contents of this article are not intended as financial advice, and should not be taken as such. BeInCrypto and the author are not responsible for any financial gains or losses made after reading this article. Readers are always encouraged to do their own research before investing in cryptocurrency, as the market is particularly volatile.
Disclaimer
All the information contained on our website is published in good faith and for general information purposes only. Any action the reader takes upon the information found on our website is strictly at their own risk.