Dogecoin (DOGE) is a peer-to-peer digital currency, created mainly as a joke, but still has a functioning blockchain and a native digital
wallet
.
The digital coin, sporting a comedic looking Shiba Inu dog mascot, was created as a spin-off of
Bitcoin (BTC)
, similar to the creation of Litecoin (LTC). DOGE has been around since the end of 2013, making it a true veteran in the
cryptocurrency
space. In that time, the close-knit Dogecoin community has really stuck by DOGE and have worked hard to keep the currency functioning and relevant. [bctt tweet="During the 2017 bull run, DOGE spiked to an all-time high of $0.017 per coin but is currently down 85 percent in 2018 — surprisingly, making it one of the most resilient digital currencies on the market." username="beincrypto"] At the time of writing, DOGE is trading at $0.0026 per coin and is ranked 20th with a total market cap of just over $300 million.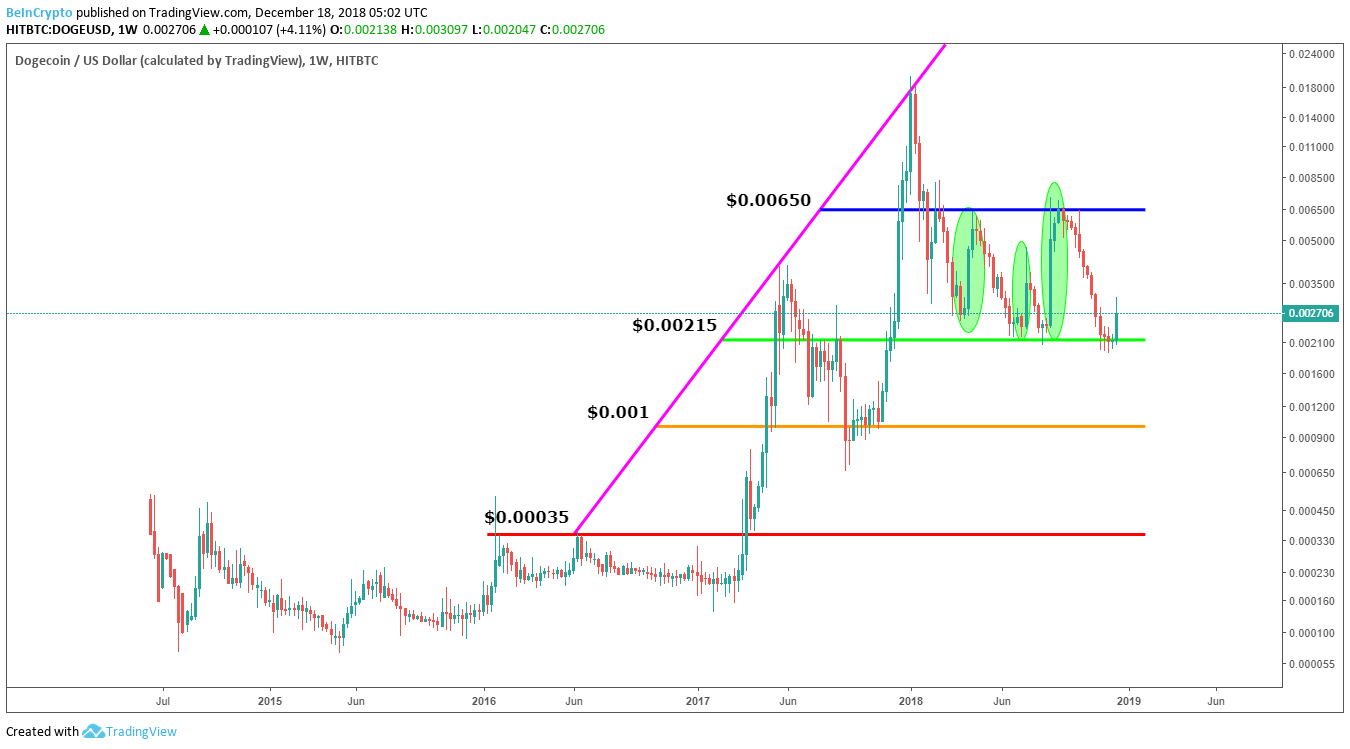 Stochastic RSI
Taking a look at the stochastic relative strength index (
RSI
), DOGE is far into the oversold territory, and just recently bounced off of the zero mark (red line). Hitting the bottom of the RSI after falling straight from the top will most likely cause a bounce to the mid-to-high range between 50 and 80.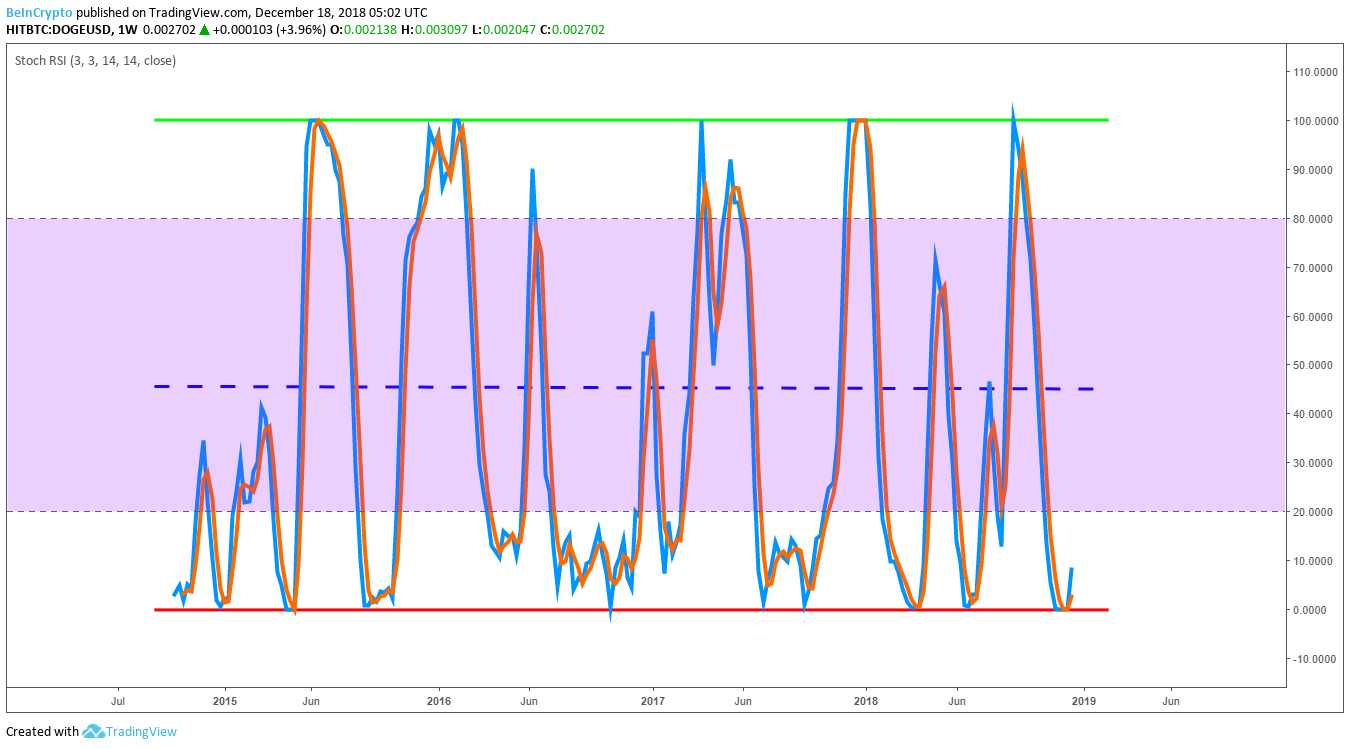 The DOGE Cycle
DOGE has historically gone through cycles of violent and rapid spikes to the upside before hitting a wall and falling directly back. On the weekly DOGE/BTC chart below, heavy resistance can be seen at the 0.000001 BTC level. On five instances in DOGE's history, DOGE/BTC briefly pierced or closed at least one weekly candle above this line. Considering the oversold RSI indicator and DOGE's position on the chart, it seems as though another run to 0.000001 BTC is in the cards for Dogecoin. If the pattern continues, expect to see another DOGE sell-off, beginning between the 0.0000008 BTC and 0.0000011 BTC range.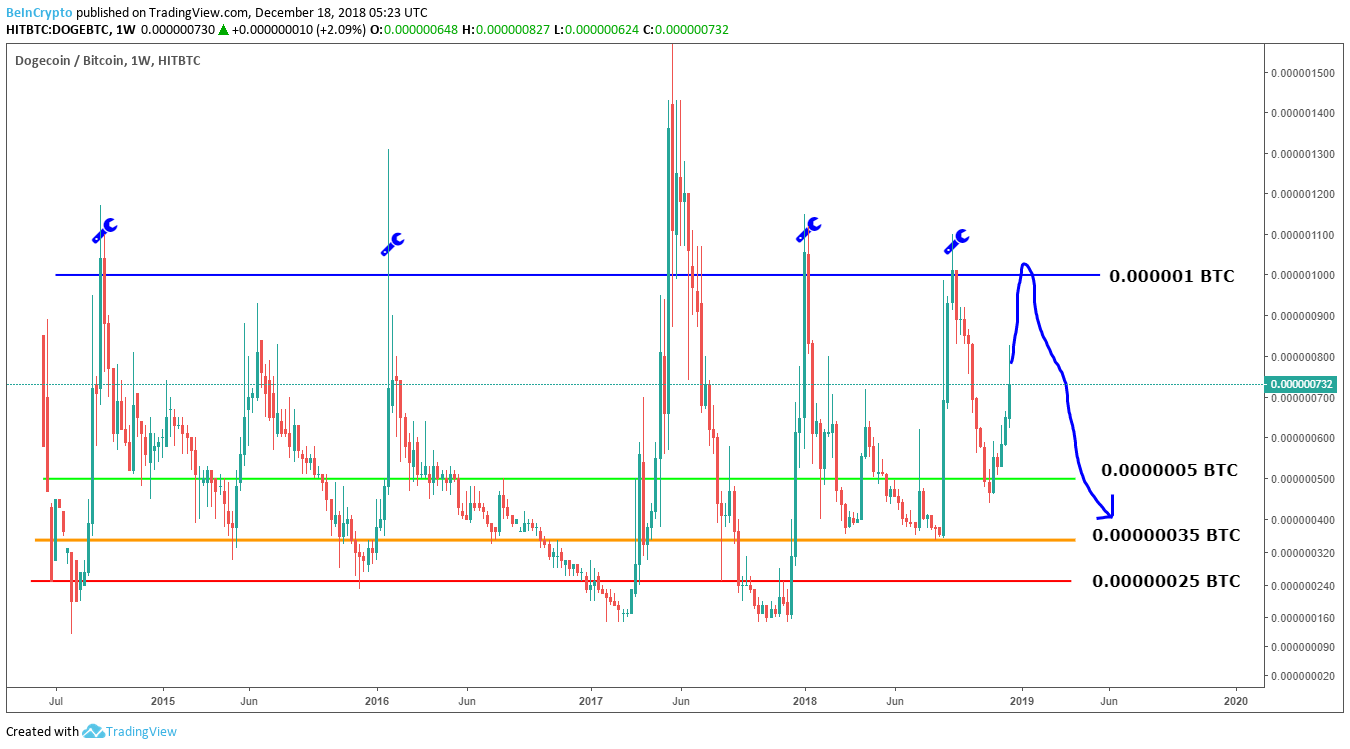 Do you think Dogecoin will make new all-time highs in 2019? Will DOGE still be relevant in the cryptocurrency space in the coming years? Let us know your thoughts in the comments below! 
Disclaimer: The contents of this article are not intended as financial advice, and should not be taken as such. BeInCrypto and the author are not responsible for any financial gains or losses made after reading this article. Readers are always encouraged to do their own research before investing in cryptocurrency, as the market is particularly volatile. The author of this article does not hold DOGE.
Disclaimer
All the information contained on our website is published in good faith and for general information purposes only. Any action the reader takes upon the information found on our website is strictly at their own risk.