The market-busting success of Compound's token distribution has set off a wave of speculation in the
DeFi
ecosystem. Traders and investors are now eyeing other
DeFi
tokens in hopes of similar gains.
When Compound Finance began its token distribution early last week, nobody expected the massive speculation bubble that followed.
COMP
literally went from '
zero to hero
,' topping out at a whopping $327 over the past weekend according to
Uniswap
. Today, token prices are still in decline and have retreated 36% from their highs, back to around $210. The
DeFi bubble
for Compound is slowly deflating and daily volumes have fallen from over $6 million to below $2 million. The whales are cashing out and this latest
liquidity mining craze
is cooling off, at least where the Compound platform is concerned.
DeFi Pulse
reported that the move has propelled Compound to the top of the DeFi charts, but its market share has fallen to around 35%. Crypto collateral is slowly being drawn out of the platform as total value locked has declined almost 8% since the beginning of the week. However, Compound's success can still be easily measured since TVL is up 460% since the beginning of this month, currently sitting at $560 million.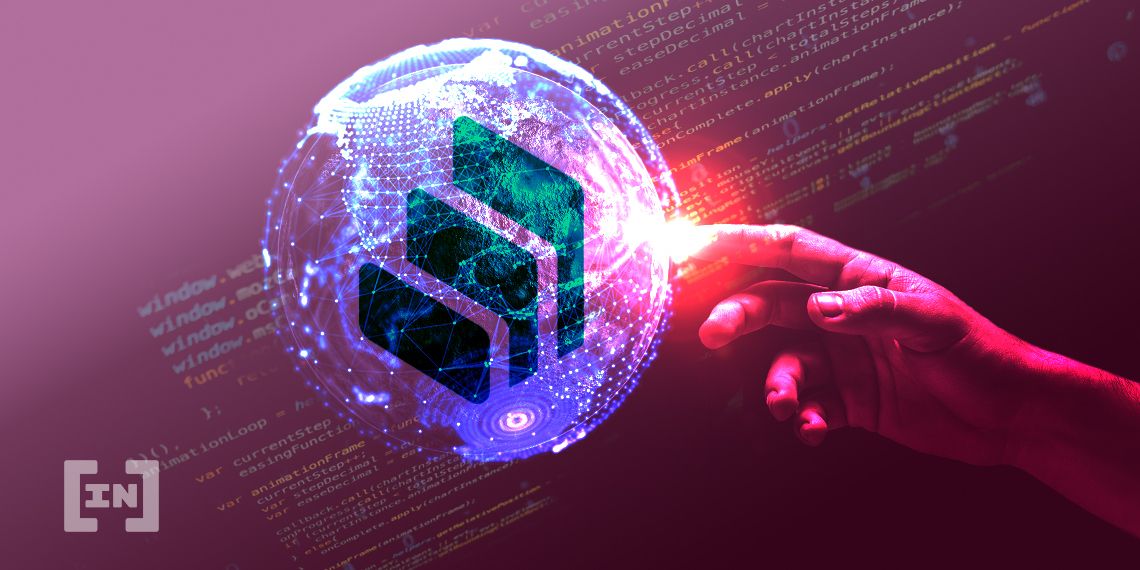 BAL — The Next Big DeFi Token?
Things move fast in the world of cryptocurrencies, and DeFi is currently dictating that pace. The next big thing is already happening and liquidity farmers have found a new crop. Balancer is replicating what Compound did last week and, unsurprisingly, its token is also on a rocket to the moon. Balancer labels itself as a non-custodial portfolio manager, liquidity provider, and price sensor. At the end of May, it began its own governance driven
liquidity mining program
by allocating tokens to liquidity providers. On June 24, those first three weeks of crops were harvested as 435,000 BAL was distributed and prices began to move. Balancer has a total supply of 100 million BAL tokens, 75% of which are set to be issued through liquidity mining in batches of 145,000 tokens per week, or roughly 7.5 million per year, according to the
original proposal
. 25 million BAL tokens were initially allocated to founders, core developers, advisors, and investors, all subject to vesting periods. The platform stressed fairness in its token distribution methods;
To make the token distribution as fair as possible, we propose to give BAL tokens proportional to the amount of liquidity each address contributed relative to the total liquidity on Balancer.
In her latest
Defiant newsletter
, industry analyst Camila Russo observed that out of the 35.4 million tokens issued, only 6 million of them are actually circulating today. As with Compound, liquidity flooded into the Balancer protocol surging 90% over the past 24 hours to top out at $82 million according to DeFi Pulse.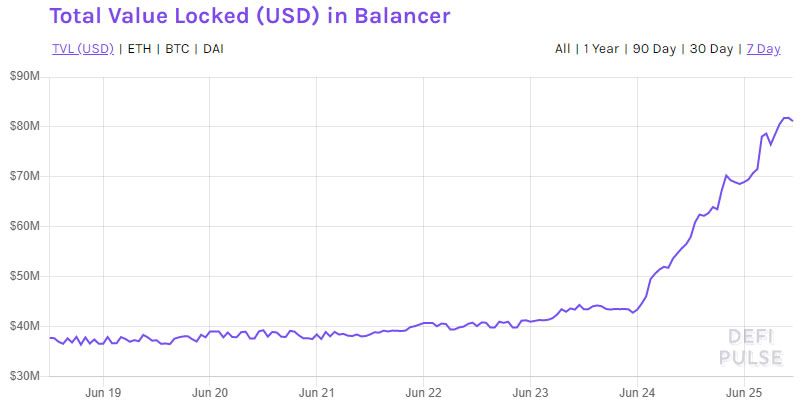 Token prices have also exploded from a seed series price of $0.60 to a whopping $16 today according to
Uniswap.info
. That is over 2,500% gained since the token seeding began, enough to push Balancer up the DeFi charts to fifth place. Its
BAL token
is now in second place with a market capitalization of $630 million according to
Defimarketcap
. Russo noted;
With a fully diluted market cap of over $2.2B, BAL overtook MakerDAO's MKR to become the second-largest DeFi token by market cap after COMP.
She added that the top BAL farmer was able to collect over 94,000 tokens in just three weeks, which equated to nearly $1.5 million at current prices.
Gaming the System
There were
accusations of market manipulation
with the COMP token distribution, with whales grabbing the bear's share of profits as usual. Coinbase was also heavily implicated being a long-term investor in the DeFi protocol and rapidly listing its tokens soon after distribution began. It has been
observed
by Predictions Exchange [@PredictionsExch] that users could also be exploiting the Balancer system.
@FTX_Official is currently gaming $BAL distribution (on pace to receive >50% of this week's distribution). Balancer uses @coingecko price feed to calculate liquidity in pools. Big players can create assets & price them as they wish to inflate numbers.
FTX is a crypto derivatives exchange owned by Alameda Research.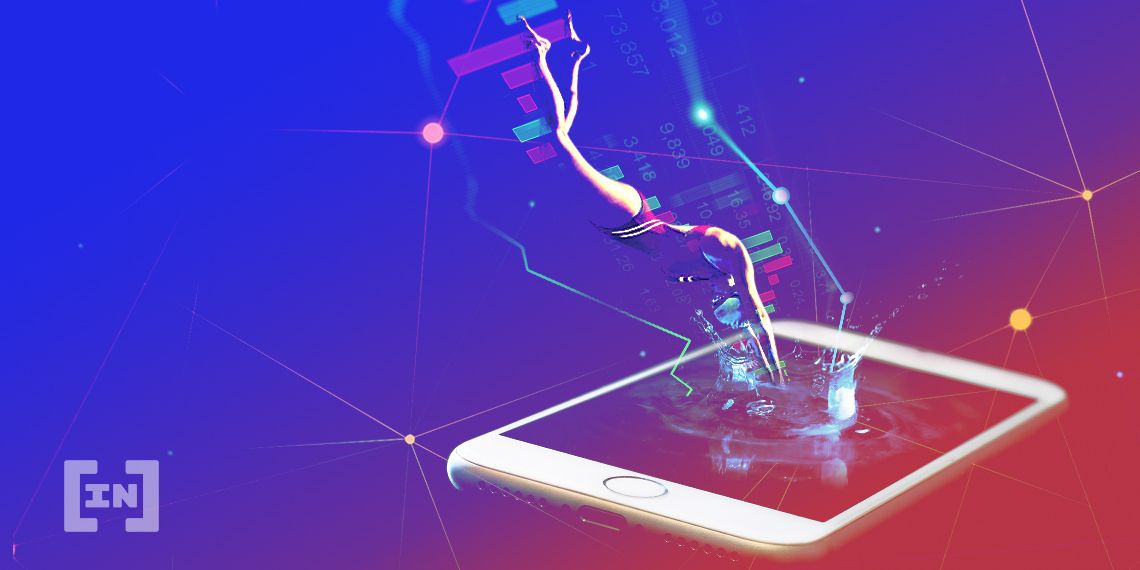 In response, Balancer Labs initiated a community vote on its Discord channel, concluding that a
whitelist of eligible tokens will be implemented
to negate such exploitation and restrict distributions in the future.
Attempts to game the distribution process (questionable liquidity provisioning) should be dealt with by the governance as promptly as possible.
DeFi platform Synthetix founder, Kain Warwick [@kaiynne], stated that incentives on their platform have been '
gamed in some way
,' adding;
This is good long term for Balancer provided they don't retroactively change rules and don't make a knee jerk move that is detrimental long term.
Industry researcher Larry Cermak, who was highly critical of Coinbase's involvement in the COMP token distribution, commented that this kind of thinking and execution is exactly
what's needed in DeFi
.
DeFi Market Impact
Balancer is a much smaller platform than Compound, so it has not had anywhere near the same impact on the DeFi markets. Additionally, today's crypto market slump has dragged Ethereum prices down as usual resulting in minor declines in the DeFi space over the past few hours. Overall, DeFi is still growing with total value locked hitting another all-time high of $1.6 billion over the past 24 hours according to DeFi Pulse. This marks a gain of 70% since the beginning of the month, eclipsing gains on crypto markets which have actually declined by 3% in terms of total market cap over the same period. The amount of
Ethereum locked in DeFi
smart contracts has remained at 3 million despite the 6% slump in ETH prices overnight. These values are likely to fall if the crypto selloff continues. However, the momentum for DeFi is overwhelmingly bullish at the moment with new liquidity mining options presenting themselves on a weekly basis, and digital farmers flocking to the latest crypto crop.
Disclaimer
All the information contained on our website is published in good faith and for general information purposes only. Any action the reader takes upon the information found on our website is strictly at their own risk.

Martin has been covering the latest developments on cyber security and infotech for two decades. He has previous trading experience and has been actively covering the blockchain...
Martin has been covering the latest developments on cyber security and infotech for two decades. He has previous trading experience and has been actively covering the blockchain...
READ FULL BIO
Sponsored Sponsored