There are now more than 10,000 cryptocurrencies currently available on the market for investors to pour money into. However, most of these won't survive the crypto winter and will be long gone by the time the next bull market revs its engines.
Cryptocurrencies, while still a niche and emerging asset-class sector, have around a trillion-dollar market value. Their values fluctuate wildly, given the volatility within this sector.
This article hones in on three main questions in regard to how many cryptocurrencies exist, why there are so many, and how many of these cryptocurrencies survive the hard times.
Cryptocurrencies in Existence 
As of Dec. 19, 2022, there are about 22,070 cryptocurrencies listed on CoinMarketCap. This number increases by the day. For instance, there were about 16,372 cryptos at the start of the year, marking an increase of around 35% as we near the year's close.
But one question remains—why are there so many cryptocurrencies? 
This is mostly because of all of the different purposes and problems these projects try to address. For example, Bitcoin solves the problem of providing a decentralized peer-to-peer money transfer. 
BTC's value, for now, is mostly speculative. Because of this, many have tried playing the market in order to make a quick buck. But some things are working in Bitcoin's favor in 2022, including worldwide inflation spikes and investments worth billions of dollars entering the market from institutional entities.
Bitcoin, at present, trades just shy of the $17,000 mark and has a market capitalization of $322 billion.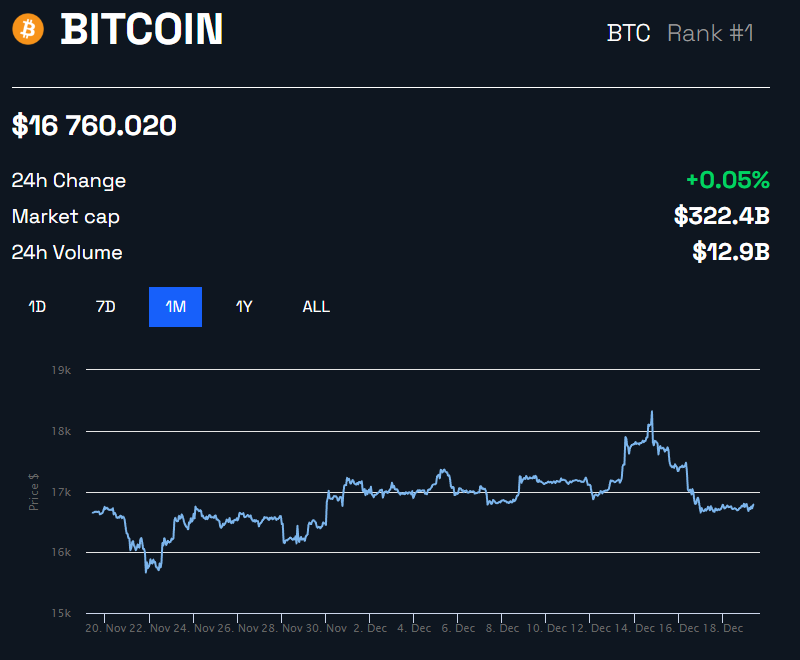 This same success, however, does not translate to every other cryptocurrency on the market.
Top Entries on the List
Ethereum, the second-largest cryptocurrency, experienced an incredible bull run in 2021. That year, it had a trading volume of around $5 trillion and the price of ETH rose by more than 300%. Ethereum has expanded its use case in the NFT, metaverse, and web3 sectors.
ETH currently trades at $1,192 with a market capitalization of around $144 billion.
 The cryptocurrencies ranked third through tenth are listed below: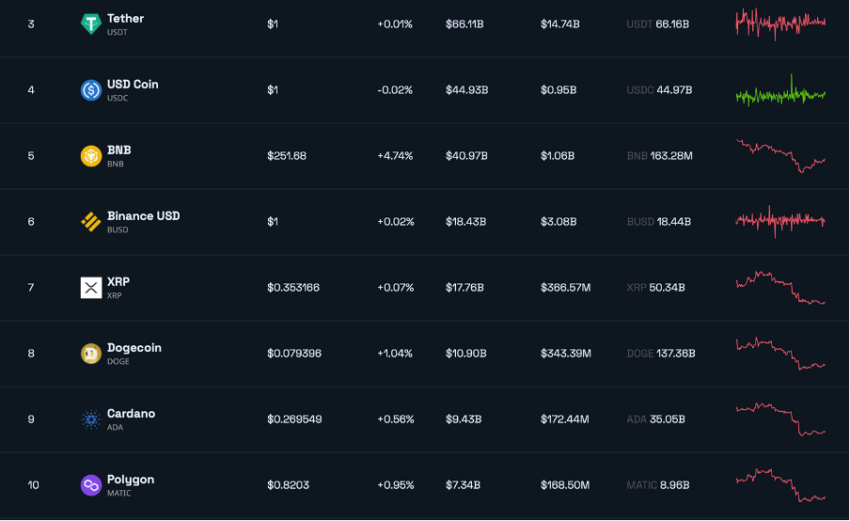 Survival of the Fittest 
The rise of cryptocurrencies over the years has been nothing short of astronomical. Bull markets have bred various projects along with native tokens and coins.
Statista data shows that in Q1 2022, the number of cryptocurrencies listed on the market (9,929) had increased by around 250% compared to the end of 2019 (2,817). However, the number fell back to 9,310 by November 2022.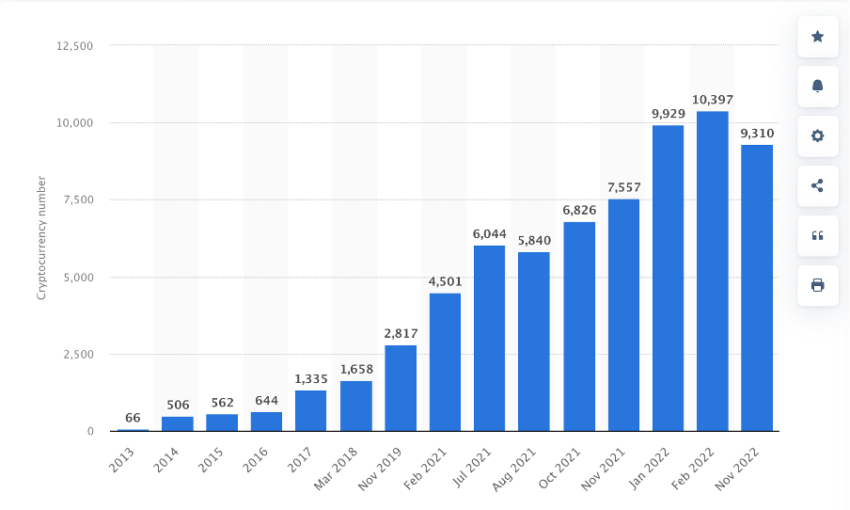 This raises some tough questions about projects that perished amid the harsh crypto winter. Some call these 'zombie coins' or 'dead coins.' Interestingly, a website called 99bitcoins.com keeps a running list of dead coins. It estimated the total number of dead coins to be 1,719 at the time of publishing.
A coin can become "dead" due to various reasons, such as development being halted, having no one that uses or trades it, or being exposed as a scam, among other reasons. Some of these projects even rode meteoric rises to the top with relatively widespread adoption before their demise. 
The Dead Crypto List Grows and Grows 
Julia Ng, head of growth at CoinGecko, shared a report with BeInCrypto to shed more light on this narrative. Herein, the report gives insights into how some cryptos, despite having great potential, went directly to the grave. 
The 2021 bull market that kicked off in November 2020 saw many projects (around 8,000) list their respective cryptocurrencies on CoinGecko. Per the report, almost 40% of them have since been deactivated and delisted from the site. 
"This is 2.5 times higher than the amount of cryptocurrencies listed in 2020 that failed, and 3.5 times higher than 2022 YTD," the executive stated.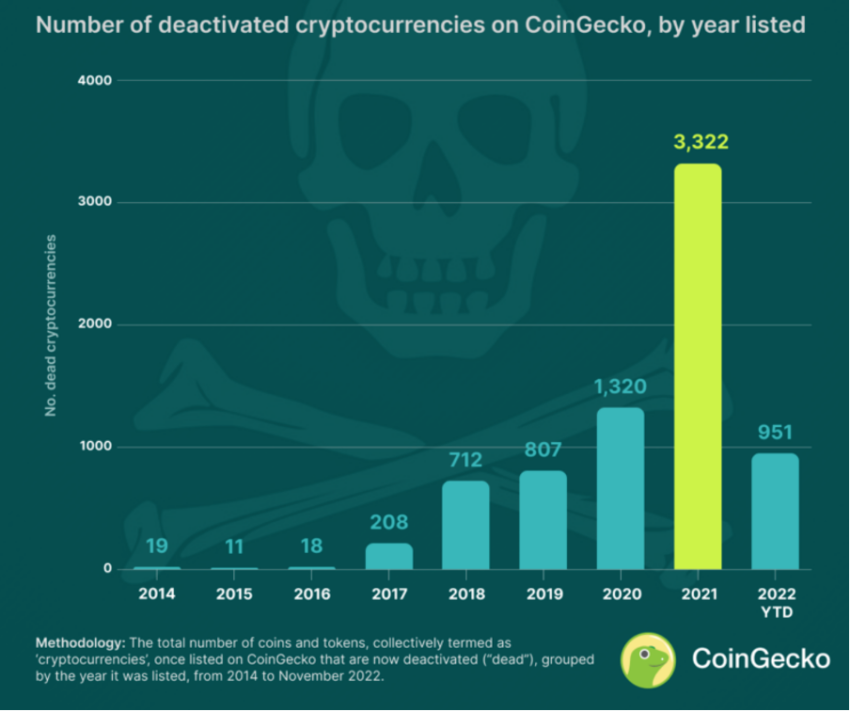 Apart from 2021, on average, around 900 were listed under the dead category between 2018 to 2022. The study even shared some insight into the probable causes of this. In particular, the 'meme-coin season' that took the industry by storm was a likely cause of the high range of useless coins and tokens that failed in 2022.
"During this period, many cryptocurrency projects, tokens, and coins with little to no value or any immediate or discernible purpose were launched by various anonymous developers. Few were committed to their projects, which resulted in a high rate of failure, and thus their ultimate demise."
The study examined three critical reason that projects were delisted or deactivated:

Crypto Projects: High to Low
One notable inclusion is OneCoin and its self-appointed crypto queen Ruja Ignatova. However, it turned out to be one of the largest Ponzi schemes in history.
Various other prominent dead coins made the list, such as SafeMoon and SQUID coin, among many others. 
These instances just put more weight behind the advice to 'DYOR' or 'Do Your Own Research.' While it might sound quite obvious, many investors still fail really look into the risks involved when putting money into a cryptocurrency. 
Disclaimer
Following the Trust Project guidelines, this feature article presents opinions and perspectives from industry experts or individuals. BeInCrypto is dedicated to transparent reporting, but the views expressed in this article do not necessarily reflect those of BeInCrypto or its staff. Readers should verify information independently and consult with a professional before making decisions based on this content.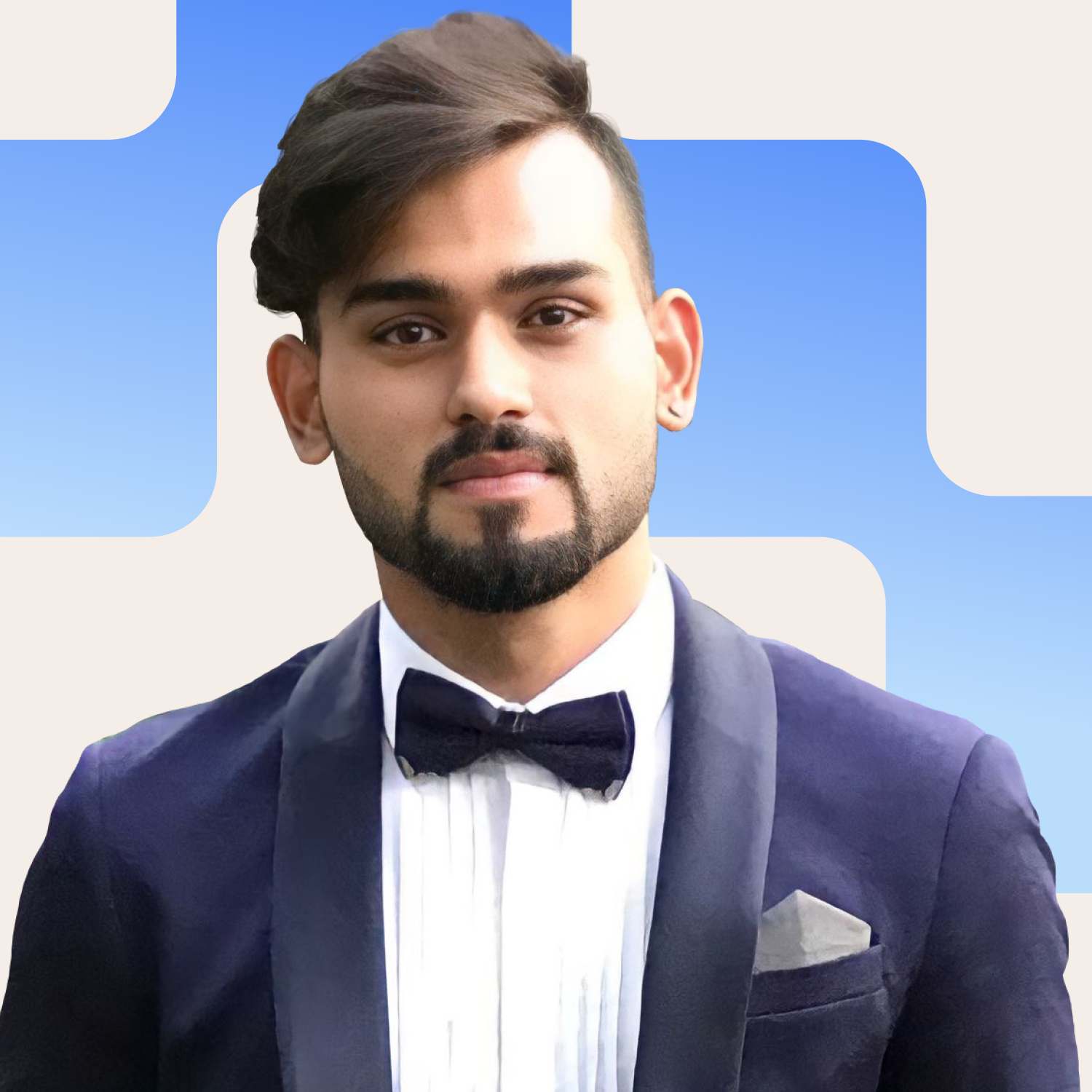 An engineer and an accountant by degree, Shubham ventured into the crypto world to pursue his passion. He believes digital currencies will redefine our economies in the decades to...
An engineer and an accountant by degree, Shubham ventured into the crypto world to pursue his passion. He believes digital currencies will redefine our economies in the decades to...
READ FULL BIO
Sponsored Sponsored