Crypto.com is the latest centralized exchange to be thrown into the spotlight a week after the collapse of the FTX group. Its native token, CRO, has tanked almost 30% in a day.
The Crypto.com exchange and wallet provider is getting some scrutiny from the crypto community.
On Nov. 13, analytics provider 'Lookonchain' did some digging into the reserves of Crypto.com. What it discovered has raised eyebrows but is not all that surprising.
Crypto.com Ethereum wallets and six Bitcoin wallets hold a total of $2.68 billion in digital assets, it revealed.
The exchange holds more Shiba Inu (SHIB) than Ethereum (ETH). According to the data, it has $531 million in SHIB compared to $446 million in ETH. It also holds $80 million in its own CRO token.
Spurious Transfers
The data provider warned that 40% of Crypto.com's assets are low liquidity, adding:
"If you have funds on Crypto.com, please pay attention to the safety of your funds. They hold a lot of $SHIB and $CRO."
It also reported a spurious transfer of assets before the firm released its proof-of-reserves. It discovered that Crypto.com withdrew a total of 210 million USDT from Binance and 50 million USDC from Circle before the reserve announcement.
Binance head Changpeng 'CZ' Zhao also reiterated the warnings with this weekend tweet:
Chinese industry outlet Wu Blockchain reported around a billion dollars worth of stablecoins being sent to FTX over the past year.
However, Crypto.com CEO Kris Marszalek refuted this claim on Nov. 14, stating:
"I explained in the thread that the funds were used to hedge customers' orders on our platform. Our total exposure to FTX is under $10m."
Clients have been pulling funds from the platform over the weekend. Last week, it was discovered that Crypto.com mishandled a $400 million transaction, raising more concerns in these tumultuous times.
Marszalek continued to refute the FUD claiming that the transfer to Gate.io was simply the movement of its ETH to cold storage.
Cronos (CRO) Crashes 28%
The exchange's native token, CRO, has dumped hard over the weekend on the news of the liquidity issues. From an intraday high of $0.078, CRO crashed 28% to a low of $0.056 a couple of hours ago.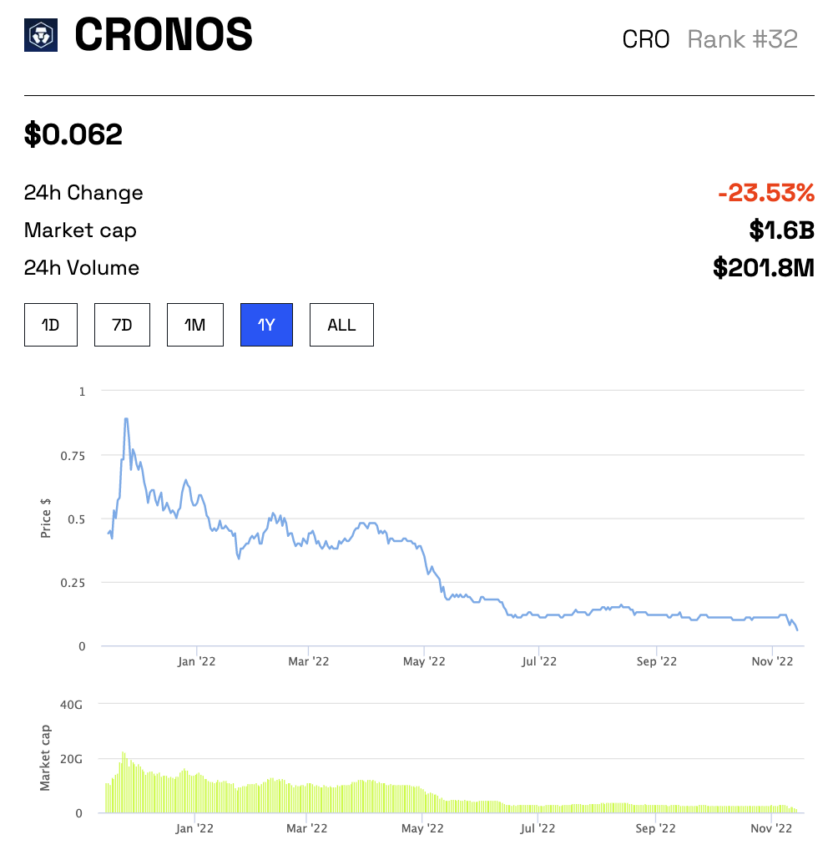 At the time of press, CRO was trading at around $0.060 after dropping 50% in seven days. Furthermore, the embattled token is down 94% from its all-time high of $0.965 this time last year.
Disclaimer
BeInCrypto has reached out to company or individual involved in the story to get an official statement about the recent developments, but it has yet to hear back.