Charity crypto: Not-for-profits are at the cutting edge of inventiveness when it comes to chasing crypto donations, says NFT-philanthropist Tim Gareev.
Charity is something that needs organization. And organization goes hand in hand with technology. Tossing a coin to a beggar lying on the church porch is not the most effective way to help those who are in need.
People set up organizations, send delegations and promote various ways to make the non-profit more productive. For instance, these days one doesn't have to manually give the money to a charity. That nuisance is easily solved by setting up automatic payments in your mobile bank app. It can even automatically round every payment you make so that the money on top would go to the charity. But how can you make sure that the money you sent went in the right way?
When people hear the word "blockchain," they often imagine mysterious crypto-lords sitting in moist dungeons somewhere on a deserted island, chatting on Discord or Telegram in some weirdo language.
Some may think about a successful crypto-investor, who was wise enough to invest in Ethereum five years ago so that now he could fly on a private jet. Others may picture something different. But in the end… it doesn't matter. Blockchain is just a technology. Like a pen. Or a computer. And like many other technologies, it can be put to use in a broad range of areas.
Charity Crypto: basics
Over the last few years crypto in charity has become an increasingly popular choice for both individuals and organizations. Why? Well, first of all it's the simplicity of it: sending some BTC by just copying the wallet address is a lot easier than making a bank transfer, for instance. There's no problem with sending crypto to other countries too.
Perhaps, the first and the most famous charity case in crypto would be the Pineapple fund. It is run by a person who goes by the nickname "Pine." Pine claims himself to be among the 250 largest holders of Bitcoin. He turned his 5104 BTC into charity money (back then in 2017 it was "only" 55 million dollars). Pine sent it to a bunch of different funds: Watsi, BitGive, Quill, Maps, Possible and many more.
The name of the philanthropist remained unknown because he (or she) decided to keep it that way: "I'm going to remain anonymous because the point of the Pineapple Fund is not me. I consider this project a success. If you're ever blessed with crypto fortune, consider supporting what you aspire our world to be."
And that is the best thing about crypto in charity – remaining anonymous gets a lot easier, which is a crucially important factor for many people.
These days Red Сross, United Way and even UNICEF receive donations in crypto. And it's not just some single enthusiasts that donate the money – the sums are quite impressive: customers of Fidelity Charitable (a donor-advised fund that helps you dedicate money to charitable purposes) donated $331 million of cryptocurrency in 2021, up from $28 million in 2020. That's clear as crystal – the more investors you have, the more the donating grows.
Further steps
Investing in crypto has been huge in the last couple of years. As a matter of fact, Binance – of the biggest investing platforms – launched its charity program. NFTs, DAOs, Web3, smart contracts – a couple of years ago these terms sounded obscure. Now they are getting discussed all around the internet.
Una Osili, associate dean at the Lilly Family School of Philanthropy at Indiana University-Purdue University Indianapolis, told WSJ: "Cryptocurrency has the potential to expand the pool of donors. In particular, younger donors. Millennials and Gen Z are more likely than others to own cryptocurrency, and many are starting to get involved in philanthropy."
Blockchain works not simply as a method to convey money, but as a community-forming factor. In March 2022 an NFT-artist raised money to support Ukrainian civilians suffering from the invasion by Russian forces. She hosted an auction on PartyBid – a tool that allows people to pool efforts and bid for something collectively. 3,271 people bid in total – most of them found out about the auction through the NFT-community. 
However, this case also shows us that charity in blockchain is not just about the initial technology anymore. Blockchain is evolving – many say that Bitcoin is becoming obsolete. New coins and DAOs are emerging, creating new opportunities. Just look at the above-mentioned case with collective NFT-ownership. But that's not the end of it.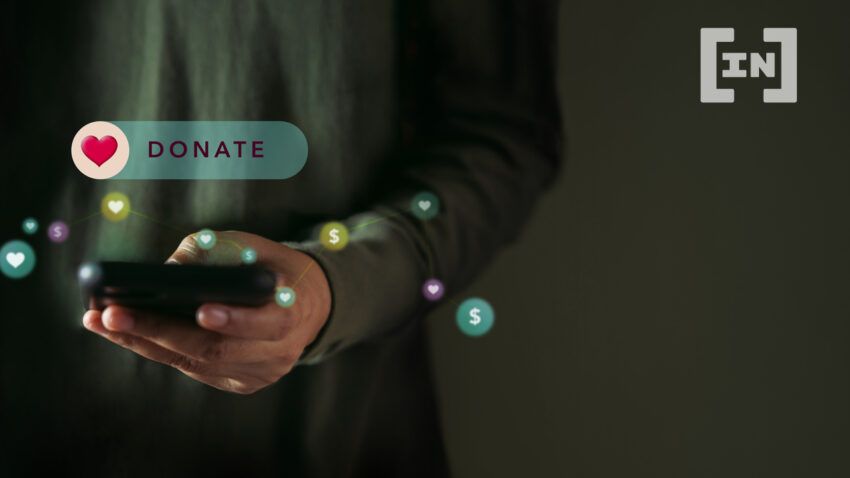 Charity Crypto: Smart Contracts
The reason why most of the NFTs are a part of Ethereum (not Bitcoin) blockchain is due to smart contracts. Smart contracts – a set of promises, specified in digital form – existed long before Ethereum, or even Bitcoin. Basically, a vending machine giving you a can of Coke is also performing a smart contract. Not to mention Bitcoin, that can automatically process a lot more operations. But it's the Ethereum and other newer blockchains that broadened the range of these opportunities (don't worry, we're getting back to charity soon).
With a smart contract on Ethereum, you can encrypt a lot of things within your transaction. For instance, if you're selling an NFT, you can make a smart contract that would ensure that you get a certain percentage out of every subsequent sale. Why not organize something similar with charity?
Not long ago "Charity Kiss" made a collection of NFTs that could create an endless circle of donations – 14% of any secondary sale goes to charity (with the primary sale it gets as high as 70%).
Basically, it's a charity tax encrypted in an artwork – isn't that something all of us have been looking forward to? Is that possible with physical charity? Well, theoretically one can imagine a painting being sold with a heap of papers that prescribe certain subsequent actions. But in reality, that's far less obvious.
"Charity Kiss" is just a single project – while there are organizations that are wholly devoted to fostering charity within the decentralized communities. For instance, "Crypto For Charity" encourages people to donate crypto in order to save on taxes.
By donating you can avoid paying capital gains tax on your crypto gains and receive a federal income tax deduction.
Donating Crypto
Basically, that means that donating in crypto can get even more beneficial than any of the old ways. Another of those organizations is RAA, whose goal is to promote philanthropy within the Web3 community. They do this by assisting with legal and financial consulting as well as implementing new technology. That's what they actually did with the above-mentioned "Charity Kiss" project.
Another major issue is uniting Web2 and Web3 – doing that through the means of charity is another big mission.
Every month dozens of Web3 start-ups attract substantial funding – the metaverse is perhaps the most appealing place online right now. Now imagine if at least part of these new approaches would get adopted by the non-profit. In fact, crypto in charity is only just beginning to take shape, and it is immensely interesting to gaze at this unfolding scene.
About the author

Tim Gareev entered the crypto community in the ICO era, participated as a crypto marketing strategist on a Seeding Phase of Sensorium Galaxy metaverse. Being a multi-role creative director, he rediscovered himself as an NFT-philanthropist (RAA) and an expert in fields of DeFi and Web3 Marketing (JETA).
Got something to say about charity crypto or anything else? Write to us or join the discussion in our Telegram channel. You can also catch us on Tik Tok, Facebook, or Twitter.
Disclaimer
In compliance with the Trust Project guidelines, this opinion article presents the author's perspective and may not necessarily reflect the views of BeInCrypto. BeInCrypto remains committed to transparent reporting and upholding the highest standards of journalism. Readers are advised to verify information independently and consult with a professional before making decisions based on this content.

Our Guest Op-Eds represent in-industry voices in the crypto and Web3 space. Have an opinion? Email
[email protected]
.
Our Guest Op-Eds represent in-industry voices in the crypto and Web3 space. Have an opinion? Email
[email protected]
.
READ FULL BIO
Sponsored Sponsored