Celsius Court Document: The names and recent transactions of customers have been exposed in its recent bankruptcy court filing, raising concerns over privacy.
Crypto lender Celsius Network is currently going through bankruptcy proceedings, according to a filing submitted on Oct. 5 to the US Bankruptcy Court of the Southern District of New York. 
Earlier, the Celsius document had revealed that Celsius CEO Alex Mashinsky, former CSO Daniel Leon, and CTO Nuke Goldstein had withdrawn their cryptocurrency holdings in the company before it had halted withdrawals in June 2022.
Court drops 14000 page Celsius document bombshell
A further reading of the 14000 page Celsius document has now shown that it contains the names and recent transactions of every user on the platform.
In addition to revealing every user's full name, and the date of each of their transactions, the Celsius court document also includes details about the direction and source of each, along with the coin, coin value, and coin quantity involved. Although an address column is listed, this information happened to be redacted in the Celsius 14000 page document.
While it is unknown who is responsible, the large-scale exposure of customers' personal data represents an unprecedented breach in privacy. Even a website was launched to rank every doxxed user by their loses after the crypto lender went bankrupt.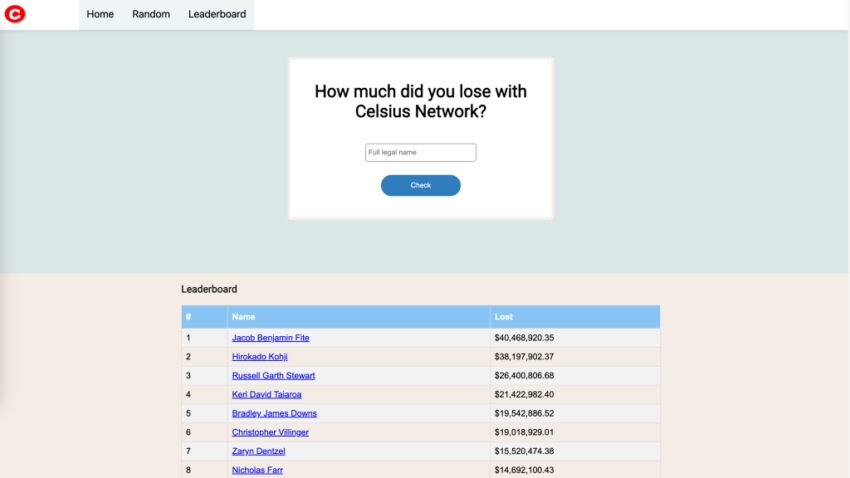 The revelation has understandably caused a stir on social media, with some commenting on some immediate consequences and long-term ramifications.
"This horrific breach of privacy will lead to many robbed & killed," said Twitter user foobar. "Anything not provably cryptographically private will become public," he predicted.
Execs withdrew millions
The Celsius document had shown that former CEO Alex Mashinsky had withdrawn $10 million worth of cryptocurrency. The transaction was performed from his custody account in May 2022, first reported by the Financial Times earlier this week.
Meanwhile, Chief Strategy Officer Daniel Leon allegedly withdrew $11 million, including $4 million worth of CEL, the platform's native token. With the revelation of further customer records, Mashinsky's wife Kristine also withdrew $2 million in cryptocurrency on May 31.
While the company had struggled with poor management, at times paying out more interest to customers than was being generated from lending, shockwaves from the collapse of the TerraUSD stablecoin earlier this year triggered a mass outflow of crypto assets across the sphere, which then precipitated Celsius downfall.
Disclaimer
BeInCrypto has reached out to company or individual involved in the story to get an official statement about the recent developments, but it has yet to hear back.