Investors are fleeing Square's stock after the company reported disappointing first-quarter earnings. Shares in after hours are down nearly 7%, as COVID-related struggles overshadowed the brightest spot in the earnings report — Bitcoin revenue.
First the bad news. Square reported a Q1 adjusted net loss of $0.02 per share, while Wall Street analysts were expecting earnings of $0.13 per share. Adjusted EBITDA fell to $9 million vs. $62 million in the year-ago quarter. Square blamed "an increase in reserves for transaction and loan losses" in part, as like banks, the payments company must protect itself from bad loans during the economic crisis.
Despite the stock's declines, you don't have to look far for a ray of hope in Square's earnings report. If Square's Cash App is any indication, Bitcoin adoption is on the rise as cryptocurrencies pique the interest of investors during the broader market turmoil.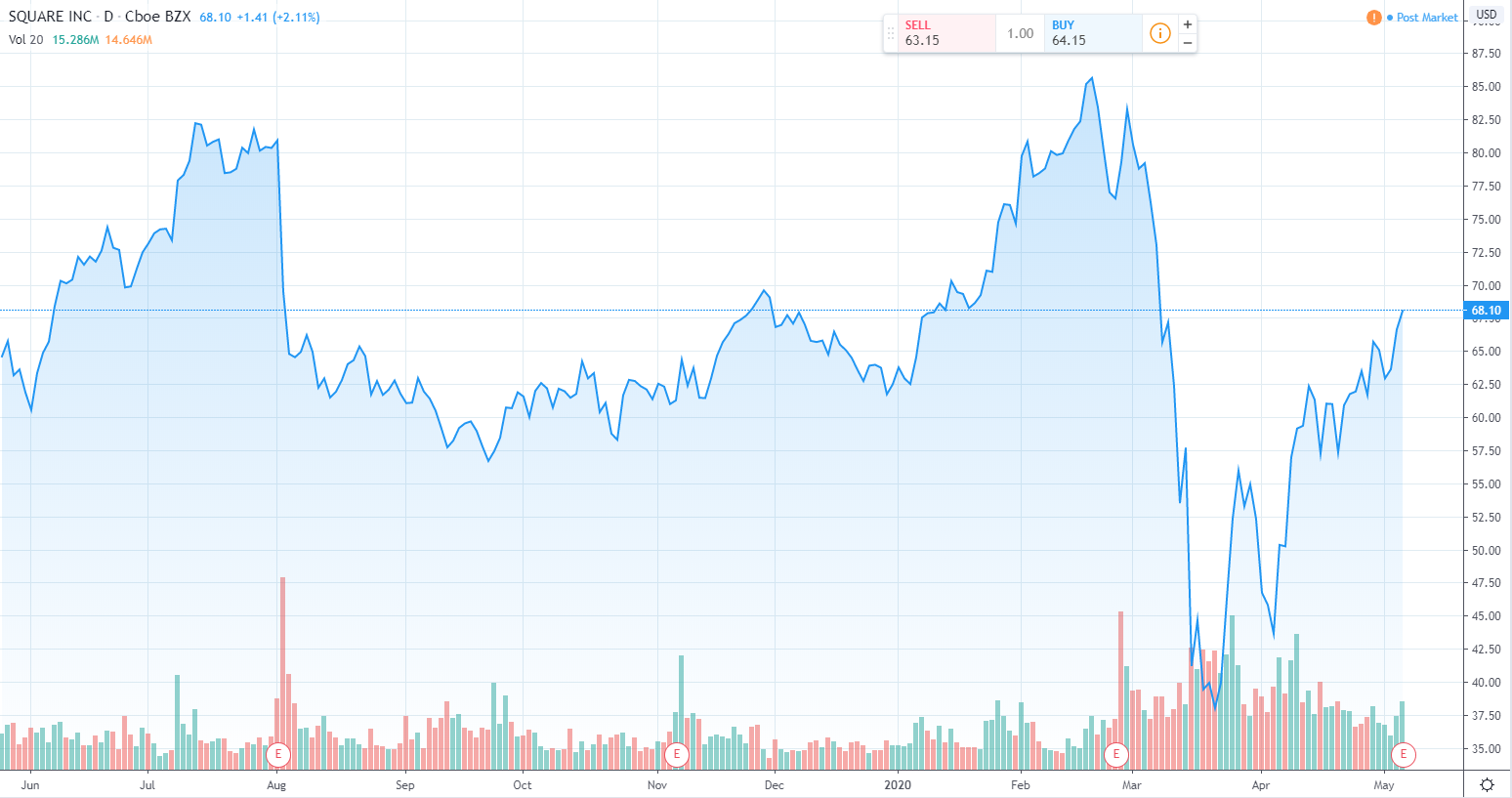 Cash App Home Run
The Cash App continues to knock it out of the park, with gross profit climbing 115% year-over-year. It was impossible not to notice Bitcoin's influence.
Cash App's Q1 gross profit increased after experiencing a record number of new customers in March, thanks largely to demand for CEO Jack Dorsey's favorite cryptocurrency, Bitcoin. In fact, more than 50% of Cash App's quarterly revenue originated from Bitcoin transactions, results Dorsey characterized as "incredible" on the earnings call, adding:
"Cash App has been something very special for us."
Bitcoin generated $306 million in revenue on Cash App, its biggest quarterly contribution in history, as pointed out by Messari's Ryan Watkins on Twitter. Without Bitcoin the app had revenues of $222 million. The results were thanks to "an increase in transacting active Bitcoin customers and growth in customer demand as a result of the decrease in the price of Bitcoin." In last year's Q3, Bitcoin revenue was $65.5 million.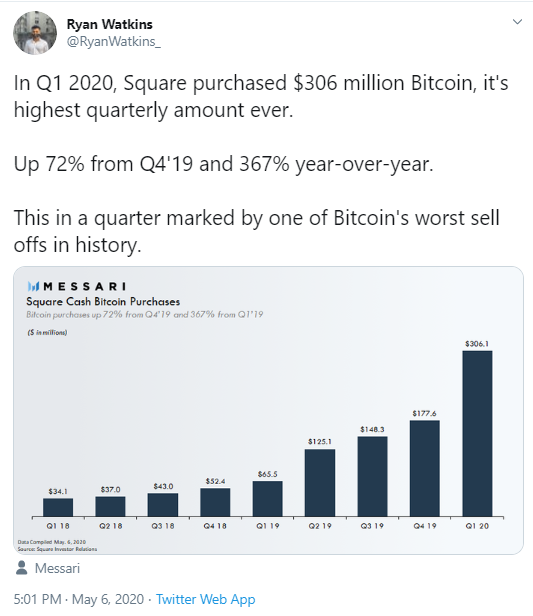 Bitcoin Profit
In Q1 2020, Bitcoin-fueled revenue produced an eye-popping $7 million gross profit amid what Square CFO Amrita Ahuja attributed to "increased adoption and…strong volume growth in the quarter."
Bitcoin is days away from its highly anticipated halving event in which for the third time so far the supply is slashed in half. Also, as Square CEO Jack Dorsey indicated on the call, investors flocked to Cash App to buy the dip when the BTC price fell as low as $4,100 in mid-March. The Bitcoin price has since more than doubled to $9,324 at last check.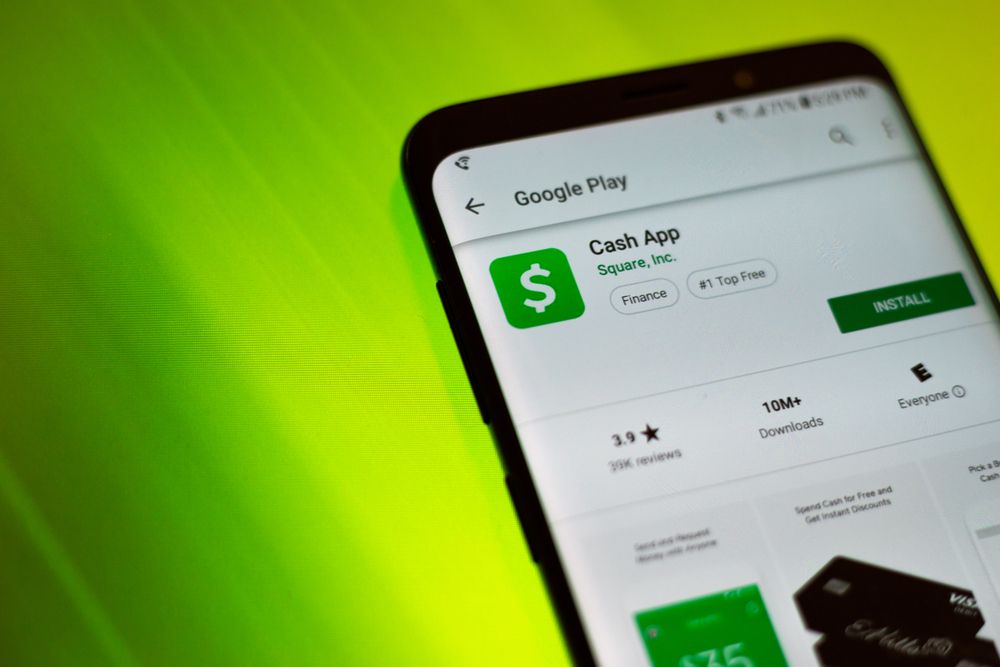 April was a record month for Cash App as it relates to Bitcoin and stock brokerage volumes as well as stored funds.
Like many companies during this earnings season, Square offered no guidance for the second quarter given the uncertainty plaguing corporate America at the moment. But if Q1 is any indication, Bitcoin could very well be the belle of the ball next quarter too.
Disclaimer
All the information contained on our website is published in good faith and for general information purposes only. Any action the reader takes upon the information found on our website is strictly at their own risk.