From zero to hero, Solana appears to have risen from the ashes. As a result, its native SOL token has outperformed its brethren posting the largest gain over the past week.
Crypto pundits and maxis had written Solana off following the collapse of parent company FTX in Nov. However, its bumper week cannot really be attributed to Solana itself, but to another meme token called BONK.
SOL price has surged more than 40% over the past seven days on the back of the latest meme coin frenzy. As reported by BeInCrypto, the first native doggy-themed coin on Solana has renewed interest in the ecosystem.
The BONK token and airdrop have been the talk of the week on crypto twitter. According to the official website, the token is little more than a Shiba Inu clone on Solana, spawned out of the FTX FUD fire.
"The Bonk contributors were tired of toxic "Alameda" tokenomics and wanted to make a fun memecoin where everyone gets a fair shot."
Mad or Bad?
However, it appears that BONK momentum is already waning. Since the beginning of the year, BONK prices surged 3,000% to hit an all-time high of $0.00000487 on Jan. 5.
It has already dumped 48% from that peak in a fall to $0.00000255 at the time of writing. Furthermore, the chart is printing a typical pump and dump pattern while analysts have predicted that it is over.
Solana aficionados looked on the bright side, commenting that the network actually stayed online this time. Solana has been plagued with performance and reliability woes over the past year or so. As a result, the network has suffered outages and degradation in seven separate months during 2022.
Furthermore, Solana on-chain activity has slumped since the collapse of FTX. Transactions, address activity, and DeFi activity are all way down. Developers are also leaving the ecosystem in droves, so what does it spell for SOL prices?
Solana (SOL) Price Outlook
SOL has surged a whopping 40% over the past week. It hit a three-week high of $14 on Jan. 4, but could not break resistance at that level.
As BONK dumps, SOL interest has faded resulting in a decline of 5.4% since that high. SOL is flat on the day, however, trading at $13.24 at the time of writing.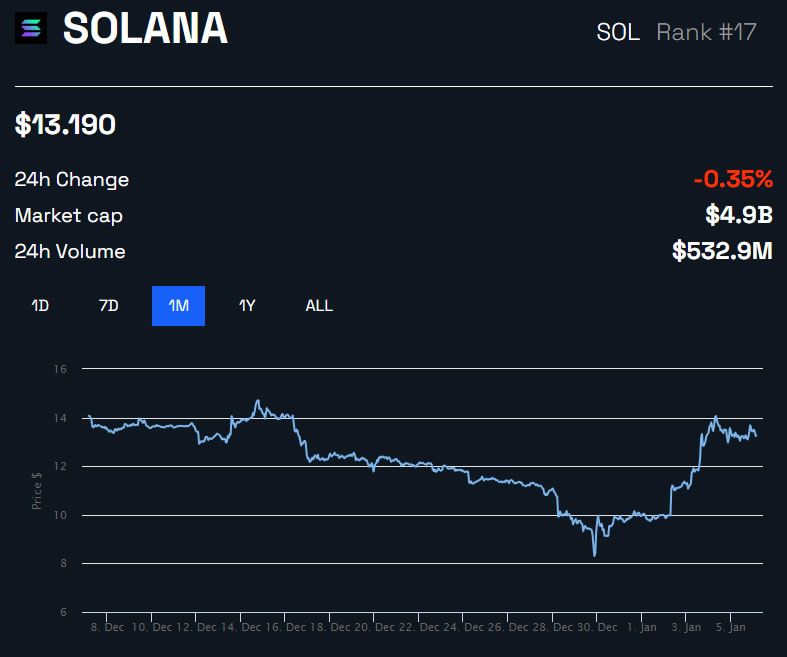 Without another BONK frenzy to keep it buoyed, there does not appear to be a lot of renewed interest in Solana.
Disclaimer
BeInCrypto strives to provide accurate and up-to-date information, but it will not be responsible for any missing facts or inaccurate information. You comply and understand that you should use any of this information at your own risk. Cryptocurrencies are highly volatile financial assets, so research and make your own financial decisions.