Cryptocurrency hedge fund manager Brian Kelly has been the voice of crypto on Wall Street. He has not shied away from going out on a limb for bitcoin in front of his clients and peers.
For Kelly, who is at the helm of digital currency investment firm
BKCM
, sometimes the bets have paid off, while other times he's ridden the BTC price lower. But through it all, he's been a voice of reason for investors, often pointing to the
bullish fundamentals
even while the market has had a mind of its own. Kelly was featured as a guest on the Benzinga Boot Camp with BlockFi, where he shared where he expects the
bitcoin price
to be trading in the coming years. Spoiler alert: Kelly is bullish on bitcoin for the long term and has no doubt that bitcoin's market cap, which currently hovers at about $200 billion, will surpass that of Apple, which currently boasts a $1.9 trillion market cap, in five years.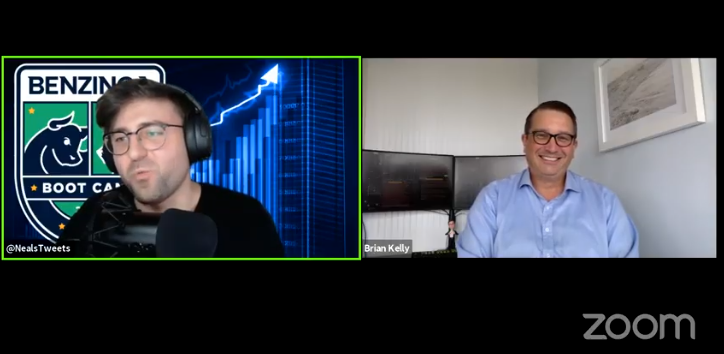 Kelly's World: Risk vs. Reward
BKCM's Kelly recommends investors allocate 1-5% of their portfolio into crypto
as a hedge
against everything else that's happening in the world, such as currency
volatility
and a potential currency war. He describes his own risk/reward profile, which is to weigh how much he can make vs. the risk. If he's wrong about bitcoin, losing 5% is not life-changing. But if he's right, and the price shoots up 30x, it will protect against any downside say from the stock or bond markets. He likens having a bitcoin allocation to fire insurance, saying you never want to use it but you like to have it. He believes bitcoin is more than just fire insurance, but he thinks hedging a portfolio with 1-5% in crypto and BTC is "not a bad idea."
Bitcoin Price Predictions
While the bitcoin price prediction business has proven to be a futile exercise, with each passing year, traders are more convinced than ever that the long-term trend is bullish. Kelly is no exception and is looking to the recent Bitcoin halvening as the support for his prediction. The halvening cycle tends to be that bitcoin has a run-up one year ahead and one year out from the halvening event. He explains that it's been about 134 days since the Bitcoin halvening
in May
, and the BTC price is tracking along the levels it tracked following the prior halvening in 2016. Based on this trajectory, the bitcoin price is on its way to trade at $60,000 in May 2021 and $70,000 in September 2021.
Looking out over a longer-term time horizon, Kelly is even more bullish. He would not be surprised to see the BTC price trading "well north of $100,000" in five years. But he would rather look at it in a different way. If you ask him if Apple will be the world's most valuable company in 10 years, he would say absolutely not. History shows that almost never would something that is the most valuable company today be the most valuable company 10 years later. Kelly uses GE, Kodak and GM as prime examples. Today Apple is the most valuable company in the world. In five years, Kelly bets that bitcoin will have a higher market cap and be more valuable than Apple — by far. Over the next decade, he can see bitcoin easily taking half of gold's market share, which would put the bitcoin price in the $250,000-$300,000 range if he's right.
Disclaimer
In line with the Trust Project guidelines, this price analysis article is for informational purposes only and should not be considered financial or investment advice. BeInCrypto is committed to accurate, unbiased reporting, but market conditions are subject to change without notice. Always conduct your own research and consult with a professional before making any financial decisions.
Gerelyn caught wind of bitcoin in mid-2017, and after becoming smitten by the peer-to-peer nature of crypto has never looked back. She has been covering the space ever since....
Gerelyn caught wind of bitcoin in mid-2017, and after becoming smitten by the peer-to-peer nature of crypto has never looked back. She has been covering the space ever since....
READ FULL BIO
Sponsored Sponsored