Just hours ago, dozens of users from the Singapore-based Huobi Global exchange began reporting severe disruptions of services, with many users complaining that they were unable to buy or sell on the platform during this time.
The service crackup comes at a time when
Bitcoin
(BTC) prices reached $4,200 for the first time since December 2018. Shortly after reaching $4,200, Bitcoin witnessed
an impressive spike
to briefly touch over $5,000 after convincingly breaking away from the long-term downtrend seen in 2018. However, during this time, some Huobi Global customers were supposedly unable to benefit from the growth, if Telegram chats are to be believed.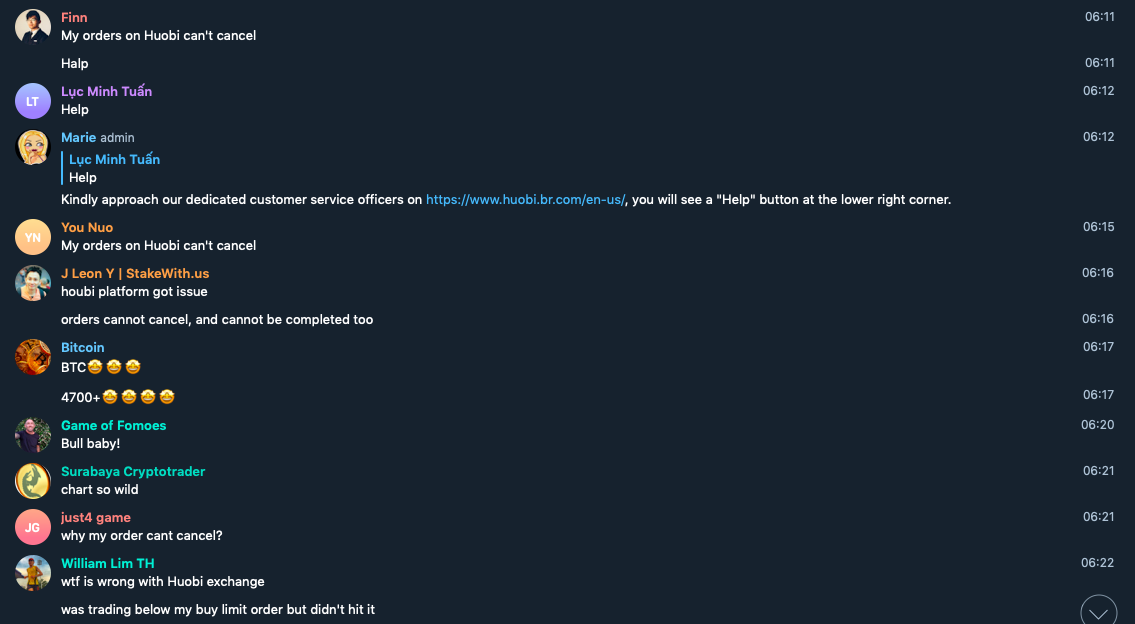 Meanwhile, Bitcoin buy volumes are at an all-time high at
Binance
— Huobi's largest competitor. Independent trackers of large cryptocurrency transactions started reporting the influx of large amounts of funds moving to the exchange shortly prior to the service disruption, indicating some whales may have missed out.
600 #BTC (2,780,254 USD) transferred from Unknown wallet to #Huobi

Tx: https://t.co/v4FYGG0PzZ

— Whale Alert (@whale_alert) April 2, 2019
Failing to let its users capitalize on the bullish trends of Bitcoin will likely severely impact the overall trade volume that the exchange boasts about having. However, this report is largely unconfirmed at this time and it would seem that issues have been resolved, as Telegram chats have resumed normalcy. It was recently reported that the spot transaction volume of Huobi reached 780 million US dollars, topping the global exchange rankings. Critics, however, continue to doubt that these figures are genuine, instead arguing that Huobi likely engages in the practice of
wash trading to artificially inflate its transaction volumes
.
The spot transaction volume of Huobi without 24H is totally 780 million US dollars, Ranked Top 1 in the world #Huobi #huobiprime #Huobi @HuobiGlobal #火币 pic.twitter.com/dQn4PYTMeY

— CoinVoice (@coin_voice) April 1, 2019
In a recent report conducted by The Tie — a company specializing in market data, trend and sentiment analysis — it was found that the great majority of trading volume at Huobi is suspicious. The report analyzes one-hundred crypto exchanges and the average traffic they receive, along with their reported trading volumes. The analysis found that Huobi's reported volumes are almost certainly faked, with each visitor reportedly trading approx 10x higher volumes than
Binance
. According to the report data, the expected volume versus reported volume ratio indicates that only approximately 9.17 percent of Huobi's spot trading volume is genuine, with reported trading volumes being more than 10x higher than what would be expected. As of yet, Huobi has not commented on the alleged outage but did post a Bitcoin price alert that its users were unable to benefit from.
What is your opinion on Huobi Global? Did the allegations of inflated trade volume change your opinion on the exchange? Let us know your thoughts in the comments below!
Disclaimer
All the information contained on our website is published in good faith and for general information purposes only. Any action the reader takes upon the information found on our website is strictly at their own risk.