Many new and inexperienced investors got burned by jumping on the Bitcoin hype train at the end of 2017. The 2018 bear market has been
an expensive lesson
for those who bought at the top. Here is just how expensive of a lesson it really was.
A Tale of Twenty Thousand
It was the best of times, it was the worst of times, it was the age of gains, it was the age of
scams
. It's Nov 2017, mainstream news outlets are reporting on some internet money called Bitcoin, and your friends keep clamoring on with their dreams of Lamborghinis and moon landings urging you to buy in as you watch the price shoot up another thousand dollars every few days. You think it seems similar to the stock market, but with different types of online money. "Where does the value come from?" you ask your friends, only to be met by a slightly condescending answer sounding something like: "People decide the value, the same as everything else in the world."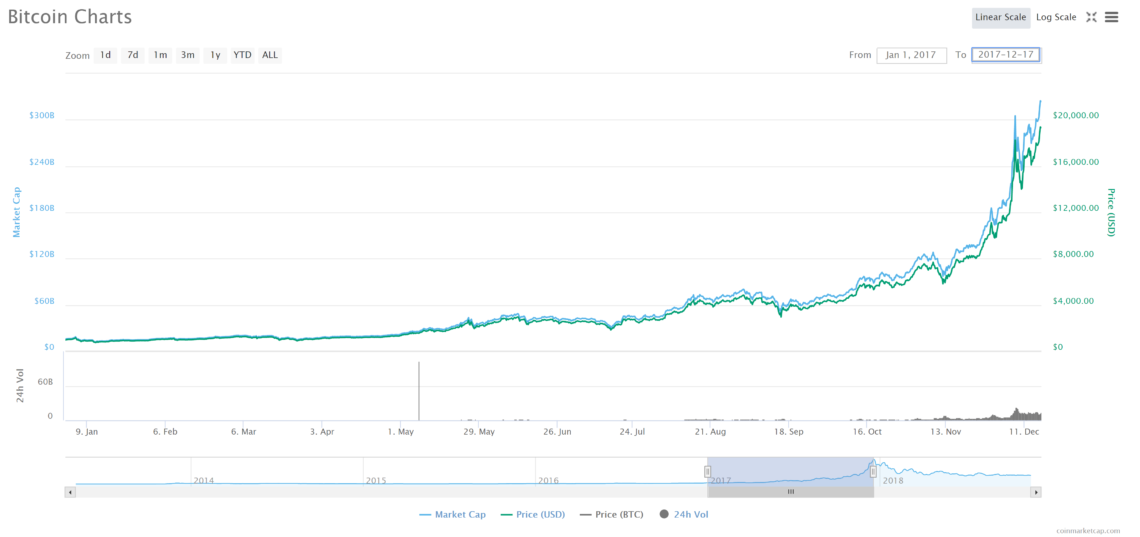 The fear of missing out has finally consumed your entire emotional control center and you decide that you will do all the research on the topic later — but, for right now, you need to get in quickly, or risk missing the rocket that everyone is telling you will be shooting off to $50,000 in the new year. Is that a credit card you've got in your hand? Bold choice, but the interest you accrue now will be easy to pay off once Bitcoin hits $50,000 and beyond. Besides, you've got a credit line bigger than the amount of money in your savings and you want to make as much profit as possible. You had better pull the trigger quick! Bitcoin just topped $20,000 and your friends are out drinking champagne without you. Congratulations! It's December 17, 2017, and you've just purchased your first Bitcoin at a low, low price of $20,000, mere peanuts compared to where it's headed in 2018 — better buckle up for the ride!
Highway To Hell
All of these red candles are bad, right? It's New Year's Eve, two weeks after making your first buy, and Bitcoin (BTC) has slipped back to $12,800. You watch your portfolio drop an average of $514 dollars per day until more than one-third of your initial investment has been wiped out. You think about selling, but have to trust that the price is just resting before making that next big move past $20,000. February rolls around as you frustratedly watch Bitcoin struggle to make it back over the $12,000 mark. By the end of the first week, however, you find yourself willing to sacrifice a limb just to get back to $12,000 — because Bitcoin has tanked again, this time sinking back to under $7,000. Your portfolio has now devalued by two-thirds, losing an average of $264 each day since buying Bitcoin 50 days ago. The end of February gives you a glimmer of hope that Bitcoin is finally back in action. By March, you've trudged your way back to that $12,000 level. This is the bounce you've been waiting for, you're patience is finally paying off! Wrong. Your dreams are once again dashed, as Bitcoin sinks back to the neighborhood of $7,000 throughout March before ping-ponging back to $10,000 during April. This 'red month, green month' pattern is really starting to wear on your nerves, but everyone seems confident that Bitcoin 'will never be this low again.'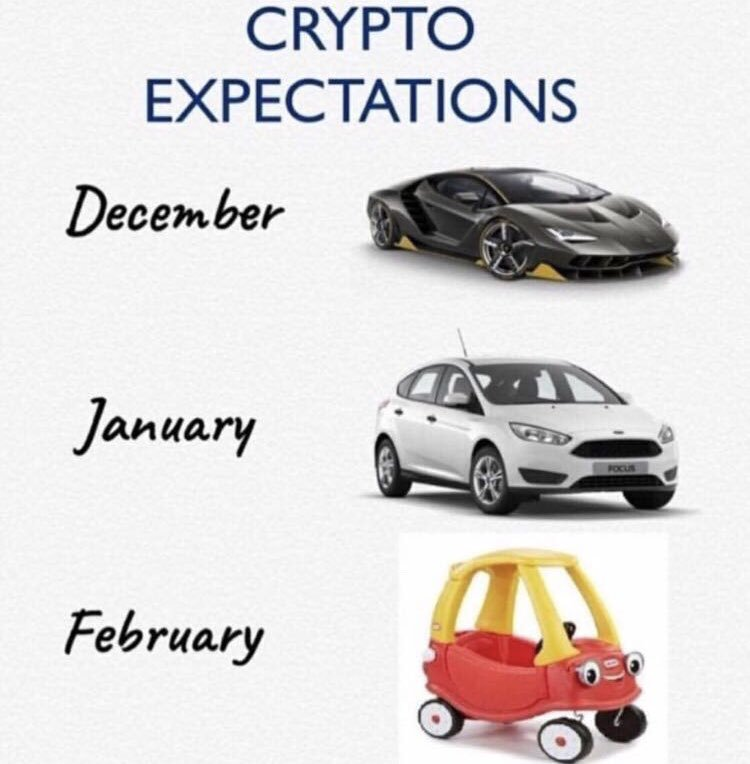 Fast forward through May/June and it has become quite apparent that you've royally screwed the pooch by jumping in at the $20,000 point. June 28, day 192 of owning your shiny new Bitcoin, and the cryptocurrency king has claimed a new low point for the year of $5,800, and you've lost the guts to even look at your portfolio. This doesn't change the fact, however, that you've now officially lost $74 per day since purchase, more than 70 percent of your investment. So far in the second half of the year, Bitcoin has bounced between lower-highs and the $6,000 support level. It is now November 14, day 332 of your portfolio's life and Bitcoin is at $6,200. You've lost an average of $41 every day and are closer to the core than to the moon. [bctt tweet="Bought Bitcoin at $20,000 one year ago? You've lost an average of $41 every day since then." username="beincrypto"]
When did you make your first Bitcoin buy? Have you been 'buying the dip' on the way down? Let us know about your Bitcoin investing experiences below! 
Disclaimer
All the information contained on our website is published in good faith and for general information purposes only. Any action the reader takes upon the information found on our website is strictly at their own risk.