BOLT has been conducting a token swap from Binance Chain to Ethereum for some time. However, some are noticing that the transaction history recorded on the blockchain doesn't quite add up.
Since last year, BOLT has been promoted as 'gem' with a low market capitalization. The fundamentals, at first glance, had some promise: it was a company with a streaming app that boasted some 3M users. However, a deeper look showed these user numbers to be fraudulent.
As BeInCrypto reported in December 2019, users noticed that the daily viewership on BOLT+ never seemed to differ much. The viewership count was suspiciously consistent. When called out, the team claimed it was a mere 'bug' — one which had been allowed to continue for months and months. Others discovered that BOLT was effectively a rebrand of a previously-failed company.
Now, users are finding that the project's token swap also had some discrepancies.
A Shady Token Swap
BOLT's token swap was first announced in June 2019, however, Kucoin decided to support the swap only last month. As a result, users have been noticing some strange activity on the blockchain.
As Sh*tcoin Minimalist (@bccponzi) documents, the blockchain data simply does not add up. He writes that BOLT recently deposited 11.5M BOLT tokens ($12k) to Kucoin without a corresponding BEP2 token transfer. This is 'straight-up stealing,' he writes.
One of the accounts sending the tokens has been buying BOLT tokens on Binance DEX to desperately refill their 'burn' wallet.
The thread below documents the blockchain activity which allegedly shows all of this suspicious activity:
$BOLT is doing a swap from BEP2 to ERC20 and right from the start the lies are starting again.

11.5m new ERC20 tokens ($12k) have been moved to Kucoin without a corresponding BEP20 token transfer or even a wallet with that amount being available.

Straight up stealing. pic.twitter.com/CaE5H04PEv

— Shitcoin minimalist 🌈 (@bccponzi) April 24, 2020
KuCoin May Delist BOLT
In the repliers, users have been asking Kucoin to do something. As one user writes:
"Stop providing a platform for them to dump their tokens on your customers."
The CEO of Kucoin has since responded and said that it is under review. There may be a possibility that the token is delisted entirely.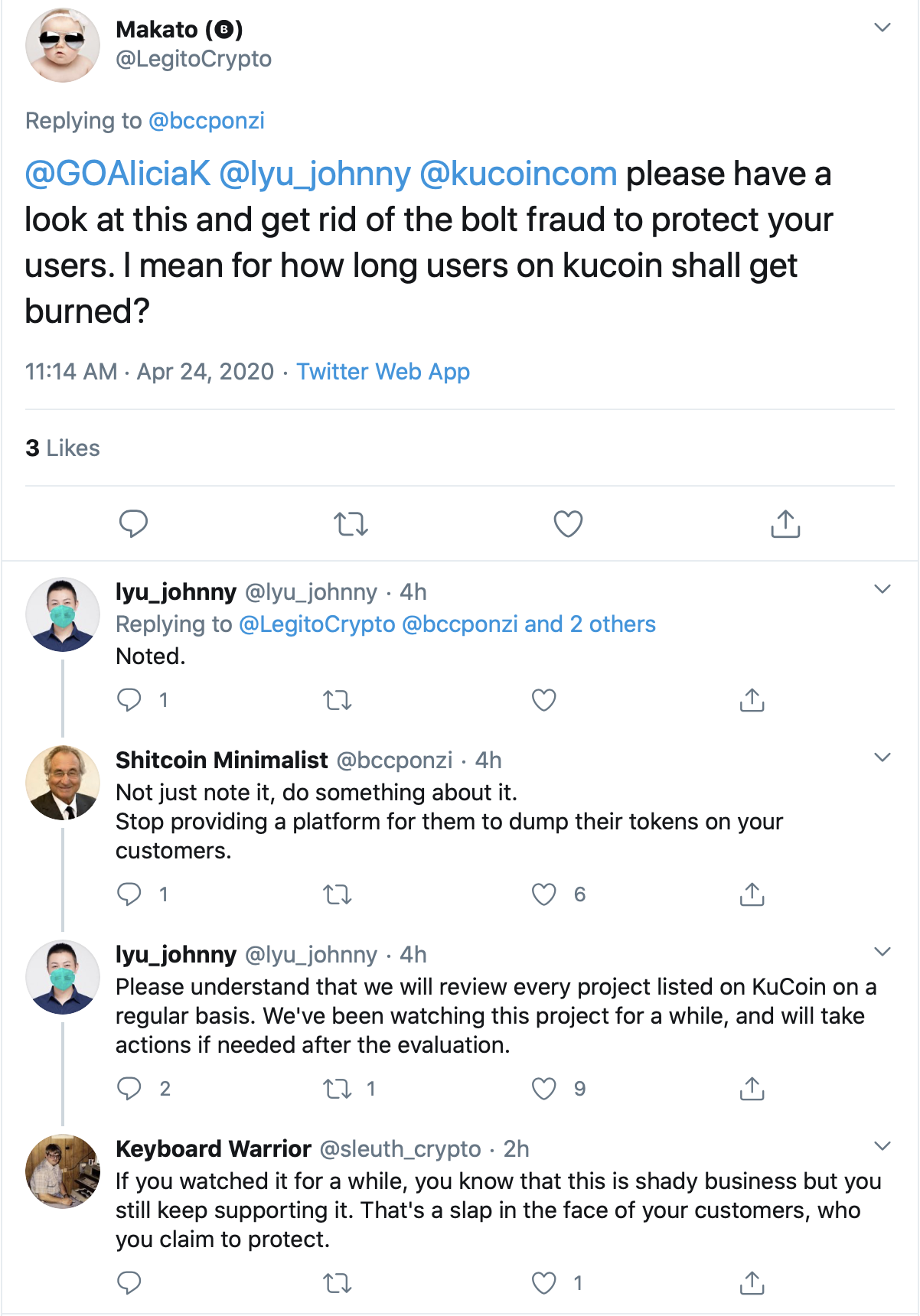 The founder of BOLT, Christel Quek, was previously the CMO of Zilliqa (ZIL). She has repeatedly tried to reach out to Binance on Twitter in an attempt to further boost BOLT's profile with a listing, to no avail.
BOLT may deny these most-recent accusations, but the blockchain data speaks for itself.
Disclaimer
All the information contained on our website is published in good faith and for general information purposes only. Any action the reader takes upon the information found on our website is strictly at their own risk.