Bitcoin Price Prediction: Bitcoin (BTC) will trade flat for the rest of the year. But hang in there. 2025 could see new peaks not reached before.
This is the opinion of a panel of in-industry experts, pulled together by Finder for their latest BTC price predictions report.
The panel, made up 55 fintech and crypto specialists feel that BTC will be worth $21,344 by the end of the year. This is before skyrocketing to $79,193 in 2025.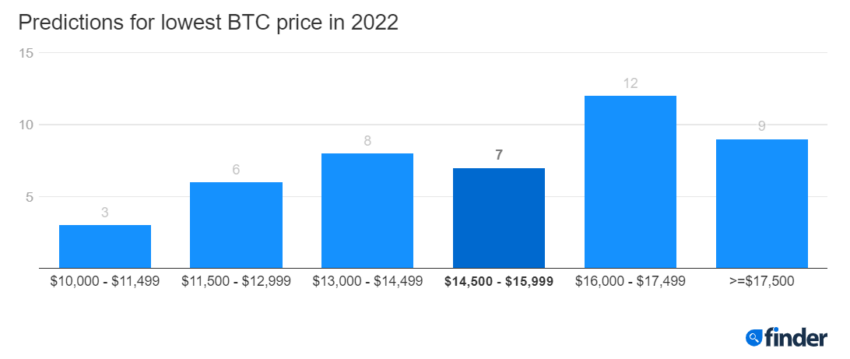 Bitcoin price prediction: Expert opinion
Justin Hartzman is the CEO of CoinSmart. He believes BTC will end 2022 at just $17,000. But, he says, it could rocket to $75,000 by 2025.
"Bitcoin is suffering due to external macro conditions. My 2025 price prediction will depend on the aftermath of the halving. If macro conditions improve and the regulatory environment gets better, then BTC price should be able to rise up."
53% of the panel think Bitcoin's price will continue to mimic high growth tech stocks.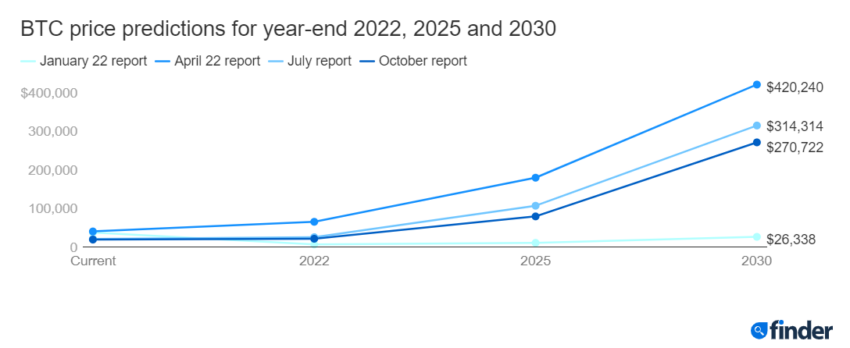 Nik Oraevsky is the CEO of Bitcoin Reserve. "BTC has high beta with traditional markets. And traditional markets are in dire straits. All hangs on fiscal policy and jabber jawing of the Fed over the next quarter."
While there has been a broader market drop and Bitcoin dominance has fallen below 40%, 77% of the panel still think Bitcoin is a store of value.
Is Bitcoin underpriced?
Ben Ritchie is the Managing Director of Digital Capital Management. He thinks that Bitcoin has "institutional demand as a store of value rather than a currency." He believes BTC will be priced at $30,000 by year end, and it will hit $150,000 by year-end 2025.
Nicolas Van Hoorde is CEO at Delta by eToro. He still considers BTC a store of value. But he says, "Bitcoin has proven less of an escape for inflation" than he originally thought.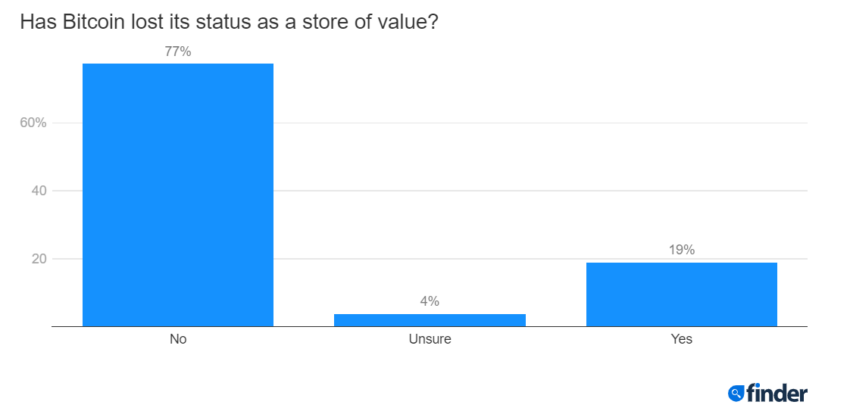 Despite the conservative short-term price predictions, 56% of panelists think BTC is underpriced.
Miles Paschini is the CEO of FV Bank. He said, "the fact remains, if you believe in the premise of Bitcoin as a unique, limited supply store of value, then its rarity is currently not priced in."
Some 19% of the experts feel that BTC is overpriced. Mitesh Shah is the CEO of Omnia Markets. He feels that Bitcoin will end the year at $16,000 and says there are more lows to come.
"While Bitcoin has predominantly been a store of value during periods of uncertainty, the crypto market is headed into territory it has never experienced. As global traders capitulate their investments, Bitcoin will experience new lows not reached this year."
Bitcoin price prediction: Competition from ETH
Joseph Raczynski is a technologist and futurist at Thomson Reuters. He feels that Bitcoin is priced fairly. "BTC is almost being pulled and pushed by ETH now. People are finally recognizing that Ethereum is the real boss of the bunch, and BTC is being bounced around in its wake."
54% of the panel thinks ETH will eventually overtake Bitcoin by market cap. 29% say it will happen as soon as 2024. However, this view is actually a drop from July 2021. At this time, 68% of panelists were expecting "the flippening" event to occur.
Lee Smales is a professor of finance at the University of Western Australia. He thinks Bitcoin is overpriced, Smales expects the flippening to happen in 2023. He also feels that BTC's commitment to proof-of-work (PoW) will slow progress on crypto energy issues.
"The stock market will fall further before the end of 2022 and BTC will follow it lower. BTC will attract more bad publicity to the PoW model now that 'the Merge' appears to have worked out well."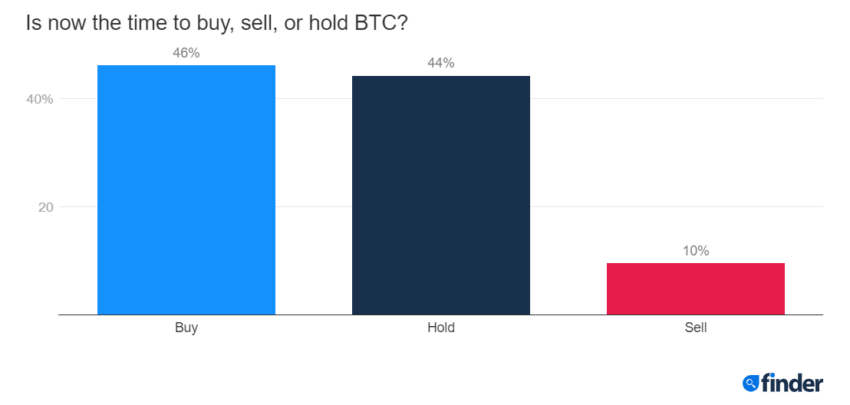 Yves Longchamp is the head of research at SEBA Bank. He feels the flippening will happen in 2024. But, he says Bitcoin is underpriced, given its position as "digital gold."
"Bitcoin and Ethereum do not compete, they have different value propositions."
Got something to say about this Bitcoin price prediction or anything else? Write to us or join the discussion in our Telegram channel. You can also catch us on Tik Tok, Facebook, or Twitter.
Opinions seen on this website should not drive any financial decisions from readers.
Disclaimer
Following the Trust Project guidelines, this feature article presents opinions and perspectives from industry experts or individuals. BeInCrypto is dedicated to transparent reporting, but the views expressed in this article do not necessarily reflect those of BeInCrypto or its staff. Readers should verify information independently and consult with a professional before making decisions based on this content.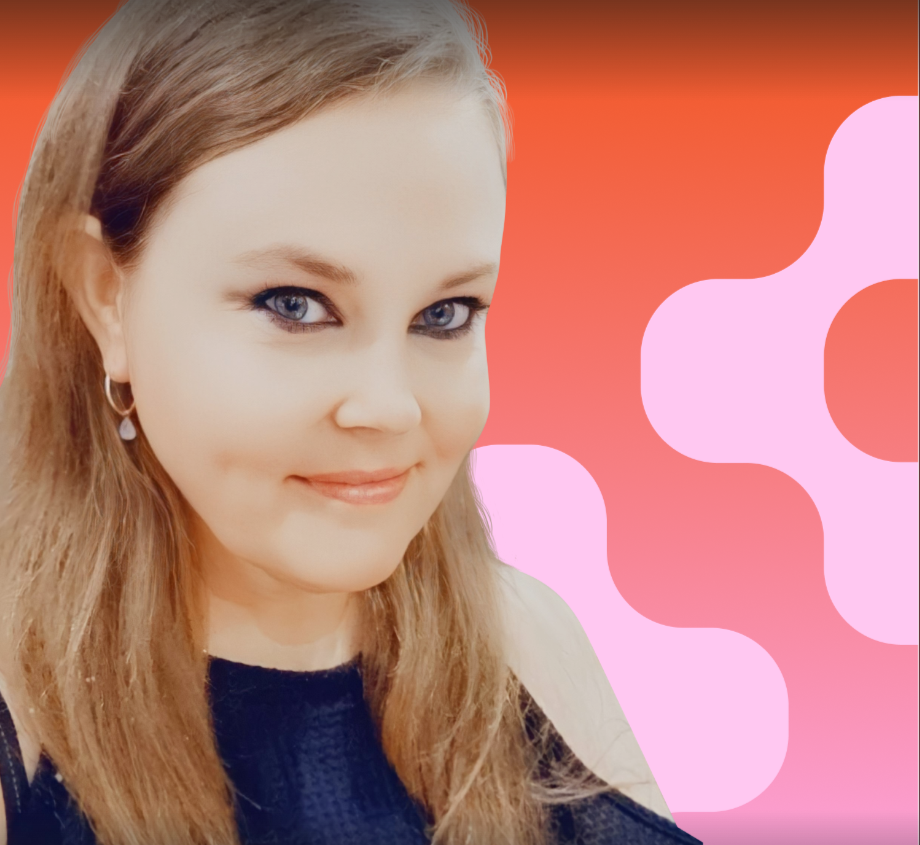 Nicole Buckler has been working as an editor and journalist for over 25 years, writing from Sydney, Melbourne, Taipei, London, and Dublin. She now writes from the Gold Coast in...
Nicole Buckler has been working as an editor and journalist for over 25 years, writing from Sydney, Melbourne, Taipei, London, and Dublin. She now writes from the Gold Coast in...
READ FULL BIO
Sponsored Sponsored