On July 30, 2019, the Bitcoin price reached a low of $9380. A gradual upward move ensued. On August 6, BTC briefly reached a high of $12,325. A rapid decrease followed. The next day, BTC reached a low of $11,249.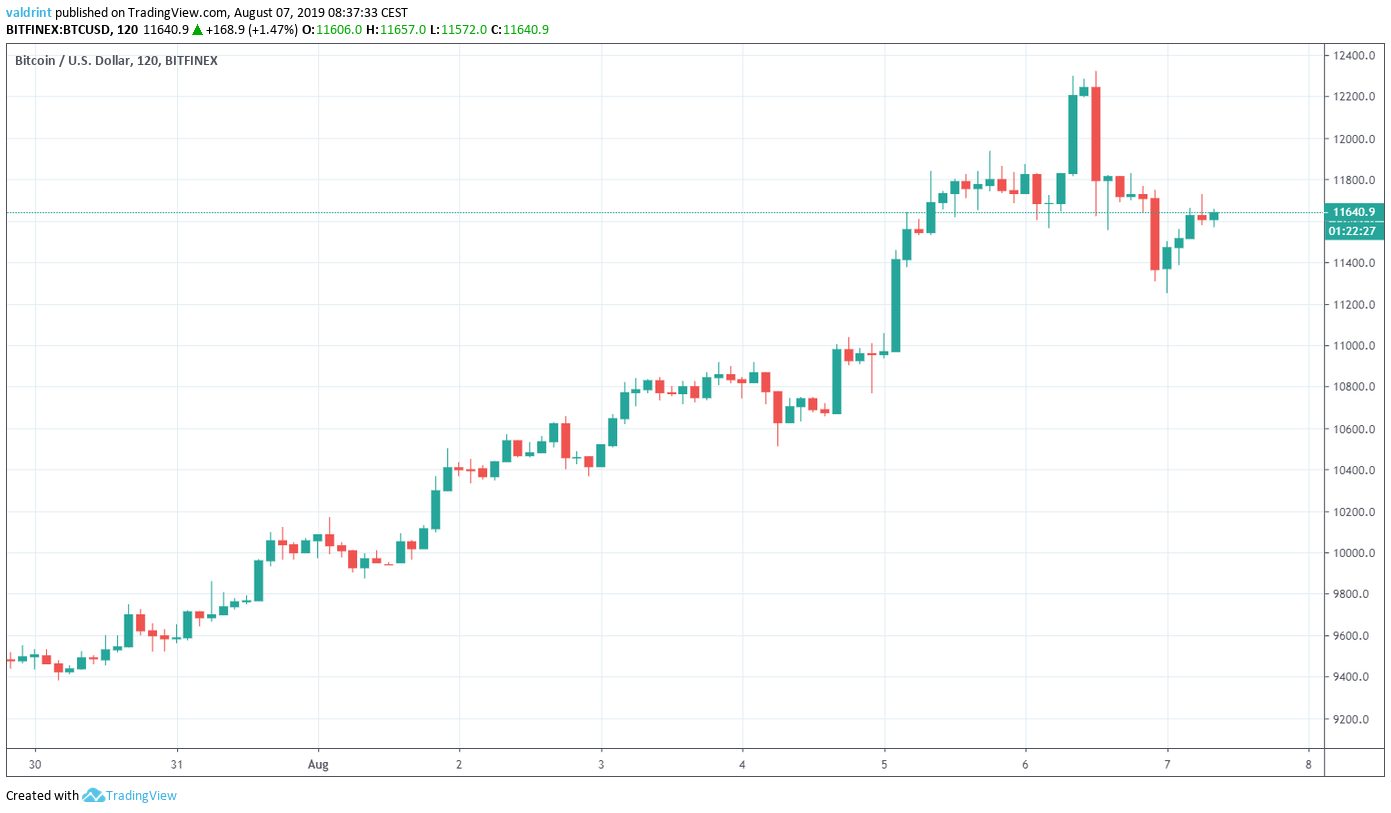 Will BTC continue its correction, or will it initiate a reversal? Continue reading if you want to find out.
For our previous analysis, click here.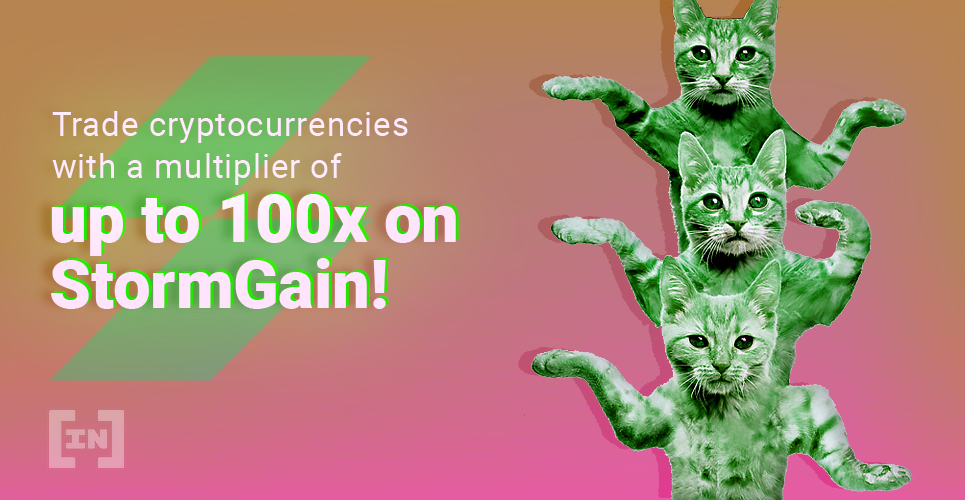 Bitcoin Price: Trends and Highlights for August 7
BTC/USD is following an ascending support line.
It has generated a bearish reversal daily candle.
3-day moving averages are very close to making a bearish cross.
The bearish divergence trendline has yet to be broken.
There is support at $10,900.
Short-Term Pattern
A look at the two-hour time-frame shows that since reaching the low mentioned above on July 30, BTC has been following an ascending support line.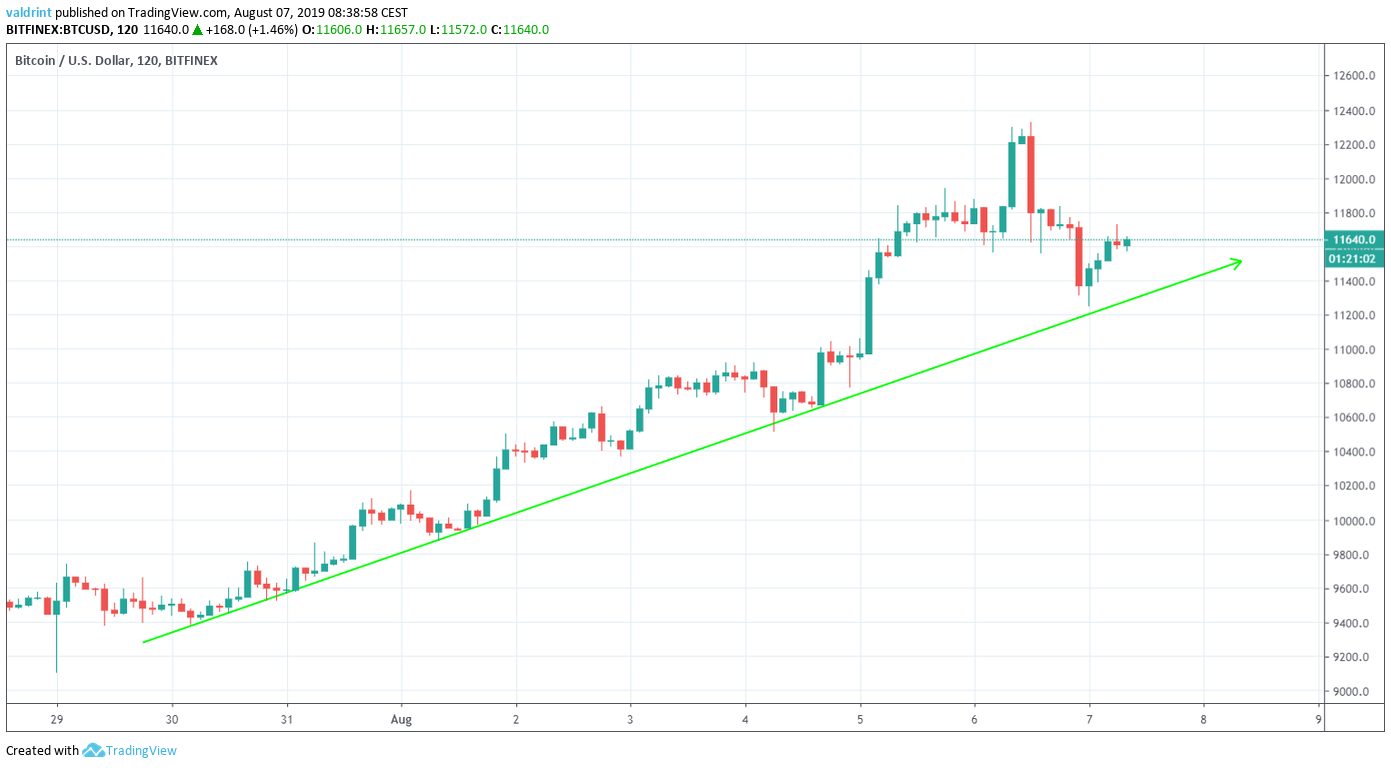 The recent decrease caused the price to reach the support line.
This is the fifth time it has done so.
Will it break down? Let's go back and take a look at a longer-term time-frame to figure that out.
Signs of Weakness
A look at the daily chart shows that the Bitcoin price has begun to show signs of weakness.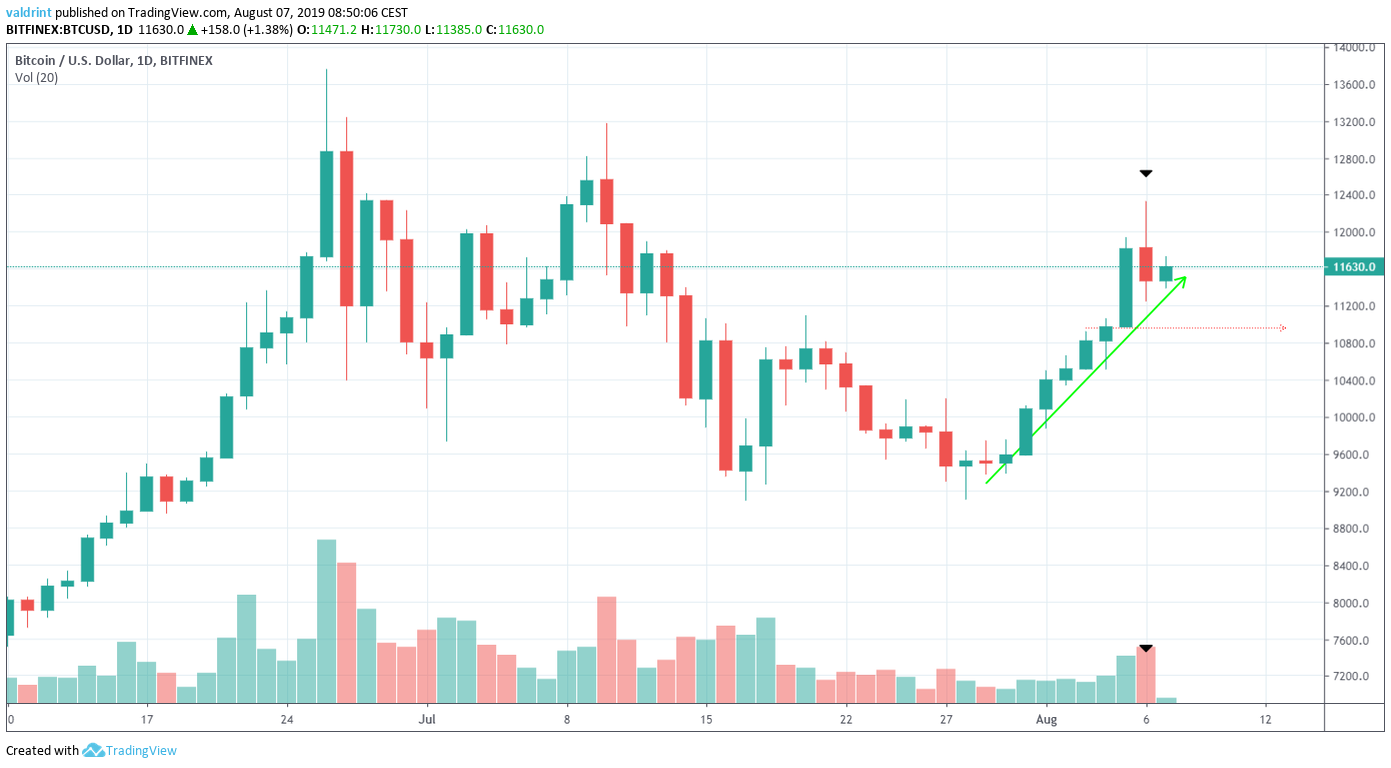 Starting on July 30, BTC created seven bullish candlesticks in a row.
However, on August 6, BTC generated what looked like a bearish shooting star.
Additionally, it was combined with above-average volume.
A critical level to keep an eye on is $11,000.
A price close below it would invalidate both the ascending support line and the bullish strength of the previous candle.
Finally, it would likely create an evening star, which is a bearish reversal pattern.
If it does, then it would be very likely that BTC would continue to trade within a descending channel.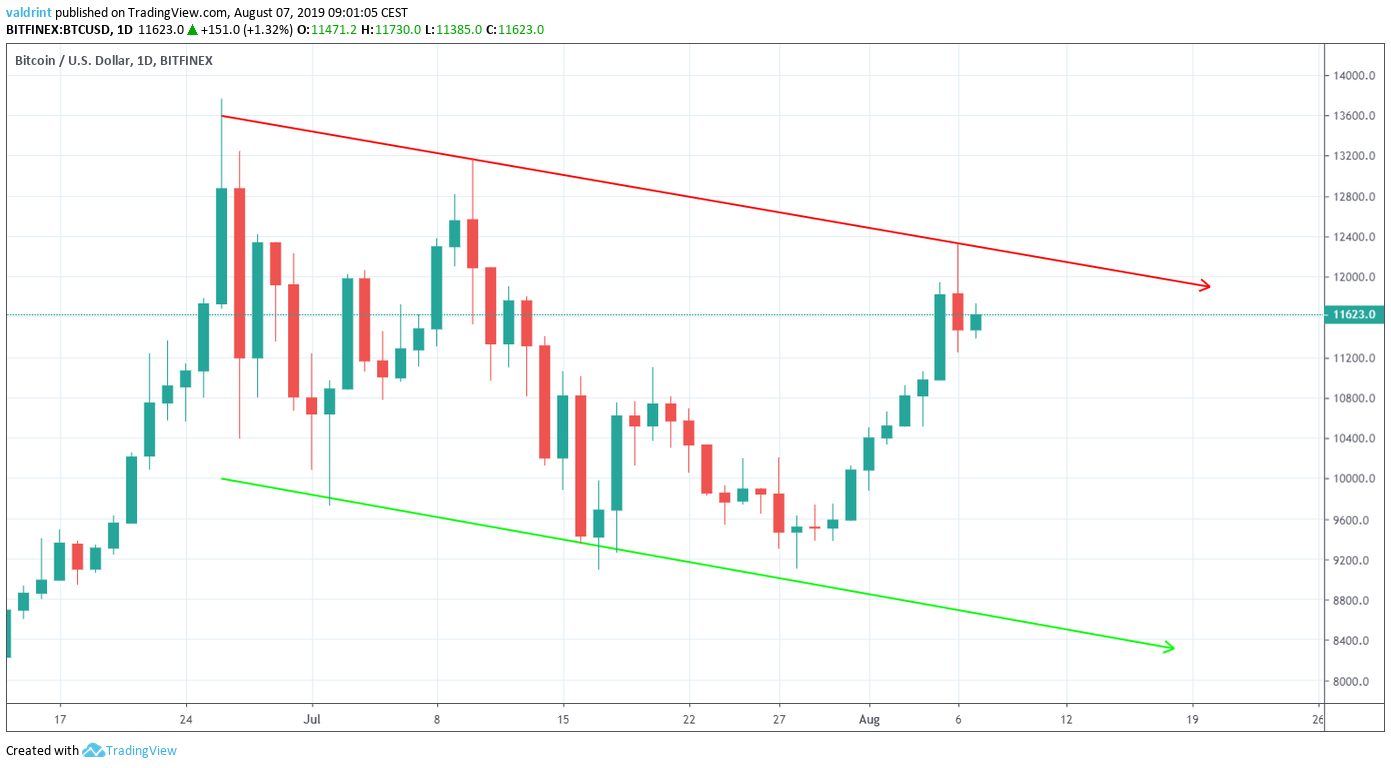 The ensuing decrease would likely take the price to the support line, which is currently at $8400.
Let's take a look at some technical indicators and see how likely that is.
Are you looking to buy Bitcoin and other cryptocurrencies with up to 100x leverage? Check out our partner exchange, BitMEX, to do so.
Technical Indicators
The BTC price is analyzed alongside the 10- and 20-period moving averages in the first graph and the RSI in the second.
To predict whether the price is in a downtrend, we will use the 3-day chart.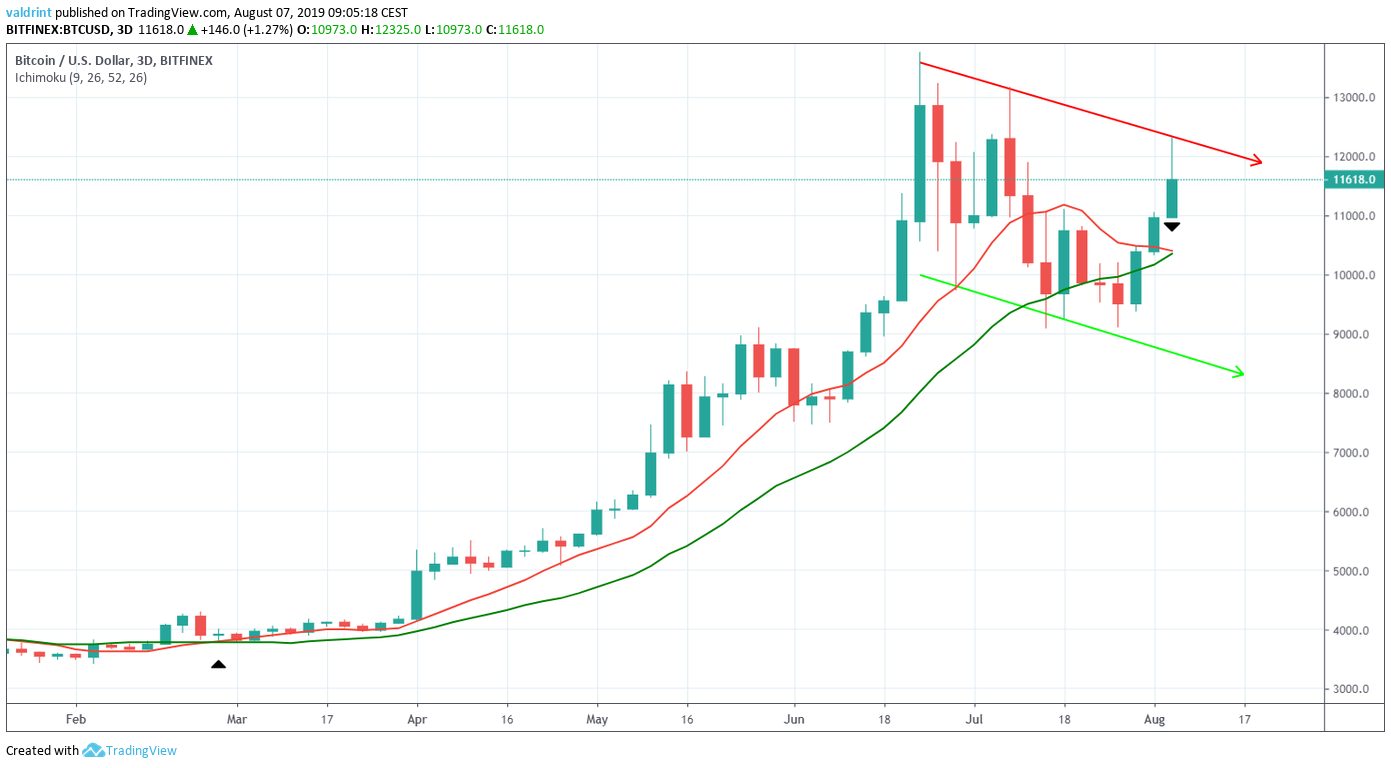 The 10 and 20-period moving averages are very close to making a bearish cross.
It is worth noting that the current bullish cross transpired on February 25, when the price was trading near $4000.
Thus, it preceded this entire upward move to almost $14,000.
A look at the RSI shows that the decrease was preceded by bearish divergence.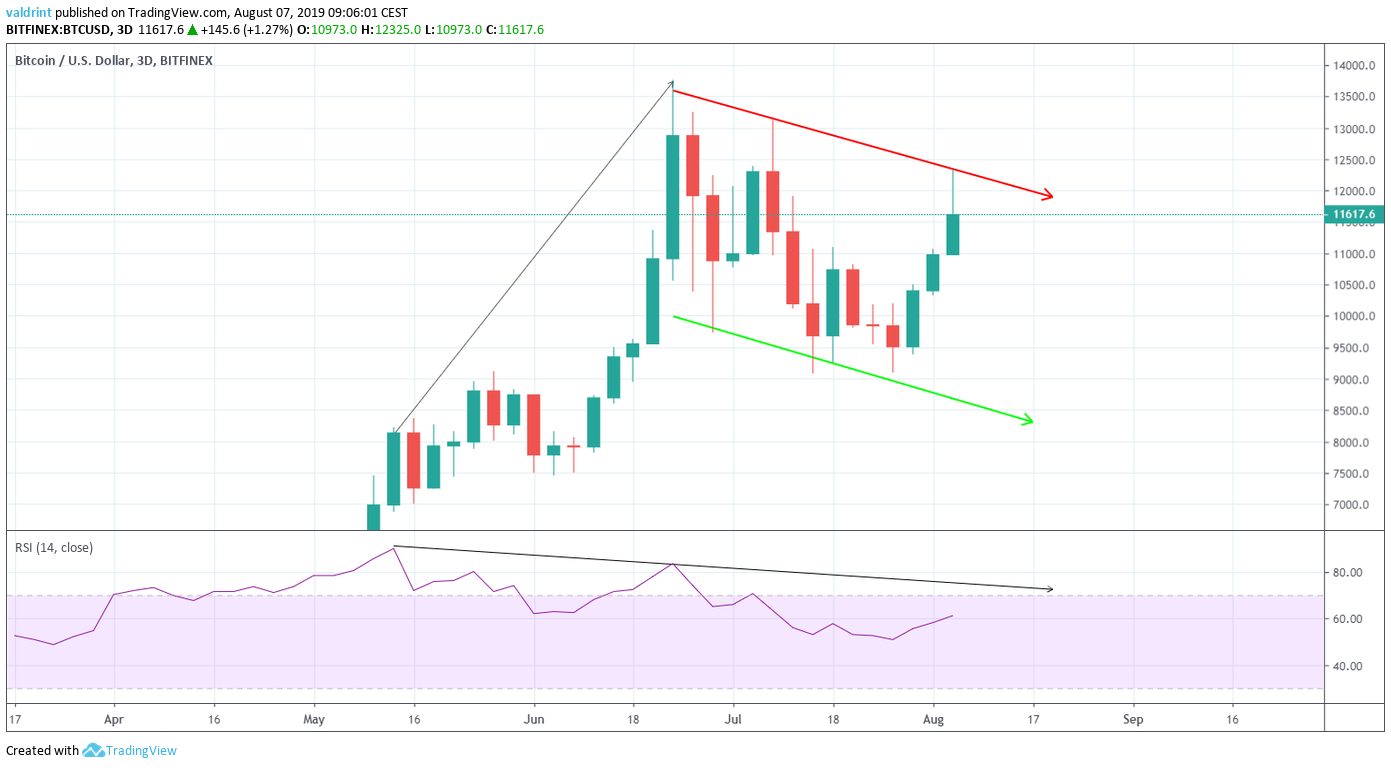 Additionally, the trendline of the divergence has yet to be broken.
While by itself that is not sufficient in providing a bearish sentiment, it increases in significance when combined with other bearish signals.
Therefore, we believe the Bitcoin price is likely to decrease.
If it does, the closest support area can be found at $10,900, as is outlined below.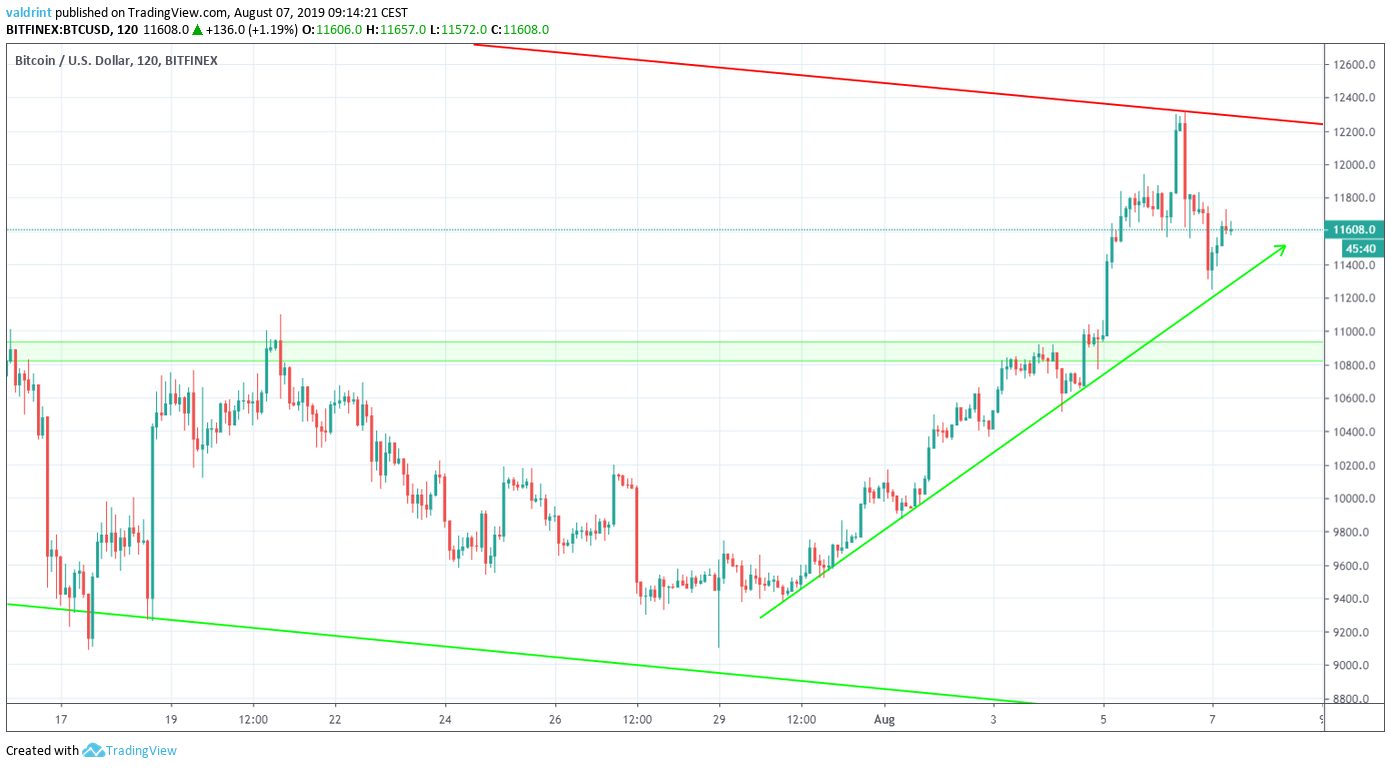 Bitcoin Price Summary
The BTC price reached a high of $12,325 before initiating a reversal.
According to our analysis, there is a strong possibility that it will decrease to the support line of the channel.
A price decrease below $11,000 would confirm this scenario.
Do you think BTC will continue decreasing? Let us know in the comments below.
---
Disclaimer: This article is not trading advice and should not be construed as such. Always consult a trained financial professional before investing in cryptocurrencies, as the market is particularly volatile. 
Images are courtesy of TradingView and Shutterstock.
Sign up at our partner exchange, StormGain, to trade cryptocurrencies with up to a 100x multiplier.
---
Images courtesy of Shutterstock, Trading View and Twitter.