Crypto prices are not the only things gaining this week. Bitcoin mining stocks are also on a roll on the back of renewed market momentum.
Share prices in some of the major publically listed Bitcoin mining companies have skyrocketed this week.
The move comes on the back of a wider crypto market rally which has added almost $100 billion to total capitalization over the past week. Bitcoin is up more than 13% since the beginning of this year, adding to the demand for mining stocks.
Bitcoin mining firms Riot Blockchain, Marathon Digital, Hive, Hut8, and Bitfarms have been on fire this week. Many have posted double-digit gains over the past few days.
Bitcoin Mining Stock Revival
According to MarketWatch, Riot Blockchain (RIOT) prices have gained 43% this week. Additionally, the shares closed at $6.13 in after-hours trading on Thursday after a 14.5% increase on the day.
Marathon Digital (MARA) prices made a whopping 30.9% on Thursday, ending the day at $6.76 after the bell. Share prices for this mining firm have gained 65% since the beginning of the week, reported MarketWatch.
Hive Blockchain Technologies had an even better day yesterday. HIVE prices pumped a whopping 37.6% on the day to end at $3.21. The weekly gain for this mining stock was a massive 76%.
Hut 8 Mining Corp (HUT) climbed 22.2% on Thursday to end at $1.38 in after-hours trading. The Bitcoin mining firm also had a solid week, with share prices surging 51% since markets opened on Jan. 9.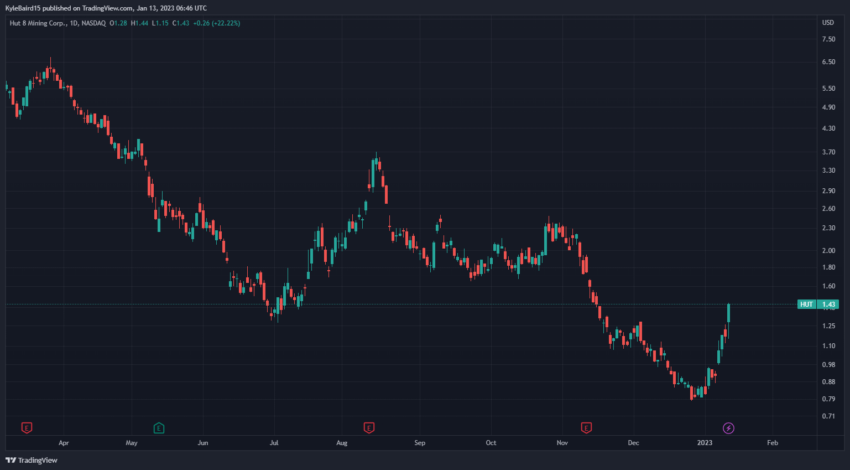 Earlier this month, Hut8 announced it had mined 3,568 BTC throughout 2022. This increased its reserves by 65% to 9,086 BTC, and the firm said it would stick to its longstanding 'hodl' strategy.
Bitfarms (BITF) has had an even better week, with share prices surging 73% since Monday. BITF gained 44.3% on Thursday to end the day's trading session at $0.94.
However, it should be noted that most of these mining firms were battered in 2022. As a result, their share prices are a long way down from peak prices.
Other Crypto Stocks Up
Major Bitcoin investor MicroStrategy (MSTR) also had a solid week of stock trading. A 30% gain since Monday morning saw MSTR prices end Thursday's session at $208.
Coinbase has also risen from the ashes after recent all-time lows, with a weekly gain of 40%. After the bell, COIN prices added 8.6% yesterday to trade at $46.70.
Disclaimer
BeInCrypto has reached out to company or individual involved in the story to get an official statement about the recent developments, but it has yet to hear back.