Bitcoin has been on a roll this week with multiple green candles printed. It could be the end of the bear market, according to some leading industry analysts.
Bitcoin prices have gained 13.6% since the beginning of this year. Another day in the green added a further 3.4% over the past 24 hours.
Furthermore, BTC hit an intraday and nine-week high of $18,970 during the morning of Jan. 13. The asset has now clawed back all losses since the FTX collapse in early November. On Jan. 10, BeInCrypto reported that a larger market move was imminent.
The move has analysts revisiting their charts and making new predictions for the next major cycle.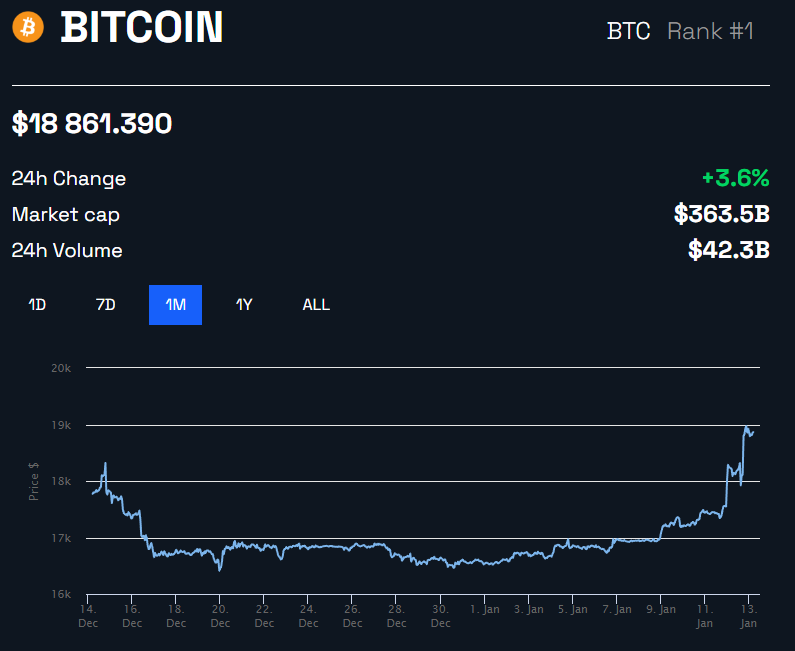 Bitcoin Bull Run Commencing?
It may be a little too early to say that a new bull market has commenced. Despite recent gains, BTC is still 73% down from its $69,000 all-time high fourteen months ago.
However, on-chain analyst 'PlanB' posted an update on Jan. 13. He noted that Bitcoin had crossed the short-term holder cost basis. The metric is often used to compare short and long-term holders' profitability. The former group is usually quick to panic sell in bear markets.
With the latest leg up, the analyst has made some bold predictions. He predicts that the price of Bitcoin will be above $32,000 by the next halving in 2024. The next bull market will likely commence the following year, potentially driving Bitcoin over six figures.
The move was confirmed by fellow analyst 'Root' who said:
"We broke through the STH cost basis! Even though we might not find immediate support on the first retest — important event to watch next — it is an early sign of recovery."
However, he also warned that unless solid support is found, BTC could head south again.
"Unfortunately that could still mean a slight new low, even though the market through current demand is showing signs of recovery," he added.
Although highly unlikely, some have even hinted at a new all-time high this year!
Still a Ways Off the 200W MA
According to Woo Charts, Bitcoin prices are still quite a way off the 200-week moving average of $24,504. This technical indicator has served as solid support during previous cycle bottoms.
Furthermore, the asset is also very close to its 'Realized Price' of $19,704. The RP is the value of all coins in circulation at the price they last moved. It can also be considered an approximation of what the entire market paid for their coins.
Disclaimer
BeInCrypto strives to provide accurate and up-to-date information, but it will not be responsible for any missing facts or inaccurate information. You comply and understand that you should use any of this information at your own risk. Cryptocurrencies are highly volatile financial assets, so research and make your own financial decisions.