Bitcoin miners are becoming more reluctant to sell their stashes as the amount of unspent BTC held by miners continues to increase.
The amount of bitcoin held by miners is just 500 BTC short of its all-time high according to on-chain analytics provider Glassnode.
Miners are currently holding just under an all-time high of 1.778 million BTC. The peak figure was hit in December 2020. Glassnode explained that "these coins are issued to miners as a reward for solving a block, but have never been spent on chain."
Miners have been accumulating since March 2020 following a massive selloff during the first couple of months of this year.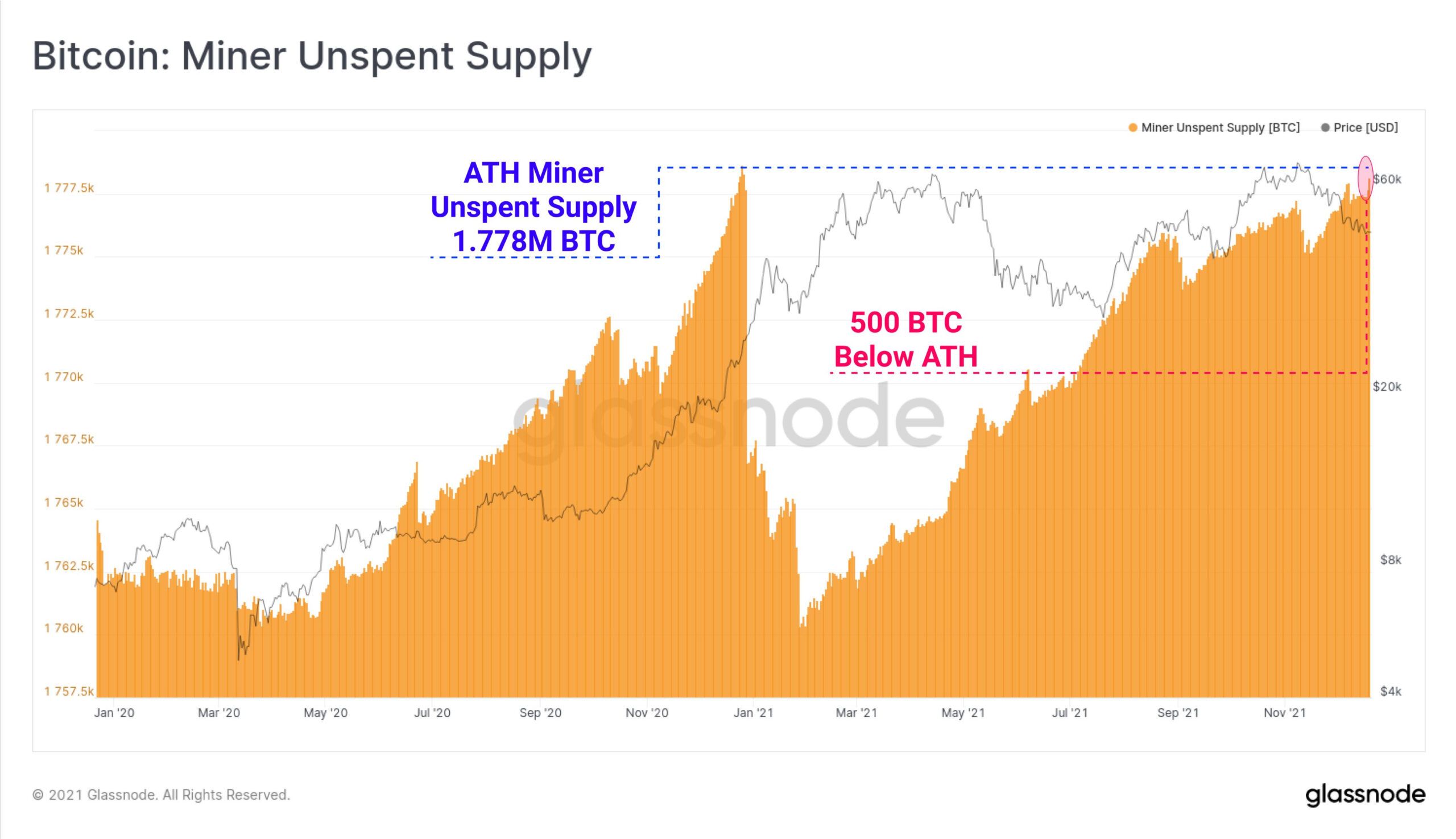 It was observed that this data does not look good if miners start to offload all at the same time as they did earlier this year. Bitcoin has also been leaving exchanges over the past few months which is another indication of accumulation.
Mining profitability down, hash rate up
According to BitInfoCharts, mining profitability has actually fallen since mid-October and is currently $0.235 per day per TH/s (terahashes per second). It has fallen 52% from $0.49 per day per TH/s on Nov 9. Profitability is currently at its lowest since late June when hash rates slumped following the miner migration from China.
Hash rates are looking pretty healthy at the moment at 173.7 EH/s (exahashes per second). The metric, which is a measure of network computing horsepower, has gained 150% since its slump to 69 EH/s in late June.
Bitcoin's average hash rate is now just 14% away from its May 13 all-time high of 197 EH/s according to BitInfoCharts. On Dec 16, Glassnode reported that Bitcoin difficulty was just 3.5% below its all-time high, adding:
It has taken 180-days to almost fully recover from 52% of network hash-power going offline during the Great Migration.
Difficulty, which is a measure of the complexity of mathematical calculations for block rewards, or finding a hash below a given target, has been increasing since mid-August as more miners compete for the reward.
On Dec 20, BeInCrypto reported that there were still a number of mining operations in China operating under the radar.
Bitcoin price outlook
BTC prices have started the week down 2.2% on the day according to CoinGecko. At the time of press, the asset was trading for $46,000 having lost 8% over the past seven days.
It has now slipped below support at the 200-day moving average and an ominous "death cross" is approaching with the faster 50-day moving average.