Spot exchanges are seeing a significant decline in Bitcoin (BTC) balances, indicating the entry of new buyers.
Several factors appear responsible for the spike in new activity. However, the bitcoin price action continues to remain locked in a sideways accumulation pattern.
Is the Decline in Exchange-held Bitcoin Balances Bullish?
Tweeting
on Oct. 7, Bitcoin analyst and statistician Willy Woo remarked that the reduction in the BTC sum held by spot exchanges is a sign of new buying activity. According to Woo, these new market entrants, having acquired bitcoin, are "hodling" their coins in cold storage wallets.
Indeed, data from the on-chain analytics platform Glassnode shows a marked reduction in the Bitcoin balance held by crypto exchanges. This decline is noticeable for both U.S.-based and international spot exchanges, with the slope of the fall even steeper in the latter case. As previously
reported
by BeInCrypto, the recent spike in new activity on the Bitcoin network may be one of the growing indications of a bullish Q4 for BTC. Woo's analysis noted that the timeline of the new buying activity and the
$425 million bitcoin acquisition
by MicroStrategy coincide. Back in 2017, the buzz surrounding a Wall Street Journal article about Bitcoin as a legitimate investment asset also coincided with another sharp decline in the BTC balance held by spot exchanges. At the time, the Winklevii-ETF push was making the news and, according to Woo, helped to fuel the 2017 bullish advance that saw bitcoin almost cross the $20,000 mark.
Shrinking Volatility Points to Imminent Price Breakout
If history repeats itself, then the current exchange balance drop might be a precursor to another end-of-year price rally. For now, BTC continues to trade within a tight price range while
maintaining
the $10,000 price bottom. However, given the shrinking
volatility
, some commentators say bitcoin is due for a price breakout.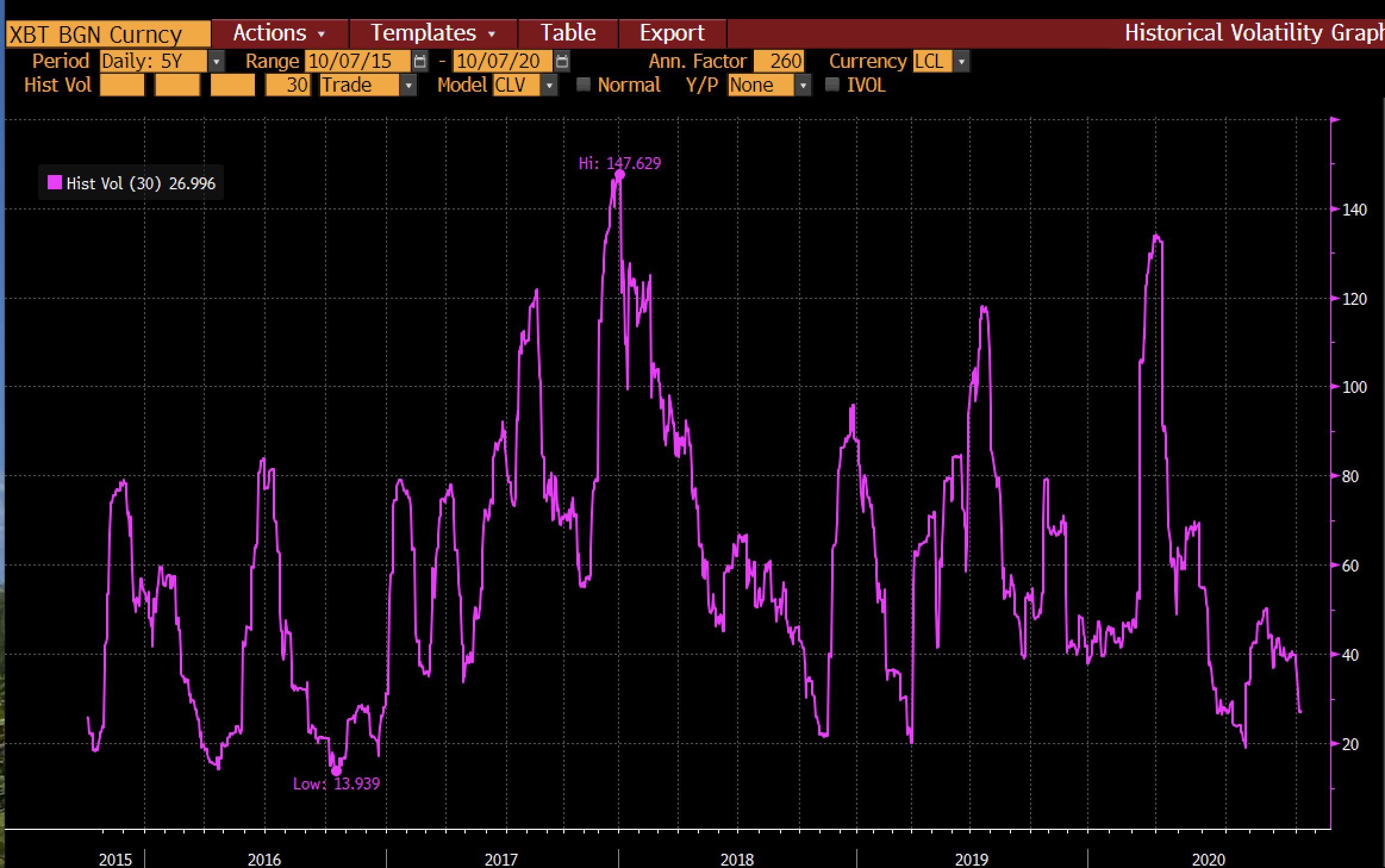 Also tweeting on Oct. 7, Raoul Pal, CEO of Global Macro Investor (GMI),
remarked
:
Bitcoin 30-day historic volatility has been falling fast and is in the 20's. In the past, it has hit 20% volume 7 times. 6 times prices exploded higher immediately and volume hit 80% in a few months. 1 time (Nov 2018) prices fell sharply. Either way, a big move is coming soon.
As of press time, bitcoin is trading at $10,600, down about 1% over the last 24-hour trading period.
Disclaimer
BeInCrypto has reached out to company or individual involved in the story to get an official statement about the recent developments, but it has yet to hear back.