The
price of bitcoin
vs. gold reveals that the alpha cryptocurrency could well outperform the precious metal in the short term.
Bitcoin's rally above $12,000, coupled with profit-taking in the gold market is driving the comparison. As analysts have considered the markets, evidence of the trend continues to grow. Crypto Twitter influencer PlanB made note of this:
Taking USD out of the equation: 1 BTC = 6 ounces of gold .. and rising pic.twitter.com/doslDJ9l4R

— PlanB (@100trillionUSD) August 17, 2020
Real Vision CEO, Raoul Paul, also jumped into the fray:
Gold vs Bitcoin. It's hardly a fair fight at this stage.. Gold/BTC going down in the short term… pic.twitter.com/C4UJA6XyNu

— Raoul Pal (@RaoulGMI) August 17, 2020
What's Driving the Trend?
The basis for its strong showing relative to gold is important. Both are considered store-of-value (SOV) assets. However, bitcoin has bounced between coupling with gold and equities markets over the past few months. The
coupling with gold
, particularly in late April and early May, reveals an influx of investor dollars into SOV assets. This has led to dramatic price increases when economic data showed overall weakness in the dollar. At other times, bitcoin has
followed
the risk-pricing of equities, while decoupling from gold. The clearest example of this move was in March during the initial weeks of the COVID-19 crisis.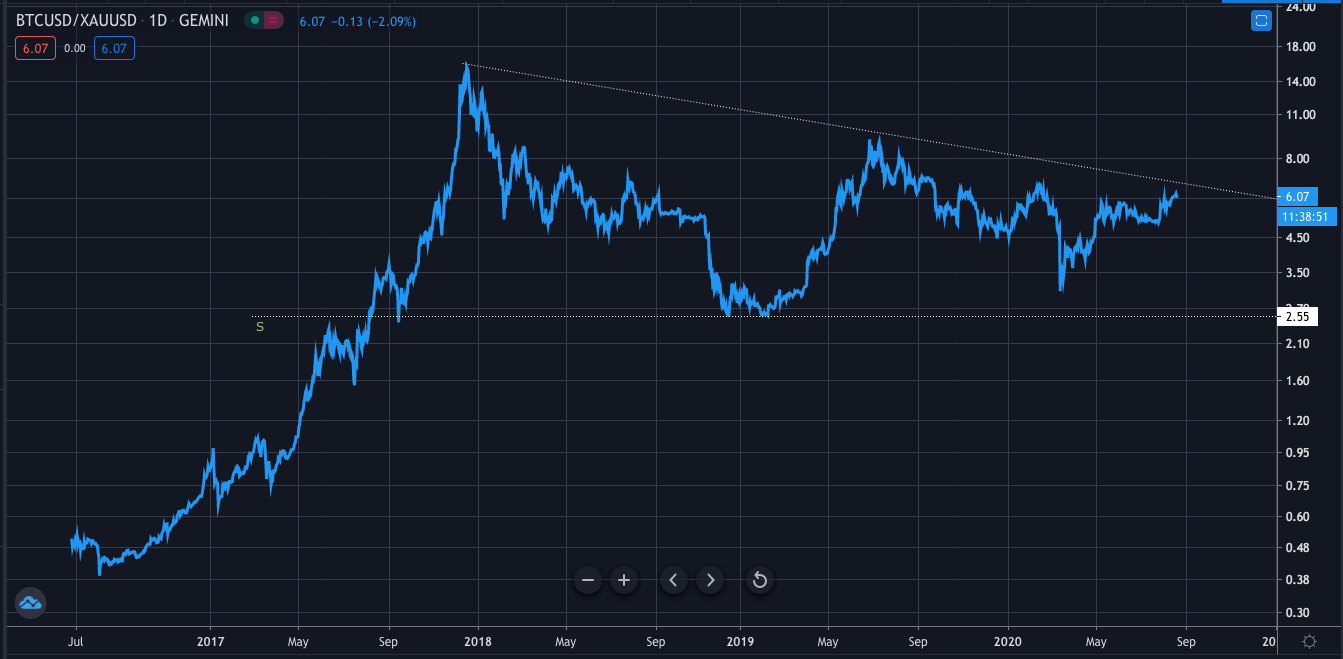 In other words, investors have also fled bitcoin in a similar fashion to equities when economic crises arise.
Bitcoin: Dual Nature, One Asset
The above chart reflects the dual nature of the alpha crypto. Unlike gold, bitcoin has real market utility as a simple payment method. This provides investment value during times of low risk. On the flip side, bitcoin is its
own currency
and is therefore divorced from the chaotic workings of the Federal Reserve (Fed). This provides meaningful investment
potential
during times of economic crisis as a safe haven. This duality in bitcoin provides a methodology for investment during both crisis and stability. When the price of gold skyrockets, as in recent trading, bitcoin could follow suit as a safe haven. When gold drops from those highs, bitcoin retains investment value as a currency. Investors see holding the coin as a valuable short term proposition. This may cause bitcoin to outperform gold for some weeks to come.
Disclaimer: The opinions in this article do not necessarily reflect the views of beincrypto.com.
Disclaimer
All the information contained on our website is published in good faith and for general information purposes only. Any action the reader takes upon the information found on our website is strictly at their own risk.