Kraken lays off 30% of its workforce to survive crypto winter. But is CZ trying to tell us something about Kraken?
Jesse Powell, the Co-Founder and CEO of Kraken, announced that they are reducing the workforce by approximately 1,100 people, or 30 percent, to adapt to current market conditions. Kraken will pay 16 weeks of base pay to the employees impacted by the layoff.
Crypto Firms Struggle as the Bear Market Intensifies.
Kraken is the latest victim of the crypto winter, but just a couple of days ago, yet another exchange – BlockFi, filed for Chapter 11 Bankruptcy. The Argentine crypto exchange – Lemon Cash also had to let go of 38% of its workforce to survive the crypto winter. Metaplex, a decentralized NFT protocol, also had to part ways with several of its team members last month.
According to a CoinGecko report released on Nov. 14, the crypto sector saw 4,695 layoffs, which comprise 4% of the entire tech industry.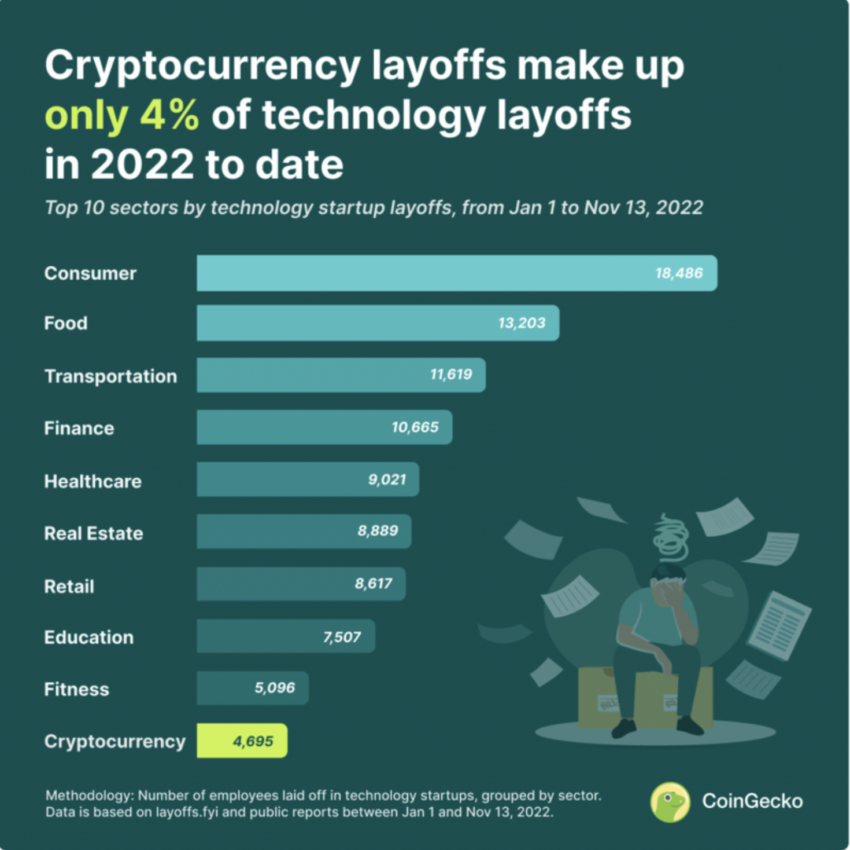 Binance CEO Takes a jab at Kraken but Faces Backlash
Changpeng Zhao (CZ), the CEO of Binance, seems to indirectly take a jab at Kraken due to the layoffs. He warned users to beware of exchanges offering high APY and having layoffs.
The community called out CZ for creating FUD (Fear, Uncertainty, Doubt) around his competitors. They questioned him about the Twitter layoffs because CZ invested in Elon Musk's acquisition of Twitter. CZ later deleted this tweet; he has done it on multiple occasions. The community believes CZ creates FUD and later deletes the tweet.
Earlier, he tweeted, "If an exchange have to move large amounts of crypto before or after they demonstrate their wallet addresses, it is a clear sign of problems." But on Monday, whale alert reports a wallet transferring over $2 billion worth of Bitcoin from Binance to some unknown wallet. CZ claimed that it was for audit, but he faced backlash for the irony. The community feels that CZ is a ticking time bomb.
Got something to say about Kraken, CEO of Binance, or anything else? Write to us or join the discussion on our Telegram channel. You can also catch us on Tik Tok, Facebook, or Twitter.

For BeInCrypto's latest Bitcoin (BTC) analysis, click here
Disclaimer
BeInCrypto has reached out to company or individual involved in the story to get an official statement about the recent developments, but it has yet to hear back.