At BeInCrypto, we offer regular price analyses and predictions of the most popular and relevant cryptoassets. In our
March 25 analysis of Bitcoin Cash (BCH
), we predicted slight decreases in the future. However, the price began a rapid upward move on Apr 2, which took it above $300.
---
On Apr 2, 2019, Bitcoin Cash reached an hourly low of $168.01. It has been on an uptrend since.
At the time of writing, the highest price recorded was $354.17 on Apr 3. However, prices subsequently fell toward $300.
Will the price drop below $300 before the end of the day or will Bitcoin Cash surge past $350 again?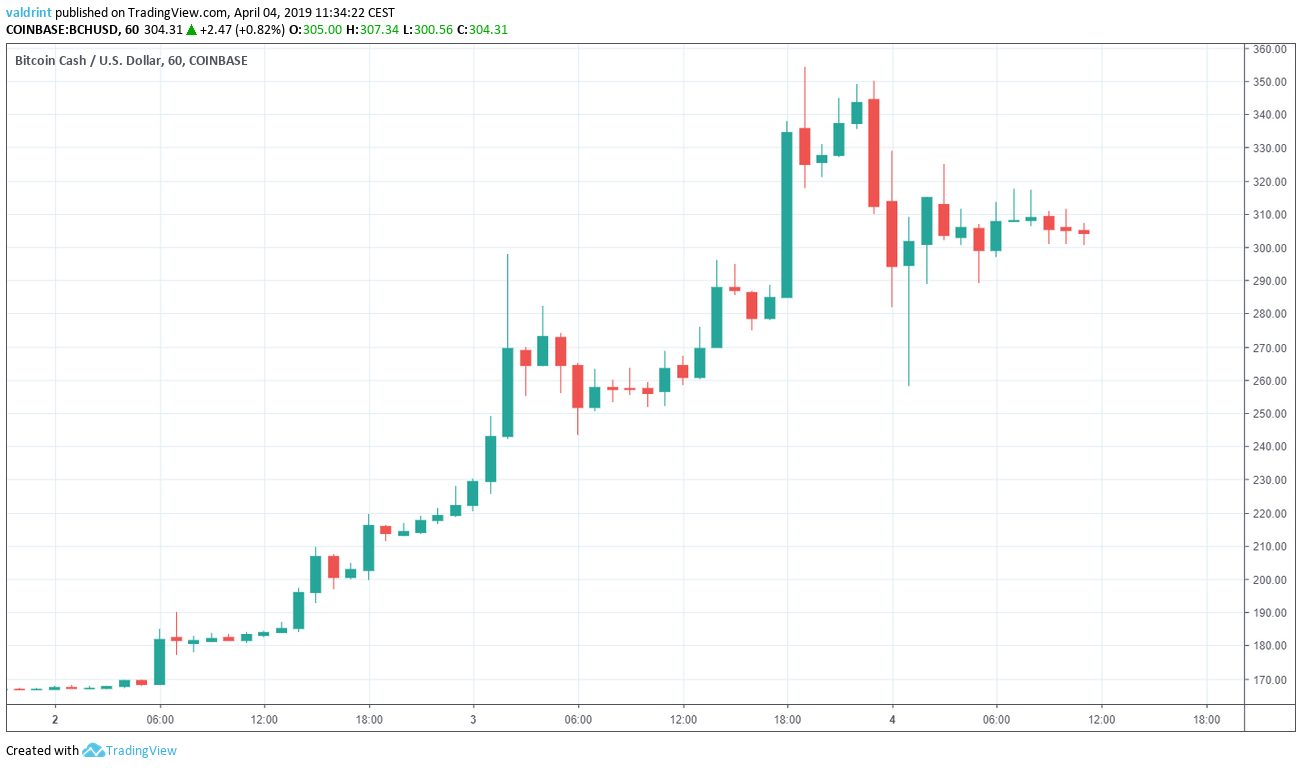 Bitcoin Cash (BCH): Trends and Highlights For April 4
The price of BCH/USD has been on an uptrend since Apr 2.
Bitcoin Cash is trading inside an ascending channel.
It is also trading above the daily moving averages.
There is resistance near $400.
Ascending Channel
The price of
BCH on Coinbase
is analyzed at one-hour intervals from Apr 2 to Apr 4. This is done in order to trace the current trading pattern.
On Apr 2, the price reached an hourly low of $168.01. An upward move began. Several market cycles have been completed and the price has made several lower highs.
Tracing these highs gives us an ascending support line: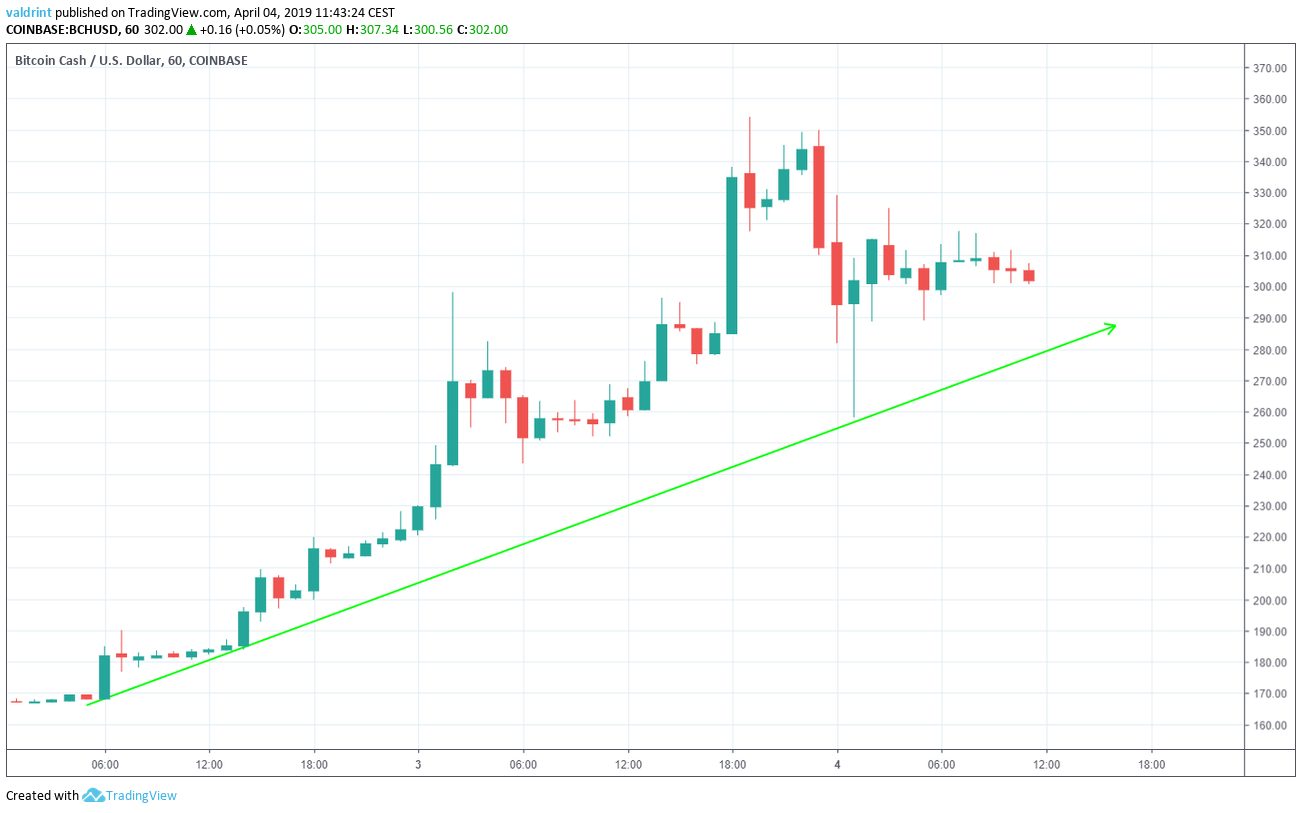 On Apr 3, the price reached an hourly high of $298. A gradual decrease was followed by a sharp increase. The price has created several higher highs.
Tracing these highs gives us an ascending resistance line.
Together, the resistance and support lines combine to create an ascending channel: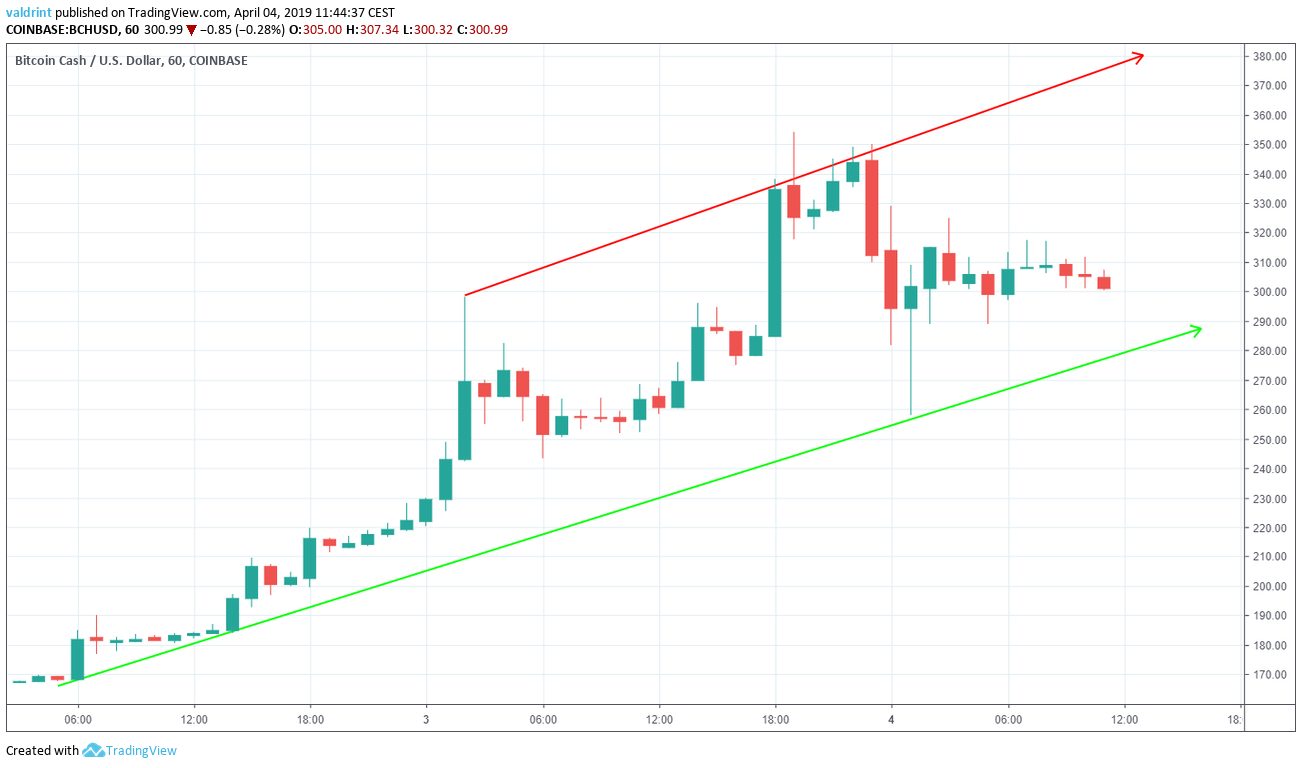 Bitcoin Cash has seen price gains and losses within this channel over the last several days. After a rise toward the resistance line on Apr 3, prices have dropped on Apr 4.
It currently appears as if Bitcoin Cash may be moving back toward the support line of the channel. If this occurs, short-term losses may be forthcoming. However, if price continues trading within the channel, longer gains might also be expected.
Reversal Areas
To better assess possible future price fluctuations, we incorporate moving averages into the analysis.
Moving averages are tools used in technical analysis to smooth out price action. It is a lagging indicator since it is based on past prices. The relationship between prices and moving averages can help in identifying the beginning and end of a trend.
The price of BCH on Coinbase is analyzed at one-day intervals from September 2018 to April 2019 alongside the 50-, 100- and 200-day moving averages below: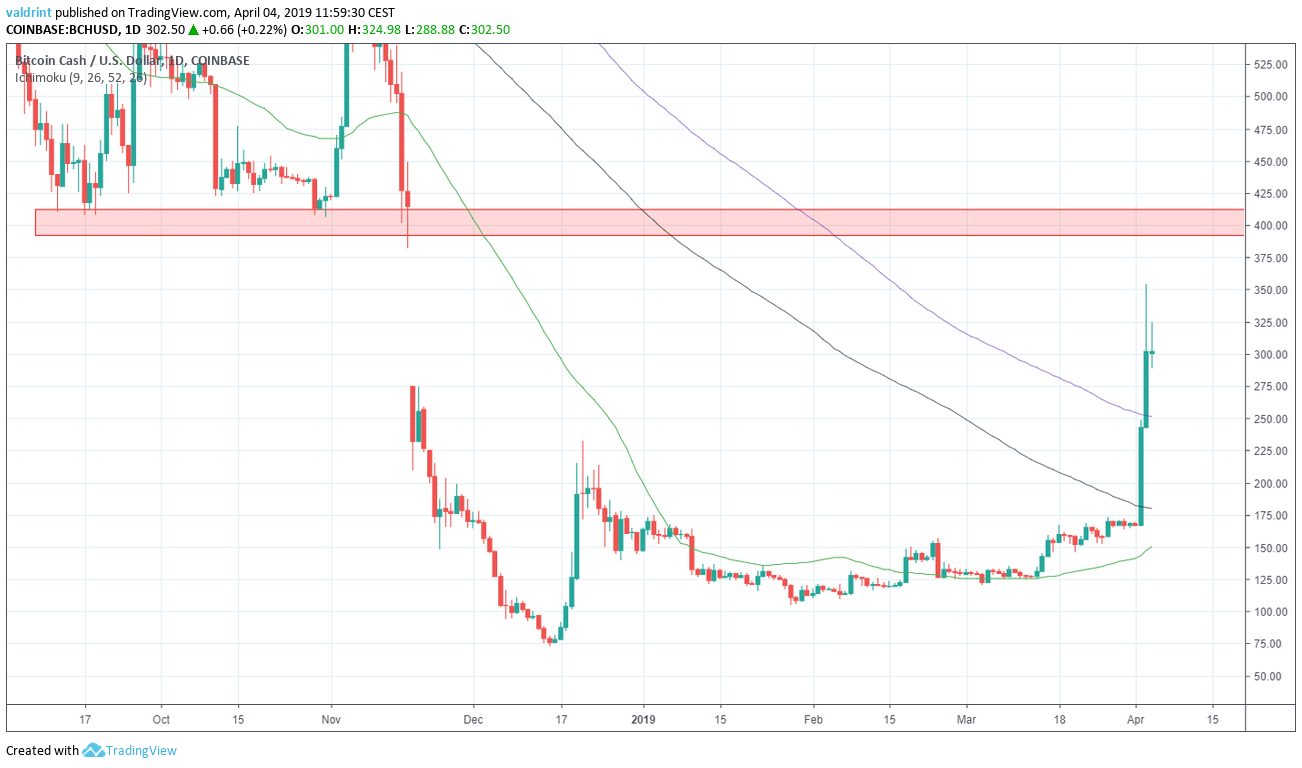 On Feb 23, the price moved past the 50-day moving average (MA). It moved past the 100-day MA on Apr 2. Lastly, BCH moved past the final 200-day MA on Apr 3.
The closest significant resistance area is found near $400, formed by the lows of Sep and Oct 2018
Therefore, BCH is trading above the daily moving averages and there is no significant resistance until $400.
Future Movement
The price of BCH on Coinbase is analyzed at one-hour intervals from Apr 2 to Apr 4. The resistance area near $400 from the previous section is traced in the graph below: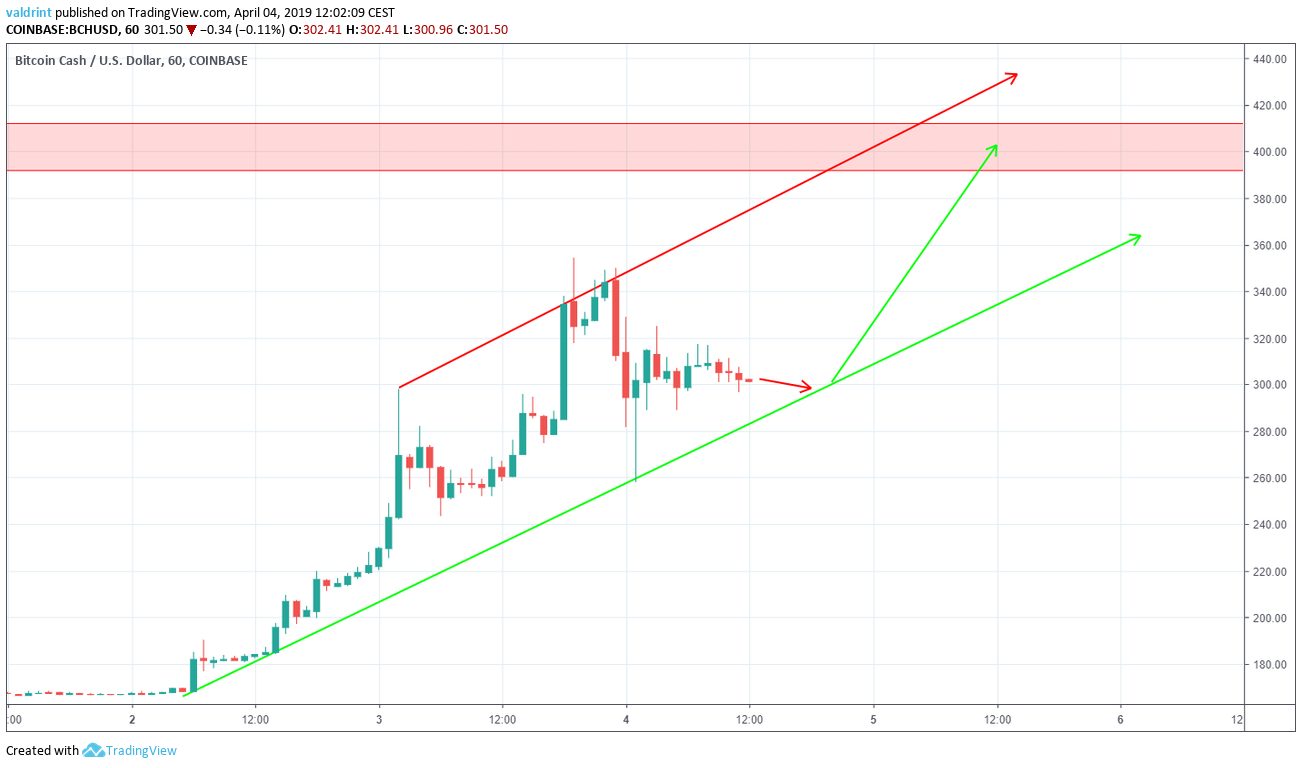 Since the channel is upward facing, we believe that the price will keep increasing at a steady rate until it reaches the resistance area.
Based on the speed of increase and depending on whether it trades closer to the support or resistance lines of the channel, it should reach the area on either Apr 5 or 6.
This means that Bitcoin Cash might reach $400 by the end of the week. However, continued price drops toward support might precede a rise. The dates we've selected are only estimates, and the $400 level may be reached later than anticipated.
Do you think Bitcoin Cash will reach $400 in the near future? Let us know your thoughts in the comments below.
LEARN ABOUT 0 COMMISION BTC INVESTING HERE!
Disclaimer: This article is not trading advice and should not be construed as such. Always consult a trained financial professional before investing in cryptocurrencies, as the market is particularly volatile.
---
Do you want to BeInCrypto? Join our Telegram Trading Community for exclusive trading signals, educational content, discussions and project reviews! Images courtesy of Shutterstock, Trading View and Twitter.